Today was the 21st day after the section 53 judgement was perfected. That means all appellants had to file their appeals today. We're told that included the Government of Belize, the Catholic church and the National Evangelical Association of Belize. The Association is asking to be joined as an interested party and we met the heads of that organization and their attorney at the Supreme Court Registry today when the filing was made:
Pastor Lance Lewis, President - NEAB
"We are here to sign the document that says we are appealing the decision by the chief justice to remove the sodomy law in Belize."
Dickie Bradley, Attorney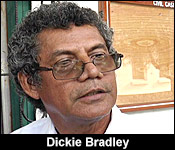 "That filing of that document is an application by Pastor Lance Lewis and Pastor Scott Stirm on behalf of the churches that are part of the evangelical association, that they are seeking permission to join in the appeal in relation to the now famous or infamous section 53 ruling today. This is because the national association of evangelical churches was not an interested party, not listed, they have to seek permission from the courts to be allowed to go and argue their position in relation to the matter. The Roman Catholics have also filed their appeal today challenging just about all the decisions that came out of the chief justice's decision handed down on the 10th of August. So this means the battle is joined, you yourself have commented and Pastor Lewis Wade have commented that whomever wins at the first round, there will be a rematch and that this will end up in the Caribbean court of justice eventually."
Pastor Scott Stirm. NEAB
"This is the day for us a church to be able to stand strong particularly for family protections. I think that people have tried to wrongfully paint this as people trying to dictate what's happening in the bedroom. For us it's not about that at all, it's about protecting the children."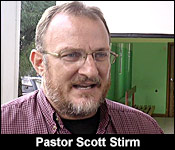 Jules Vasquez, 7News
"Is it a victory for the moral suasion of the churches to bring the Prime Minister around the table....?"
Pastor Lance Lewis, President - NEAB
"Yes, last week Friday was a bit sticky because when we went around the table, he had said that there was a hindrance now we can move forward without a consensus. We still stuck to our idea of wanting a full appeal and eventually something shifted, I think as a result of God hearing and answering our prayers. The Prime Minister came around and said yes we can appeal because they are going to appeal a section of it but we are making a full appeal."
Dickie Bradley, Attorney
"They feel that if gay people come and want to marry, there will have a problem in their schools and churches, they want that to be clarified. I was impressed with the discussion with the churches because they took the view, which is a very important view in Belize, that this major historic decision have several implications for religious people. Who as I started out I said they have a role to play, the laws that I have been reading, decisions of other jurisdictions and the courts, say it is the churches who must be involved in the matter of the public morals of the society. The decision of his lordship is saying different, so these are matters that need to be clarified."
So, to be clear, the churches are appealing on the issue of sex as differentiated from sexual orientation, and on the issue of whether consenting adults can engage in anal sex. The Evangelical churches feel this issue is the thin edge of the wedge, meaning that if they let this change slip through, then next thing you know, pretty soon those two men in the coat of arms on the flag will be exchanging wedding bands. Seems extreme, but for Christian Conservatives legalizing sodomy is walking down a slippery slope:
Pastor Lance Lewis, President - NEAB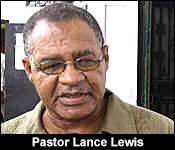 "To say that sex sodomy between interesting parties of consenting adults is opening the door for some of those adults to go further down the line to younger people to get the society feeling like sodomy is okay now. Its s free day, it's an open day and this is opening that door for more to come. In fact one of the lawyers with the LGBT group said that the door is open and some more things will come through the door. That is usually the case in United States and, in Belize it could be that, but we are trying to nail that down so we do not go any further on this."
Pastor Scott Stirm. NEAB
"To swing the whole thing into a re-interpretation of special human rights, that's what we are calling it, special human rights. We find it to be inaccurate and inappropriate and actually in violation of the universal declaration of human rights."
Reporter
"So when you say human rights, do you include gay rights?"
Pastor Lance Lewis, President - NEAB
"Gay right is not a human right."
Pastor Scott Stirm. NEAB
"We are talking about human rights for humans. Gay rights are for gays, when you're talking about gay rights, you talking about special rights for one special group of people. We are talking about human rights for all humans."
Dickie Bradley, Attorney
"His Lordship, the chief justice is saying that gay persons in this country cannot be allowed to be treated as if they do not also enjoy the freedom of expression. so if you feel gay, and you want to express yourself gayly, a man would say 'I'm really a woman, I want to put on my lipstick, earring, high heel shoes and my clothes' and perhaps he wants to go teach in the schools, the schools cannot stop that person from expressing himself. If as you have been reporting, there was a student in the Cayo district or out west who appeared to be a boy but he wanted to go and use the girl's toilet, he is expressing who he is, his freedom. The churches were of the view, that that is the correct interpretation, that that is going to create a major upside down relationship in terms of the core values of the evangelical Christians in Belize. In fact I expect perhaps as early as the carnival tomorrow that there might be a gay element in the carnival. Let me just say this for the benefit of your viewers, to be a homosexual or a lesbian in this country is not illegal, it is not a criminal offense. What is criminalized is the sexual activity. If you want to be gay, nothing is wrong with that."
Jules Vasquez, 7News
"Heterosexuals engaged in that activity too though, I've heard tell."
Dickie Bradley, Attorney
"I can't support you in your suggestions, but the point is, if gays want to parade, if they want to spread the doctrine that little children can be boys if their born girls, or they can transgender through a number of genders, the churches have a major problem with that. In fact this is what this particular churches and these pastors told the prime minister, that we follow the scriptures."
Bradley told us that both the government and the Catholic church also filed their appeals today, on the 21st day since the judgment was perfected. The number of days is important because those appealing a judgement only have 21 days to do so.