And viewers will remember, the Integrity Commission and the 13th Senator are two of three demands that the Belize Chamber of Commerce and Industry share with the Teachers. They say that if the Government does not institute them by a certain deadline, they will commence with a 1-day business shutdown, and other actions will follow as needed.
Up until early this week, the Prime Minister wasn't prepared to budge on these issues until last night, less than 12 hours after the business community passed those resolutions to pressure the Government. So did the Prime Minister reverse to appease the business community? That's what the press asked him yesterday, and here's how he responded:
Reporter
"Is this your way of appeasing the business sector and preventing a national shut down?"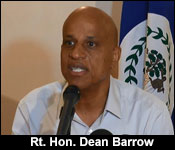 Rt. Hon. Dean Barrow - Prime Minister
"Not at all sir, not at all sir; the BCCI have given some deadlines which we are not going to meet. I gave you my own timeline so the BCCI I'm afraid if they want to be so responsible as to call for a shut down because deadlines that they imposed that are utterly impractical then be my guest. No what we've done is to come up with time frames that are doable and practical and that's where we stand."