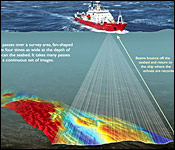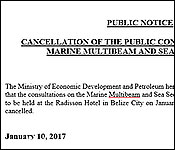 At the end of December, we told you about the planned public consultations on the controversial marine multibeam and sea seep survey. They were to have taken place in January the 18th and 25th at the Radisson. Well, the Ministry of Economic Development and Petroleum announced quite abruptly today that those have been cancelled. No reason was given, no future dates given. Just cancelled. Story done.
But we do know that the government release came three hours after a strongly worded statement from The Belize Coalition to Save Our Natural Heritage. They called on the Ministries of Tourism, Forestry, Fisheries and Sustainable Development, and the Belize Tourism Board to publicly declare their position on offshore oil exploration. And the coalition also bashed the planned consultations, saying, quote, "The Coalition expresses great concern over the legitimacy of these "consultations" as it is unclear how public input will be utilized; whether survey ships have already been scheduled to enter Belizean waters and how two meetings in Belize City at night suffices as consultations for an issue of national importance." End quote.
Like magic, three hours later, hose consultations were cancelled. But, the Coalition didn't hang up their gloves there; they got in the ring for round two!
They wrote to the Petroleum Ministry's CEO Sharman Hyde, asking, quote, "We kindly request clarification as to whether it is only the public consultations that have been cancelled or the intended multibeam survey has been permanently cancelled as well."
That letter came late in the evening, so we'll see what the ministry says, if anything.