Hon. Espatís Dance Around The House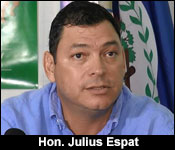 There's a House Meeting on Friday but will PUP Cayo South Representative Julius Espat be there? Our best information says he won't, but that his a truce has been brokered to end his suspension. 7News has confirmed that Espat along with his party leader John Briceno, and UDP Party Whip Michael Finnegan met with the new Speaker of the House Laura Longsworth last week Tuesday to iron out matters.
We have confirmed that Espat also wrote a letter of apology – in which he doesn't apologize, but he does vow to respect the Speaker going forward. The letter refers to the August 26th. incident as "unfortunate" and states that he had no intention of disrespecting the chair. It adds that Espat, accepts the authority of the chair and has no intention to undermine that authority. With that, it was agreed that Honourable Finnegan would move a motion at the next sitting to bring him back. But, the timing is the issue. Espat wanted to come back on Friday, but it seems the UDP Majority will only agree to have him come back at the next sitting in late January or early February.
So, Espat's attorney has written to the Speaker asking that he be brought back in another way. The letter from Magali Marin Young says that his suspension was only for the 2016 session of the House and that finished on December 31st., so he should be brought back at the start of the new session on Friday.
But, while Espat's attorney maintains that the session ends in December, the UDP says the current session won't end until the House is dissolved in 2020 before the next general election. So, don't expect to see Espat at the House this Friday.
But, we did call and ask him what he's playing at by sending the letter – since the matter has been resolved and he will come back through a motion. He says he's quote, "working on parallel terms – making sure that all angles are covered…"