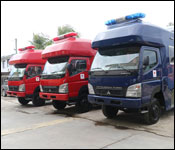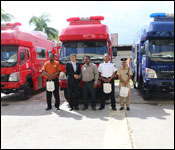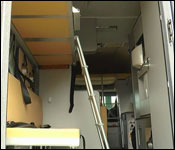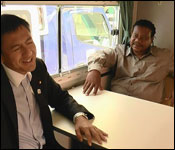 The Government of Japan handed over 3 trucks to the Fire Department today. Now, they aren't fire trucks, they are called command vehicles. They will be deployed for major fires and other disasters like flooding. But don't expect to see any water coming out of them. They are pretty much like offices on wheels. Fire department personnel will be able to better coordinate for quicker response to emergencies. We were there at the ceremony to see just how special these vehicles are.
The dancing flames and the thick, blinding smoke – it is a scene all too familiar for many city families as their homes crumbled beneath the blaze.
And it's not only houses that were destroyed – lives were lost. Four children were killed in house fires in the last three months of 2016.
It is a major struggle for the fire department to respond to all these calls. But with today's donation of 3 fancy trucks, it will improve their operations and respond time.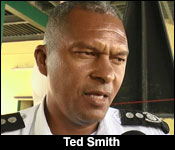 Ted Smith - Station Manager, Fire Department
"These are command post vehicles, these vehicles are to be utilized for effective command and control in emergencies, they will be structured in a way to have maps, communications so that strategies can be plotted out within them during an emergency and to be executed on the ground."

These command post vehicles are equipped with storage areas, bunk beds; even its own bathroom, shower and all. So it is certainly not a fire truck or any other standard response vehicle. It will act as the outdoor base.

Ted Smith - Station Manager, Fire Department
"The vehicle itself will house the command structure, the incident command will take place from within the vehicle, where we will set up a command a control on the ground, you know there is a multiagency approach in emergency especially fire in Belize, you know we have the Police, we have the traffic, we have the ambulance service and we all work as a team but what you have seen lacking is on the emergency scene is that command structure where you can visibly see where the and control and control is taking place on."
Courtney Weatherburne
"So this is pretty much the Fire departments office on wheels?"
Ted Smith - Station Manager, Fire Department
"So to speak, where the command will take place, so to speak at an incident."

But these trucks aren't only for fires; they can also help in other disasters.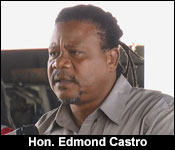 Hon. Edmond Castro - Minister, NEMO & Transport
"Such an emergency vehicle, the command centre, will serve us well especially in times of disaster, on our roads, in areas where there are hurricane disasters, in areas where there are flooding, the equipment such as this is welcome news not just for NEMO, the national emergency management organisation but also to the police, also the fire department that we will have control in areas where we lacked the necessary communication."
These trucks cost $1.8 million Belize dollars.