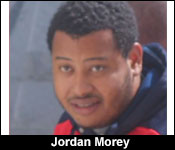 22 year-old Jordan Morey is out on bail tonight for another charge of obtaining property by deception.
The victim who he allegedly conned is Ashton Jones, who reported to police that on November 29, 2016, he was having a Facebook conversation with someone who didn't know personally, but who introduced himself as "Jay Jay". Jones says that this man told him that he has a 2005 Ford Escape SUV for sale for $3,500. Jones reported that on January 4, he met with this "Jay Jay" and paid the man $2,700 up front, and they agreed that he would pay the $800 balance in instalments.
The problem is that he never delivered this vehicle, and when Jones started investigating, this man later identified as Jordan Morey, was using an assumed identity, and he didn't have this vehicle to sell. He told police that he has heard of other complaints of Morey that are of a similar nature, so he wanted court action.
Police investigated and charged Morey with obtaining property by deception, and he was arraigned today in front of Magistrate Carlon Mendoza. He was offered bail of $2,000, and he must return to court on March 14.
7News for Wednesday, 11th January, 2017 from 7News Belize on Vimeo.