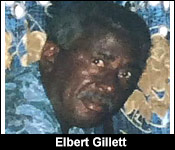 There are grace concerns tonight for the safety and wellbeing of taxi driver Elbert Gillett. The 66 year old was reported missing by his daughter this morning. According to her, Gillett left his home last night at 11:00 in his green Geo Prism and has not been seen since. What's most troubling is that his taxi was found this morning on Benbow Street in Belize City. It was burnt and abandoned, but there was no sign of Gillett or his belongings.
Gillett is as you see him in this photo, and about 5 feet 7 inches tall. He was last seen wearing a button down shirt and dress pants. Anyone that has information about his whereabouts is asked to contact their local police station.
His daughter declined an interview today.