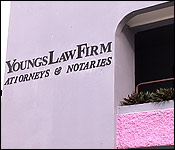 In other news from the legal community, Young's Law Firm, the late Michael Young's law practice, closed its doors today.
It was one of the bigger law firms in Belize, but when Young committed suicide last year October, since he was the sole proprietor, it ended up in the hands of his family, who are his executors.
We've since learned that 2 of the partners have come together with another attorney to form their own practice. This new law firm will be the spiritual successor of Young's Law Firm, but will bear a different name and have a different address.
It is still unclear what exactly will happen to the employees of Young's Law Firm who, we are told, have been paid off.