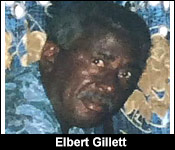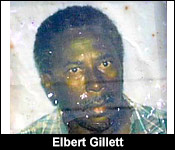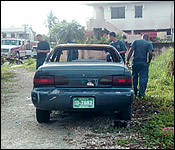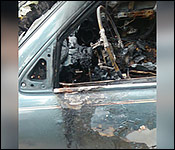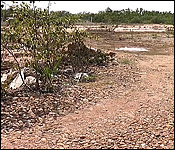 But first we have to tell you about a very violent weekend. We start with the terrible news about 66 year old Elbert Gillett. He's the taxi driver who was reported missing by his daughter on Friday. His vehicle was found burnt later that day, ands driver's license was found by a stranger in Ladyville. Those were alarm bells signaling the likelihood that we were facing another taxi man's murder. The worse fears were confirmed don Sunday afternoon his family found his body on Sunday. We spoke to his family and fellow cabbies to try and figure exactly what happened...
Alex Courtenay reporting
On Thursday night, 66 year old taxi driver, Elbert Gillett left his home and family to see if he could pick up a few extra passengers before calling it a night. That was the last time his family saw him. After realizing that he did not come home, his family reported him missing to the police the next morning. Then, they got a search party together and looked for him themselves, and did not stop until they found him.
Voice of Keisha Coye - In-law
"On Friday morning when his wife got up she was well concerned. She then call her daughters and pass the news on. His brother went in search and have helping hands to search for his body or to find the location of where he is. Later on they got message that his vehicle was found burnt on Benbow Street in the Port area.
"The search continued. Later, on Sunday we got a call saying they found a body on the Western Highway and the family members were notified about that and they all went up. On the scene they had to do a post mortem. Afterwards the burial."
News of his murder came as a shock to his family, as well as those that he worked with. One of his co-workers told us that he was not the type of person to have enemies.
Nick Bevans - Co-worker/Friend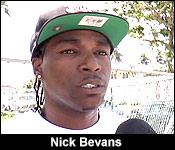 "I know Mr. Gillett had no enemy. If he had any enemy, we don't know anything about it. All I know he was an honest person, hard working person and he was a nice and fun person to be around, because he like to talk about sports and him and I always talking about sports. So that was a part of him I will miss."
Gillett's death has raised concerns among other taxi drivers, who have to be selective about who they pick up, something that Gillett practiced himself. Which is why his coworkers are sure his killer was not one of his regular customers.
Nick Bevans - Co-worker/Friend
"We worry about it but what we do, we try to minimize pick up people from certain areas. We try to deal with customers, we try to grow our customer's base, so that we could know the people that we pick up. Most of the time I have my customers call me. Like what the police department do, profile people. Sometimes some people walk up to your vehicle (you are judging a book by the cover), but the appearance and behavior of some people, you would decide not to take them. But Mr. Gillett never pick up the person or persons who took his life from here."
And while the police try to figure out what happened, Gillett's family and friends will remember him as a kind and loving father, grandfather and husband.
Voice of Keisha Coye - In-law
"Mr. Gillett was a friendly man, he was loved, he likes to give jokes. When he comes home, he was welcome by his wife, his grandchildren. Anyone comes in contact with him, he might have his ways, but anyone comes in contact with him, knows the kind of person he is and will always remember him. He might have a serious face, but behind that face, there is a smile. As we always may say at times, he is a clown, but our clown as the wife would say."
A postmortem conducted on site, confirmed that he had died from a gunshot wound to the head.