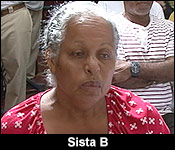 Today, at the house meeting we also got the chance to ask the PM about his son Shyne Barrow. As you heard on Friday, Michael Finnegan is stepping down in Mesopotamia, and he has given the nod to his nephew and the PM's son Shyne Barrow. How does the PM feel about it? And about his own successor in Queen's Square? We asked today:
Rt. Hon. Dean Barrow - Prime Minister
"With respect to his political ambitions, he is perfectly free to have those. I certainly believe in public service and so to the extent that he would want to get involve in public at that level, I applaud him and encourage him."
Jules Vasquez 7News
"Sir, in Queen's Square, there are rumors that Mike Peyrefitte, the emergent ascendant Mr. Peyrefitte might be your successor in Queen's Square."
Rt. Hon. Dean Barrow - Prime Minister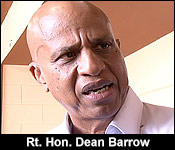 "While it is not for me to decide, because more likely than not there will be a convention if there are other aspirants. As far as I am concern I have publicly endorsed my sister who is really the one has been running the constituency and who is really the one that certainly won the last two elections pretty much on her own. This last election I don't think I visited one home. I didn't have to go to one constituent. Sista B (of course I made sure that people were taken care of), in terms of the personal touch, it was all Sista B. That is her life and I don't see how I could ever endorsed anybody other than Sista B. Now she and Michael Peyrefitte are extremely close. If she decides that she would want to give way for Mike, that's a matter for her. Mu position is that while I do think the world of Mike, Sista B absolutely deserves to be the next representative for Queen's Square and I think it would be a tragedy if anything were to change that."
And there's a lot more interesting stuff form that interview with the PM, but you'll hear it in tomorrow's newscast.