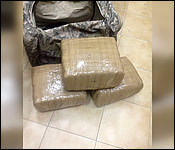 Last night, we told you about Police Corporal Darrell "Tutsi" Usher, who was charged with trafficking for 9 kilos of marijuana. Well, he's out on bail tonight after being taken to the Magistrate's Court.
He was arraigned today before Chief Magistrate Ann Marie Smith, where he pleaded not guilty. and even though he allegedly ran from the cops and eluded arrest for more than 48 hours, the police prosecutor had no objection to bail.
Chief Magistrate then granted him bail of $1,000, but he had to pay 500 of that in cash. The conditions of the bail are that he must surrender his travel documents, and he cannot leave the country without permission of the court. He must also sign in at the Hattieville Police Station once a week until his case is done. He returns to court on May 29.
At around 9:15 on Friday night, police claim to have spotted him coming out of a bushy yard on Faber's Road Extension with a large bag, which he placed in the back of his vehicle. Those cops followed him when he drove off; they then pulled him over, and told him that they would search him.
The police say that he asked them to park the vehicle on the side of the road, but instead, he sped off. The cops had to chase after him, and that pursuit didn't end until they arrived at an area known as the "Dike". That's where, according to police, Usher jumped out of his vehicle. They say that they saw him running toward the creek with the bag that he picked up from the yard on Faber's Road Extension.
He escaped, but the police say that they searched the area and found the bag floating in the creek. They took his vehicle and the bag back to the nearest police station, and they found 3 brown packages inside the bag weighing a total of 20 pounds and 10 ounces.