And in trying to raise revenue, government isn't only looking to you the taxpayer. They're also going into those big spending statutory bodies, to take a cut of their revenue. The PM announced yesterday that all statutory boards are required to contribute 10 percent of their 2017/18 income to the Consolidated Fund. Statutory bodies include places like the BTB, PACT, BAHA, The Statistical Institute of Belize (SIB), The Belize Social Investment Fund, known as SIF, BELTRAIDE, and the PUC, among others. The PM discussed how it will work:
Rt. Hon. Dean Barrow, Prime Minister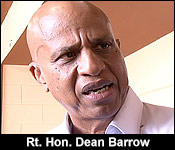 "Which has to be cut at the statutory bodies and nobody, the ministries associated with the particular statutory bodies, including the ministry of finance - those ministries have not been doing the kind of monitoring, the kind of supervision that must be done and so there is this sort that let everything come into the consolidated revenue fund and we only give back as a budget what these people can justify and that would help to curtail some of the excessive spending."
"In terms of the BTB, we looked at what they had made last year and it was 20 plus million. We thought that 10% wouldn't be too severe a strain, but I will say this: If any of the statutory bodies from whom we are looking to take the 10% can show us where they can't afford it, that they are running their affairs properly. Let me limit it for example the BTB. We think that the BTB is running its affairs properly. They come back and they say listen, for marketing we need back that 10%. We will give them."
The PM indicated that developmental statutory boards such as Social Security, and The DFC, and, we presume, the Central Bank will not be included in this revenue roundup.