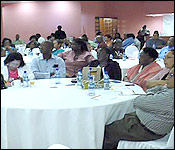 The high school curriculum hasn't been revised since the 90's. Now unless, everyone is comfortable with their kids being stuck in the 20th century, then it's about time for an education reform. That's what the Ministry of the Education has been working on and today stakeholders held a meeting to discuss ways to re-vitalize the secondary school curriculum. CEO in the Ministry of Education, Deborah Domingo discussed some of the focus areas that will be reflected in this new curriculum.
Deborah Domingo, CEO, Ministry of Education
"Today's event is not a new initiative it is an ongoing one. The Ministry of Education has embarked on an effort to rationalize and diversify the curriculum at the high school level. So one of the first things we have done is to pull our stakeholders together to have us develop a profile of who the high school graduate for Belize should be, what attributes should they have. Having done that we have looked at, well how best do we deliver this through the curriculum."
"So we had to decide on what is to be common for every single high school graduate and that forms the core and one of the domains we looked at is that the high school graduate must be a global citizen but certainly a citizen of Belize, patriotic and embracing of the principals of democracy etcetera so Belizean History then has to be a key part of it so there was a decision taken to ensure that Belizean history is a part of the core curriculum at the high school level, first through to 4th form."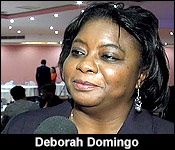 "I have mentioned Belizean History as one of them but certainly Information Technology which is always an ever changing and evolving aspect of our world has to be a part of the core and so we are also looking at ways to improve school's capacity to deliver ICT - Information and Communication Technology."
"So our expectation is that come school year 2018/2019 we should have at least the core curriculum, present in all our secondary school but for the upcoming school year the intention is to pilot with a few schools who are in a better position to participate in a piloting effort."
Apart from adding Belizean History and Information Technology as core subjects, learning outcomes will be set for existing subjects such as P.E to evaluate the effectiveness of these courses.
Now diversifying the curriculum is one part of the process, training teachers and re-creating and refreshing classroom sessions are also key.
Courtney Weatherburne, 7News
"A part from the revised curriculum, there will also need to be training for some teachers as well right in secondary schools because most of them are already used to a certain methods or certain material, when will that training come in? That's I'm sure a part of this process."
Deborah Domingo, CEO, Ministry of Education
"Yes it is, it is definitely part of the process with the development of the various curricula, subject areas and fine tuning the ones that exist those would have to be coupled with workshops and sessions with teachers across the country and so we expect to engage in those in the upcoming school year."
Courtney Weatherburne, 7News
"When you are looking at education in Belize or the school setting, there is also this critique that it is very standard, very rigid the classroom setting, teacher comes in and there is the curriculum, the daily activities and so forth and for students, some students that particular structure might not work for them, is there also an ongoing discussion about how to maybe diversify the classroom sessions - you know teacher to students interaction, the learning strategies and approaches to really make the academic experience for students really dynamic."
Deborah Domingo, CEO, Ministry of Education
"Right, you are absolutely right, you should be a teacher, hands on and I think I mentioned earlier the need to move towards competency based, you don't get to develop a competence and not prove it, how do you determine a person has acquired new skills, they have to do to learn and demonstrate that they have learned and that I think requires a paradigm shift in the approaches that are being used in our classrooms."
As you heard, the Ministry will be conducting a pilot project at a few schools to ensure the success of the new curriculum.