And as the Senate Inquiry lumbers on tomorrow, there could be more revelations which UDP did what in the great game of Immigration Irregularities. Indeed, as one officer pointed out, every corrupt politician needs a corrupt public officer to facilitate them in this game, and it seems there's no shortage of either. It's a cause of much sorrow for many UDP faithful who still wanted to believe that theirs was the honest and un-corrupt party, but there's ample proof that red lights were bring run rampantly on both sides of the PUDP political superhighway. We asked retiring UDP party whip Michael Finnegan how he feels about all the tales of corruption surrounding the political movement he joined in the 60's:..
Jules Vasquez, 7News
"The values of the UDP have changed. When you were a UDP street fighter, so to speak, in the 70's, man it was a simple little game, but now it's a big game. We see in the senate inquiry. We see these UDP insiders who press their influence to get visas - this sort of thing. How do you view public life in general knowing that the corrupting influences surround a political party and the political actors within that party?"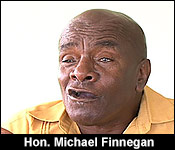 Hon. Michael Finnegan - Area Rep, Mesopotamia
"Jules, today everything is based on money and of course there are honest people around and there are honest people around on both sides of the political divide. So as far as I am concern there is still hope for Belize."