All week we've been reporting on government's new basket of taxes. Designed to raise 80 + million dollars in revenue for government, the new tax measures dig deep, but they do so almost inconspicuously. That's because the government stayed away from direct impact, across the board taxes such as income tax, general sales tax, or business tax.
One of the not so noticeable taxes they topped up is the departure fee for tourists, increasing it to $40 dollars. Government hopes to collect 11.05 million dollars, but the Belize Tourism Industry Association, says the departure fee, when added to the new PACT charge will add up to much more - too much for visitors to comfortably bear. Today the BTIA put out a detailed position paper, and the executive Director explained why the fee increase is wrong for Belize:…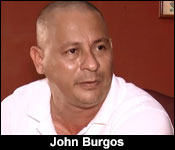 John Burgos - Executive Director, BTIA
"It's going up to 55 dollars US per person non Belizeans leaving Belize so automatically we know that is definitely going to have some negative impacts on the industry. When you look regionally we have to try to be competitive in terms of how we market Belize. As you know already we are one of the more expensive destinations within Central America and within the Caribbean so we have to go against what is being proposed at this moment. I'm already hearing from other individuals that are involved, all the stakeholders that they are saying they are thinking of not coming to Belize again. So you have to take into consideration you can't say you know what the government needs this funding and this is an easy for us to get it, no you have to look at how it impacts."
Jules Vasquez
"But 55 US sounds like a lot to the average person but for the tourist who makes a visit to Belize overnight tourists, 55 US is really just a small fraction of what they will spend in Belize all told it isn't really that much 55 US. How do you respond to that?"
John Burgos
"Like I tell you, we Belize as it stand right now, we are one of the more expensive destinations regionally and in the Caribbean; so adding additional cost to that has to be taken into consideration. We have seen the increase in groups and families travelling to Belize. Say you have a family of 5 person, you multiply that by 55 is a substantial amount of money."
Jules Vasquez
"I read in the document that you are all are asking for them to hold off on the implementation of the PACT fee, am I right?"
John Burgos
"That is correct."
Jules Vasquez
"Explain to me the reasoning behind that."
John Burgos
"The first thing is that the PACT, the whole reason why the PACT was established was to collect funding that would go to the preservation of the environment. Now he is telling us he is going directly into the consolidated revenue fund which you know what happens to any funding that goes into that fund. We know for a fact that the natural resources need a lot of basic services, need a lot of improvements. Infrastructure wise we already see some of the infrastructure development the government has done over the last 8 years, we are pleased with those but they're still so limited. They're not tourist destination oriented some of them so if the government will say you know what, we are going to increase it to that because we see the need and we go for that, then we have a serious discussion so we can contemplate to support but if that is not being done, we cannot support it."
The BTIA will make representations tomorrow at the House Committee meeting. From there it is asking for some dialogue with government since it was not consulted before the increase.