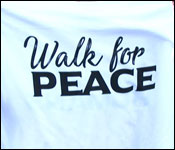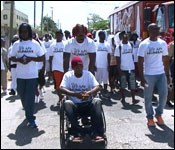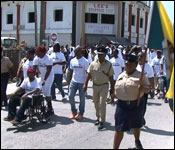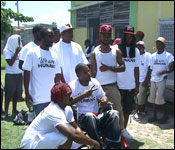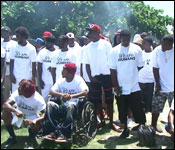 Over the years, we've seen countless rallies and marches for peace by mothers of the deceased, school children, and activist groups. Today was another - except this one was very different. That's because all Belize's gangs are the ones who took to the streets to say "enough." It's a first and 7News was on the street with them from beginning to end:..
"Walk for peace, we are humans" that's what the shirt said for those gathered at the Raccoon street station.
Gang crews form every block in the city took off their gang colours and put on the t-shirts
At 9:40 they left off with full police escort, about 60 males from at least 14 different gangs:
ACP Chester Williams - Commander - Southside
"We have Majestic Alley, Pink Jungle, George Street, Conch Shell Bay, Banak Street, PIV, Bak a Lands, Sunset, Afghanistan, Kraal Road, Supal Street, Southside, Jane usher and from back a Faber's Road."
A March for Peace is what the event was called, and it went through Raccoon Street, unto Central American Boulevard and down cemetery road - you cannot stay they marched with military precision, but they did march to make a statement on a sweltering day:
ACP Chester Williams
"Basically form an intervention we had the guys agree that they wanted to have a peace walk whereby they can all come together and show some sign that they want the madness in the streets to stop."
Jules Vasquez
"So why you come out ya today?"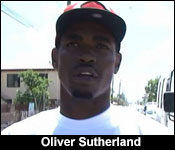 Oliver Sutherland - Conch Shell Bay
"I walk for the peace, betta Belize."
Ellis Meighan - Banak Street
" This da di easiest thing to get organize today because everybody out ya soh come out fi a reason and one reason why we want keep the peace and we no want bring no mo killing eena di street."
Alex Underwood - Southside Gangsters
"Well we di work with Mr. Williams the try make a lee better for the community and try ease up pon di violence."
Brandon "Battery" Smith - PIV
"Well i just de out ya di march because I wah fi see better for Belize and for the youths them."
Dashaun "Jiwe" Morris - Mediator
"I think today was a good first start to show the community that people that normally cannot coexist are able to walk together that's a great first step."
A first step - but there's also a subtext - that it could be one step forward and two steps back if the Southside Commander who facilitated all this is removed:
Ellis Meighan
"So whe di government di try do fi bring Vidal yah, all it wa do is cause more war and more problem eena di place than anything else. This da everybody the come out, this da everybody one lick together everybody di come together fi make sure that man no come ya, we no need no more problem da Belize. Chester the try put wah peace eena di streets."

Alex Underwood
"Vidal and they bally wa try chance we and try take we lightly and no want give we fi we rights weh we deserve."
Jules Vasquez
"Weh di government gwen seh is well if unno comfortable with Chester we no comfortable with unno so we want cramp unno, we will bring the man who will cramp unno the hardest."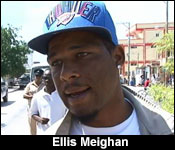 Ellis Meighan
"But at the end of the day, the man weh di come fi cramp we just wa cause innocent people fi start to get hurt back da Belize and that no make no sense because at the end of the day, beating people or killing people no wa change nothing, they will build more monsters eena di streets."
But not everyone agrees on that:
Brandon "Battery" Smith
"Eena wah way it noh really matter you know long as we wah peace, peace da peace it noh matter who come een."
Reporter
"But aren't you concerned that with the way Mr. Vidal has been able to deal with the gangs in the past that it may disrupt or break up what you are trying to achieve here in terms of some kind of harmony with the rival groups?"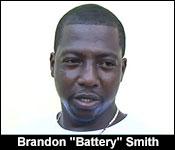 Brandon "Battery" Smith
"As long as you into problem then the man gwen have to do his job."
Reporter
"These people are naturally apprehensive that things are going to fall apart.
ACP Chester Williams
"Well I don't think so, I know Mr. Vidal, he's a friend of mine and Vidal is an outstanding officer. I'm sure that when he comes he will assess the situation on the ground and he is no fool, he know what he will need to do and what he will not be required to do and he will ensure that he continues the good work we have started on Southside."
Jules Vasquez
"They think that he is being brought here to bring pressure on them."
ACP Chester Williams
"Well I am not going to comment on that, I cannot say anything about that - that is their belief. I think otherwise and when Vidal comes I'm sure that his work will speak for itself."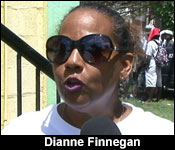 Dianne Finnegan - Mediator
"So why are you bringing Mr. Vidal into the system? What is his intention for being in the system? I'm working with you as long as that purpose and intention is to calm this crime and violence without brutality, without intimidating these young men and without destroying what we have put in place so far."
And what they did today was in many ways remarkable, we saw handshakes, group pictures and amicable discussions between heads of rival gangs:
Brandon "Battery" Smith
"Like how all a we we could just relax and reason."
Jules Vasquez
"You think you will be able to do that to squash all the beef?"
Brandon "Battery" Smith
"Well I could do it, I noh know about the rest."
Reporter
"I notice you were having a conversation with Ellis Meighan earlier as well and it has been well known in the past that you guys have had your own differences between the two groups. What is it like for you to have that conversation with him today in light of what is happening?"
Brandon "Battery" Smith
"Well we just the reason with weh di go on and we di try relax same way to."
Alex Underwood
"Well it noh really difficult all of we da man check da no like the first time we the see each other, we always deh round each other, all da jail we deh round each other check. So we know how fi handle this situation yah check."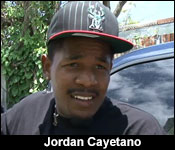 Jordan Cayetano -Antelope Street Extn.
"Well it feel, it feel good because things like this noh happen. Everybody from different areas the way and we just the enjoy fi we self, relax, smile, talk to one another. We have friend from all different block, it's been a while we no talk and holla at one another and today we holla at one another and talk and try get back on one level, peace just chill."
Dashaun "Jiwe" Morris
"I think this will calm thing a little because I see guys that normally wouldn't deal with each other, I see them interacting right now, that's always a first step."
But - we've seen this movie before - this may be the first peace march, but there have been other dialogue, bar-b-que, and recreation days just like this:
Jules Vasquez
"What's happening out here has been done before. I've been in this from the 90s, that is when the first gang truce was held at Bird's Isle. Since then CYDP has held, we had the B loving and C skilling march 3 years ago, it's a cycle."
ACP Chester Williams
"Yes ahm Jules many things that we are doing have been done before. They are good initiatives, the block marches are good initiatives as well but what we like about this one is that the participants are only those persons who are affected by the different shootings in the city and it was their idea they decide that they'll have it. And again we have representation form every block in Belize City including those form north side."
Jules Vasquez
"But always war starts up again."
Alex Underwood
"Well I noh think it gwen happen again this time because Mr. Williams approach it different."
Jules Vasquez
"But Mr. Williams gwen."
Alex Underwood
"I noh think they wa move ah because if they move ah maybe the street might get bloody, we never know. We no want talk like that right but da just reality check."
Of course, today they were working on making a new reality:
ACP Chester Williams
"All these guys want to live they were asked that and every single one of them want to live but the only way the only way they can live is to stop the madness."
Ellis Meighan
"Boss we di try bring wah better Belize at least bring di youths out den wen di bust gun mek they stop bust gun, the older ones the guide they eena di right way."
Jules Vasquez
"How can we find a lasting peace between rival gangs? When in reality man hungry and man love their turf."
Brandon "Battery" Smith
"Well da no wa turf thing you know, money di ya everybody make. Money di ya fi everybody make, we just have to learn fi live as one."
Alex Underwood
"But we di work with Mr. Williams and we will make this work mien check, we gwen ease down pon di violence."
It's easier said than done - and while today may augur for at least a peaceful Easter, Williams has his eyes set on a bigger prize:
ACP Chester Williams
"April, May and June have been historically the three deadliest months in Belize City history and I have said to them that we want to ensure that this year is different, we want to change that trend. We know it will not be easy but I am sure that this that we are doing here will assist in moving towards that direction to change the status quo and again this is leading more towards a gang truce. We are hoping that after the Easter we can dialogue more with these young men and get them to a stage where we a gang truce and once we have the gang truce, I think we can see some semblance of peace in the city."
The event finished this afternoon with a basketball tournament which Kraal Road won. As ACP Williams noted, after the Easter, his Southside formation will move forward with different peace-making events, and from there, hopefully, unto a truce.