US Parents Detained For 13 Year Old Daughter Found Dead in San Pedro, Police Say Abuse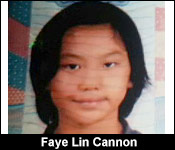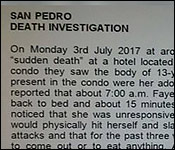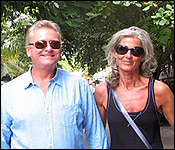 Tonight there is a very ugly and tragic story coming out of San Pedro. This 13 year old, Faye Lin Cannon is dead, and she appears to have died as a result of extreme physical and sexual abuse. The parents called police to their condominium unit on northern Ambergris Caye on Monday morning, saying the teenager was unresponsive. Her mother Anke Doehm told police that Faye woke up at 7:00 am, asked for water and went back to bed. 15 minutes later, her father, David Doehm found the child unresponsive. They called the police and a doctor confirmed that she was dead. But this was no ordinary death that the young girl endured. Her body was seen with multiple bruises to the arms and legs, plus she had a swelling on the right side of her head with a cut wound on top of the swollen area.
Her parents explained it by saying that Faye was mentally ill and would hit herself against the walls during her attacks. They also claimed that the teenager had been inside her room for the three weeks refusing to step outside or eat anything. Her mother added that Faye had complained of difficulty breathing on Sunday, July 2nd.
And while that's what they said, a post mortem examination conducted in Belize City yesterday found very differently. First the doctor observed that that the child had been physically and sexually abused. And second, It found that she died of chest compression, basically someone pressed down on her chest so hard that it broke three of her ribs, and punctured her heart.
It's a story that almost defies comprehension, and one that has shocked and shaken the San Pedro Community. Faye was born in China - and taken in by her adoptive parents who came to Belize from Hawaii in 2012. Her mother owns and manages a boutique in San Pedro, called Rubimoon where Faye could be often seen, along with her three sisters.
Tonight, those sisters are in the care of the Department of Human Services and the US Embassy. Via telephone San Pedro police discussed what they know so far:...
Supt. Henry Jemmott, OC - San Pedro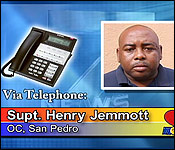 "We have clear facts that a 13 year old child lost her life. The post mortem report is out there and the police is investigating this matter very carefully."
Jules Vasquez
"Her parents, are they still in custody? When were they detained and do they remain detained at this time?"
Supt. Henry Jemmott, OC - San Pedro
"They were detained this morning and they are in custody pending investigation. I don't want to draw a timeline on the arrest of anyone at this time."
Jules Vasquez
"Are you seeking advice on what charges could or may be brought?"
Supt. Henry Jemmott, OC - San Pedro
"The doctors and the officials have stated that it is a homicide."
Jules Vasquez
"Had they sought medical attention for the child? Had the child been to any of the clinics out on San Pedro?"
Supt. Henry Jemmott, OC - San Pedro
"Jules, there is nothing to suggest that, that child was ill over a time, there is no medical records to state that that was so."
Jules Vasquez
"We have seen the police report and the conclusion is that is that there was physical and sexual abuse, but had the child been malnourished or dehydrated? Because I know the parents said that she had been in her room for 3 weeks not taking any nourishment."
Supt. Henry Jemmott, OC - San Pedro
"Physical, meaning she was abused in the form of sexual. That is the physical type they are talking about. So, we are investigating that angle to try to find if what is speculated, occurred."
Jules Vasquez
"In the report it is also stated that she would physically hit herself against the wall during her attack."
Supt. Henry Jemmott, OC - San Pedro
"Maybe that is what they are saying. Our job is to ascertain of that occurred, when it occurred and what did they do in relation to that."
Jules Vasquez
"They have 4 girls I am told. Are you all looking in to the situation on the wellbeing of the other girls?"
Supt. Henry Jemmott, OC - San Pedro
"Yes. I must explain to you that we are dealing with this case very professionally. I could say that the human development officer had already come into effect, along with the US counselors. So those are the person who will be in charge of the kids."
Jules Vasquez
"Was she indeed mentally ill as they have claimed? Because those who have seen her say she seems like a normal child."
Supt. Henry Jemmott, OC - San Pedro
"What we are doing right now is doing an investigation into every aspect of this situation. What we would like is for the general public if they have any information to add to our case, for them to come forward to the station, call the 911 line or the police station number which is 206-2022."
Her parents remain detained tonight, and as you heard San Pedro police wouldn't discuss possible charges. We will keep following the case very closely.