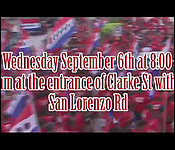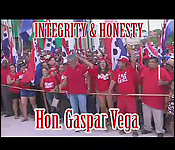 The PUP and the UDP are on a collision course for tomorrow in Orange Walk. As we told you the PUP Northern Caucus, led by Monchie Cervantes in Orange Walk North are planning a protest against the UDP's Area Rep Gaspar Vega. They hope to bring out more than a thousand people form the eight constituencies in the north. Well, last night on Facebook, Vega's camp posted an ad making it clear that they plan to meet numbers with numbers.
The ad - which is the first political activity we've seen from Vega's camp in almost a year - calls out UDP supporters to participate in a rally which starts at 8:00 in the morning; the PUP's one starts at 9:00.
The ad attempts to rebut all that's being said about the scandal laden Vega in the press and the public, calling him a man of "honesty and integrity."
As far as we have been able to find out, the UDP event has not gotten a protest permit, so it is being staged as a kind of impromptu rally.
Police, we are told, will be on high alert to make sure that calm prevails in what could be a volatile setting. 7News will be on the ground and we'll have a full presort in tomorrow night's news, plus updates on Facebook.