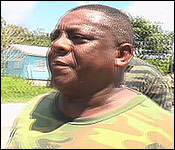 Special Patrol Unit commander Inspector Aaron Gamboa is the officer who lifted Amaya, hauled her away and dumped her on the pavement. We took careful note of his combative behavior and that of his officers out there yesterday - and today we asked the Commander of Operations about it:...
Jules Vasquez, reporter
"The second time I've seen the special patrol unit engage in this type of finger pointing behavior and it seems that they temperament of the SPU I believe matches Mr. Gamboa, which Mr. Gamboa behaves in the creole sense of the word "Ignorant, intemperate, irascible, sassy." What would be your comment Mr. Minister or your Mr. Commander of Ops about the temperament and the unnecessary and distasteful use of combative tactics?"
Hon. Elodio Aragon, Minister of State - Home Affairs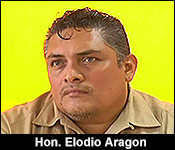 "You have been to several of these things. It's not an easy job. Has never been an easy job to deal with a crowd out there. At the end of the day the police has a job to do and the police officer on the ground have to make those decisions as to how what he needs to do with the least necessary force to move people and at that situation, the use of tear gas was the least that he could have done to move, despite that they did not want to move when they were pushing them and that is the situation. We are grateful that it ended the way it ended, as opposed to have been out there for many hours and having then the threat of people's security and safety out there would have been escalated."