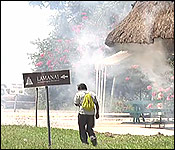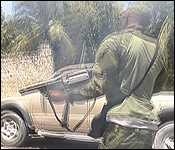 And realizing too much tear gas is one more excess that the SPU is accused of. We got directly gassed at least two times on the bridge - during the second gassing we were interviewing PUP Leader John Briceno. LOVE FM Reporter Dalilah Ical told the police it was excessive and unwarranted; the Operations Commander disagreed:...
Reporter
"I feel that there were unnecessary force used, because after the first uproar of canisters were released. Mr. Briceno moved away from where all the chaos began and then I was trying to interview him on the side of the road and I was telling the officer to let us finish the interview, and then they threw those canisters. What that necessary? We were no longer in a group, we were no longer on the street. We were on the side doing an interview."
Edward Broaster, Assistant Commissioner of Police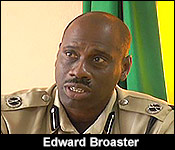 "That was not the case. Maybe you thought you were on the side of the road. When we ask them to move and we pop the first canister, the group went down about maybe 20 yards from where they were at first and you all attempted to interview the Leader of the Opposition in deed and he had his supporters right there still blocking the road and we ask to move again and they refused and we pop the second tier of gas and then the crowd started to disperse. They went down further and they congregated again keep blocking the highway and we discharged another round of canisters and then they went all the way to Tower Hill and they block there again and we discharged some more and then that was when they cleared the highway."
Reporter
"You have residents there and the vehicles were starting to pass and the officers kept releasing these canisters. That is also affecting motorists and residents in the area."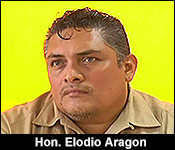 Hon. Elodio Aragon, Minister of State - Home Affairs
"Right. You have to understand that when you release tear gas, you are at the mercy of how the wind blows and that is why today we apologize to the general public for those people who were not a part of this demonstration, but were in one way or the other might have been affected by the CS gas. That is why we make that public apology to motorists, to people who reside in the area that this thing occurred. We apologize to them for this situation."