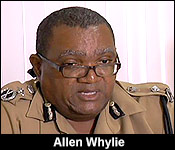 We haven't seen Commissioner of Police Allen Whylie in the news for some time - and that's because he was reportedly on a month's vacation leave, followed now by a month's sick leave. That's a lot of missing weeks for the Top Cop - and today we had to ask the Minister of State with responsibility for Police if Whylie is really interested in the job:...
Jules Vasquez - Reporter
"We were told he was in a month's leave, now I heard, additionally, he is in another month's sick leave. If he is unwell, of course, we wish him the best, but at the same time, one thinks that if you are in charge of an important national operation you can't take two months off. If you don't want the job somebody else has to do the job. The department requires strong consistent leadership."
Hon. Elodio Aragon Jr.- Minister of State, Home Affairs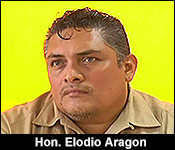 "Yes and I agree with you, definitely. The commissioner, just as of last week, reported sick for one month. I could confirm that to you. And of course, this is a concern to us because definitely in this department there is so much work that needs to be done in all facets; in terms of crime fighting strategies and everything that we have to do. Definitely, this is a concern to us and we are looking into that."
Jules Vasquez
"I'm just saying, at what point will the government take the bull by the horns and say, here what, we need to find a replacement that is interested in the job?"
Hon. Elodio Aragon Jr.
"Jules, there is a lot that has to be done and all I will say at this point in time is that we are looking at it to see what we can do. But definitely we have and how best to move forward. So we are working and looking at that."
Jules Vasquez
"Does Mr. Whylie retain the confidence of the political directorate?"
Hon. Elodio Aragon Jr.
"Well, he's the commissioner of police right now, Jules. If he didn't have that confidence he would have gone a long time ago."
Whylie has about 7 years before he reaches retirement age.
Deputy Commissioner Noel Leal has been Acting Commissioner in his absence.