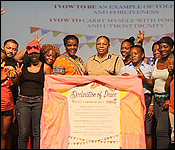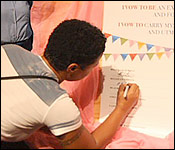 The highly anticipated Carnival is coming up on Saturday. Belizeans wait all year for this event but every year brings its challenges to the groups. This year's challenge seemed to be a feud amongst groups - which played out in a parking lot fight after the King and Queen competition on Saturday. Yesterday, the Belize Carnival Association, band leaders, and the police all came together to assure the public that there is now peace amongst the groups and all they simply want is a safe and fun carnival for all to enjoy.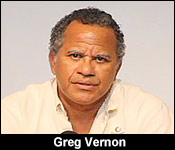 Greg Vernon, President - NICH
"With this, we have a good competitive spirit which to at least calm down and make sure that we go out and head down the road very safely."
"We are moving forward with sportsmanship especially as it relates to clause 7 in our rules and regulation. It is very important that we look to our left and our right and we say we would like to be as safe as possible coming down this road."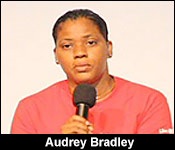 Audrey Bradley, Soca Mocha
"Our safety is first so I just make the whole Belize know that there is no fighting amongst us. We are a family all the carnival groups."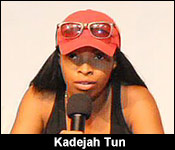 Kadejah Tun, Belizean Jewels
"On behalf of Belizean jewels and the other senior and junior, we would like to plea to the public to you know let's just calm down because the carnival is just one day out of the year that you can completely get loose and be yourself and we don't want stray away from that."
"Carnival is what makes September, September. I mean 21st is there and 10th is there but everyone looks forward to the carnival and it brings so much to the economy and we definitely don't want to lose that."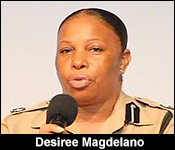 Desiree Magdelano, Eastern Division Regional Commander
"I want to offer assurance this morning that the Belize police force will be out there in force to ensure that participating groups, spectators and the community at large remains safe particularly on carnival day and throughout the September celebration."
Sandra Mahler, President of the Belize Carnival Association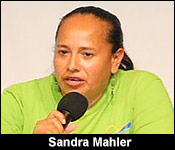 "I just want to assure Belize that Carnival is a time for us to show to show unity for us to enjoy ourselves. It is a time for us to get there and show Belize and extension the world what creativity we have in our people here. So after the incident, we immediately had a meeting and deal with the situation and assure the public today that we are coming down the road in peace, in unity with everyone, so we don't want any of the revelers or family members out there who may be planning to hurt anybody carnival day. Let's put that aside."
Neil Hall, Communications Officer NICH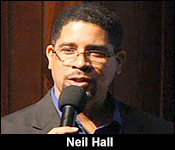 "This is the declaration of peace. It is a declaration that the carnival groups would like to move forward with as the Carnival groups go into the 2017 season. That is showing that there truly is no negativity between the groups. I understand that there is a sense of competition because everyone wants to be king and queen, but it is fair and very sportsman like."
All band leaders signed the declaration of peace on behalf of their respective groups.