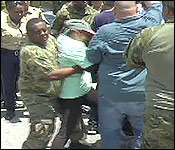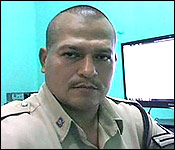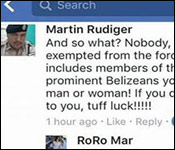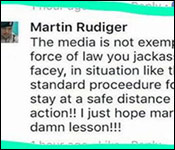 For the past 2 days, all the news has been about the showdown between police and the PUP at the Tower Hill Bridge.
PUP leaders, supporters and the media got roughed up by the police Special Patrol Unit, as they tried to clear the bridge.
But one member of the media seemed to have been targeted for special manhandling, and part of it is surely because she's a female. The police have deservedly taken heavy public criticism for it, and it seems, some police officers are not happy with the coverage. They've taken to Facebook to make their displeasure known.
We've seen a posts like this one from a woman claiming to be a police officer who was on duty that day. She makes absolutely no apologies for her comment, which is laced with expletives, and translated from Kriol, it says, "We had a job to protect those people today, and they chose to make it hard on themselves...So, we did what we had to." End quote.
She also had no kind words for the press, saying, "Stop trying to make the Department look bad..."
Then, there is this post from this police officer who's caught up in a Facebook fight with a civilian. In it he says, quote, "Nobody... is exempted from the force of law, and that includes members of the media... They too damn facey. In a situation like this, it is standard procedure for the media to stay at a safe distance away from the action! I just hope Marisol learnt her damn lesson!" End quote.
That post, it seems, has landed him in trouble with his police bosses, who yesterday gave a general apology to those who were unduly roughed up during the Tower Hill showdown.
During a press briefing today, we asked the top brass about a pattern of Facebook postings that could suggest a groundswell of anti media sentiment in the rank and file of the department. They told us that this particular officer violated the social media policy, and he will be disciplined:
ACP Edward Broaster, Operations Commander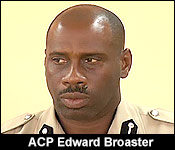 "That is highly unprofessional. I spoke to that corporal this morning because I was alerted by a citizen regarding his post and I believe he has since took down the post and he will be dealt with for that facebook post. Because we have our social media policy where we are not to engage in these sort of unprofessional conduct on social media."
Reporter
"Do you take note of the fact that this maybe the sentiment of officers who looked on - on this particular incident - unu da media, unu gaan deh and unu get wat unu deserve, because the way you all behave when you are on the scene."
ACP Edward Broaster
"I cannot speak to that. What I can speak to is the fact that we encourage our officers to be professional. We train them to be professional and when they act out of line, we deal with them."