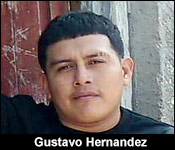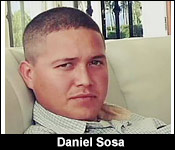 So, while the family has its very strong suspicions, the Orange Walk Police commander isn't so sure that the two cases are connected. He gave a press briefing this afternoon, and said that police have no information to support that:
Reporter
"A motive for this murder sir."
Sr. Supt. David Chi - OC, Orange Walk Police
"I have a motive but I will not revealed it."
Reporter
"Is Hernandez' murder related to the shooting of Daniel Sosa?"
Sr. Supt. David Chi - OC, Orange Walk Police
"I have no information on that."
Reporter
"The family gave us an interview earlier today in which they are saying that they know for a fact that Hernandez was at least was one of the persons that issued a statement to the police in reference to the murder of Daniel Sosa back in July of this year. They said that following that incident, Hernandez had told them that he had been threatened following giving that statement. Is the police aware of this and are you guys looking at this angle in the investigation given the fact that a month and a half after one of your witnesses would end up dead?"
Sr. Supt. David Chi - OC, Orange Walk Police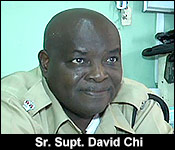 "Mr. Hernandez had never made any report that he has ever been threatened. We have no such report from him. I saw Mr. Hernandez numerous times personally, he had never mentioned anything to me. We have nothing here on record to say that he was threatened."
Reporter
"But you can confirm that he gave a statement to police?"
Sr. Supt. David Chi - OC, Orange Walk Police
"He gave a statement prior to the murder of Mr. Sosa, yes. But not in respect to him being threatened. Please get that straight."
Reporter
"Could it be that it's related?"
Sr. Supt. David Chi - OC, Orange Walk Police
"I will not speculate. As I said I have no information that Mr. Hernandez' murder is related in conjunction to Mr. Sosa's murder. I have no information about that."
So, while police say that they are exploring all angles for their investigation into Gustavo Hernandez's murder, there are rumors on the streets of Orange Walk that the other eyewitness in the Daniel Sosa case may also be in danger.
Consistent reports to 7News are that this second person may have been threatened as well. When the press asked the Orange Walk Commander about that, he said that this witness has to come in and report any supposed threat to police for them to help:
Sr. Supt. David Chi - OC, Orange Walk Police
"We are not providing security for no one sir. We go and do our police duties. We provide duties for the entire Orange Walk District. If he comes and makes a report that he is threatened or any fear of his life, then we will deal with that situation the best we can and to see whatever assistance we will be able to offer him further than just the regular patrol. But he has never come forward to make any complaint or any suggestion that his life is being threatened at this time."
The family of Gustavo Hernandez tells us that he celebrated his 21st birthday just last month. He leaves behind a 1-and-half year-old baby girl.