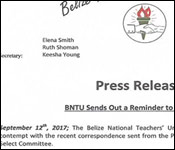 In last week Thursday's newscast, we told you about the letter which the Prime Minister wrote to the Clerk of the National Assembly Clerk, informing him that the Government will not be providing any more funding for the Senate Select Committee, if it continues past November. Well, the Belize National Teachers Union - which forced the hearings - has condemned that decision.
Their statement says, "The Prime Minister… has now 'claimed' GOB's inability to continue funding the work of the Senate…Committee, beyond November 2017, by citing financial constraints due to the institution of the Integrity Commission and UNCAC. However, we are yet to see work and results coming out of ANY of the two aforementioned entities..." End quote.
And their statement criticizes the Barrow Administration saying, quote, "...The BNTU sees this as yet another effort to hoodwink the BNTU in particular and the Belize people in General." End quote.
The BNTU says that they will not, quote, "sit idly by and allow this process to be derailed before it comes to its natural conclusion." They remind the government in a sort of thinly veiled threat that their strike from October 2016 remains "ON HOLD". The BNTU says that they remain vigilant and resolute that all must be investigated and revealed.