Police also recovered a weapon on Carnival day, right on the route of the carnival, after the parade had started. Vidal told us about it:...
Sr. Supt. Marco Vidal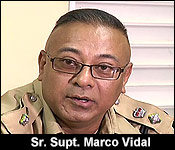 "During that Carnival parade there were several operations going on simultaneously and as a result of that operation one person was found with a pistol and he is expected to be charged this morning, or arraigned before the court this morning."
Thirty-two year Darren Dawson, a warehouse clerk at Brodies was charged with kept firearm and ammunition without a License.
He appeared today before Magistrate Aretha Ford where he pled not guilty to the charges. He was remanded until November 27. Police told the court that they were on mobile patrol on North Creek Road when they saw him in a car. They searched him and found a Beretta pistol with 2 rounds of ammunition.