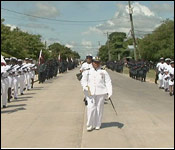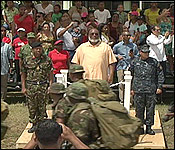 So, at the top of the news we've told you about the controversial 10th Ceremony, two Queen of the Bay designates were crowned.
But, while that September ceremony became a sort of public spectacle, there were others which went off smoothly.
Those included a Military Parade on Saturday September 9th in Belmopan by the Security Forces under the Ministry of Defense, which was re-activated after a 10-year pause.
Today, via phone, the BDF Commander told us that he is happy that it is returning, so that the public can familiarize themselves with the different units within the BDF and the Coast Guard:
Brig. Gen David Jones - Commander, BDF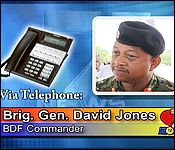 "We haven't done such a parade for I believe over a decade now. It wasn't actually the first. We have done it before, but we haven't done it for a long time. But it's something that is going to be done hopefully on an annual basis now to showcase the different units that are within the forces in the Ministry of Defence, ideally the Belize Defence Force and the Belize Coast Guard, having our troops on parade so the public can be aware of the different units that represent the security within this country and what different capabilities that we have, the level of training and equipment that we use to do our jobs on a daily basis. It's an impressive parade and in the past it was done in Belize City and this is the first time it's being done in Belmopan. It was an impressive parade and I hope that the rest of the public could have a glimpse of what it looks like even it's on the television they show it."