And while that was the ninth in Belmopan, on the tenth in Belize City it was the official ceremony - which apart from the fight between competing queens, followed a staid script written by Simon Lamb many decades ago:...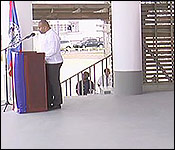 Darrell Bradley, Mayor - Belize City
"219 years ago, our forefathers stood up to defend our Belizean homeland. Fearful and outnumbered, they stood together unified in defense of freedom. So as we gathered here 219 years later, it is fitting that we should recognize that freedom is never given. Freedom is earned through sweat and sacrifice."
Hon. Patrick Faber, Deputy Prime Minister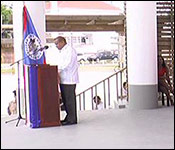 "It was 219 years ago on September 10th, 1798 that the governor of Yucatan and the Spanish armada retreated from our waters. Their mission a complete failure. In the meantime our victory marked a future with much promise as Belize became a nation in the making."