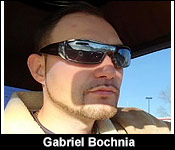 Police have not charged anyone for the murder of Canadian, Gabriel Bochnia, but reports say two persons are detained. Now, we cannot confirm these reports, because police aren't providing information, but those reports suggest that persons of interest include the man identified as the shooter - who is known as "Polo" - and an American man.
38 year old Bochnia was shot and killed in front of his on Wednesday night after 10:00. Bochnia and his family had just come back from a Chetumal trip - and his children witnessed the murder.
Police say that a man with a rag over his face known to the family as "Polo" ran up on him just as he was coming out his vehicle, and fired two shots - one of them hit Bochnia in the stomach - and he died hours later at the Northern Regional Hospital. The gunman also tried to shoot his wife, but the gun misfired - all this in front of their children.
He became the third Canadian killed in Corozal town in the past four years, and the second this year.