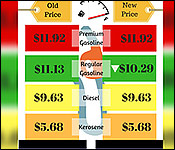 Yesterday, we showed you how a group of grassroots activists staged a protest in downtown Belize City to complain about the high gas prices. Well, the Government is announcing that the price of regular gas is going down by as much as 84 cents.
A press release from the Government says that a new shipment of regular gasoline arrived in country today, and it will bring down the current pump price by 84 cents, from $11.13 to $10.29.
The price change goes into effect at midnight so, you'll may want to hold off until tomorrow to full up.
Premium and Diesel prices remain unchanged in this shipment, but Government says that those too should go down when the next shipment arrives.