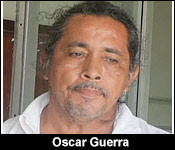 55 year-old Oscar Guerra, the owner of My Secret Deli, a restaurant in San Pedro, is out on bail tonight. That's after he was remanded for a rape charge after being accused by a 15 year-old girl of taking advantage of her.
His attorney, Kevin Arthurs, went before Justice Herbert Lord today to apply for Supreme Court bail on his behalf. After hearing from both the defense, and the DPP's Office, Justice Lord granted him bail of $10,000. That bail came with the conditions that he must report to San Pedro Police every Friday, that he attends all Magistrate's Court adjournments of his case, and he cannot go within 100 yards of the complainant or her family.
The 15 year-old, accompanied by her 25 year-old sister, went to the San Pedro Police station and reported that on October 3, Guerra raped her.