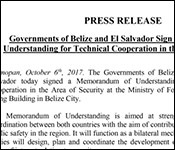 El Salvador is one of the deadliest countries on earth and Belize is right up there with our Central American neighbor.
So, perhaps it is appropriate that the two governments today signed a a Memorandum of Understanding for Technical Cooperation in the Area of Security.
Belize's Minister of Foreign and Home Affairs, Wilfred Elrington signed on behalf of Belize, while Salvador's Minister of Security and Justice, Mauricio Ramirez Landaverde, signed for the Republic of El Salvador.
The Memorandum of Understanding plans to strengthen cooperation and coordination between both countries with the aim of contributing to citizen security and public safety in the region. A press release says both countries will design, plan and coordinate the development of cooperation in common areas of interest relating to security.
Salvador's murder rate was the highest in the world two years ago, while Belize's was in the lower reaches of the top ten.