And there is another fatal accident to report in the Stann Creek District this weekend. 34 year old Dangriga resident Hubert Lucas was killed in a hit and run on Friday night. Police have tracked down the driver who hit him, and kept driving: it is 42 year old BDF soldier Donald Enriquez.
ACP Joseph Myvett told us that Lucas was riding when he was run over and left for dead:...
ACP Joseph Myvette - OC, NCIB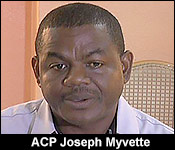 "One Donald Enriquez was driving in Dangriga Town enroute to the 6 miles junction when upon reaching a junction in Dangriga he collided into a cyclist who rode out on to the highway. The cyclist was later learnt to be Hubert Lucas, 34 years old. The driver Mr. Enriquez did not stop and fled the scene. Police investigation later led to his detention and the vehicle was impounded. He has since been served notice of intended prosecution."