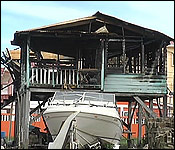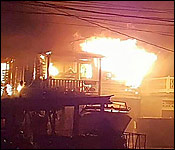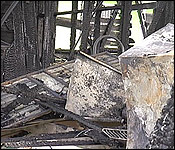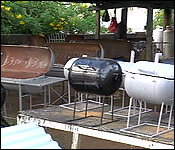 A family lost over $20,000 worth of belongings in a weekend fire. It happened on Saturday night about 11:30, right next to Brodies on the Phillip Goldson Highway.
Yusuf Bilala, his wife and daughter were asleep when the fire started but they got out just in time before the flames spread throughout the entire house. Courtney Weatherburne has more.
Courtney Weatherburne reporting
25 years of hard work destroyed in a matter of minutes. That is the reality Yusef Bilal and his family are still coming to terms with after a Saturday night blaze.
Yusef Bilal, Home Owner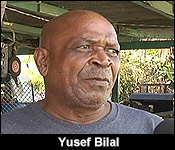 "When I wake up I see a light on top of the window, on top of the door and it is blinking, it is blinking I said but what is happening out there! So I jump out of bed and when I opened the door I saw the refrigerator under fire."
Today fire officials confirmed that it was the icebox's motor that started the fire.
Berisford Matura, Belize Fire Department Assistant Fire Chief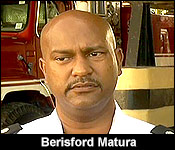 "We discovered that the cause of this fire is due to the fridge, it started from the kitchen area just behind the fridge, we discovered that the motor for the fridge had overheat and started this fire."
Bilal's wife says her daughter had gifted her the refrigerator 3 years ago and it was working perfectly fine.
Beatrice Bilal, Wife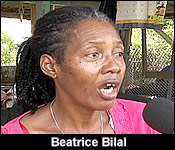 "It was alright, it worked when you opened it, it was still frosting when you open it smoke and everything perfectly."
Now all that is left is a blackened shell crumbling like an ancient statue. While all their belongings were lost, the Bilal's say they are just happy they made it out alive - with just a few minor burns. That's probably why Yusef could have seen the humor in this situation.
Yusef Bilal, Home Owner
"Me and she the run to get to door to open the door, she push me, I push she so the knob hot, so she finally open the knob I am watching her because if she can't do it, I can do it and then I told her and my daughter to go outside."
"When I come back out she is hollering get out of the house! So the flame was thick so I realize now I need my money, my money is on my bed and my bag so I gone and I couldn't get there because the fire, the flame so I get on my knees and crawl out I stand up on the balcony by the way I was naked, I was naked and she is hollering jump, jump, jump! So I finally jump on the boat and down there and that was that."
Well it's not that simple - they now have to rebuild.
But their only hope at this point is Bilal's welding shop which is in the same yard - it is the only thing spared from blaze.
The house was not insured. If you would like to help the Bilal family you can call 665-8625.