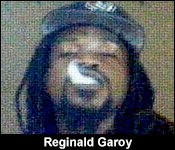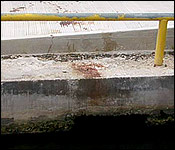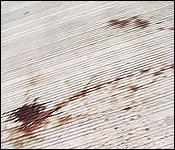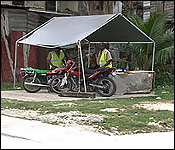 A man had to jump into a Belize City canal to escape a shooter on Sunday night. Between 7:00 and 8:00, 35 year old taxi man Reginald Garoy was speaking to someone on east canal - when a gunman fired a shot at his head - which just grazed him. Garoy ran for his life - and according to eyewitnesses - jumped into the ink-black canal to escape the gunman. He got out of the canal and ran to the nearest police station - which is precinct 1.
Today, police had slightly different details from those we got on the ground:...
ASP Alejandro Cowo, CIB - Eastern Div.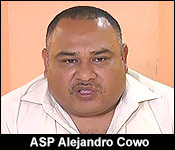 "Police from precinct one were at the police station when a male person arrived there. He came running. His name is Reginald Garoy, and he had reported that he was at the corner of west canal when he was approached by a male person who fired several shots at his direction. As a result he managed to come out of his vehicle, and ran to an alley, and then to the police station. He was observed to have two apparent gunshot wounds, one was a graze to the left side of his ears, and a shot to one of his fingers. He was taken to the KHMH where he is in a stable condition at this moment. Police have canvassed the area so far and are looking for one male person who can assist us in the investigation."
Reporter
"Is this a product of a localized gang rivalry, or...?"
ASP Alejandro Cowo
"We have not established that motive, but we are definitely sure that Mr. Garoy is, has a George Street address, and he was there because he had left somebody, he is a taxi driver and he had left somebody there. And he was having some vehicle problems. And he was fixing his vehicle and he was approached by this male person."
Reporter
"Now I know for years you have kept a very active patrol on the West Canal area to defuse this, the rivalry between those groups that are so close. Is the patrol no longer active or were the police not nearby?"
ASP Alejandro Cowo
"Yes, there is a patrol right at that small bridge that connects from east to west. At the time the police were in another area doing another patrol. So, unfortunately, they must have been monitoring the police movements, noh. Apparently, it was just after the police left from that area that the shooting took place. Remember the police do not remain on that area, they patrol the entire neighborhood."
Residents tell us that the regular police patrol was not around when the shooting occurred.
We are told that the Garoy - who is from George Street was on the turf of the Rocky Road gang. Reports say that minutes before Garoy was shot - a Rocky Road personality was shot at on George Street.