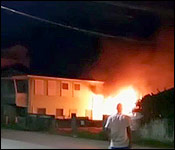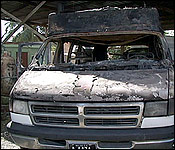 There was a blaze in Belize City last night - and the quick response of the fire department - might have saved a neighborhood.
It happened on 6th Street in the King's Park area - where the freezer in a Blades ice cream truck caught fire. What made it worse was that the ice cream truck had a butane tank which was ready to burst. The Fire Department explains how they brought it under control:...
Benesford Matura, Assistant Fire Chief
"Upon arrival we found a van totally engulfed in flames already. A quick attack got the fire under control. After extinguishing the fire, we were conscience of a van next to it which received minor burns. This van was parked next to a two story structure where the downstairs was cement and the upstairs wooden. That got a little scratch on the wall of the structure. These van was used by Mr. Williams Zou from the same Williams Supermarket that was just across the street. These van was used for selling ice cream - Blades Ice Cream van. Investigation reveals that the vans, while they are parked and not working, because they have a freezer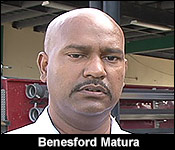 inside them, they are kept plugged in. This one specifically was plugged in and there was a short somewhere within the van itself, that's what started the fire. There was a butane tank involved which was used to fuel the van. It was inside the van but due to a quick respond we got to that and cooled it down quick enough so we didn't get any sort of explosion. It starts off with a call, whosoever made that call to the fire department did the right thing. Our quick response and attack was just right enough because like I said, the wooden structure got scorched. We arrived there in time to cover our exposures and prevented this fire to not spread to the neighborhood."
There is no estimate on the damages at this time.