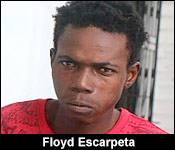 Twenty-three year old Mahogany Heights resident Floyd Escarpeta, was charged with burglary and theft when he appeared today before the Chief Magistrate, Sharon Fraser.
On February 6, Escarpeta allegedly broke into 72 year old Modesto Bardarlez's home at mile 16 and three quarter on the Coastal rode. He stole several household items and personal documents - as well as Bardarlez's pickup truck. Police recovered the pick-up with Escarpeta's help.
Today in court, he pled not guilty to the charges. The prosecutor objected to bail on the grounds that jail is the safest place for Escarpeta right now, because Bardalez's relatives children have allegedly threatened to harm him.
Chief Magistrate Fraser agreed and remanded Escarpeta into custody until April 14.