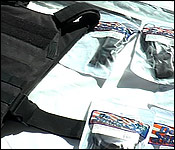 Today the US Embassy donated over $400,000 US dollars of equipment to the Ministry of Defence. Both the BDF and the Coast Guard received a number of items that will help them in their fight against the drug trade and transnational crime. We were there today for the handing over at the Ladyville BBF camp.
Adrianne Galanek, Charge d Affaires, US Embassy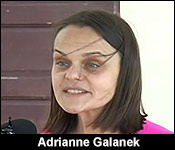 "All of this donated equipment comes with training packages both here in Belize and in our training schools back in the United States. Today the police coast guard is receiving pick-up trucks, boat trailers, body armor, ballistic high cut helmets, boat motors, flotation vests and two fuel tank cleaning system to name some of the equipment."
"The BDF air wing is also receiving equipment. They are receiving tool bags, a fuel quantity tester, site compass, radio tester, video borescope and cabinets to protect flammable liquids."
"The equipment we are handing over represent an investment that yield long term citizen security progress in the region and will enable Belize to address the illicit trafficking of humans weapons, drugs and merchandise as well as the transitional threat of terrorism."
Felix Enriquez, CEO, Ministry of Defense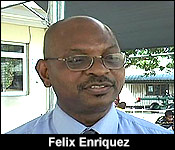 "It is a constant fight, it is a constant battle, it is not something our adversaries let up on and so we as security forces can't let up either so we continue to fight."
The total cost of the donation is $432,000 US dollars - which is almost a million Belize dollars. The US embassy also provided a main entry gate at the BDF camp.
Now according to DEFENSE CEO Felix Enriquez, the equipment could not have come at a better time - when these cross border crimes are on the rise.
Felix Enriquez, CEO, Ministry of Defense
"It is a massive network and a lot of the recent incidents you have probably seen on the media we would catch a plane here, we would find the remnace of a plane somewhere else, there is huge network of counter-narcotic operations going on in the region. If you keep pace with the news media from Guatemala, Honduras and Jamaica, it is all connected over the Caribbean Sea which we are a part of."
"There is indeed an increase not just in Belize but regionally, it is no secret that crime is on the rise and a lot of the crime that is happening in Belize is as a result of transnational crime and the more we can counter transnational crime the better it will be not just in Belize but for other countries in the region as well."
The equipment includes: two Ford F250 pick-up trucks; one wireless inspection camera; one radio tester; one sight compass; one fuel quantity tester; one SMARTECH smart board; four Continental boat trailers; two Hamilton waterjet engines; two pneumatic fuel tank cleaning systems; six 250HP Mercury lower units; 50 ballistic floatation vests; six 40HP Yamaha motors; and 50 ballistic high cut helmets.