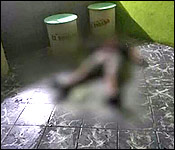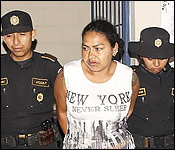 The family of a slain Belizean man spent the day in Melchor trying to recover the body of their loved one, 32 year old Samuel Sosa. According to reports, he was killed in a bar in that border town around 10:00 last night.
Today, Guatemalan media reports say that this woman, Mayra Verónica Aldana was an accessory to the crime. Witnesses identified her as the person who accompanied the man who shot Sosa. That main suspect is only known as "El Gordo."
She was found with a cell phone concealed in her private parts and had two damaged SIM cards in her mouth. The homicide investigation is a matter for Guatemalan authorities and Belizean police are not directly involved.