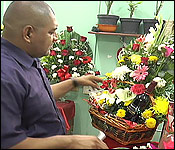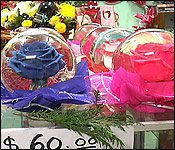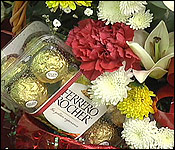 Unless, you've been under a rock somewhere, you probably know that tomorrow is Valentine's day. It's the feast day of the loved, and the beloved, the desired and the desirous. But for florists, it's like Christmas in February. Today we caught up with Xams Flower Shop in Belize City. They told us how this Valentines Day is going for them.
Sahar Vasquez reporting
Tomorrow offices, homes, and hearts all over the world will be filled with chocolates, flowers, and fine wines as companions exchange large tokens to show their great affection on the day of love.
But when you think about it the special day of love would not be possible without the florists who spend countless hours working their fingers to the bone to ensure each bouquet and basket no matter how small or big is sublime.
Voice of: Xiomara Perez, Owner Of Xams Flower Shop
"We want to give people different exquisite items, not just flowers. Some want things that are different. We provide different arrangements like teddy bears with chocolate or bouquet with wine and chocolate. We provide a large assortment. It is just something that we come up with and try and give people what they want. Sometimes they have special requests and we just give it to them. Once they like it we just start making more. That is how we make new arrangements every year."
The baskets and bouquets are not the only things flying off the shelf at Xams shop. Their unique forever rose has become an instant hit that can't seem to stay on the shelf this Valentines.
Xiomara Perez, Owner of Xams Flower Shop
"These are real live roses that are set in a glass bowl but they tend to last very long. I have one of my own that lasts over two years. I am giving out by experience. It is something that I found over there and my provider offered it to us and that is how I got to bring it over. Providing the same service. They are very popular indeed. I had a wider variety but they are going fast."
These gifts range from $50 to $150 but according to Perez, many customers end up spending over $150 just to make sure their gift has everything and more.
Xiomara Perez, Owner of Xams Flower Shop
"For Valentines, it starts from 50, 75. 85 for the half a dozen roses. We have the one dozen roses. The wine and chocolate for 150."
Sahar Vasquez
"Do a lot of customers go up to the $150 mark? Spending $150 on baskets?"
Xiomara Perez, Owner of Xams Flower Shop
"Oh yes, we have some special customers that want bigger ones so we cater to them. They go up to $200 and $250."
Sahar Vasquez
"So customers would spend over 200 depending on maybe if they want to make it bigger?"
Xiomara Perez, Owner of Xams Flower Shop
"Oh yes. They have some customers who really love their wives and they do spend over the limit for them. To them, there is no price to love."
Priceless, but to get it just right, Cupid's arrow may have to go through the giver's wallet or purse, before it goes to the recipient's heart.
But love is also in the art of creation:
Xiomara Perez, Owner of Xams Flower Shop
"The florist here he has love towards what he does. He has his unique design on how to make the arrangements. He takes his time. He uses his imagination. It is something that he loves doing so it grows within him to do it."
Xams is only one of several flower shops in the city that have Valentines Day items in high demand.