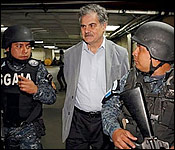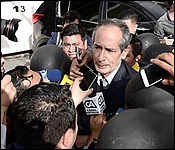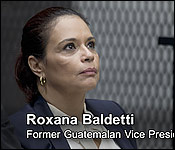 Tonight, there is a major breaking story in Guatemala where another former president is detained after being investigated for allegations of corruption.
He's Alvaro Cocom, who served as president from 2008 to 2012. He and almost his entire former cabinet are under scrutiny for a graft scandal over a concession within the country's public transportation.
The authorities in Guatemala say that they were looking into the purchase by Alvaro Cocom's government of more than 3000 buses in 2009. The authorities believed that only 455 of those buses ever actually arrived in the country.
At this time, the authorities have detained the former interior minister, and the former ministers of finance, economy, labor, environment, health, sports and culture.
CICIG, the United Nations anti-corruption mission in Guatemala, also participated in this investigation.
CICIG was also involved in the investigation which currently has former President Otto Perez Molina, Jimmy Morales' predecessor, and Molina's Vice President, Roxanna Baldetti in jail.
They were investigated for a customs fraud scandal where they were allegedly enjoying kickbacks. They are yet to stand trial, reportedly because 100 defense filings have delayed the process.