Dr. Arlie Petters Wants to Reform Education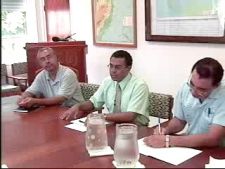 Belizean born and world acclaimed physicist Dr. Arlie Petters is back home. He arrived from North Carolina last weekend and will stay until the 20th. He'll have the chance to celebrate the 19th in his hometown of Dangriga, but the real reason he's here is to get some educational projects off the ground. And to do that, he'll have to consult with some folks who really know what's wrong with the system. So he called the leading lights of education to a strategic workshop at the NEMO Conference Room in Belmopan. 7NEWS was there.
Jules Vasquez Reporting,
This morning Dr. Arlie Petters invited education stakeholders including the Ministry of Education, the school managements, union leaders and principals to discuss the crisis in education.
Dr. Arlie Petters,
"I was very happy about the energy and the positive support in this morning's meeting. As you know, the transformation of a nation cannot happen without the people on the ground, the stakeholders believing in this idea."
And that idea is to transform Belize.
Dr. Arlie Petters,
"What I believe deep in my heart is that Belize has the potential to become a first world nation. We have a demographic bonus that is simply sitting and waiting to be tapped. Look at this, roughly 52%, exactly 51.9% of our population is nineteen years or younger. That to me is a pool of potential economic growth. I really see an opportunity for Belize, I see a bright future. If we do not capitalize on that 52%, I don't even want to think about the outcome."
But today he had to think about it when the teachers told him one figure that may be more important than any PSE score: there are 64,000 children in primary school; only 16 thousand in high school - a demographic disaster.
Dr. Arlie Petters,
"The gap between those two, I must say, is quite unnerving. Of course you wonder what on earth has happened to the rest of our children. Well we are not going to let them drift into the ether sphere. We are going to bring them back into this economy."
And for ideas on that he looked to these folks. He asked them to name the top three problems in education. Those ragged from language difficulties to teacher training to inadequate institutional support for teachers.
And while fixing all that's wrong is a process, Petters has two concrete items on stream.
Dr. Arlie Petters,
"And I want to tell you something concrete that is coming on the horizon.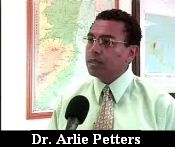 I have been working closely with the Examination Unit, with Ms. Yvonne Davis, in developing a book of practice problems and practice tests that should be available hopefully in January for the students to go through as they prepare for the test in May. The idea is to have a set of books that is aligned with national development."
Another project is educational literacy - training teachers to be computer literate.
Dr. Arlie Petters,
"We are hoping to have an average teacher with a laptop. We are not going to give the laptop for free but it would be at a significantly discount rate and I believe this kind of project is going to be supported by foreign granting agencies. Part of the purpose of this laptop is in this modern age you cannot effectively teach students without having a basic literacy of the power of the tools that a laptop offers."
And Petters says he's going to use the connections he has to gather funding and support for his idea.
Dr. Arlie Petters,
"I'm at a perfect point in career where I can now give back to a place that I love so dearly."
But more than love, this transformation will require money.
Dr. Arlie Petters,
"I am working vigorously in putting forth ideas to the government about where we can draw funding. We are also working with potential partners like the Canadians to bring funding in. You see when you have a demographic bonus like that, you have a special time in your history as a country and I believe that agencies in the U.S. and in Europe will recognize that this is an opportunity for their funding sources, their funding support, to help turn that 52% into a positive for national development."
And apart form his accomplishments as a physicist now an education sector lobbyist, it's his work as humanist that attracted a film crew form PBS - which is making a documentary on him for the Nova Television Series.
Dr. Arlie Petters,
"I was really honored and humbled that PBS decided to do a profile on my life and one of the first things I told them is you have to go to the town of my birth. But I want the children to see that you can come from humble beginnings, rise through that, and the only way it can happen is through education. You want to become wealthy, you have to be educated. You think you can get quick money, well listen if you're not educated, you're going to lose it just as fast."
After filming today's session, the PBS crew headed to Dangriga. To discover more about Dr. Petters' revolutionary "Brane Wworld Theory", you can check these links: