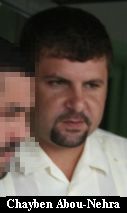 In September of 2005 23-year-old Shawn Copious was shot to death in King's Park and high profile businessman Chayben Abou-Nehra was charged for his death. The former DPP wanted Abou-Nehra charged for murder but the police charged him for manslaughter. Well, this morning, the DPP's office threw in the towel and Abou-Nehra was sent home, free of all charges. That's right, the DPP wrote a letter to Supreme Court Justice Troadio Gonzalez in which he entered a nolle prosequi. But the news tonight is that DPP Lutchman Sooknandan says he will re-file charges against Abou-Nehra. Our coverage begins at the Supreme Court.
Keith Swift Reporting,
This morning it took less than five minutes for a judge to tell Chayben Abou-Nehra he was free to go. His lawyer Dickie Bradley says there was simply not enough evidence against his client and that the DPP's office was delaying the inevitable.
Richard "Dickie" Bradley, Defense Attorney
"We have been adjourning this trial at the request of the prosecution and they applied for a further adjournment. We were saying let's start at two o'clock yesterday, let's start at two o'clock but they asked that we put it for nine o'clock. The judge agreed, told the jury to come back, I imagine all of us were up late last night again making sure that we covered everything and then we come this morning only to be told that the DPP has formerly penned a letter, as is his constitutional duty, that he is the person who having carefully look at all the circumstances would say that he is not going to proceed with the trial."
Keith Swift,
When the find out that the case was dropped?
Karen Copious, Mother of Deceased
"When you all told me. I knew nothing about that."
Bou-Nehra's release this morning was news to Shawn's mother Karen Copious.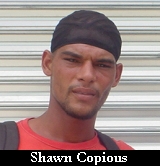 She came to court this morning for what she thought would have been the first day of the trial.
Karen Copious,
"They killed my son brutally. They really meant to kill him and this person shouldn't walk so free and not help me but they didn't give me a chance to explain anything or talk to anybody or even come to court."
Keith Swift,
Did you figure they were going to throw out the case?
Karen Copious,
"Yes because from the moment everybody hide everything and not even my son's clothes I get back. Don't know matter what they give me, I can't get back my son but I wanted a fair trial."
Legally, Bou-Nehra can be rearrested for Shawn Copius' death. Bradley says that if his client is re-arrested, the defense will be that the shooting - if it did happen - it was in self-defense.
Richard "Dickie" Bradley,
"If my client did shoot the person, I am sure that had we reached that stage, assuming, and of course in our trade we never assume, that the prosecution had gone so far as to reach the closing of their case, this matter would have been dismissed on a no case submission."
Keith Swift,
So did your client shoot Mr. Copious?
Richard "Dickie" Bradley,
"If he did shoot him, it would have clearly been in self defense.
Had the evidence been tested, and a jury of nine persons come to a conclusion so that we could put to rest the speculation and the feeling that somehow the thing did not go well. I want to express this, that Senior Counsel Ellis Arnold, myself, and Kareem Musa, we are very disappointed and we are very annoyed over how our client and ourselves were treated in terms of finally now, after we have picked a jury and we are waiting for the first witness to come on the stand, 'bwoy we won't go ahead with this thing.' (It is) because the evidence is weak."
But not according to Copius' mom
Keith Swift,
Do you think you'll ever get justice?
Karen Copious,
"Yes. I think so."
Keith Swift,
You still have faith?
Karen Copious,
"Yes because it is a brutal killing and you can't hide when you kill."
Keith Swift,
But this guy (the accused) isn't hiding, he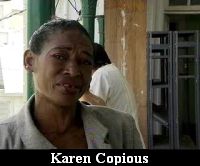 just walked down the steps free. He is gone. He is a free man right now.
Karen Copious,
"No he is a free man in his mind but not to the public and not to me."
The DPP told us this evening that the charges were dropped because of the Crown Counsel assigned to the case. He is Cecil Ramirez and apparently there was some question as to whether or not he can prosecute the case. That is because Ramirez was suspended from practicing law from 2002 to 2003.
As we understand it, a client made a complaint of professional misconduct against Ramirez and the suspension was issued as a punitive measure. He served the suspension, and as we understand it, was then approached by the government to work in the DPP's office. Like other crown counsels, he duly received a letter of appointment from the Judicial and Legal Services Commission which, under the Legal Profession Act, a law officer of government, including a crown counsel can appear before any court in Belize - even without a practicing certificate.
And more than that, Ramirez had appeared in court a number of times this month for the DPP's office since he started working in July and no one objected then. Ramirez told us the matter should be sorted out before the Chief Justice who is out of the country but will return on the 30th.
But even if Ramirez was not a practicable choice why didn't the DPP's office just switch prosecutors as has been known to happen in other cases? Well the DPP said that Ramirez had done all the preliminary interviews for the trial.
As mentioned in the story, Bou-Nehra can be re-arrested for Copious' murder and that's just what DPP Lutchman Sooknandan says will happen.