Alleged Crystal Meth Smugglers Jailed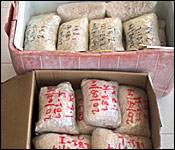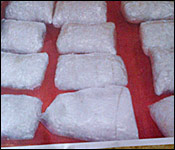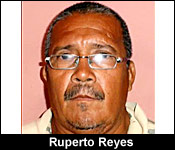 Tonight, the men who police caught with 120 pounds of Crystal Meth are in jail, after being arraigned in the Orange Walk Magistrate's Court. They are 49 year-old Belizean Ruperto Reyes from Orange Walk and 52 year-old Cuban Pascual Pineda from san Pedro. Police say that these men had at least 4 million Belize dollars' worth of the highly addictive drug in the back seat of the car they were in.
They have since been charged with 1 count each of trafficking a class B drug, and they were arraigned after 4:00 this evening. Because of the seriousness of the drug they've been accused of trafficking, the case will be treated as indictable, and so no plea was taken. They've been remanded to the Belize Central Prison until September 30.
As we told you, on Wednesday night at 7:20, the Anti Drug Unit lucked out when they were on patrol and saw a black Toyota Camry swerving form one side of the road to the other. The officers set chase after it, and on when the vehicle got near to Liberty Avenue, the driver lost control, and the vehicle spun out. Both men tried to flee, but the officers caught up with them. When the vehicle was searched, the officers found a red ice cooler which had 18 parcels of Crystal Meth to a total weight of 54.7 kilos - or 120.5 pounds. It is the largest Crystal Meth bust on record.
The highly addictive drug is widely used in the US, which is where this cargo may have ultimately been destined for. Though Belizean law enforcement puts the street value of the drugs at 2 million dollars, documents we've seen from US authorities place a street value of 12 million US dollars on 120 pounds.

Brother Not Charged For Shooting His Younger Sibling
Orange Walk police are waiting for further instructions from the DPP in how to proceed with the criminal case, if any, against the man who shot and killed his brother by accident.
As we told you 63 year-old Celso Moreno was out on a hunting trip with his brother 52 year-old Gumercindo Mendoza on Wednesday night at around 11 in the Yo Creek area.
Moreno told police that they split up and around midnight, he thought he saw a deer, and fired his 12 gauge shotgun. It turned out to be his little brother Mendoza, and he died instantly from the injuries to his abdomen and head. But, while it was an accident, one man is still dead - so is it manslaughter? Investigators told us that if Moreno will be charged with any offences, the DPP's Office will direct them to do so.

Tour Guides Form Their Own Organization
The 2014 high season for cruise ships is on the horizon and the Tourism Board is trying to regulate affairs outside the often-chaotic Fort Street Tourism Village. Now, we are sure you've heard this story before since the BTB has been trying to regulate this hot zone for at least 8 years. But, the hustle and flow of the tourism village's economy and ecology seems to confound and defy any system that tries to impose order. So, this year's solution is to make the 60+ tour guides form their own union much like the taxi's - and much to the displeasure of four private master operators - who used to collect dues from the guides.
That's what came out of this afternoon's meeting at the House of Culture where the man who would be president of the new association endorsed the new system:
Efrain Cocom, President - General Tour Guide Assoc.

"What is the reality is that there is one taxi association and 4 operator companies that are running the entire business out there and everybody have to find work under these bodies - pay their dues and the job that comes out does not goes to everybody, it goes for a certain few that have connection the tendering service that goes directly to certain people outside. So the idea that BTB has is a very brilliant idea and I think it would work if its fine tune to the point where the association is form that was once before where there was an association rather than companies and then these group of guys can vote for their own executive, remove their own president if necessary and follow under their guide lines."
Michael Pollard, Tour Guide
"The meeting went sour because right now BTB have the 4 tour operators upset because they are telling them they have to go to #4 gate. They are putting them with the taxi man, but I still don't see why they are upset because they still have them in the zone with us. But what happen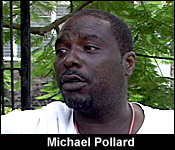 now is that they are not getting their money that they use to get from us. They use to get $20 a head from when you carry a tourist - you have to pay them $20 - now you have to give them $20 or US$5 from each head or plus you still have to give them a due at the end of the week. So we are trying to get rid of that and we don't have any benefit coming back to us. We want to form one union so we can put our money in and get back something out. Right now we are not getting anything back, we are just paying and BTB, I don't know what is going on with BTB. I don't know what side BTB is on. BTB is the man one that is flogging both sides, but they are flogging and not looking."
The BTB has had over 20 meetings with the guides over the past year to refine the management system in the zone. BTB says its primary focus has been on enabling the guides to make a living, while also focusing on the visitor experience.
The new Association will be allowed to solicit tours outside gates two and four of the Tourism Village - while the tour guide companies will continue to use the gate at terminal one.

Belize And Uruguay Discuss Impending OAS Elections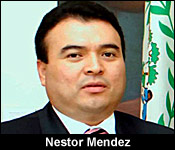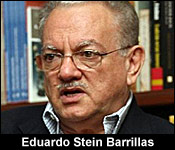 Ambassador Gonzalo Koncke Pizzorno, the Special Envoy of Uruguay, was in Belize a week ago on a special mission to improve relations between the both countries. A major part of his visit was to discuss how Belize and Uruguay will support each other in the elections for the next OAS Secretary General, to be held next year.
A Month ago, we told you about how a Belizean might become the Assistant Secretary General of the Organization of the American States. Belize announced the candidacy of Ambassador Nestor Mendez for the post at the 43rd Summit of SICA, which was held in June in the Dominican Republic.
Belize has decided to back the Uruguayan Candidate for the more Senior post of Secretary General, after the current Sec Gen Jose Miguel Insulza officially leaves office in May of next year. He's Uruguayan Foreign Minister Dr. Luis Almagro, and he's running against a former Guatemalan Vice-President President, Eduardo Stein Barrillas.
Uruguayan Ambassador Koncke confirmed that his country will support Belize's Ambassador Mendez for Assistant Secretary General. According the Government of Belize, this agreement is based on the mutual recognition of the competence of the respective candidates. Nestor Mendez is currently the Belizean Ambassador to the United States.

DCP Segura Did Check On The Accident Victims
6 days ago, Deputy Police Commissioner Miguel Segura was in an accident outside of Benque Viejo Town in which 54 year-old Yolanda Valencia from Succotz was killed. It has caused major public outrage because firstly, the second-most senior cop in the country was allegedly drinking and driving, and also because he was featured in that vile video which went viral. It shows him he was zipping up his pants and taking a leisurely drag from a cigarette a few feet away from the wreckage of the accident and Valencia's body.
Segura has been harshly criticized for that behaviour, and members of the public say that he seemed to show little regard for the loss of life. Well, 7News has gotten hold of cell phone footage taken moments after the accident happened. Here's what it looks like.
The horns are still blaring from the taxi, and as the civilian taping the scene gets closer, responders are trying to find out if the driver 28 year old taxi driver, Yanie Evan Cu, is okay. He informs them that Yolanda Valencia is dead.
The video moves on to show Valencia's body in the vehicle, but we are won't show that part to you because it's too graphic.
Deputy ComPol Segura leaves his vehicle and goes over to the taxi to survey the damage. You can kind of see him appearing to again be adjusting his pants. The camera phone holder inspects the wreckage from all angles.
The footage then goes back to the civilians trying to help Yanie Cu out of the vehicle, so that he can be rushed out for medical treatment. They finally disconnect the battery and get the horn to stop blaring.
The civilians finally get Yanie Cu out of the vehicle, and as they inch him out of the driver's door, he's in terrible pain.
The videographer takes another pass around the taxi vehicle and catches Segura walking out of the frame.
Sometime after this is when he put his gun in his pocket and then lit the cigarette.

The Winning Mobile App Design
Earlier this week, we told you about the PUC's Mobile Apps workshop - where 45 teenagers between the ages of 12 and 18 were selected to take part in the first annual innovation competition - an intensive one week course in mobile application design and development.
Well, today the 45 participants of the PUC's Mobile Application workshop presented their apps. They were split into 8 groups and had only 5 days to create their mobile apps. And while today marks the closing of this year's program, Executive Director for Bright Path Foundation Bevil Wooding states that it also marks the beginning of a technological transformation in Belize. While Wooding reflected on the success of the 5 day workshop, the two 1st place winners shared the design of their prized mobile apps:
Bevil Wooding, Executive Director, Bright Path Foundation

"This has been a most incredible week of mobile innovation, creativity, determination - these kids it was said that they'd be running off after 5 o'clock to do other things surrounded by such temptations but every single night from Monday through Tuesday through Wednesday, Thursday and Friday, they have put in the hours to present the apps that they will be showing this evening. This has been a fantastic experience and I think it's safe to say that Belize now have new innovators and new innovations that's going to shock the country and I think also express the region and the world."
"They have a lot in store. At the start of the week we told them think about ideas that can impact the world immediately around. Think about things in Belize that can be solved with mobile applications. Not everybody has a mobile phone, lot of people like to use their phones. How convenient will it be to have apps that treat with everyday problems and create everyday solutions."
Orelle Castillo, 1st Place WINNER, BEL-LINGO APP

"BEL-LINGO is mobile app what we created are group living speech. It basically gives you the translation that English, Spanish, Maya, creole, mandarin, Garifuna - the languages that you can find in Belize. We have the translation in English and the word like how it should be said."
Jahban Barrow, Discover Belize

"Discover Belize is basically an app that lets tourists and local Belizeans who don't know their own country or not necessary mean in a bad way - let them know every single hotel, restaurant, spa, ruins - every single landmark in Belize and it's on the map, so you will know where to go and where it's at. We are going to put more content in over time. We just had a really short deadline because of the week. These are activities you go in, if you click on activities, you have more activities you could do in the country and that's for all the districts and they also have a history, so you can know the history of Belize and it also have our own website."
There were also 2 second place winners, the "N-for me" app which assists users to find employment and "Vindixie" which is an app for taxi service.

Why The General Legal Council Is Nonfunctional
Last night we aired the comments from Attorney General Wilfred Elrington when he spoke on the General Legal Council. That's the body which is supposed to hear complaints from the public about attorneys who fail to live up to their professional obligations.

SICA Discuss Climate Change
A list of the countries most vulnerable to climate change in the whole world was recently compiled and it shows Belize at number 12, between Kiribati and Cambodia. Antigua and Barbuda is at the number one position, while St. Kitts is at #3, Bahamas is at 14, while Guyana is at 18, and Jamaica at 20.

Dorado Charged With Gang Insignias; Claims Harrassment
34 year-old Angel Dorado, a resident of Mile 8 on the Western Highway is out on bail after police charged him for tattoos they believe to be gang related. Dorado is claiming police harassment and that police are trying to get him tied up in nuisance charges.
Yesterday, police went to his home and searched him for illegal items. When they didn't find anything, they inspected him and found that he had several tattoos on his arm. They took an interest in 2 of them - namely the letters "O" on one arm, and a "G" on the other. That forms "O-G", as in "Original Gangster" - a term that's been in popular parlance, everyday talk and rap music since (at least) the early 90's. Still, police took that to mean that he is a member of one of the local bloods gang, and so they charged him with gang insignias.
He was arraigned today before Magistrate Herbert Panton, where he pleaded not guilty and was released on bail of $500. He must return to court on October 30.
Dorado expressed his discontent with the charges to the court and maintains his innocence.

Citizen Train To Patrol With Police
The relationship between the community and the police is…can we say, "complicated?" The community wants the police to keep the peace, while many, justifiably, accuse the cops of causing war, with brutality and insidious tactics, pitting one rival group against the other.

Taiwan Will Sponsor September Fireworks
This year, your September fireworks and a whole lot more in the celebrations month is going to be underwritten by the Taiwanese Government.

That MUSAID/Youth Orchestra Concert
As we told you earlier this week, a group of international music instructors has been in Belize over a week now, working along with young musicians at the Bliss.
As a reflection of their work, the National Youth Orchestra of Belize and the musical instructors are putting on a concert tomorrow night. There will be a little for everyone who enjoys great music masterfully played and today they told us why you should come out.
The concerts starts at 7:30pm tomorrow night at the Bliss and tickets are twenty dollars.





Home | Archives | Downloads/Podcasts | Advertise | Contact Us