PUP Gets Blown Out In Municipals, Hon. Fonseca Says He Won't Resign
62 seats to 5. That's how bad the UDP beat the PUP in yesterday's municipal elections. The UDP now fully controls eight of the country's nine town and city councils - before the election it only controlled six.
So, in its eighth year in Government, the UDP has confounded historical election trends and defied modern precedent, by actually gaining ground on the opposition PUP.
Before the election, the PUP held 23 seats and controlled three town councils; tonight it holds just five seats in a single town council, Orange Walk - where the margins were razor thin.
The defeat is epic - and this afternoon at Party Headquarters in Belize City, the Party had a meeting to discuss the loss. It invited the press into an Independence Hall crowded with supporters for a one hour briefing. Party Leader Francis Fonseca congratulated the UDP:...
Hon. Francis Fonseca, Leader of the Opposition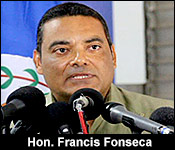 "I want to congratulate the United Democratic Party and all the elected mayors and councilors across the country. The people have spoken. The People's United Party accepts the decision of the people in their choice of stewards for their municipalities for the period 2015 - 2018. The PUP is moving quickly within the coming week, to comprehensively analyze the elections results, engaged in an open and frank self-examination, to regroup, unify and ready ourselves on every front for the likelihood of early general elections and to develop and implement without delay a plan for campaign financing."
Will there indeed be an early election? And will the party turn to Lord Ashcroft to address its campaign financing woes. We'll have the answers to those questions shortly - but first to the burning questions: will party leader Francis Fonseca be forced to resign because of this historic loss? That's what Jules Vasquez asked him today:..
Jules Vasquez
"In the wake of the quite enormous defeat that the PUP suffered, have you contemplated resignation?"
Hon. Francis Fonseca, Leader of the Opposition
"No sir. No.
Crowd chanting
"No"
Hon. Francis Fonseca, Leader of the Opposition
"Let me answer the question please. I apologize Jules. I think it's an absolutely fair, a valid, legitimate question. In the wake of any election defeat and certainly this was a very decisive defeat, a very decisive victory for the United Democratic Party, with potentially two years to come before a general election. I think everybody has to take a look at themselves and it starts with the leader. The leader has to look in the mirror. The leader has to self-examine, so I think that's an absolutely legitimate question, but I have given no thought to resignation."
Jules Vasquez
"It would suggest that it's more than just money. That it might be intangible, that maybe the people or the voters aren't convinced that the opposition as it is presently led or constructive, is viable enough to earn their vote."
Hon. Francis Fonseca, Leader of the Opposition
"That's a fair question Jules and we have to examine all of that; what are we doing wrong; what are we doing right; Are we getting our message across?; are we delivering it properly? As I said earlier: what am I doing as a leader; what am I not doing? But I believe more than anything else what we need in our party today is a clear sense of purpose and unity among ourselves."
And while Fonseca spoke in platitudes about unity - really, the PUP lost because it had very little money to spread around. Say what you want about how money distorts democracy, but politics is a money game - and if you don't believe just examine how many cars, t-shirts, signs and campaign workers are in motion on an election day. Fonseca admits the PUP were significantly outmatched in terms of finance, but blamed it on Petrocaribe:...
Hon. Francis Fonseca, Leader of the Opposition
"We went into this elections with our eyes wide open. We understood that there was a huge imbalance, in terms of resources. We have consistently said, and I have consistently said that I believe that the line between the government treasury and the UDP coffers, have virtually disappeared. But we can't cry over it. There is no time for wining about that issue. We have to get up and fight."
Jules Vasquez
"And while I understand the PUP continues to harp on the wrongful use of public funds in campaigning."
Hon. Francis Fonseca, Leader of the Opposition
"Well I went out of my way to say I wasn't harping on it earlier."
Jules Vasquez
"Whatever. The fact is that you mentioned it and you said that you should not wine over it. However, it's a claim that is unsupported by fact, because the financial secretary, stands up on every occasion and says that the funds are properly spent - well accounted. Obviously you may have difference about the public projects..."
Crowd chanting
Hon. Francis Fonseca, Leader of the Opposition
"Please, let's respect the journalists who are here."
Jules Vasquez
"I am saying, are you creating a voting on for public...."
Hon. Francis Fonseca, Leader of the Opposition
"The government is abusing those funds. That is our view. The financial secretary, who represents the government, can say what he wants to say, but we have our right, a right to our view of the matter and our opinion."
Jules Vasquez
"But he has facts and you have opinion. That's my point."
But, short of Petrocaribe bucks, where will the PUP turn for campaign financing? The business owners who throw hundreds of thousands of dollars into campaigns want to sponsor a winner - and, right now, the PUP surely doesn't look like that. So then, would Lord Ashcroft finance the PUP? He told us last week that he believes in a thriving opposition, and would fund a party that is trying to put its case to the public. Does the PUP qualify? That's what we asked Fonseca today:
Hon. Francis Fonseca, Leader of the Opposition
"We have to determine ways of putting in place a very comprehensive campaign financing program for our party. That is the reality. We need more money than we have now, to adequately and properly fight these elections."
Jules Vasquez
"Would the party be prepared to accept campaign financing from Mr. Ashcroft and on what terms would you make such an agreement?"
Hon. Francis Fonseca, Leader of the Opposition
"That's a hypothetical that I do not wish to engage in at all Jules. I can say this to you that I have received no such offer from Mr. Ashcroft and there are no terms under which we accept monies as a party. I have made that very clear. We do not do so on any terms. There are no terms."
But, going back now to the election result - as we said - it defies all historical trends - which do not favor incumbents. Invariably, the longer a party is in government the more unpopular it becomes - and the more votes it loses. We saw that in 2012 when the UDP - in its fourth year in government - almost lost the general elections, and lost significant ground in the municipals. But, with the blowout in Cayo North in January, followed by this devastating defeat of the PUP - the UDP is turning conventional logic on its head, and gaining ground in elections it should be losing. That may be more of a reflection on the mediocrity of the PUP than it is a reflection of excellence in the UDP.
We asked the opposition leader today - how come the pendulum of political fortune is swinging in the wrong direction - and is it because of him:
Jules Vasquez
"What is strange about this is that the pendulum with Cayo North and now down south seems to be swinging in the opposite direction. It seems to be swinging in favor of the incumbent, which has never happened in our modern history - post Independence. Is this something that concerns you and are you aware of (it's a symptom) what is the cause and might you be the cause?"
Hon. Francis Fonseca, Leader of the Opposition
"Obviously, it's a matter of concern Jules. That what I said earlier. I said that we in the People's United Party have to self-examine, we have to, in a comprehensive way analyze the results. Obviously, we are very disappointed with the results. We have to analyze it, but I am not going to stand here today and say that we have the answers to those questions. I think we have to take some time, look at it as a party - all of us sitting together around the table, listen to our candidates, bring them in - our mayoral candidates, our councilors and have a very thorough, open, frank, honest discussion."
Jules Vasquez
"At the last press conference, after the poor results in Cayo North, you express some conservative confidence about this election, but express certainty about the general election. Are you still as confident that if the general elections were to be held, that the PUP would win?"
Hon. Francis Fonseca, Leader of the Opposition
"Obviously Jules, the results of this election, gives you pause. You would be foolish not to pause after such results. So, we have to reflect on it. Obviously, my confidence is not where it was, because of the results of the elections yesterday. But once we analyze it, once we discussed it, once we have a thorough open, frank discussion in the party, then we would be in a better position to say where we stand as a party going into the next general elections."
Jules Vasquez
"Sir, you said a full assessment would be done even on yourself, but would an assessment also be made on your candidates who failed to perform and indeed, standard bearers, elected representatives, they can't be challenged, due to a resolution of the party, including yourself and so shouldn't some of these people - we think of Mr. Ramos in Dangriga, we think of Mr. Espat in Toledo East - these persons who are elected representatives, who immune from challenge, in view of what happened in the elections - should they now opened to challenge?"
Hon. Francis Fonseca, Leader of the Opposition
"No. I don't think so. Listen, we have to look at it. This is no time for any searching for blood and finding blood. I think we have done a lot of work in these areas, so we understand some of the dynamics and as I said, out of this discussion, out of our analysis, will come a better understanding of where we have to go and the things that we have to fix. But I know all of these individuals. I worked very closely with them. They are all in my view, deeply committed people. This is not about attacking any individual. It is about approaching a problem as a unified party and finding a solution to those problems. I don't want us to get ahead of ourselves. I don't want us to be talking about looking for blame and looking for blood. Let's examine everything and at the end of the day, as I keep saying, everything will be on the table. If there is an open, frank discussion - if we sit together and people are open and frank with each other and we say listen, this is a problem with you Party Leader, this is a deficiency, a weakness we see in you - we have that type of discussion all the time by the way and we try to fix it."

Hon. Barrow Pleased, Avoids Gloating
We'll have more from Fonseca later, when we ask him how come he couldn't deliver victory for his mayoral candidate Yolanda Schakron in his home base of Freetown - and what he thinks of a secret recording where John Briceno is heard to be blasting him.
That's coming, but first to the UDP Party Leader, Prime Minister Dean Barrow. He's bucking political trends - and this morning when we met him - he was still excited over the sweeping victory his party had secured at the polls. But, he was careful not to be triumphalist:..
Hon. Dean Barrow - Prime Minister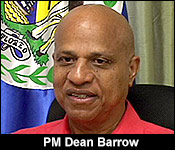 "Recognizing that the temptation to become complacent. The temptation to sound cocky, must be resisted at all cost. That's number one. Also though, cautious because the burden of expectations is now correspondingly higher, given of the victory, both, in terms of the numbers of municipalities won and the individual margins in the particular municipality. So, extremely pleased. Extremely satisfied, but very conscious of the fact that there is still a tremendous job of work to be done."
Jules Vasquez
"Are you tempted to call a snap general election?"
Hon. Dean Barrow - Prime Minister
"No. For a couple of reasons and I am glad you ask the question, because, already I am hearing that fast booked, is saying that though general elections in 3 months - ain't going to happen. For two reason: 1). There is a plan of action on government's part that has been hatched well before the municipal elections and time is needed to implement that plan of action. 2). People, I believe, voted for us so overwhelmingly, because they are encouraged by what is happening with respect to physical transformation. With the help of central government, the new municipal councils in particular, must be seen to be performing. There is no way we can give the impression that it's all about winning the next election and let's try to hit the PUP when they are down. No. We have come as far as we have based on the deliverables that we have been able to point to. And I am absolutely positive that we have to continue to proceed in that fashion, so sufficient time must elapse in order to allow us to be able to point to new or continuing achievements, especially as I said where Dangriga, where Punta Gorda are concerned and in the area such as Belmopan, where I believe for the first time, we actually succeeded in the peripheral area. So, no chance at all of an election this year."
Jules Vasquez
"Now, are you intend on also staying in government long enough, to spend all that you can and the Petrocaribe fund? We know it's close to 200 million."
Hon. Dean Barrow - Prime Minister
"That's also another consideration isn't it? In deed we've got to be able to program the funds and in terms of capacity, there is just no way we can spend all that money in the next few months."
Jules Vasquez
"Many observers were stunned at the out turn for the PUP, having lose ground, it actually defies, it confronts all expectations, because we know the pendulum of political fortune or misfortune swings ever only in one direction and now it seems to be swinging in the wrong direction. Swinging in favor of the incumbent, when it always swings against the incumbent. Might it not be apace to, not that your government is so great, but that the PUP is so poor?"
Hon. Dean Barrow - Prime Minister
"Well, I think it has to be combination of both. I will not yield to any suggestion that this is not a positive win for the United Democratic Party, but indeed the Opposition has its troubles. I think it would be most ungracious of me to say anything personal against the leadership of the PUP. Again, I don't think people will like that very much. I don't think it's the thing to do, so I content myself with saying that obviously they have to do some soul searching and perhaps some house cleaning."
Jules Vasquez
"Is there a need for a strong opposition and perhaps a stronger opposition leader?"
Hon. Dean Barrow - Prime Minister
"Well, I will say this. During the period that the UDP spent in the political wilderness, after every election defeat when I was the leader, I genuinely offered my resignation to my party. I was more than prepared to go."
Jules Vasquez
"You think he should offer his resignation?"
Hon. Dean Barrow - Prime Minister
"That's a matter for him. As I said, I am not going to give anyone the impression that I am prepared to kick a man when he is down. In terms of what the party will do, I expect that it's very much alive issue."
Jules Vasquez
"We'd like to quote Mr. Finnegan, victory over the defenseless. In this case it applies, because the PUP were completely broke and the UDP as you like to boast, have no shortage of cash."
Hon. Dean Barrow - Prime Minister
"But Jules, it's something that I've said to you before. How does that help them? If you can't raise money, it must be that it is because the people who we all turned to for funding assistance, don't believe in you. Nobody will give you money if they don't think you are credible. So, indeed as a party, we had more money that they did. But expect they can try to even out things on that square - they and we can expect more of the same."
Jules Vasquez
"However, there is that known unknown, which is Mr. Ashcroft and all indications are that he has said, he is interested in the general election and was not interested in the municipal election and that is an X factor. How does that all work for the UDP...?"
Hon. Dean Barrow - Prime Minister
"He said as I saw it reported, that he will contribute in terms of the general elections and he sure as hell ain't going to contribute to us and we would have to say, if he were to think of it, which he will not. Thank you, but no thank you. So, that's going to make a considerable difference. And I've said to you before when we earlier discussed this issue that in effect that what it is, we have to take that well onboard. We have to see how it is that we can meet that particular challenge. It cannot be by way of upping our own spending, because after a while that becomes, I can't say counterproductive, that just becomes impossible. We can't even begin to dream of thinking we could ever match a billionaire. But, if we can, again, raised enough funds to be well resourced and we do have enough money to be competitive at least at the party level, I still think that our chances of getting a third term would be very good."
Jules Vasquez
"Sir, you have conceded the government is not universally liked or loved and some might go even further to say that your government is widely disliked, so would that being the case, might the government not be in a sort of fooling feeling?"
Hon. Dean Barrow - Prime Minister
"Quite frankly, I don't accept at all that we are widely disliked. Not at all. Even you if say that there is an element of calculation about yesterday's results, even if you feel well people figure the UDP has two more years, why not elect municipal councils that can get something out of central government - that can't alone can't explain the size of the victory. I am saying when you go to the individual municipalities, we won by some huge numbers. So, I believe that even though there are those that can point to all sorts of faults on the part of this government, overall, the country has come to accept that the UDP is doing a job of work. I do not at all fool myself into thinking that there is any room for complacency. I've said to you, there is no way I will call elections this year. If I was a victim of what may, as you put it, be a fooling feeling, I would call the elections in the 3 months - not going to do it. I am not going to do it, because I think that would be a serious miscalculation. I think right away, people would feel - you are trying to kick the opposition when its down - all you are concern about is to win a third term - it's all about power. No."
And so since he says he won't call a snap election this year, Prime Minister Barrow's cabinet ministers have to be on their very best behavior - because all the hard won political gains could be lost to a single corruption scandal. He told us that it's become a mantra of his to tell his ministers to stay out of trouble:..
Hon. Dean Barrow - Prime Minister
"We have to continue to show that we can keep ourselves in line or that I can keep ministers in line. You notice that for months now, apart from the little sort of everyday difficulties, there is no minister who is getting into any kind of reputational trouble. We need as we proceed to make people believe as in that regard, that UDP ministers will do their work and keep their heads down. In terms of resolving, lead me not into temptation."
Jules Vasquez
"It becomes harder for you to convince them to do that, after the kind of election term you have."
Hon. Dean Barrow - Prime Minister
"Well, I see it the other way around. Gentlemen, there is still the big prize, this will mean nothing if we can't secure a third term and one of the reasons we've done so well in the municipals is precisely because you have been keeping your head down. I am telling you that every cabinet meeting - that's the mantra. That's the gospel that I preach."
Later on Prime Minister Barrow tells us what he knows about the secret Briceno recording, and we'll tell you what we know about it.

Another San Pedro Murder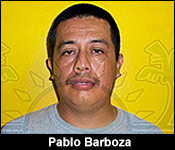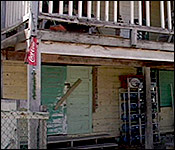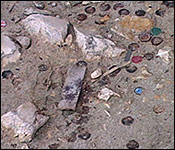 Just a week ago, we told you about the senseless shooting murder of 2 year-old toddler Daniel Espat who was killed while he was sleeping beside his parents. That happened in the embattled neighborhood called San Pedrito, an area that police are trying - without much success - to get under control. Well, on Tuesday, 6 days after baby Daniel was killed, 38 year-old San Pedrito resident Pablo Barboza was gunned down in what looks like an execution-style slaying.
On Tuesday night at around 8, Barboza was in his shop, just a stone's throw away from where Daniel Espat's parents live, and he was serving a customer, 36 year-old Humberto Alcoser Jr. That's when a masked gunman ran in through the entrance and shot and killed Barboza and then turned his gun on the customer, who managed to escape with only an injury to the neck.
Today, the Commanding Officer of the San Pedro Police Station spoke with 7News about what the investigation is showing:
Supt. Luis Castellanos - OC, San Pedro Police
"We received information of a shooting incident in the San Pedrito area of San Pedro Town. As a result of the information received, we deployed our policemen to the polyclinic and upon our arrival at the clinic we saw that the medical officers were attending to two person. However, shortly afterwards we were informed that the person they were attending to was deceased. His name is Pablo Barboza,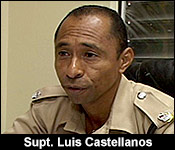 38 years old businessman of San Pedrito area. Also we observed that the doctors were attending to a gentleman by the name of Humberto Alcoser Jr., 36 years old, a Belizean laborer of Tarpon Street, San Pedro Town. We notice that he was suffering from one single gunshot injury to the neck region. Initial investigation revealed that Mr. Pablo Barboza who has a small store, was attending to the gentleman Humberto Alcoser Jr., who was inside the store at the time and one male person entered with a cap and his face covered with a cloth, fired several shots at Mr. Barboza and then afterwards turned and fire a shot at the Alcoser. When the gunman entered, he realize that maybe he could have been fired at and try to do something to defend himself, but he was still injured in the process. It would appear that the store owner was targeted, because as the gunman entered, he fired several shots at Mr. Barboza. That indicates that he was the target. The gentleman Mr. Pablo, he had 3 cases before the court for drug trafficking. That indicate to us that he may to have still been involved in drug activity."
You may have noticed in our footage that the lagoon facing San Pedro was about 500 yards away. It is believed that Barboza's killer arrived on a boat which was docked at spot near the mangroves. This gunman and possibly one accomplice, avoided 2 police patrols which passed by only minutes of each other. This man, described as wearing a blue cap, and a blue rag tied over his face, then walked up to Barboza's shop, pulled out a 45 mm handgun and shot Barboza in the head and chest. Humberto Alcoser Jr. realized that he was in danger, and so he tried to wrest the gun away from the assailant. In the struggle, he was shot in the neck. That gave the gunman enough time to flee the scene, and he was seen struggling to run away due to the rocks on the street. When he made it to the boat, it sped off, and the gunman got away.

One Killed In City Shooting, While Police Shoot Another
And while that was on election eve in San Pedro, on election night in Belize City, a hail of gunfire rang out on Mayflower Street in the infamous neighborhood known as Ghost Town. It happened at around 9:30 and our cameras arrived on the scene shortly after.
Armed police officers stood guard over the embattled neighborhood while residents looked on stunned, still confused at what was happening.
33 year old Jervis Valencia was rushed to the KHMH after he was shot by police multiple times at the corner of Vernon and Mayflower Streets. But he wasn't the only victim; police say Valencia had just committed a murder and was trying to escape.
Less than 24 hours after those shootings, there was a shoot out in the same area this morning. It happened when a 15 year old minor was detained by police for questioning in regards to last night's shooting. His mother spoke to us off camera:

Police Make Arrests In City Murders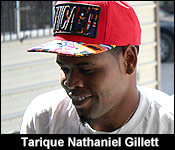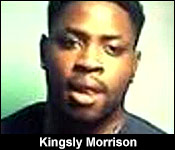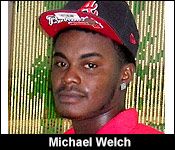 And while police have made no arrest in that murder - they have in two other recent killings. On Monday's newscast, we told you how 24 year-old Michael Welch was gunned down, while his cousin, 24 year-old Kingsley Morrison ended up being shot. Well, the man who police believes to be man who pulled the trigger is 18 year-old Tarique Nathaniel Gillett, and he is at the Belize Central prison tonight.
He was arraigned today before Magistrate Herbert Panton on the charges of murder and attempted murder, use of deadly means of harm, and dangerous harm. Due to the nature of the offences, he couldn't be granted bail, he was remanded into custody until April 17. While in court today, his mother broke down and tried to convince the court that her son has nothing to do with this shooting incident.
As we reported, both men were at Morrison's house on Periwinkle Street socializing when 2 gunmen ambushed them and fired several shots in their direction. Welch suffered multiple injuries and died half hour later at the KHMH. Morrison was hit in the right shoulder, and the doctors were able to successful treat his injuries.

Akeem, Accused Killer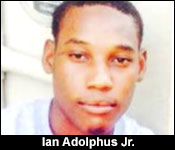 18 year-old Akeem Trapp was also remanded to prison today after he was taken to court for murder. He is being accused of KILLING 21 year-old Ian Adolphus Jr. last week Wednesday.
Viewers may remember that Adolphus' murder tripped off the spike in violence last week after a month of calm, and since then, as we've shown you, a string of other shootings and murders have followed that incident.
Trapp was arraigned today before Chief Magistrate Ann Marie Smith on the charge of murder, and due to the nature of the offence, he was remanded into custody until April 23.
AS we reported, Ian Adolphus was shot on last week Wednesday at around 9:30 a.m. He was walking on Freedom Street and when he reached its intersection with Justice Street he was approached by a male person riding a bicycle who fired several shots at him. Adolphus was shot in his arm, chest and elbow. He was admitted to ward at KHMH where he succumbed to his injuries the following day.

San Pedro Man Shot By Home Invader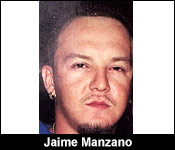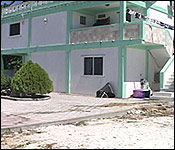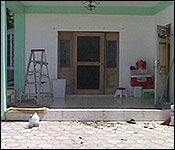 There was also another shooting on San Pedro in which a family man was shot several times by a thief who broke into his house. 31 year-old Jaime Manzano had to be airlifted to a hospital in Belize City because of that encounter.
Today, San Pedro Police told us what they've been able to establish:
Supt. Luis Castellanos - OC, San Pedro Police
"Last night about 7pm we received information of a shooting incident, this time in the San Pablo area of San Pedro Town. As a result, police visited the San Pedro Polyclinic, where we saw the doctors attending to a gentleman by the name of Jaime Manzano, 31 years of age, driver, of a resident of San Pablo area in San Pedro Town. He was seen suffering from a gunshot wound to the right leg, right hand and left hand too."
"Initial investigation revealed that about 7pm or thereabout, he arrived to his residence along with his wife and upon arriving to his house, he was confronted by a male person, who was already inside his residence and fired several shots at him, hence causing the injuries to him."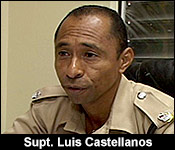 "There were some items inside the house that were already packed, like they were going to leave with the items. We believe that it may be a burglary and an aggravated burglary."
Manzano's father-in-law, who lives in the upstairs flat, was also watching the election coverage on TV when he heard the gunshots downstairs. He told us off-camera today that he immediately pulled his licensed weapon, intending to render aid to his family downstairs:
Voice of: Manzano's father-in-law
"They went out to buy food. Apparently, they saw someone come in the area looking suspicious. They still went and when they came back and opened the door, they met the guy pointing a gun at them. He point the gun to my daughter, according to her. My son-in-law had a gun and when he pulled his gun, my daughter dash to the ground and tried to come out the house. That is when I heard the gunshots. When he shot the guy, it looks like one of the bullet hit the ground and it had jammed his gun, so he only could have shoot one shot and the guy shoots 13 shots at him. At around 6:50pm I was sitting in my hall watching the elections coverage, when I heard like a bomb. I told my wife that that was gunshots. I ran and pulled my gun and I ran outside on the verandah and I heard my daughter saying that they shot Jaime. At the same time I couldn't see anyone walking through the gate. When I look to the west side of my house about 200 feet, I saw a man walking and I fired several shots at the man and then I went back in and load up my magazine and one of my workers told me to lets go with the vehicle and so we jump in the vehicle and started to look around. The police came and we kind of see somene runing towards the airstrip and the police started to chase after the man, but that was it."
"It was robbery, because when the police and the crime scene came to the house, they found a bag with tablets and a phone and a laptop and a sunglasses, watch and some jewelry."
Daniel Ortiz
"You are convinced it's a robbery?"
Voice of: Manzano's father-in-law
"It's a robbery."
Police have no leads and are asking the public to assist them in any way possible in trying to solve this crime. Police say that Manzano's assailant made off with his licensed firearm.

Pablo Got Shot on San Pedro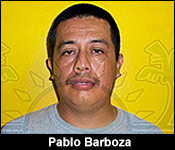 San Pedro also had to deal another shooting incident on Tuesday night, 3 hours after the apparent drug related killing of Pablo Barboza.
Fortunately, the would-be victim, a 26 year-old woman used quick thinking, and managed to scamper into her house. San Pedro Police told us more:
Alex Espat, the person being accused of discharging the weapon outside of the 26 year-old woman's house, is a man who San Pedro Police have encountered before.

Police Will Arrest For 13 Year Old Shooting
A month ago, we told you about how 13 year-old Meredith Escalante was grazed by a gunshot in the crime-riddled area of San Pedrito on the island of San Pedro.
Well, police have been investigating this case, and today, San Pedro police told us that an arrest is imminent:
As we reported, that incident happened at around 9:20 p.m. on Thursday, February 11. Meredith Escalante was about to close the door of the apartment building she lives when 2 men fired shots at the building. One of the shots grazed her chest, and when she was taken to the San Pedro Polyclinic, it was determined that she didn't need medical treatment.

6 Year Old Mauled By Dog in Orange Walk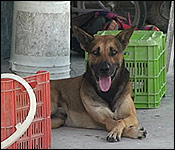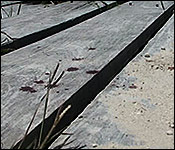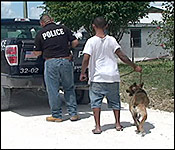 A 6-year-old boy was viciously attacked by a dog in the San Lorenzo Housing Site in Orange Walk. According to reports from our colleagues at CTV3, at around 11 this morning, the boy was in the yard when this German Shepard attacked him, disfiguring his face. As you can see in the video, only the boy's slippers and blood stains on the steps and wooden bridge remained after the attack. The boy had to be rushed to the hospital. Our colleagues at CTV3 told us that when they arrived at the scene the dog was loose but when the owner of the house got there he tied the dog before the police arrived. Apparently, the mother of the boy is renting a portion of the house from the owner. The dog was then taken away to a fenced house. The officers warned the owner that if the dog attacks another person, it will be put down. According to residents the dog is known to be very aggressive and has attacked other dogs.

Fonseca Failed To Bring In Mayoral Candidate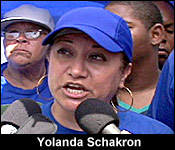 Today at PUP Headquarters, Leader of the Opposition Francis Fonseca took all questions about the PUP's major loss in yesterday's municipal election. But one of the toughest he had to face was about his failure to deliver a victory for Yolanda Schakron in his own Freetown Division. If you don't quite know about the divisional thing, here's how it works: the Belize City Council is elected from the aggregate outcome of all ten City divisions. The final result is all that matters - the PUP slate led by Yolanda Shackron was soundly defeated. We can't tell you exactly by how much because the elections and boundaries office is still compiling the final figures. But, below the aggregate result are smaller, important numbers which show how each councilor did in each division. For example, the UDP candidates had runaway successes in party strongholds such as Mesopotamia, Queen Square, Port Loyola and Collet. And the PUP candidates had successes in their party's strongholds of Fort George, Freetown, and Lake Independence. But in Freetown there was a caveat: voters did not return Yolanda Schakron as the mayoral candidate. While they did vote for the PUP slate, the UDP's Darrell Bradley polled as the top mayoral candidate in Freetown - which is the PUP party leader's division. We asked him today how he couldn't deliver for his mayoral candidate:..
Jules Vasquez
"Is it a matter of concern to you that in your division you were unable to protect your mayoral candidate Ms. Yolanda Schakron?"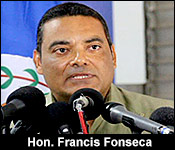 Hon. Francis Fonseca, Leader of the Opposition
"Sure, we would have love to do so, especially since Yolanda is such a magnificent woman. But, yes, we are concern. Again, we are satisfied that Freetown is a solid PUP division. We have a lot of independent thinkers in Freetown and I know them very well and I have no doubt they support me. So, I understand that, I am disappointed that they did not give more support to Yolanda. She lost by around 74-75 votes."
Jules Vasquez
"You view it as a personal failure sir?"
Hon. Francis Fonseca, Leader of the Opposition
"I don't view it as a personal failure. Personal disappointment, indeed. I wish I had more time to invest in the area."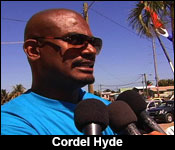 And while Fonseca couldn't deliver for Schakron, Cordel Hyde did. The PUP slate did surprisingly well in Lake Independence. We say surprisingly because it was Hyde's first election since he took a break from politics in 2012. We asked the party leader if his resurgence - one of the very, very few bright spots for the PUP in this election could be accompanied by a promotion in the internal party ranks:..
Jules Vasquez
"You orchestrated his removal as deputy leader of the PUP. Will you bring him back as a deputy leader of the PUP now that he has perform so well?"
Hon. Francis Fonseca, Leader of the Opposition
"That's a matter for us to discuss as a party. Listen, Cordel Hyde is today the standard bearer in the Lake Independence because of Francis Fonseca. I was the one who reached out to Cordel, had many meetings and discussions with him over many months and worked with him, to bring him back into the party and he, himself has made it very clear, that he came back into the People's United Party because he has confidence in my leadership, but I agree with you that he has to be engaged more in the work of the party at many different levels. And I don't believe that, that necessarily means titles in the party, but wants to be engaged in the work of the party and I certainly am open to that and certainly want to encourage that."
Jules Vasquez
"You regret removing him or orchestrating his removal as a deputy leader?"
Hon. Francis Fonseca, Leader of the Opposition
"Listen Jules, that was a decision... I didn't orchestrate anything. That was a decision taken by the national executive of the party, on the basis of circumstances that prevailed at the time."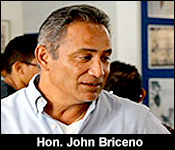 And we also asked Fonseca about a recording secretly made of former party leader John Briceno when he was putting Fonseca on serious blast. We've been hearing reports confirming the existence of the recording for two weeks - but the PUP has managed to contain it. Reports said it would be released after the municipal election - but it hasn't surfaced yet. We asked Fonseca about it today:..
Jules Vasquez
"Is there a recording and is it of an explosive embarrassing, of you as party leader?"
Hon. Francis Fonseca, Leader of the Opposition
"I am aware of the recording. The party has discussed the recording at national executive meeting. We have said that this is a matter we will discuss as a party, in house, after the municipal elections. You will understand that it is not a matter we wanted to discuss and deal with before. So, we will discuss it and deal with it in a respectful, brotherly manner in the People's United Party at some point in the very near future. I have a lot of respect for John Briceno and I believe we will work very well together into the future to deliver a victory for the People's United Party."
Briceno declined comment.

Hon. Barrow Says UDP Will Get Briceno Recording
But while Briceno was guarded, today the Prime Minister told us he was expecting to get a copy of the recording through his Orange Walk party contacts:..
Hon. Dean Barrow - Prime Minister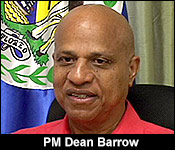 "We also hear of a tape recording that those in possession of the said recording, have promise to give over to us in government. They said, they only wanted to wait for the elections to be over. It's something that naturally if we get it, make available to the media and that's going to add sauce to the stew. So, there is going to be in my view, a degree of upheaval in the opposition as a consequence of all this."
By the end of the day, the UDP had still not gotten the recording.

Municipals In A Snapshot
And at the end of the day, we still have not gotten the final election figures. But tonight we want to take a quick look back at some of the scenes from municipals 2015. One of our news teams drove over 400 miles in just 14 hours going from Belize City to PG, to Benque, and then back to the City - stopping at all points between. That's a lotta miles in just a day - and that's just one team! Others were in the north and the city. So, in case you missed it we compiled snapshots of all the reports from yesterday to capture the spirit of municipal elections 2015. We start from the North and make our way to the South.

The Faces of The New Municipal Leaders
So, after all that, who won and who lost? Well, there are eight UDP controlled town councils and one mixed PUP controlled twon council. That mixed council is in Orange Walk, where the PUP led by Kevin Bernard won five seats and the UDP two. North of that town, in Corozal, the UDP's Hilberto Campos won an unprecedented fourth term as mayor, to lead an all red slate. Going West Heraldo Rancahran will lead the UDP council in that border town, and in San Ignacio, Earl Trapp transitions form councilor to Mayor. In Belmopan, newcomer Khalid Belisle takes over from his UDP predecessor Simeon Lopez. To the south in Dangriga, the UDP's Francis Humphreys led his UDP slate to victory, and in Punta Gorda, the country's only female mayor is UDP Fern Gutierrez - who was the only UDP councilor in a mixed council. And, finally, in the Central area, Danny Guerrero gets a second term in san Pedro for the UDP and Darrell Bradley does the same for the UDP in Belize City.
Again, the UDP won 62 of 67 municipal seats - and to give you a sense of how weird this is - the last time a Dean Barrow led party had such overwhelming control of the municipalities was back in 2006 when it won 64 of 67 seats. At that time the UDP was a popular opposition party and the PUP was a moribund incumbent administration lurching from scandal to scandal.
At the end of the day, 60,533 persons voted, our of 105,634 - which is 57% - higher than the last stand alone municipal election in 2009.
And for all you elections junkies, the final results have just been posted on the elections and boundaries website, so you can feast on that. We'll have a breakdown tomorrow.

Island Police Hold Community Meeting
Earlier in the news, we told you about the 3 most recent shootings which happened on San Pedro Town. One shooting resulted in one man dead and another injured in the neck. Shortly after that, there was another shooting which fortunately did not result in any fatalities. Then during the election's fever, a family man was shot by a burglar just as he and his wife were entering their house.
Before that, Baby Daniel Espat, whose father has now lost 6 relatives, 4 of them son, was killed on last week Tuesday in the San Pedrito area. That was the incident which shocked the island, and so, police and government leaders organized public meeting to try to bridge the widdening gap between the police and community, since Belize's number 1 tourist island is becoming a dangerous place. The intention was to try convince the public that in order to solve and deter crimes, the public has help to keep them informed.
We asked police about how that meeting went, since it was held in the San Pedrito area:

San Pedro Police Upgrade
While on the island today, we couldn't help but notice that the only police mobile, a green pickup truck donated by a generous resort owner, broke down while the cops were on patrol. This while they are under pressure to bring the island under control, as organized crime takes hold.
Luckily, the patrolling officers could have substituted that overworked vehicle with a brand new one donated to them by the Mayor. The commanding officer told us that while this and a new motorcycle is welcomed, they need more vehicular resources:

UDP Mayor Danny Won In Crime Time
One mayoral candidate you didn't get to see before his sweeping victory at the polls was San Pedro's Mayor Daniel Guerrero. He led the UDP Slate and when the polls closed and the counting was finished, it was determined that he defeated PUP's Giovanni Solorzano, and the VIP's Robert "Bobby" Lopez.
He talked us today about it at his office on San Pedro, and according to him, yesterday's win at the polls was as a result of the work he and the Town Council have been putting during last 3 years:
This is Guerrero's second term as Mayor of San Pedro.

Mayor Danny – Watcha Gonna Do When They Come…?
Crime is also on the mind of the re-elected mayor, Daniel Guerrero, who is concerned that while San Pedro is getting rave reviews on the international scene, the violence in the underworld is slowly starting to resemble the crime profile of Belize City.
The mayor told us today that apart from the new pickup and motor bike, they want to better equip the police department to take on the challenges that they are obliged to meet:
The council intends to start putting in lights on areas of island that in nightly darkness.





Home | Archives | Downloads/Podcasts | Advertise | Contact Us