Pre Dawn Sunday Slaying In City
There are two weekend murders to report tonight - one of them, the kind we've seen too many times before in Belize City, the other an outlandish and savage assault in Punta Gorda. We start in the city where a man was killed early Sunday morning on Faber's Road.
Before dawn, at 4:30 am, 38 year old City resident Michael Usher was riding alone at the far end of Faber's Road when a lone gunman shot and killed him. Monica Bodden spoke to his family today.
Voice of: sister of murder victim
"I really think they chance my brother and thing because it's from the back my brother got shot. Its not like he could have defend himself."
Monica Bodden
"You know if he had just left home or if he was coming home?"
Voice of: sister of murder victim
"He had just left from home because he had come in earlier from 7pm because I went to buy food to eat. This morning we found out that the man got shot and die on Faber's Road."
Monica Bodden
"How many shots did he received?"
Voice of: sister of murder victim
"They said it's like 2 in his head back and 4 in his body. He always was moving about. He was always on Faber's Road. He was not someone who was hiding. He goes anywhere as normal. He did tell us that somebody wanted to do him something or anything - he moves around normal. My other brother William, he got shot about 8 years ago and died on Jump Street and now other brother got shot and died."
Michael Usher's brother William Usher was killed on Wagner's Lane eight years ago.

Man Uses Chevy Blazer To Settle Argument In Front Of Fried Chicken Joint
And while that murder is unsolved - police have the man who they believe pulled off an outrageous assault with an SUV. It happened in front of Key Lee restaurant, which is the former Li Chee - the popular fried chicken joint in front of ITVET on Freetown Road.
At 12:45 am, there was hard talk in front of the restaurant between 47 year old Francis Stanley Gill and 33 year old Devon Jones. Gill was reportedly the aggressor while Jones was with a female. When she got her food, they jumped into his Chevy Blazer. There were about a dozen people outside the restaurant, and they all thought that was the end of it. But then, suddenly, Jones started driving unto the sidewalk towards Gill. And eyewitness who asked to appear off camera told us about the crazy and bloody scene that unfolded next:..
Voice of: Eyewitness
"One his girlfriend got the food and she got in the vehicle, I remember seeing the guy turning his vehicle from his parking position, like he turn facing Li Chee and the guy without the shirt was right in line with the vehicle and before the vehicle ran into him the driver was revving his vehicle on the guy without no shirt. He kept looking like he wasn't afraid, he was saying like what are you going to do. The driver just ran into him one time and everybody gasped because it was not like a playful run-in to somebody, it was like a slam. He reverse back in the street and slam the guy again one more time and that when the guy fell to the ground. He had like 3-4 inches of bones next to where his slippers was - like his feet was shattered - like just hanging from the skin dangling. It was shocking to see something like that to happen in a short time. I think everything took like a minute or two. The driver after the second hit just drove away with his girlfriend."
Today in Belize City Magistrate's Court, 33 year-old Devon Jones, an electrician from Iguana Street, was charged with Maim and aggravated assault before Chief Magistrate Ann Marie Smith. No plea was taken and the police prosecutor objected to bail, but Jones's attorney, Douglas Carr, submitted that his client is innocent until proven guilty, and that these are offences for which bail can be granted.
After much consideration, Chief Magistrate Smith granted him bail of $3,000, two thousand of which had to be paid as cash. He was able to meet that bail, and must return on October 15.
And while he is out on bail, the victim, lost a foot from the knew down and is in dire condition at the KHMH. According to a family member, Gill was not at fault - he was just there buying food when a group of males had an altercation. His family says he was urinating when Jones ran into him. They declined comment today and will speak with the media tomorrow.
He is stable at the KHMH.

Savage Murder and Rape Of Woman In San Pedro Colombia
Tonight, the Village of San Pedro Columbia in the Toledo District continues to mourn the loss of one of their own after the body of 61 year-old Agripina Coc was found dead on Saturday night. Investigators suspect at this time that she was raped and murdered.
Coc reportedly went to the shop to buy in the evening, and after being missing for hours, her family got very worried. They went out looking for her, and at around 7:30, they discovered her nude body beside the main road at the southern entrance of the village. She had a large chop wound to the center of her head. A search around the area also led the officers to find pieces of clothing and blood stains, which they believe must belong to her. Her family also claims that they found a bag of rice and her hair clip near to her body.
Coc's family has told both the police and the media that she had informed them that there was a man who she saw around the village, and that this person had been stalking her. That information led the men from the village to arm themselves with sticks and machetes and form a search party. They looked extensively for this man who allegedly had been watching Coc - but didn't find him.

Unlicensed, Drunk Driver Implicated In Double Fatality Western Hwy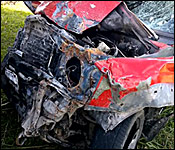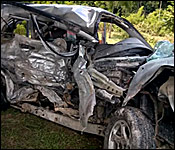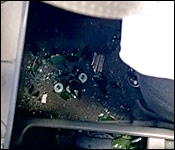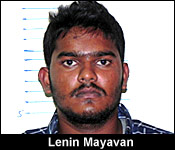 A teenager was killed in a massive collision on Friday night outside Belmopan - and it was all caused by a drunk driver who didn't even have a license. It happened between miles 46 and 47 on the Western Highway where a red Mitsubishi pickup with Belize City plates collided into a Grey Chevy Tracker from Stann Creek. The pickup was reportedly travelling to the city when the Tracker which was heading to Belmopan, crashed into it, and spun off the road, flipping several times. As this footage shows, it was extensively damaged. Three persons were trapped inside the Tracker, including Indian Medical student 20-year-old Lenin Mayavan, and his passengers 17-year-old Jose Manuel Castellanos of Salvapan and 22-year-old Maritza Cruz Rodriguez, a Honduran Waitress. Mayavan survived with only minor injuries while his passengers were crushed inside and died. They were reportedly coming from M and S bar at mile 37, and we saw signs of beer bottles in the Tracker.
The driver of the Mitsubishi, 67-year-old Luis Romero Urbina, a businessman from Orange Walk Town, received abrasions on his forehead, hands, right side of his body, right knee and right elbow.
Lenin Mayavan the driver of the Tracker was charged with two counts of manslaughter by negligence, 2 counts of causing death by careless conduct, 1 count of drove motor vehicle without due care and attention, 1 count of drove motor vehicle without a driver's license, I count of drove motor vehicle with alcohol concentration above the prescribed limit and negligent grievous harm.

Two Teenagers, One Adult Shot In Foiled Ice Cream Parlour Robbery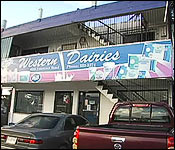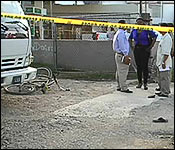 Two teenagers and an adult were shot in Friday's failed attempted robbery at the Western Dairy Ice Cream Parlor on Freetown Road. The two 17 year olds were shot - one to the back, and the other to the shoulder when they tried to rob four men who were loading a truck at the back of the building on Heusner Street.
Here's how it happened: at 4:30, four men were riding on bicycles when they pulled up behind Western Dairies on Heusner Street. That's where four men were loading up a cargo truck. Two of them pulled out pistols and ordered the men to lie on the floor. But, very suddenly, the predators became the prey, as someone inside the store opened fire shooting the two teenaged robbers, while their partners in crime dashed off, dropping a small .25 pistol in the process - as well as leaving their bicycles behind. Police found seven 9 millimeter expended shells on the scene, while the robber's .25 pistol had two live rounds.
Both minors were taken to court today, while the adult is in critical but stable condition.
The minors appeared in family court this morning, but we can't show you their pictures because they are minors. They were both charged for robbery and remanded to the Wagner's Youth Facilities at the Belize Central Prison because it was an armed robbery. Their next court date is October 2, 2014.
The third and fourth suspects are adults - the third is in the KHMH under police guard. He remains under guard as well.

Day One At School Is Special
Last week we told you about the financial burden of back to school expenses on the parents, but tonight we have another side of the back to school story and we got it from the very enthused students and teachers. I visited St. Joseph Primary School this afternoon to find out how the first day of school is going for the students and teachers.

Cordel Calls It A Comeback In Lake-I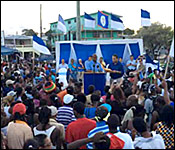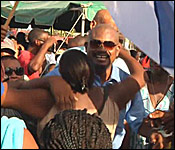 And while those kids were coming back to school, on Saturday Cordel Hyde came back to the PUP. We first told you about it 4 months ago. It was news because he'd had had a less than amicable departure from the PUP in March of 2012.
Viewers may remember that in February, 2012 - right before the general election, Hyde announced to his party and the public that after 3 consecutive terms as Area Rep, he was resigning because his son's battle with cancer had worsened, and that he needed to focus on his family.
That happened days before his political colleague, Mark Espat's, decision not to run for the Albert Division in the 2012 Elections. You may recall that in last few years of both of these men's political careers in the PUP, they became infamous for their attacks on their own party, the so-called Old Guard of the PUP, which had departed from the Party's social justice roots.
And because of their history, party insiders blamed them both of them for putting 2 sure seats into play, and handing the election to the UDP. After the elections, the PUP decided that the pair had resigned their seats, and that they could no longer hold any position for the party, or run for elected office as PUP's. That ought to have been the end of Hyde's days a PUP, but politics, they say, is the art of the possible.
After months of build-up, Hydes endorsement for Lake Independence took place on Saturday evening, and of course, 7News was front and centre. Daniel Ortiz reports:
Daniel Ortiz reporting
The Saint Martin De Porres Field was taken over, transformed into a stage to look the part for the return of the three term area rep, as he began the reset of his political career.
The crowd, at its initial stages was respectable, but unremarkable. By the time Cordel Hyde was ready to give the main speech some 2 hours later, however, the crowd had increased by at least double or triple the initial amount.
One by one, the PUP A-Listers moved to their seats at the head of the meeting, Drs Francis Smith and Marco Tulio Mendez, Said Musa, Ramon "Monchie" Cervantes, Dolores Balderamos Garcia, Dan Silva, John Briceno, Florencio Marin Jr., and of course, Opposition Leader, Francis Fonseca.
After everyone had taken their places, the man of the hour strode onto the field, immediately, he was swarmed by his enthusiastic voters from Lake Independence. It took him 10 to 15 minutes to navigate past the constant stream of bodies who were there to greet him.
When he finally made it to the head table, he warmly greeted his colleagues, who were there to oversee his swearing in. He greeted his party leader warmly with a hug, and then the meeting was called to order shortly after that.
It had been a while since Hyde had been seen publicly with other politicians from the PUP, not since his departure in 2012. Yet, he had the appearance of the right fit, seated to the left of Francis Fonseca, the man who he had told that he would not run for politics - and later presided over an a party that said Hyde had quote, "resigned from the People's United Party and can no longer hold any position in the Party nor run for any seat on a PUP ticket."
But, in politics, nothing is written in stone, and two years after the PUP privately blamed him for giving up a sure seat, and handing the UDP a slim government majority, Hyde was officially back.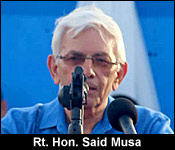 Rt. Hon. Said Musa - PUP Area Rep, Fort George
"Everywhere I go people is asking me, is it true that Cordel Hyde is back? Well you saw the ad for this meeting today right; the Return of Cordel Hyde. Today we are witnessing the great return of Cordel Hyde. Cordel didn't really return to the PUP, Cordel said he has never left the PUP."
But he did resign from Musa's cabinet...still the rest of his colleagues left all that in the past - or at least pretended to, and started looking to the future.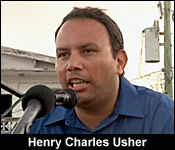 Henry Charles Usher - Party Chairman, PUP
"Forward as the former Prime Minister said forward with the People's United Party. Forward with our new standard bearer here in Lake Independence Cordel Hyde and forward to victory at the next elections.... PUP."
Crowd Chanting
"All the way."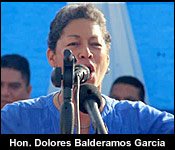 Hon. Dolores Balderamos Garcia - PUP Area Rep, Belize Rural Central
"The first thing I want to say this afternoon ladies and gentlemen and to Cordel Hyde our beloved Cordel Hyde is welcome back to the party. Welcome back to the party Cordel."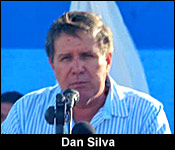 Dan Silva - Standard Bearer, Cayo Central
"Cordel is like a rock star coming in today and that love is very important and I agree with our chairman, that Lake I will go PUP. So today Cordel, after you win we have a big job. Today is a hard day for mothers, tomorrow is a school day."
Hon. John Briceno - PUP Area Rep., Orange Walk Central
"I'm here to support Cordel Hyde because Cordel Hyde is a warrior for the people of Lake Independence. And Cordel and I, we have been in many battles and whenever Cordel and I fight, we fight to win for the people of Belize ladies and gentlemen."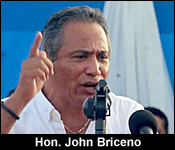 Hon. Florencio Marin Jr. - PUP Area Rep, Corozal Southeast
"I always use to hear about Cordel and met him as like colleagues in 2008 and I really like his style. I like his down to earth-ness and I myself try to learn from him as how he deals with people because he has a natural gift as a politician, you got to admit that right; as he came
in you see the crowd, you see the love, and you could feel the energy from this gentleman. So I am proud to be here with him, to stand next to him and welcome him back amongst our ranks and for sure as someone said earlier, for sure when elections get declared you know that Lake I is in, Cordel is coming."
Ramon Monchie Cervantes - OW Standard Bearer
"I have come here to support Cordel Hyde because I know that Cordel Hyde stands for certain principles that we need to reaffirm so that Belize gets on the right track."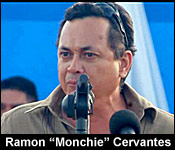 After all those generous endorsements from the Party Reps, the returning Standard Bearer took the rostrum, ready to swear in, it was with the theme of his return, "Coming Home".
Cordel Hyde
"I Cordel Hyde do solemnly swear that I pledge to work for the achievement of the aims and objectives of the peaceful constructive Belizean revolution, to work for the principles, policies and programs of the People's United Party."
Cordel Hyde
"You see why I couldn't stay away too long? Its official, I'm coming home, home to stay. It has been a while since I've seen so many people in one place, so you to excuse me if I get a little bit carried away and I if I talk a little bit too long because I have lots of things to say - I haven't gotten a mic in a while. The people of Lake Independence is what makes this day possible. You have to tell the world and the country that I am you all man and you all would never cheat on your man. You see why I have to love Lake Independence."
After riding the wave of heightened emotions from his supporters, he got serious for some real talk.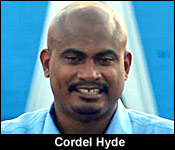 Cordel Hyde
"Two years ago a very few people could have predicted this day. They say we in the People's United Party were too divided, we could never reach beyond the issues of the past. Well, let it be said that on this blessed Saturday August 30th, 2014 - we came together in support of a greater cause and while we may not be singing kumbaya around an open fire, let it be said that the cause of the people is greater than any issue. The cause of the people is greater than anything that divides us. We thank you for believing deeply that together we can once again be better - that together we can make people's lives better and that ultimately we can be true to Mr. Price's PUP - the social justice; the social justice creed, that we are going to take care of the people who needs our help the most and we are going to be there for the majority of the people all the time. That is what made the People's United Party win general elections for almost 30 years."

Can Cordel Take Down Hon. King?
And while Hyde got love from many of his former PUP foes, he finds himself in an unfamiliar position: that of the challenger. The incumbent is now the UDP's Mark King.
As we told you, after Hyde stepped down, King won as Area Rep in Lake Independence. Many have speculated that if King had faced the former 3 term Area Rep, he might have lost. So now that Hyde is back in as standard bearer, those "what if" scenarios are becoming a real possibility.
That's exactly what we asked King about this weekend when we caught up with him at another event. He says that Hyde's return changes nothing about the way he operates in Lake I. Here's how that conversation went:
Hon. Mark King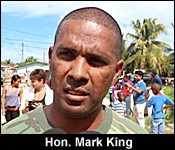 "As you know I've been doing my work as an area rep. and as the minister of gangs and the responsibility also for conscious youths - that is my job. I am always in this community. You guys have don't many interviews with me. Politics is nowhere around the corner for us, no elections. But if we ought to look at it about the return of the PUP's candidate, he has just become basically a name in this area and we have no fear for that kind of thing."
Cordel Hyde
"Over the last two years, everywhere I go, people from Lake Independence have made it very clear to me that they want me back that they are just waiting for me to come back. For every one person who might be negative - 20-25 persons are positive."
Daniel Ortiz
"However he did represent this area for three terms and it's not that he lost, he walked away. Do you think that influences his abilities to get back in and win the favors of Lake I?"
Hon. Mark King
"Absolutely not, because if you want to look at it in detail, he's been in this constituency from 15 years and people are still poor, broke and hungry and now I've been here for two years and I want you to see the kinds of programs that we have for children in the police cadet corps, that we have for the young women, that we have for the elderly, the kind of infrastructure and investment coming to Lake I - men are getting jobs, the streets are being paved - things are happening in here. At the end of the day he had 15 years to do that and to add, he was a minister for those 15 years. I am only a junior minister of state with not a ministry. People got to understand that I have little less resources, far less and I am doing far more because I am here in the constituency doing what I am supposed to do."
Cordel Hyde
"You are giving my opponent too much prominence. Really, I mean I am not come here, I was born here, I live here and I will die here, so all the noise and all of that I couldn't pay attention to that."
Reporter
"How would you respond to the criticism that the only reason you got elected was because he basically walked away and got a free chance?"
Hon. Mark King
"I would absolutely say that in politics you have to have lots of luck. You have to have the skills to get on the ground and do what you have to do and it doesn't matters who wins. At the end of that day a win is a win and any candidate will tell you that. Now coming into the future, however he mans the ground because I guarantee you he can't man the ground better than me. I am always on the ground. So at the end of the day, the people will take the 15 years that he had that he didn't do anything with and they will match it against the 2-3 years that I am here, understanding that I am not a minister and at the end of the day they are going to determine who does the work better and that's their choice at the end of the day."

PUP Leader Remains Firm On Saldivar Suspension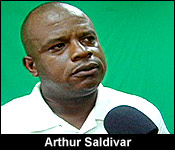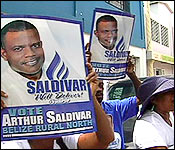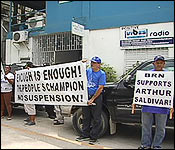 And while PUP is riding the wave of Hyde's come back, they're also trying to put out the fires in the wake of the political intrigue developing in Belize Rural North.
As we've told you, the Party has suspended Arthur Saldivar as Standard Bearer for that division following the allegations that he made off with almost a million dollars of his former client, Melonie Coye's, money. As we showed you on Friday the Rural North Executive Committee protested that decision saying that the Leader and the Executive overstepped their authority when they suspended Saldivar.
We couldn't get any comment from the Opposition Leader on Friday when our story aired, so after Hyde's endorsement we took the opportunity. He told us that he respects their position, but he remains firm: Hon. Francis Fonseca, PUP Leader
"We respect their right to obviously voice their dissent - that is absolutely an important right within the People's United Party. They have a right to voice their opinion, they have a right to support their candidate, but we have absolutely no concern about that. We have acted in accordance with the constitution of the People's United Party, the national executive as I pointed out on that day, debated this issue vigorously and we made a decision on the basis of our constitution and we stand firmly behind that decision. I assured them, I said to them when I spoke to them that during this investigation they will be able to share their position, to share their views with that committee, so they will have every opportunity to present their position on this matter to the committee."
Daniel Ortiz
"It doesn't concern you that this could cause the perception of another rift in the party where you have PUP versus PUP on this particular issue?"
Hon. Francis Fonseca, PUP Leader
"None at all. The entire party is united in support of the decision. As I said the Belize Rural North committee obviously it's their candidate, so they are in support of their candidate. They want to voice their opposition to the decision taken and we understand that, but the entire party is united and supports the decision that was taken and we will move forward."
The National Party Executive will meet again on September 17 to deliver a final decision on Saldivar's continued candidacy.

Police Cop A .38
Good intelligence led police to a weapons bust. This morning at about 11:00, a police strike team searched a yard in the Victoria St area and found.38 special revolver with no serial number.

National Football Team Leaves For Copa Centroamericana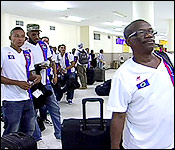 Remember the Gold Cup 14 months ago? And all the hype and hysteria that accompanied it? Well, tonight Belize's National Football Team is in Washington DC for the first game of the Copa Centroamericana, or Nation's Cup - and the event has received very little hype.
That's because it's a smaller event, and really only a qualifier for the Gold Cup - but also because the FFB is going through its own internal problems - and only brought players into camp a few weeks ago - whereas, for the Gold Cup, they were there for months.
But, no matter, the players will still be wearing that flag on their chests when they take the field at RFK Stadium on Wednesday afternoon. What was their state of mind as they took wing..? 7News was at the airport.
Jules Vasquez reporting
There was no great fanfare when the national team arrived at the airport. With veteran leadership, the team was calm and ready for Wednesday's game at the 50 thousand seat RFK Stadium in Washington DC.
Shane Orio is one of the veteran national team players:
Shane Moody Orio, Goalkeeper, National Team
"Hopefully that we'd be able to come together as a national team and once more have what it takes to make it teh goal cup."
Dalton Eiley, Defender - National Team
"The time was very limited, you never want to prepare for a tournament as big as this with just a month training, but the hopes are high, the players are excited. We did a good two weeks of training and the players' morale is high and we are ready for the tournament and we are going there to our best and hopefully we will do well."
Deon McCauley, Striker, Belize National Team
"It won't be easy for us. This time we are in a harder group so it will be more difficult."
Evan Mariano, Forward - Bze Nat'l Team
"Yes we have a short period of time to train and so forth, but it's up to us the players to go out there and give our all. We did it before and we could do it again. Nothing is impossible in this world."
Ian Gaynair, Defender - National Team
"I feel good because the core of players is still here; 11-12 of us that played in the last national team. I feel pretty good and confident that we could make history again for Belize."
Elroy Smith, Defender
"We just hope that everything that we put in practice we could make it through for the first game."
Evral Trapp, Defender - National Team
"We have a better unit this time, so I know that when we are going out there we will give a good run to qualify for the next tournament."
Harrisson "Cafu" Roches, Forward - National Team
"All of us feel good to be on the national team once again to represent our county and we will try our best regardless of the time span that we had to train. We know that it was difficult due to situations with the federation, but thank God we come together in the last 3 weeks and try to prepare our self. We will to do our best to try to qualify for the UNCAF."
Jules Vasquez
"Are you concern about only having 3 weeks in camp? Some of the players haven't really been in camp."
Leroy Sherrier Lewis, Coach
"No problem, we are positive, heart and mindset, so no problem. We have to be positive and you guys have to pray for us help us."
And as they checked in - the team has to have its thoughts on Wednesday's game - and their first matchup, which is Honduras:
Dalton Eiley, Defender - National Team

"That was one of my first thought. They are fresh off the World Cup, having that high tempo coming back from such a big tournament. They will be looking to do well in this small tournament. We are not scared of them, we played them before. We are just going to go out there and do what we know how to do and do what the coach has taught us and we are prepared for them and I think we will go there and give them a run for their money."
Jules Vasquez
"Honduras is one of the regional power houses in football."
Shane Moody Orio, Goalkeeper
"Regional power house, but every game is different and every opponent is different. The most important thing is to focus and what we can do as a team to stay compact, not to worry about Honduras to worry about Belize and to do our job."
Harrisson "Cafu" Roches, Forward - National Team
"We are confident that we are going out there and we will do our part. We are not scared or we do not fear which opponent we are going up against, we will do our best."
Elroy Smith, Defender
"On the field it's 11 against 11. Right now they change their team, its not the same team that went to World Cup, so I think we have a good chance."
Ian Gaynair
"We stiil don't fear them because they haven't won a game in the World Cup and they are not bringing their A team to this Nation's Cup, so we don't fear them."
Woodrow West, Goalkeeper - National Team
"We played against Honduras the last time and they are a very good team and I give them a lot of respect but I do not fear them at all."
Leroy Sherrier Lewis, Coach
"It's 11 against 11 - nobody is going to frighten us - no fear."
Dalton Eiley, Defender - National Team
"A draw would be good for us on the first game against Honduras or we are going for the victory, nothing less than a draw will come our way."
The team that will be out there will try to change from the trademark defensive style:
Shane Moody Orio, Goalkeeper
"As much as people say that Sherrier is a defensive coach, he is not defensive. The way he wants us to play is attacking football taking care of the ball and limiting the opponent with touches."
Elroy Smith, Defender
"Really and truly I think that we have to go out there to put the game to these people. We can't go out there to sit back and relax. We have to go offensive. That's the only way we can win the game if we go offensive. If we stay back and relax it will be pressure and a team that take pressure for 90 minutes doesn't hold out too long."
Leroy Sherrier Lewis, Coach
"We have more offensive players now with Danny and Jaro and Jarette, so the team is very balance now."
Ian Gaynair
"We have a couple new players and some of the players that we got new mostly attack, so I think thats the difference we will make."
And the players seemed ready to focus on the game - even amidst the usual distractions in camp:
Jules Vasquez
"Are your minds clear heading into this tournament that there are no pending issues as they were last time?"
Deon McCauley, Striker, Belize National Team
"Well I don't know what the federation is doing to solve those problems, but those problems are not my problems. They have to figure that out themselves. My job is to play and that's why I am here."
Dalton Eiley, Defender - National Team
"Those stuff aren't on our minds. We have already settled all of that in a meeting with the president and the committee and everyone, so that's the last thing on our mind right now. We are focus trying to qualify in these games and move on the gold cup once again."
Ian Gaynair
"No issues any at all. The only thing that is on our mind right now is to go out there and represent our country and win. We are not worrying about anything negative, nothing bad that already happen to all of us players - nothing about our federation, about them owing us. Our main objective is to go out there and win and to qualify again to go to gold cup next year."
And at least one fan was there to make sure they feel the love:
Donald Harris, Superfan
"Because they need the moral support. I can't go with them, so it's just moral support. When they see me with a Belize flag - that goes along with them. When they come back they expect to see me as well."
So, they left, confident:
Leroy Sherrier Lewis, Coach
"The players have a lot of heart, a lot of stamina and a lot of soul, so they never give up in any moment, don't matter how hard it is."
Evan Mariano, Forward - Bze Nat'l Team
"We just have to believe in each other like what the coach always say we have the talent to play the ball. Go out there and play the ball and don't be afraid of anybody - play the sport and you will win."
Ian Gaynair
"Our destination is to reach LA because if you reach that means you qualify, so we are going out there to Washington, Dallas, Houston - those 3 states - we are going out there and give our all and definitely when we come back to this country you all will be proud of us because we will qualify again."
Wednesday's game will be played at 5:00 pm Belize time against Honduras. Belize is in group B with Salvador, Guatemala and Honduras. The team's second game will be on Sunday in Dallas at the Cotton Bowl at 5:00 pm when Belize plays Guatemala.

Outrage About Murder From Toledo
At the top of the newscast, we told you about the two murders, one in Punta Gorda and another in Belize City.
Well, the Chamber of Commerce, says the crime wave has gotten out of hand. The organization sent a release today saying, quote, "This steady growth in violent crime raises major red flags for Belize's future." It adds with a call on the Government…quote, "to ensure that updated and effective measures be put in place to restore law and order."
And while many regular folks are upset about the enforcement of quality of life crimes, that's the one thing the Chamber congratulated police on.
And while that release kind of came out of the blue, another release in response to crime was more direct. The Toledo Maya Women's Council expressed its deepest condolences to the family of murder and rape victim Agripina Coc. The release says, quote, "The news of her brutal murder is deeply saddening and brings into focus the appalling levels of violence in our society, but more importantly to our women." End quote.
It adds, quote, "Ms. Agripina's untimely death has left many in a state of shock and confusion as to how and why someone would commit such a ghastly crime against an elderly woman of Christian faith and peaceful nature." End quote.

Who Is This Year's Iron Lions?
The 15TH annual Lionman triathlon was held on Sunday morning on Marine Parade in Belize City.
The lionmen and women competed in a 1,500 meter swim, then 40 kilometer ride, and finally, a 10 kilometer run - which are the international parameters for a full triathlon.
7News was there to see the competitors in action. Here's how it looked:
Defending champions Kent "Bob" Gabourel Jr. and Shalini Zabaneh were the winners in the male and female categories and are the 2014 Lionman and Woman, respectively. By our count, this is Shalni's eight first place finish in the event. Team Coast Guard was first in the team event. That team consisted of swimmer, Alma Pinelo, cyclist Joel Borland, and runner James McFoy.

Celebration Season Opens, Officially
And though it is not a celebration, per se, the lionman event is part of the September Calendar. The official launch of the Celebrations Season took place on Sunday at the official opening ceremony. It is usually held on Saint Georges Caye but due to bad weather it was held this year at the House of Culture.
Here's what the Co-Chair of the National Celebration's Commission told the gathering:
Diane Haylock - Co-Chairperson, September Celebrations Committee

"On behalf of the government of Belize and as co-chair of the national celebration commission I extend to you a warm welcome to the launch of this year's national 2014 September Celebrations. Today marks the start of a month of patriotic events being held under the theme "Industrious Hands, Intelligent Minds, Together for Belize." This year's theme composed by Ms. Denise Bowman and I like at this moment to see if Denise is here. Yes please give her a hand. Ms. Bowman in her theme captures the spirit of growing nation united, developing and embracing its worth in the evolution of many young democracies in the world to date. For this year's festivities, the national celebrations commission has put together what we consider a remarkable series of activities over the ensuing weeks. This calendar of activities will only excite your imagination, but will also inspire a spirit of togetherness and renewed appreciation of our jewel Belize."
This year marks the 216th anniversary of the Battle of Saint George's Caye Day, and the 33rd anniversary of Independence.

Prison For Purse Snatcher
21 year-old Kenrick Longsworth, a Castle Street resident, is spending his first night of a 6-month sentence after he was convicted of theft in a trial before the Chief Magistrate Ann Marie Smith.
The complainant, Sherlett Lamb, testified that on September 23, 2013, she was at a shop on Freetown Road, and she noticed Longsworth monitoring her. She said that she took her purse out of a plastic bag, placed into the basket on her bike, and rode off. Lamb said that while she was on her way, she noticed Longsworth following her. Before she could react, Longsworth snatched her bag out of the basket and ran off.
In his defence, he denied that he committed the offence.
After careful consideration, the Chief Magistrate found him guilty and sentenced him to spend 6 months in prison.
Longsworth is the son of Lavern "Antichrist" Longsworth, who was convicted of murder, which was later reduced to manslaughter in the Court of Appeal earlier this year.

Went To Unlock Phone, Got Locked Up
23 year-old Michael Usher is also spending a 6-month prison sentence after he was convicted of theft. The Complainant, Shawn White, accused him of promising to run an errand for her, but instead he stole her money and property.
White testified in a trial before the Chief Magistrate that on May 14, 2014, she asked Usher to take her cellular phone along with $200 cash to unlock her phone for her. Instead, Usher pocketed the money and stole the phone, and after investigating, police charged him with theft and obtaining by deception.
Usher chose to remain silent, and after considering all the evidence, Chief Magistrate Smith found him guilty of the offences. She sentenced him to serve 6 months for each count, but the sentences are to run concurrently, so he will only spend 6 months in jail.

San Pedro Pol Nab Peddler
Police from San Pedro are reporting tonight that they've caught a reported drug peddler with weed.
At around 6:30 yesterday morning, acting on Special Branch Intelligence, a team of officers conducted a raid at his house in the Bayside Area. They found 117 grams - or 4.1 ounces - of cannabis.
It is expected that he will be arraigned shortly.

On The 16th Day...
In our last segment, we showed how active Lake Independence was abuzz this weekend with Cordel Hyde's return. But, there was another community event held known as the Days Of Healing.
The outreach effort, as we've shown, goes into the different embattled neighborhoods where gangs are dominant. It's lead organizer, Perry "Stikz" Smith, tries to put together a fun day for the families and children living in these areas, and this weekend Days Of Healing went to the PIV area.
We spoke to the lead personalities behind it:
This weekend's Day of Healing was the 16th in the Series.





Home | Archives | Downloads/Podcasts | Advertise | Contact Us