Capital Cops Puzzling Over Baby Janeeka's Death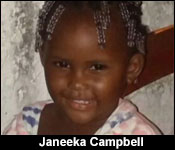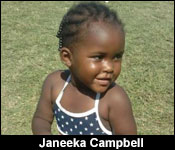 Last night, we took you to St. Matthew's Village in the Cayo district for an inside look at the life of 1 year-old toddler Janeeka Campbell. She's the baby who was found unresponsive at her home on Tuesday. A post-mortem confirmed that she didn't die of natural causes, but what did cause her death? Well, at this time, the investigators still have strong reasons to believe that neglect or abuse contributed to the tragedy.
Today, Belmopan's Commander, Senior Superintendent, Howell Gillett told the media that the medical language used by the pathologist is unclear to police. He told us that the officers intend to seek clarifications from the medical examiner, and they intend to consult with both the Department Human Services, and the Office of the Director of Public Prosecutions:
Sr. Supt. Howell Gillett, OC, Belmopan Police
"We have some medical terms that we're trying to work around because what I understand as I've read it is it's hemorrhaged due to head and chest trauma. This Monday we'll try to arrange a meeting with the pathologist to get some more detailed explanation in simpler terms as to what cause the death. Also what we want to verify is the fact that we want to find out if the injuries that were observed during the post mortem, are consistent to the statements that we have thus far which are saying that the child might have fell from the veranda unto the steps and otherwise. We want to verify that, we will get the DPP involved, we'll prepare what we have. As a matter of fact, we have a few statements and we'll send those to the DPP to get clarification and a legal opinion if what we have is sufficient to lay any criminal charges. In my view and experience, what we have so far is not nearly sufficient to refer a criminal charge against anyone or any set of people. Yes, we as police officers have dealt with many cases in our careers, but I don't think it's time for me to speculate, I prefer to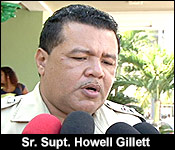 hear directly from the pathologist who conducted the post mortem to tell us whether these injuries that he observed are consistent with a fall. We have to clear that up and some of the medical terms that we used, we want to have a better interpretation of those. As I said, we'll work with the pathologist and the director of public prosecutions office before we even think about laying charges against anybody."
Reporter
"Sir initially the mother was detained and the police were looking for the father. Has anything changed in terms of that?"
Sr. Supt. Howell Gillett, OC, Belmopan Police
"Yes indeed the mother was in our custody, we got useful information from her and the father was brought into custody yesterday. He's cooperating with us, but it's not to say we believe all that they've said. It needs a thorough investigation and we're taking our time with it because baby Janeeka deserves the very best so we would want to ensure the public that we are doing a very intense and detailed investigation. I believe in the very near future we'll have a response or some closure to this case. But at the least I can say it appears, based on what we have seen and I'm no expert in this area, but it shows we'll also get the department of human services involved because in our view there might have been some form of neglect on the part of the parents."
Both parents have been questioned, and they remain under scrutiny. It will be decided later on if any criminal action will be taken against them for the death of Baby Janeeka.

Chopper By Her Stepson, Consuelo Lopez Showing Improvement
Yesterday we told you about Consuelo Lopez, who was brutally attacked by her stepson Linsdale Flowers. Around 10:00 that morning Flowers assaulted his stepmother with a machete at their home in Belize City. Lopez received serious injuries to her arms and head before police arrived and arrested Flowers. Doctors currently have Lopez in a medically induced coma in order to reduce the physical and mental trauma. We spoke to her daughter, Gloria Flores today, who told us that while her mother is still critical her future seems favorable...
Gloria Flores, Daughter of Victim
"Right now she's in an unconscious state. They have her sedated, trying to get her relaxed so that no kind of swelling or internal bleeding starts to occur. She hasn't had any so far. So that's her stage, she's breathing on her own and she's fighting."
Alex Courtenay, 7News
"So right now she's in a medically induced coma?"
Gloria Flores, Daughter of Victim
"Yes she is."
Alex Courtenay, 7News
"Do the doctors have any projections for the future, what all treatments she'll need or what it takes for her to recover?"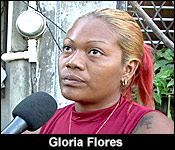 Gloria Flores, Daughter of Victim
"The first thing they said they would deal with is that due to the muscles and the nerves that were damaged, that will be take longer to fix. She might not be 100% but she'll be able to pull through."
Alex Courtenay, 7News
"Moving on to your step brother Lindsdale, has the police given you any update on that situation?"
Gloria Flores, Daughter of Victim
"So far I just came from the precinct and they are dealing with that situation so I'm waiting to see if I will receive a call or they will come and see them to speak to me about the situation with him."
Alex Courtenay, 7News
"Has anybody gotten to know his motives or the reason why it was for him to act so violently towards your mother?"
Gloria Flores, Daughter of Victim
"So far I don't believe so because it's only me, my mom and him were here when it happened so if anyone should have a motive or know anything about why he did it, it should be me right? I spoke to my mom before she went into the theater and she said that she doesn't understand, because she was conscience before she went in there, why he attacked her."
Flowers' motives are still unclear at this point, but we will keep you updated as the case progresses. We note that the victim's name is Consuelo Lopez, not Pop as police told us yesterday.

Rt. Hon. Musa Makes A Motion For Hon. Julius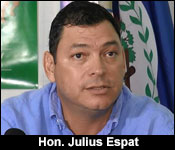 PUP Cayo South representative Julius Espat wasn't at the House of Representatives today. He stayed at his divisional office sitting out the first session of an indefinite suspension. Espat never showed up at the House as he said he would on Tuesday. He backed down off the hard talk yesterday when he said that he would simply be dressed and waiting for the call to "come on down" to the House Meeting. But that call never came, because the PUP's Senior Parliamentarian Said Musa's effort to introduce a "privilege motion" never got off the ground. Here's how Musa tried to float it, and how the Speaker Mike Peyrefitte swatted it down:...
Rt. Hon. Said Musa, PUP Fort George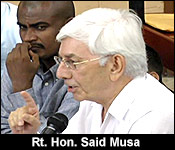 "The question, and this is important Mr. Speaker, a vital matter that goes to the heart of what happens in this house. Every decision, every resolution certainly a fundamental one like suspending a member, has in the final analysis to be voted on even though there's no debate, as the rules call for, there has to be a decision of the house. In other words, the question should have been put and the house should have voted without the debate as the rules say. That did not take place so it is our view respectfully, Mr. Speaker that the suspension of the member from the service of the house was therefore highly irregular and I'm saying the standing order was not followed."
Hon. Michael Peyrefitte, Speaker of The House
"Okay so then what you're saying is, because member in short that you did not agree with how I did it. I am saying I did it how I did it and I believe I was correct. If you believe I was wrong, then tender a regular motion and see if it will be voted on to reverse."
Rt. Hon. Said Musa, PUP Fort George
"The whole point of my rising today is to find a formula to ensure that the member should be reinstated in this house as soon as possible. And I was saying Mr. Speaker all that transpired in August has brought, and I am saying this as my opinion now, this house into disrepute. Now you might say the member acted disrespectfully, but remember also that on that occasion the member was prepared and indeed offered an apology, but it was not accepted. It is time to put an end to what I consider a blot on our national honor and dignity as a democratic nation. The member for Cayo South has a right to sit in this House of Representatives and to represent his people. That is why I wanted to move a motion."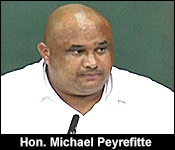 Hon. Michael Peyrefitte, Speaker of The House
"It has to be seen as convenient member, that you choose to want to make a privileges motion after the Supreme Court rejected you. I hear you clearly saying that....."
Rt. Hon. Said Musa, PUP Fort George
"The court did not decide the issue."
Hon. Michael Peyrefitte, Speaker of The House
"The supreme court decided essentially that we must solve our problems among ourselves. Then why did the member for Cayo South go to the Supreme Court then? You are a senior council member, didn't you advise him? Didn't you tell him, listen to me. You have at least 3 lawyers over on that side of the house, couldn't one of you have told him 'listen let's solve this thing internally' because then member, you talk about the disgrace that happened. You're asking for a privileged motion but yes this member got up, threw his papers down, almost took of the head of the side member for Stann Creek West, and talk about which one of you thief over there will name me and that the proceedings in this house are a joke. How can you disrespect this place, go to the court, get rejected and now expect mercy from this place? He needs to reinstate and re-establish his respect for this house before he can be considered by this house. It's not up to me, and then one more thing, you are making a privilege motion for the member to be allowed back in the house but that's not what he's saying. What he is saying is that he will appeal the decision of the Supreme Court. So then if he appeals it all the way to the CCJ, and it takes a year or two, he's telling us that he is prepared to sit out for a year or two."

Leader of The Opposition Speaks For Hon. Julius, Government Side Supports
And while that wasn't the only attempt to get the Honorable Espat back into the house. While Musa tried to slide it in with Parliamentary finesse, party leader John Briceno opened up the sitting with a shot from the heart. Here's how that went:...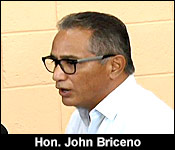 Hon. John Briceno, Leader of the Opposition

"I am appealing to you, to the acting and to the whip of the UDP, the honorable member from Mesopotamia - we've had some discussions in trying to find a way how to resolve this as quickly as possible."
Hon. Micheal Finnegan, UDP Party Whip
"This matter was being dealt with by me and the senior member from Fort George division. But the whole matter came to a halt because they wanted to go beyond the house and the matter was taken to the Supreme Court. I believe that if the matter did not go there, this matter would have been resolved by now."
Hon. Anthony "Boots" Martinez, UDP Port Loyola
"And for me, I want to make an appeal to this honorable house for to settle this thing as quickly as we could and Mr. Espat needs to understand that this is the national assembly and your behavior, I don't think like what the court decided, doesn't run the rules here."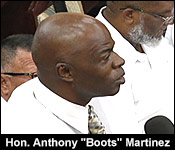 UDP Party Whip Wants Hon. Espat Back In House
And one of the consistent voices of moderation on the government side has been UDP Party Whip Michael Finnegan. Now, in Parliamentary language, the whip is to ensure discipline in the legislature, but Finnegan has been conciliatory on this occasion. In an interview outside the House Chamber he told us why he wants Espat back in the House:...
Hon. Michael Finnegan, UDP Party Whip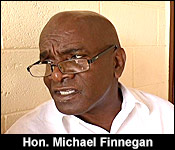 "I think we are parliamentarians elected by the people. I think we should show magnamity in all various ways and we must rise above the fray and how the whole situation happened back in August, man, in my view it was unkind to the house of representatives and I would never want to see another elected member of parliament taken out the house by the security forces of this country and even though you may disagree with the speaker, you have got to show respect for the chair."
Jules Vasquez, 7News
"But ultimately you want to see Julius Espat in this house?"
Hon. Michael Finnegan, UDP Party Whip
"Of course, because the people elected him."
Jules Vasquez, 7News
"Because Espat's people are saying that you all area afraid, that the Barrow administration is afraid."
Hon. Michael Finnegan, UDP Party Whip
"The people elected Mr. Espat to parliament and he belongs in parliament and he must be behave in a dignified manner that is conducive to parliament."
Jules Vasquez, 7News
"His people feel that you all want to keep him out because he speaks truth unlike any other. That's what they feel."
Hon. Michael Finnegan, UDP Party Whip
"Man, that is foolishness. I would like to see him back tomorrow."
Finnegan told the House he would be meeting with PUP Senior Member Musa at his house tonight. He is pushing for a meeting led by the both of them along with Espat before the speaker. We'll keep following it.

At Last, Government Signs UNCAC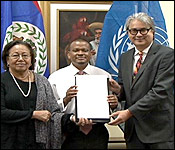 Belize is now the 184th country to sign on to the United Nations Convention against Corruption known as UNCAC. Acting Prime Minister Patrick Faber signed the treaty today in the presence the UN Resident Coordinator Christian Salazar Volkmann, Minister of State Dr. Carla Barnett, and members of the Belize Chamber of Commerce.
Signing onto the UNCAC was one of the key demands that the teachers made to the Barrow Administration as part of their 11-day strike for good governance.
The signing ceremony was planned for today, to coincide with the observance of the International Anti-Corruption Day. Prime Minister Dean Barrow, as the head of Government, was to have signed, but because of health issues in the US, he authorized Patrick Faber to do so in his place. Only the Government Press Office was invited to observe the event in Belmopan. Here's what Acting Prime Minister Faber told them about the significance of the signing: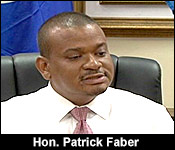 Hon. Patrick Faber, Acting Prime Minister of Belize
"It is a pleasure to be joining over 183 countries signing the UNCAC. We're a little bit late in coming but we're here and it is a pleasure for me in particular to be given the honor to sign today. Corruption as far as I've observed, affects primarily the poor of a country and given Belize's position and given what the human development report that we just saw, the UNDP released that report. We have seen how our country is devastated by the issue of poverty but also the wider region. So signing unto a convention like this will help us in the fight against corruption but more importantly the fight against poverty."
Christian Salazar Volkmann, UN Resident Coordinator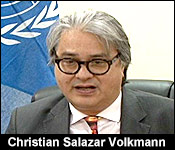 "This is an important day today, a great day. I really comment the government, the state, the people of Belize for this important moment. I'm really happy that it has come to this moment. We're also conscience that this is the start of a lot of work in terms of modernizing the state so that state and society can be fit to be more efficient, more transparent, and in that sense minimize and even eliminate corruption. Acting Prime Minister, you manage Belize is now the 184th state that will join this convention. What this shows also is that many countries in the world have gone through or going through the same process and I can assure you and the people of Belize that the UN particularly UNODC and UNDP, we are ready to help Belize on its way to bring in the experience from other countries, to bring in the technical expertise that is needed, to move forward on a way that in fact is a task of the Belizean government and society to find the right ways to end corruption, to be more transparent. We're here to help and support and we're very proud of this day so congratulations to everyone."
Today, the Belize Progressive Party, which has been pushing for the convention to be adopted, called the signing a "begrudging concession" by government. They also remind the public that the Prevention of Corruption Act requires all elected persons in public office - right down to village councils - to file declarations of their assets to the Integrity Commission annually.

Speednet Wins Major Judgment Over PUC, saving Hundreds of Thousands of Dollars
In 2011 Speednet, better known as, "Smart" sued the Public Utilities Commission. Speednet claimed that the PUC was overcharging them for the licensing of the 238 channels they use to provide phone calls, texts and data usage to their customers. The dispute is that the PUC was charging the telecommunications company almost $800,000 for the licensing of the channels when they should have actually been charged $1,400. So, why was there such a big difference in the charges? Well, according to Speednet's attorneys, the problem was with the usage of the word channel, which was defined ambiguously in the PUC's regulations.
The PUC was billing Speednet for the usage of voice channels, while Speednet insisted that they should be charged for radio frequency channels, which are cheaper.
Today the case, which has been appealed twice, came to a definitive close with the CCJ ruling in favor of Speednet. Via teleconference the Court issued a judgment saying when the regulation is unclear, their ruling should favour towards the person paying the fee over the governing body. Both parties broke the judgment down for us at court today...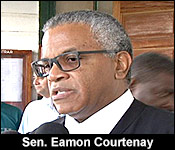 Sen. Eamon Courtenay, SC - Attorney for Speednet
"Essentially the case was about how you move voice channels, actually voice messages from one point to the other. The dispute was over whether or not the word in the schedule, that was channel, referred to voice channel or radio channel or radio frequency channel. Speednet said it was radio frequency, the PUC insisted it was voice channel. It was unclear and we were maintaining from the very beginning that where a statue is unclear you must rule or lean in favor of the tax payer, the person who has to pay the fee. The CCJ agreed with us that the word channel used in the regulations was not clear. Once it is not clear they applied the principal that you must construe it in favor of the person who has to pay the fee. The difference in so far as the fee is concerned is that Speednet had to pay $792,500 per year. In this particular case they will end up paying $1,400 because the court ruled in favor of Speednet."
Reporter
"Is there any involvement of BTL in this particular matter?"
Fred Lumor - Attorney for PUC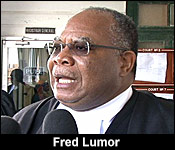 "No, the BTL is not a party to it, but it will benefit from the decision. Meaning that until the regulations are amended by the PUC and things are clearly spelt out they will also pay $1400 licensing fee for channels through which calls are made, radios, broadcasting all those things they will pay $1400 as an annual fee. But I think that the outcome of the decision will give impetus to the PUC to amend the regulations and make it clear."
Ernesto Torres - CEO Speednet
"From our perspective we obviously we feel very pleased that we have been vindicated in that position and it also relates to the fact that the fees go back to what they're supposed to be and the amount of fees that we would have been charged had we lost the case, according to our finance group would have actually been 5 million. Because there were other assignments that were made and we refused to pay because of the court case that was pending so it's a big relief."
Daniel Ortiz
"Is that money invested back into the company for upgrading works and whatever matters you seem fit?"
Ernesto Torres - CEO Speednet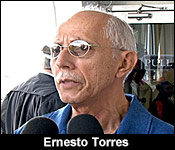 "What has happened in a case like that the funds that we have will receive back from the PUC as the CCJ ordered will in fact go back into the development of the telecommunications infrastructure that we currently are deploying."
Speednet originally filed the complaint against the PUC in 2011, and has since refused to pay the licensing fees until a final decision was made. Had they lost Speednet would have owed the PUC around $5 million. BTL was not a party to the case, but that company also benefits substantially. They use many more frequencies than Speednet.

San Pedro Supervisor Accused of Sick Crime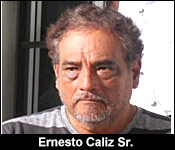 Tonight, 62 year-old Ernesto Caliz Sr., a Supervisor at the San Pedro Town Council, is out on Supreme Court bail after being remanded on a charge of sexual assault. He is being accused of fondling a 3 year-old child.
Caliz was arrested and charged last week Saturday, after a complaint was made that he fondled the female toddler. He was arraigned on Tuesday in San Pedro, and the magistrate denied him bail. He was remanded to the Belize Central Prison until his next adjournment, on January 6th of next year. But, his attorney got a hearing before Justice Adolph Lucas today, who granted bail of $5,000.

Castro Urges Bus Standees Not To Pay Full Price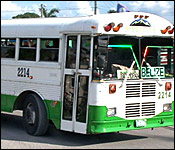 Transport Minister Edmond Castro was challenged about the new bus fares at today's house sitting. The question for the minister came from the Corozal Southeast Representative Florencio Marin. He asked about the fares in the north, which increased more than any other part of the country. Now, they are still paying 12 to 14 cents per mile just like everyone else. But, that increase seems more drastic because bus operators in that area passed up the last opportunity at a fare increase in 2010. So now there's a double increase - and, understandably, commuters are feeling the pinch. Castro said Marin's questions displayed a lack of empathy:
Hon. Edmond Castro, Minister of Transport
"Because you are not concern about those poor people in the south that was paying 28 - 29 cents a mile. That's none of your concern for poor black people to be paying $11 to go 40 plus miles. When you know for sure travelling on a bus from Belize City to Belmopan which is 50 miles - you can't ask anyone to pay even $10. What I am saying is your concern is only about the people in the north. So I am telling you member from Corozal Southeast that in order for them to be moving people back and forth from Corozal, Orange Walk to Belize City at 7 cents a mile in 2010 and 2015 and now 2016 - at 7 cents a mile. You have to be running something else, something has to be happening - it's impossible."
But Castro also showed sympathy for commuters who he says have to pay more for bad service. He urged standees not to pay:..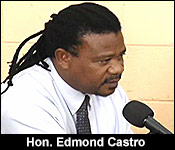 Hon. Edmond Castro, Minister of Transport
"So now that the price is stabilize at the 12-14 cents a mile. So now the bus operators nationwide, well you know now we can't charge you that $3.50 to Orange Walk again - it's the government increasing the price and the new price is 12 cents a mile. Everyone now has calculator on their phones - come on. If you had work with the people and let them know that we stabilize price at 10 cents - $5.50 to Orange Walk and not $3.50. Don't come and give them a shock and say its $6.00. Man, no one will want to ride your bus, especially if you are providing the same crappy service. This is what the commuters disagree with and we are begging that those bus operators out there - in some cases people doesn't mind paying a dollar more, but going along, if you have the heart to pick up somebody, 50 miles they have to stand up. You know how many miles they actually walk from Belize City to Belmopan when they stand in those bus? They walk at least 20-25 miles, because every time the bus goes front and back - you walk almost the whole darn way. This must end."
"If they have the audacity to pick you up and charge you the same darn price, if it was me I wouldn't pay, because I walk half the way from Belmopan to Belize City or to Dangriga back and forth like you're in a marching army."

Finnegan Still Has Cheer To Give
We also got a chance to ask Mesopotamia area representative Michael Finnegan about Christmas Cheer. Government is giving out very little of it this year: $8,000 thousand dollars each to UDP representatives, we are told. In areas like Belmopan and Cayo central that works out to less than one dollar per voter. But in the relatively small Mesopotamia division, Finnegan says he's going to share up those funds with his constituents. That's because his nephew Shyne Barrow is going to sponsor the toys for the kiddies party. Finnegan says he'll use the resources form his Housing Ministry to help with Christmas cleaning:...

Cordel Hyde Alleges Vega Family Land Scandal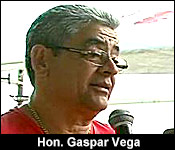 And while Finnegan had fun with that one - it was no laughing matter in the House today when PUP Shadow Minister for Natural Resources Cordel Hyde exposed another Vega family land scandal. Hyde pointed to a usual scheme where 50 adjoining pieces of land were acquired by persons who immediately flipped them over to Vega family members. One of the "flippers" is Hilmar Alamilla - the same Vega henchman who flipped the controversial parcel of land along Haulover Creek to Andre Vega. Hyde gave the broad outlines of the Vega family land scheme:..
Hon. Cordel Hyde, PUP Shadow Minister of Natural Resources
"It was probably 4 years ago that the member from Orange Walk North and it's a pity he is not here today, told the world and country; he said "I am not a normal person in Belize" and we laughed. We took him likely, but these folks are very serious folks. I have in my possession Mr. Speaker, 50 land documents from inside the fabled land department. Land transactions that revealed a meticulously orchestrated move to get land from government, pass it on to ordinary people, who then flipped it to the former minister's family. In his capacity as minister he transferred based on these documents 55 parcels of land to 40 plus persons. The lands are all adjacent to each other and those persons in short order, in a few weeks, sometimes in a few months then flipped that land to 3 members of the former minister's family. I am allowed to do that?"
Hon. Michael Peyrefitte, House Speaker
"What I want to ask you is this? Are you going to imply that the minister was directly involved in the corruption that you claimed you have evidence of"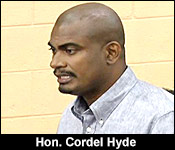 Hon. Cordel Hyde, PUP Shadow Minister of Natural Resources
"I am just going to state the facts and have people decide that."
Hon. Michael Peyrefitte, House Speaker
"But there must be a reason why you bring it up member."
Hon. Cordel Hyde, PUP Shadow Minister of Natural Resources
"I bring it up because ordinary people all over this country have the hardest possible time to try to get a little 50x75 swamp and if they can't get that, then we should decry whenever it appears that something on toward happens and government land subdivided near to each other ends up in the hands - 1600 acres of the roadside off the Phillip Goldson Highway, ends up in the hands of 3 persons from one family."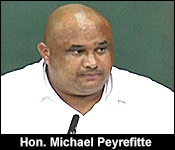 Hon. Michael Peyrefitte, House Speaker
"I don't want to stifle you member, but the rules are very clear in the house. You cannot speak on the conduct of another member or impute an improper motive without a motion to accomplish that."
Hon. Cordel Hyde, PUP Shadow Minister of Natural Resources
"But Speaker, this is real, this is public records. The same thing that happened when PUP was in, is happening now where documents are being leaked left, right and center. The people of Belize needs to know what's happening or what has happened. Why it is that they can't get a little lot. I am just stating for the record. That's all I am doing and if the minister did nothing wrong, then so be it. But all I am saying is this; how is it that you end up with 50 lots adjacent to each other and all the persons who got those lots then turned around and flipped them? Is it that they don't like land? Is it that all 50 persons suddenly got sick? Or some misfortune befell their family or someone in the family got sick and they had all sell the land? That is some strange crazy coincidence that all 50 persons from the north got the lands, paid $2,400 to the government, then turn around within weeks, within months and then flipped that land to 3 Vega's. That's all I am saying. The papers we have here says Hilmar is a resident of #2 Liberty Avenue in Orange Walk Town. He got, I think it was 91.95 acres of land for a small sum. I think he paid $3,669 for this 91.95 acres of land. That's Block 4, parcel 1582. He got that on June 21, 2011. But 5 months later on November 23rd, 2011, he transferred the land to Marleni Roxxana Vega of #18 Clarke Street, in consideration of $23,000. Derrick Gillet, a justice of the peace, out of those 55 lands transfers, he signed 12 of them. It's a real operation."
"Now Mr. Alamilla's wife, Miss Alma Alamilla. She got a parcel 1582, its right next to her husband's. That piece is 54 acres. She no like land either, just like Hilmar. Like a hot potato, she doesn't want it. So they sold it. She sold it to the same person that Hilmar sold to: Marleni Roxxana Vega. Many cases like that."
"You have a family Sealy, they were so lucky, they got 8 parcels of land and they sold all. They don't like land either. How would you not like land? I don't understand it and how you always want to sell it as you get it to certain favored family. I believe they sold theirs to German Vega. Solomon Sealy sold his one to Marleni Roxxana Vega too and then there is Linda Sealy. These are all 25 acres plots. As they got it, they sold it. They don't like land. Linda Sealy sold hers to German Vega and Sons Import Ltd. Lilian Sealy got her 25 acres and she sold hers to German Vega and Sons Import Ltd. too. Lincoln Sealy got his one and he sold his 25 acres to German Vega and Sons Import Ltd. too. There are more Sealy's you know. Kenesha Ashanti Sealy, 25 acres, she sold hers to German Vega and Sons Import Ltd. German Vega and Sons Import Ltd. got 34 of those parcels out of 55. Some people have all the luck and the Vega's got so lucky, got so blessed. People love them more than they love themselves - 1600 acres of prime property. No bush, prime property. Then I have my people in Lake Independence who can't get their little 50x75 swamp."

Make Like Mannequins In Belmopan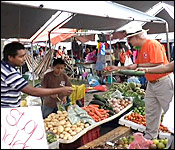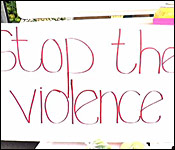 I'm sure you have heard or seen YouTube videos of the ALS ice bucket challenge. It might seem crazy pouring a bucket of freezing water over someone's else head...well the Mannequin challenge might seem even more bizarre. But that's the new thing right now in America and a team from the US Embassy staged their own today in Belmopan at the market as part of 16 Days of Activism. We were there to capture it this morning.
Courtney Weatherburne reporting
This is one of the many videos of Mannequin Challenges that have gone viral in the US. It started with a group of kids capturing themselves frozen in all kinds of positions.
It's pretty cool and now everyone, even rap duo Rae Sremmurd is doing it.
Well the US Embassy in Belize organized their own version of the challenge, replacing rap music with signs for a worthy cause.
H.E. Carlos Moreno, US Ambassador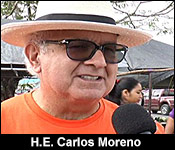 "The objective here was really to highlight the 16 days Against gender based violence and we are trying to use creative ways to sort of highlight this stuff wearing orange and ribbons and the mannequin challenge is something that came up in the last 2 or 3 months in the US and I am kind of wondering how Belizeans will react to it but as you can see when we had the first 45 seconds of stop motion everybody was watching us and the signs promoting stopping violence , don't hit me and so forth , I think it is a good message if nothing else that people will take away from this is that this is an issue that people need to be aware of and we have chosen thins creative way to bring it to the fore."
Courtney Weatherburne, 7news
"And you picked a very busy and colorful space, the market place."
H.E. Carlos Moreno, US Ambassador
"Yes very deliberate and a lot of people, maximum exposure, just interacting with merchants here, I think was a good move on our part, like you said there is just a lot of people here, a lot of movement and the contrast with the frozen aspect of our poses really highlights how creative this whole thing was."
And surely it was a different experience for these vendors, but they too appreciated the message.
Courtney Weatherburne, 7news
"What was your first impression when these people came up to you said you have to freeze like a mannequin?"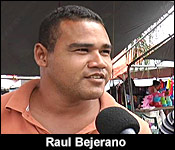 Raul Bejerano, Coconut Water Vendor
"But at first I didn't understand but then it feels alright, a little bit shaky but it's okay."
Courtney Weatherburne
"So you had fun with it at the end of the day?"
Raul Bejerano, Coconut Water Vendor
"Yes."
Courtney Weatherburne
"Do you understand or do you get what the main message is about? Tell us what you think about the initiative here?"
Raul Bejerano, Coconut Water Vendor
"They want to send a straight message so I think it's a good idea."

Real Pine Means Real Christmas
During the holiday season most homes are decorated with an artificial Christmas tree. Those trees tend to last several Christmas-es, but for some, a plastic pine tree is like a slim Santa Klaus - it's just not right. Teophilla Brakeman is one of those people, and her family has a long standing tradition of providing real pine trees to those who want that pine comb flavor in their living room. We spoke to her a Constitution Park in Belize City where she is selling her trees...
Brakeman was originally stationed at Battlefield Park, where he parents used to sell trees, but the City Council told her that he stock was too big for the park. City Council helped her to relocate and Brakeman insists that her stock of trees will not disappoint.

Kind Wins Rotary Raffle of Motorbike
The Rotary Club has several philanthropic initiatives, one of which is to completely eliminate the Polio virus. Today Polio is still present in three countries, so in order to raise funds to fight the virus, the Rotary Club of Belize held a raffle. The grand prize was a brand new motorcycle, which and the winner was the young Nate Chen. Nate and his family received the motorbike in a small ceremony today. We spoke to them and the current president of the Rotary Club of Belize and Sunrise, Victor Usher Jr. about the raffle and where the proceeds are going.
While Nate is too young to fully enjoy the new motorcycle, the other members of his family say they will put it to good use.

Shower of Broken Bottle Glass on Street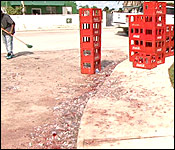 This morning Central American Boulevard was blessed with showers…not of rain, but of Coca Cola and broken glass. A truck full with morning deliveries turned off Fabers Road onto the Boulevard when it's back door, which wasn't fastened properly, flew open. The momentum launched dozens of crates of Coke onto the street. A clean up crew quickly arrived on the scene and got to work clearing the debris from the middle of the street.

Castro Says Sorry For "Retarded" Comment
Turning back now to today's house meeting, the speaker gave a special provision for Belize Rural North Representative Edmond Castro to make a statement on the adjournment. And he didn't want to make a statement as much as he wanted apologize for saying that our Daniel Ortiz was acting quote, "retarded". Castro said he'll never use that word again:..
Hon. Edmond Castro, Minister of Transport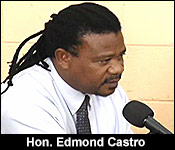 "Raise the issue of a matter of what I have said sometime during the course of this week to a reporter Daniel Ortiz, reporting for channel 7. In that interview, Mr. Ortiz was asking me the same question over and over again maybe about half a dozen time and I said 'I am here to apologize' and I apologized to him the following day. I told him one or two good words about his journalism skills as well, but I said to him 'man, brother Ortiz, this is the reason why you always get yourself in problem. Stop asking me the same thing over and over again as if though you are using-', I'm ashamed to say it but if I use the 'r' word they might think I'm saying another word. I said 'stop asking me the same thing as though you are retarded'. So, I must say to this house, Daniel Ortiz, Channel 7, the leader of the opposition, I must say to everybody out there that have felt in any way possible, felt bad about what I said, I am no member from Cayo South. I am big enough but I am also humble enough to say I am sorry, I will not use and never use that word again truly I felt bad after I had said that word to my friend Daniel Ortiz. On behalf also, Jules, you didn't need to hear that, but I apologize to you and your station you should have never used that or aired that word."
For our part we can say, thanks, but no apology required, "we noh thin skin".

Briceno Alleges Voter/Immigration Fraud To Steal Election
And while Castro apologized in his adjournment remarks, John Briceno used his address on the adjournment to blast the government for what he characterizes as election fraud.
The Leader of the Opposition says that he last night received a list of two thousand new citizens who were naturalized just in time for the 2012 election:...
Hon. John Briceno, PUP Leader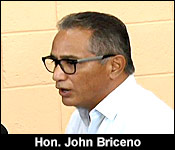 "I was given 64 pages of names of people who got their nationality between October 2011 to February 2012. Over 2,000 nationalities were issued just before the election. Here we have the names Mr. Speaker and I can give you a copy so you all can see. Over 2,000 just before the election."
"When we did an analysis 822 Guatemalans got their nationalities; 366 from El Salvador; 330 from Honduras; 62 Chinese and then we have from all over the place. We have from Bangladesh, Spain, Ukraine, Ghana, Pakistan, Vietnam, Brazil, Romania - from all over the place these people got their nationalities. There was no proper vetting and no proper process was followed. In 2012, in that last election the UDP got 62,641 votes. The PUP got 61,829 votes - a difference of 812 votes. When you look at Cayo Northeast the UDP won by 17 votes. Yet 2,000 nationalities were issued in about 4 months. Cayo Central won by 44 votes. Pickstock won by 82 votes. Corozal Bay by 148 votes. Belmopan by 218 votes. If they never push these 2000 votes, they wouldn't have been over there. They would have been sitting right over here in the opposition. That is the point I am making Mr. Speaker. We have the evidence."

New Treasury Bill Ceiling Raises Opposition Eyebrows
And while those were the hot button political issues of the day, one of the main bills that generated strong debate was the Treasure Amendment Bill - which will allow the government to issue up to 1.3 billion dollars in treasury bills. That figure has been going up all this year, and Briceno called it an addiction to borrowing:...

Sarstoon, The New Norm
And finally from today's House Sitting - we continue with Defence Minister John Saldivar. Early on in the meeting he was asked what is the status of Belize's sovereignty on the Sarstoon River. He gave a synopsis of what we take to be the new normal: that regular Belizeans should expect a Guatemalan patrol shadowing them upriver:...

Home | Archives | Downloads/Podcasts | Advertise | Contact Us