Quite Unexpectedly, Castro Drops Lawsuit Against Ch 5 & Alvarine Burgess
In a recent Belize Rural North convention, UDP Minister of State Edmond Castro proved his popularity when supporters turn rout in record numbers to support him. But while he still enjoys popularity in the 27 villages between Bomba and Boom, in the wider society, his public image has taken a pounding over the last 18 months. And today, he can add one more humiliation to that meltdown: he threw in the towel on the libel case against Channel 5 and Alvarine Burgess - and, to boot, he has to pay their 30,000 dollars in legal bills.
Oral arguments in the case were supposed to start this morning, but before that could happen, Justice Abel called both parties into his chambers and essentially indicated that he does not consider the case presented by Castro to be strong and prevailed on him to withdraw, lest he face an adverse judgment. After due consultation, Williams presented the motion to discontinue the case. It's kind of like a technical knockout in boxing - where Castro didn't leave the ring on a stretcher, but his reputation is certainly battered and bruised.
That's because Alvarine Burgess who made the allegation of corruption against Castro, stuck to her guns when she testified in May, insisting that Castro had taken money to recommend unknown Asian nationals to come to Belize. Under cross examination, Castro was forced to admit that he had done everything except take money.
When Castro exited out of the court, he declined comment to awaiting reporters. Burgess, who no longer has to worry about there being legal consequences to her allegations, was a more forthcoming with the press. Here's what she had to say:
Alvarine Burgess, Defendant - Castro Lawsuit
"I am very disappointed by it. Because I feel that I was dragged to court and so I told the truth. Mr. Castro just backed out. I am very surprised and disappointed."
Reporter
"Mr. Castro told us that because he felt that he had done enough damaged to you as his friend. So he withdrew his case."
Alvarine Burgess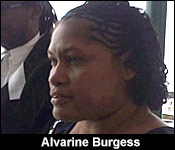 "He withdrew because they knew that Alvarine Burgess came and told the truth and they had a losing case."
But, as we told you, it was highly unusual for Castro to have decided at this moment that he wanted to discontinue the case. We tried to get him on it the last time around, and he declined then as well, but on another occasion, he granted a press encounter, a few days before his convention.
There was no indication then that he had intentions to stop this push to protect his reputation:
Daniel Ortiz
"Bad timing for you as a convention candidate."
Hon. Edmund Castro - Belize Rural North Area Rep
"My friend, I cannot discuss that case, that case is in front of the judge and I can't discuss that."
Reporter
"Do you still expect the prime minister to support you given what transpired in court?"
Hon. Edmund Castro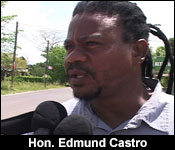 "Did I say that matter is in front of the court? So if it's in front of the court."
Daniel Ortiz
"Political consequences."
Hon. Edmund Castro
"That matter is in front of the court, let the court for what they do. It wasn't them suing me, I sued them."
Daniel Ortiz
"Ought you not to have left good enough alone, politically speaking."
Hon. Edmund Castro
"My friend, I'm not here to try prejudge nothing, I took them to court."
Daniel Ortiz
"I'm talking about the political consequences."
Hon. Edmund Castro
"There is no political consequence. Let me tell you this, there is no political consequence you know."
Daniel Ortiz
"But she is alleging illegal activities sir. Must have some sort of consequence"
Hon. Edmund Castro
"We will go through convention, I will increase the margin on who ever come. We'll win the general election and I will defeat who ever else come. And if the want to come out in 2s and 3s, I will still win. I fight out here to represent my people. We are here doing a very good job to represent my people. I don't know what Emerson Burke, that crazy man is taking about."
Reporter
"But sir, that is like saying I was wrong but I shouldn't be criticised for it, it was in the past."
Hon. Edmund Castro
"So you were wrong to buy vegetables."
Reporter / Daniel Ortiz simultaneously
"We're talking about the court case sir."
Hon. Edmund Castro
"Man, I no done answer you and say that thats in front of the court? Why are you asking about court case. I am not talking about no court case."
Reporter
"But does it have political consequences?"
Hon. Edmund Castro
"My friend, you the talk about court case, then you go to the judge and find out. I no the talk about now court case."
We understand from his attorney that he felt that he had done enough in the case to discredit Burgess to ensure that nobody believed her claims. Having sat in court ourselves, we've since heard Burgess' account first hand, and so that's a tough position to take. His attorney didn't believe so, however. He explained weeks ago that he had done enough to show that when intensely questioned on her stories, there was an accumulation of small inconsistences which add up to call her integrity into question:
Daniel Ortiz
"Would you reject the suggestion that no matter how hard you tried to pose Miss Burgess' story, you failed?"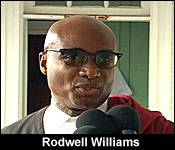 Rodwell Williams, SC - Attorney for Edmond Castro
"Not really. I think were you to seek to count the inconsistences they do add up. They may appear to be little inconsistences. She sat on the defence. She doesn't want to jump over that side or this side of the fence. 'Fencing' as Mister Smith referred to. That's all she did, fenced and when the questions were too probing she simply didn't respond to them "I don't remember," "I don't remember," "I don't remember." "
Channel 5 issued a statement today saying quote, "it has been vindicated...because while public figures have a right to safeguard their reputations, they should expect to be subject to a greater degree of public scrutiny and criticism." The statement continues, "It is also a huge victory for whistleblowers who bravely expose wrongdoings by public officials.

Furious Over The Santa Cruz 13; The Mayans Go Back To The CCJ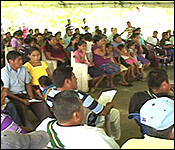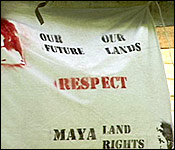 Ever since the 13 Mayans of Santa Cruz Village were arraigned at the Punta Gorda Magistrate Court, they and their sympathizers within the communities have been quietly simmering with outrage.
They believe that they were justified in detaining Rupert Myles for building in their village without the permission of their leaders. Moreover, they say that he squatted on land near their Uxbenka Archaeological Site, and destroyed a portion of it when he bulldozed road access to his house. They say that the detention was the very last resort that they wanted to take, but it was Myles' arrogant and allegedly violent attitude toward their concerns which left them with no other choice.
Myles, on the other hand, has asserted that the Chairman of the village, displayed racist attitudes toward his attempts to get a legitimate permit though the communal system to be granted access to the village. He says that the chairman openly offended him by asserting that his common-law wife, who is a Mayan Native of Santa Cruz, would not be welcomed back because she had become the spouse of a Creole man, a non-Mayan.
What followed after, as viewers are well-informed, was that the situation came to a head with Myles' detention, and their subsequent criminal prosecution of his 13 by the police for the charge of
So, since then the Mayan leaders have retired to come up with a collective position on what has happened with the criminal prosecution, and today, they invited the media to the Toledo Village of Golden Stream. 7News was there when Cristina Coc, the spokesperson for the Maya Leaders Alliance, gave her first public statement after being arrested for unlawful imprisonment. Here's what she had to say:
Cristina Coc - Spokesperson, MLA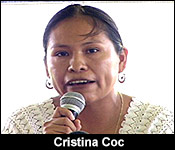 "To Belizeans who are not Maya, it may appear that we are trying to get something for ourselves, but consider it from another perspective. We are only insisting on what we aleady have and what we already used. If you boiled the entire legal case down to one basic principle, it is "thou shalt not steal." Though shall not steal land from the poor farmer. This is what the Supreme Court said in the simplest of languages. We are powerful people. Why are powerful people in Belize so threatened by our claimed to secure the land that we have always used? The simple answer is this - they have not want to see people who have long been marginalized, be it Maya or non-Maya. They have not want to see us stand for ourselves and refused to allow the continued theft or plunder of our land and resources by the powerful. Not only this. They are trying to set us against each other, by suggesting that respecting the dignity of one group is a violation of another group. That recognizing the rights of one group violated the rights of another. That recognizing the rights on and to one, means that the rest of us cannot get land. That struggling for a secure land tenure is threatening the sovereignty of this nation Belize to the state to the government of Belize. You have not change our rhythm, we will dance even better. Your attacked has renewed our resolve as a Maya people."
As we've told you, Punta Gorda Police conducted a pre-dawn raid in Santa Cruz on June 24 in which they went to arrest the 11 Mayan men who were charged first. That police exercise incensed the villagers who believe that there was no reason for the state to treat them like hardened criminals. There were reports that there were elements of police brutality in that operation, something that the PG Police Commanding officer rejects. One woman was allegedly assaulted by the officers, and at today's press conference, her fellow peer decided to speak up for the other women of the village. She said that the police operation terrorized the wives and children of the 11 men who were arrested:
Rosario Teul - Representing the wives of the Santa Cruz 13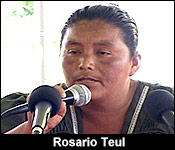 "I want to tell you of my concerned over what happened in my village. Like all Maya women I know that our village have always organized peaceful and welcoming to visitors and the new people: those who have visit us know that this is the truth. We know how to take care of our village, our people and our visitors."
"In the early morning of Wednesday June 24th, we were frightened to hear that our mothers in our community had their husbands and sons dragged out of their sleep by the army/police officers. We want to make it very clear to the government that we are hurt, because our husbands and sons are not criminal. This action of government will not fade away anytime soon. One of our mothers was hurt, stepped on by a police officer and many children were terrorized."
"Our hearts goes deeper when we heard that Ms. Cristina Coc was arrested. You do not hear the voice of the Maya women every day. As a village we ask Ms. Cristina Coc to be present in our meeting. We ask her to come to our community and to be the spoken person for our village. During this time, she did not do anything wrong. Yet by force she was."
So, what's the outcome of all of this? Well, as we've shown you, the Prime Minister is not pleased at all by the actions of the village when they detained Myles. He has made it clear that in his mind, the Mayans have misinterpreted the rights they have been given in the consent order that his government agreed to, when they resolved the appeal at the Caribbean Court of Justice. Well, the Mayans say that the way the state handled the Santa Cruz dispute is a clear indication that the Government is backtracking on its commitments to the court. Their local attorney, Monica Coc-Magusson explained this news application that the legal team has made to the CCJ:
Monica Coc - Magusson - Attorney for the Mayans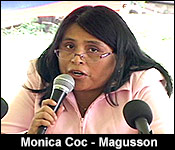 "Today we are going to file an application before the Caribbean Court of Justice. This application became necessary due to the government's failure to honor its undertaking under the April 22 consent order. Thus we have to now go back before the Caribbean Court of Justice. The application is asking the court to make clarifications and declarations with respect to that consent order and some of the things that we're asking the court to declare include, 1) to declare that the collective property rights arising from Maya customary land tenure includes the right of the Maya villages to determine pursuant to customary law, who may enter, used and reside in customary lands. Secondly, to declare that the government of Belize has breached paragraph 2 and 4 of the consent order. Paragraph 2, says that the government must adopted affirmative measures to identify and protect the rights of the appellants arising from Maya customary tenure in conformity with the constitutional protection of property and non-discrimination in sections 3,3B,16 and 17 of the Belize constitution. The application is also asking the court to order the government of Belize to pay pecuniary and moral damages to the Maya villages of Santa Cruz, San Isidro and Golden Stream for the government's failure to honor its solemn undertaking under the CCJ order of April 22, 2015."
"Again this application became necessary because the government has failed to protect the communal lands of Santa Cruz from an intruder. Continues to issue logging licenses in the village of Golden Stream as recently as May 2015. Less than a month after the consent order was entered and it continues to allow the surveying of lands for leases in the Maya community of San Isidro."
When that application finally makes it to a hearing, we'll be there to give you all the details accordingly.

Why Raid Santa Cruz Before Dawn?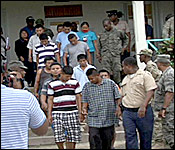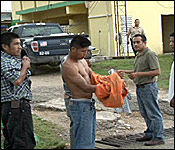 So, what do Punta Gorda Police have to say about this allegation from the Mayans that they were brutalized and roughly handled by the officers who conducted their detention on that day? Well, on the day of the arraignment, we approached all the commanders of the south who were present, but they told us that they couldn't speak on the matter. This time around, when we asked again, Superintendent Simeon Alvarez was willing to oblige us.
He explained what happened that day, from the police's perspective:
Supt. Simeon Alvarez - OC, Punta Gorda Police
"That operation was led by my deputy at that time, Inspector Ornel Domingez. We decided to go around that time because we knew that all players were farmers. These farmers usually go early to farm and if we go there broad daylight we would not have caught up with them. So I recommend as the officer, commanding that we move around that specific time. And with the assistance of police officers from Dangriga. We went into the area and we brought in everybody. Once they were in custody, nobody complained of any injuries to them. Nobody complained of any pain or damages done to them by the police. The only person that I had mention to a media early that said that she was feeling ill was Cristina Coc. We volunteered to take her to the hospital and she refused. The attorneys were here before they were taken to court and not one of the attorney made any complain to me as the officer commanding to say that her client was injured during the raid. I interviewed my police officers personally based on an allegation of a second person, a lady that was brought here. I did not entertained the attorney in giving her a medical form. I did not entertain that because if that lady that was allegedly injured by the police had abstracted the police during their detention of the suspects, she would have been brought in for obstruction. No, they came the following day. Anything could have happen to that lady would have fallen between that morning and the following day. So why should I entertain that? It was a no no for me."
Daniel Ortiz
"So you believe that these are all made up stories?"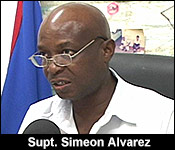 Supt. Simeon Alvarez - OC, Punta Gorda Police
"I strongly believe that."
Daniel Ortiz
"A lot has been made of the fact that some person were brought without the proper attire. They say that it was some form of tactic by the police to sort of demean or disrespect them "We run this place. When we come for you, you will come and you will move how we want you to move." Can you respond to that?"
Supt. Simeon Alvarez - OC, Punta Gorda Police
"I wasn't there to say whether the police did that, did give that statement. We would not be like what they did. The statement they gave according to the complainant Mr. Miles. We would never go that direction. I had spoken to the deputy who had led that operation and he gave me certain information why 4 of them were brought without shirts and the family were asked to bring their clothing. I will not reveal why."

How Outsiders Get Accepted Into Mayan Communities
Ever since the story broke, and the Mayans have insisted that they did not discriminate against Ruperto Myles, and that he was not being forced out of the village for being an outsider, much less being of a different race.
He has stuck to his version of events, but that has given the Mayans a bad public image, one which they say that they don't deserve. Present at today's press confirmed in Golden Stream Village, was a number of Alcaldes from other villages, and one of them felt compelled to set the record straight as to how all non-Mayans - or any person who is not a member of a village - is granted access to reside there. Here's his explanation of the procedure:
Ligorio Coy - Alcalde, Santa Ana Village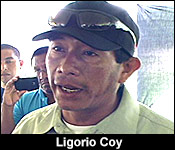 "First, if any one of us the Maya people want, for example, if I want to go to live in Santa Elena, I must consult with the Alcalde and he will set me date when he will called his public meeting and then it is the community to decide whether they accept me or not. If they accept me, there is an entrance fee that you need to pay. Not only that, there are rules and laws in the community - free practices that we do in the community. We have fahina, we don't get paid for that. We have burial of our dead loved ones. We have to clean farmers' road and like for emergencies everyone gets together - can you go and cut your 25 leafs, put in on your back, contribute your help and all of these things that we need to explain. We are not saying that different races of people can't come in and live. For example Santa Ana, 3 days ago, a Garifuna young boy is beginning a new life with a young girl in Santa Ana and we are not saying no. But these are the rules and if you can't handle a machete my brother, then pay your little contribution and everything will work out good. We have a Spanish living in Santa Ana. We have a coolie man living in Santa Ana and now a Garifuna man is coming in. I don't see any problems, but they have to follow the channel."
"My feelings, I get hurt when it's over the world that we are racial. No my brother. I say it to the Belizean people, but follow the correct channel."
So, by Ligorio Coy's explanation, Rupert Myles sought permission from the wrong permission. He went to Chairman, instead of the first Alcalde of Santa Cruz, the only person who could allow or deny his legitimate attempt, under Maya customary law.
So, to reiterate one important point of today's press conference, the Mayans say that by way of the consent order from the Caribbean Court of Justice, they say that the court has recognized that they have rights to land. According to them, all that is missing are laws which the state formally concede those rights, which the Government has committed to working toward completing. They assert that these rights to ownership is supposed to be treated the same the law treats land titled to private owner. That, they say, is fundamentally what private property is, which means that no outsider can just come into their property and do as they please, which is exactly what Rupert Myles did, in their opinion.
Whether the Government agrees with them is another issue, and it has social implications for the other ethnic groups living in the south. At which point do Belizeans of other races infringe on the rights of the Mayas while exercising their right to free movement through any part of the country? Also, what happens to the access to land for other non-Mayans living in the south? Of course, Prime Minister's position is that even if Rupert Myles was wrong, the proper way to have removed him, would have been by means of an order of the court. Also, the police would have been the ones to execute, not members of the community.

Young Woman Found Dead In Her PG Home; Police Say Murder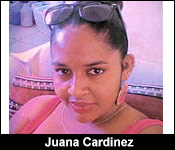 There was a murder in Punta Gorda Town of 29 year-old woman. Juana Cardinez was discovered early this morning in her Apartment on the outskirts of the town. Her throat was cut, and there was signs that she had been dead for more than 24 hours. We managed to speak with the Commanding Officer of the Punta Gorda Police, who provided additional details as they are known to the investigators at this time. He said that she was reported missing on Wednesday:
Supt. Simeon Alvarez - OC, Punta Gorda Police
"Sometime around 3:45pm Alberto Coleman, 55 years old, ex-common law husband, for one Juana Cardinez, 29 years old, came and made a report for her missing. Reported at the last time, she was seen alive was around 6:45pm. He made checks at her apartment which is situated at the corner of the Jose Maria Nunez St. and King St. However, nobody responded to his call. The police took note of the information and around 7:15am this morning, the police continued the investigation because we made several calls to her phone yesterday. It rang out and no response. So we went with the assistance of the member from the Fire Department, we checked her apartment because stenches was coming from inside the building according to the police that first went on the scene. So as a result of that, they broke open the apartment and there they saw the lifeless body of a female, who was later identified to be Juana Cardinez. She was in the second room and apparently with some injuries from the head. Blood was coming from that particular area. The scene was processed and taken to Punta Gorda hospital where she was pronounced dead by the doctor on duty."
Daniel Ortiz
"Sir Can you describe these wounds. Was it blunt force or punctured wounds consistent with stabbing?"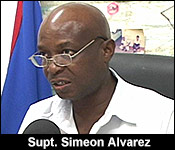 Supt. Simeon Alvarez - OC, Punta Gorda Police
"Because the body was almost in a decomposition state the police could have observed a cut wound to the neck and one to her back. At the conclusion of the post mortem, which will be under way today in Belize City, will determine how many stab wounds she may have receive during the ordeal. We suspect that it is a homicide. The keys for her apartment was not found, so we suspected that the person who may have committed the crime, after he had committed the crime he locked the building and then he left with the keys. So we had to forcibly get into the building this morning."
Daniel Ortiz
"Do you believe that this is a crime committed by someone she may have known or some stranger?"
Supt. Simeon Alvarez - OC, Punta Gorda Police
"I strongly believe that it is someone that she's familiar with."
The post mortem was scheduled for today in Belize City.

The Turneffe Six Arraigned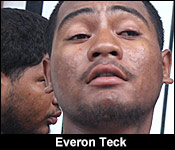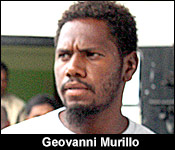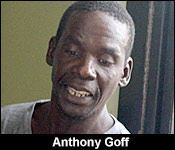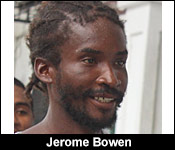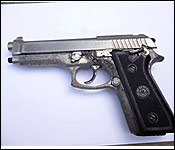 This evening, the 6 men who the coast guard caught Wednesday on Turneffe Caye with a gun were taken to court.
As we told you, 21-year-old Everon Teck, 43-year-old Emilio Camara, 29-year-old Geovanni Murillo, 52-year-old Goldburn Goff, 21-year-old Dion Usher, and 33-year-old Jerome Bowen were on Turneffe Island on Wedneday when a Coast Guard team decided to search their camp. They found a gun, a number of bullets, a small quantity of drugs, and 183 undersized lobster.
In court, Deon Usher took ownership of the 183 undersized lobsters. He was fined $100 for the offense, the minimum imposed of a $500 penalty fine, and an additional $20 for each undersized lobster which added up to almost $4,000 in fines. Since he pleaded guilty to this fisheries offense, the charge was withdrawn from the other men.
The Chief Magistrate ordered that Usher must pay $1,000 of the fine now the balance by December 31, 2015 in default 6 months imprisonment. In default of today $1,000, Usher will have to serve 6 months imprisonment, order the Chief Magistrate. v On the weed possession charge, Everon Tech pleaded guilty however, the court police prosecutor did not have the facts before the court to prove the charge, and so, he asked the court time to have it ready so the matter was defer for sentencing upon Teck for September 24, 2015. The charge was then withdrawn from the other 5 since Tech pleaded guilty.
Since they all pleaded not guilty for the firearm offences charges, they were not eligible for bail, and they were remanded to prison until September 24, 2015.

Placencia Police Finds Gun
Another gun was also seized in the south.
On Friday 3rd June 2015 at about 11:55 am, based on information received, police proceeded to the Crimson Park area. Upon arrival, police made checks within an area, and at about three feet from the road side, they found a black plastic bag which contained a 9mm caliber pistol, Taurus Brand with 5 magazines four of which was empty and one inside the firearm.
Because no one was in the area, it was deposited as found property.

The Education Reform: Positive Behavioral Intervention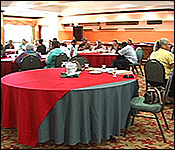 Positive Behavioral Interventions: That was the main topic of today's education forum. It was held at the Radisson this morning and the discussion centered on setting behavioral expectations for kids and properly reinforcing them to promote positivity and social and emotional growth in children. Today the general and local mangers met a today's forum to discuss these expectations and to find ways to weave this initiative into the existing educational framework - all with the hope of enhancing the child's educational experience.
Candy Armstrong, Director - Education Support Service
"This is for general managers, local managers and others resource persons that supports the school management, in terms of implementing a positive behavior, intervention and support systems in primary schools."
Courtney Weatherburne
"Could you delve deeper into the system?"
Candy Armstrong, Director - Education Support Service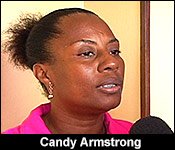 "Ok, the system is a pro-active and a preventative approach to school discipline. So it basically forms the foundation and the concepts of teachers or schools having clearer expectations for student's behavior. Those expectations are taught and then students are supported or they are targeted in the intervention for those students who are challenged meeting behavior expectations. It includes things like having a team of persons who work with the school to help them implement the system. It also looks at the teachers being able to be better classroom managers so that they are able to manage the behavior at the classroom level. it also speaks to different levels of intervention or preventative measures that the school would have, like, what are those rules and expectations for all students and what is in place for those students who have a little bit of challenge meeting those basic standards of behavior and it's a tiered system of intervention approach. What we are trying to come out in the system is not in isolation from what we were doing. It's just a building on our quality child friendly school framework for school improvement. In one of the key areas of the particular framework speaks to creating a safe, healthy and supportive learning community. Even within that framework parental participation and involvement place a big role. So within the system in addition as I have mentioned earlier, there is a team that supports this school with the implementation. Parents make up a part of that team also."
The workshop concluded today. Teachers and parents will also be engaged as this process moves along.

Protest In Front of La Immaculada Credit Union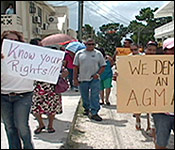 There was protest yesterday in Orange Walk. Disgruntled La Inmaculada Credit Union members walked along with their signs and placards in front of the establishment. Now, why are the protesting? Well, on May 8th the Board of Directors put the General Manager - Yolanda Gomez on administrative leave and apparently did so without explanation or consultation with the members. That's what's got the members heated and they decided to make their voices heard in the streets yesterday. With the help of our colleagues at CTV3 - we have hear from Union members - they are demanding answers to the fate of their general manager and the future of union.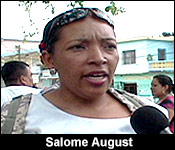 Salome August (Credit Union 9)
"I used to work at the credit union. I am a member of the credit union. In trying to tell the public to stand up. Let's stand up strong. Let's stand up for what is right. Let's get the answers that the people, the public are asking for. Don't stand for intimidation. The staff members are intimidated. I was one but I stood up and because I stood up I lost my job. Let's come together. Let's make the change. Let's make the right decision."
Concerned Member (Credit Union 12)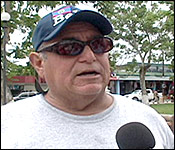 "We need to get information for what's going on in our institution. We need to get updated when our AGM will be. There's a lot of questions that need to be answered. We need to know what the fate of Ms. Yolanda Gomez and just to bring awareness to the members that they have us in the dark. We cannot rely on hearsay. I do not want to rely on hearsay. We want complete evidence of what's going on. Gomez had brought this institution from where it was couple years from $1 million assets to $50 million. So we want to know what's happening. I think she's a good manager. She got us where we are now. So we want to know what really is happening inside that institution that we are members/owners of the institution. That's our concern."
Concerned Member (Credit Union 22)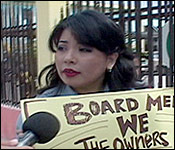 "The directors of the credit union are not informing us the owners, the people who own this bank. So people need to know that they need to come out and voice what they need to know."
A representative of the credit union has gone on record to say that they are treating the issue very seriously, and they have pledged to release information to a timely manner.

Track Athletes Brought Back Medals
The Central American Track and Field Senior Championships were held in Managua Nicaragua last weekend. Eighteen senior athletes represented Belize at the tournament and brought home a total of 13 medals. Those included 3 gold, 5 silver and 5 bronze medal. The group returned home yesterday by road and today 7news caught up with some of the athletes at the Marion Jones Stadium.
The team is now getting ready to participate in the World Youth Games that will be taking place in Cali Columbia on July 16 to the 19th.

Belize City: Nachos World
Nachos - they're a combination of pretty much the best foods out there, and there's a new restaurant which caters to that only. We found why today when we visited Nacho World in Belize City. With a menu packed to capacity with just about everything on it, we had a chance to try something new:
The owners of Nacho World plans on venturing off in the districts.

The Fibbers Sauce, Now for Sale
And if nachos isn't your thing how about a new sauce? You are probably accustomed to spreading ketchup or even BBQ sauce over fries, in your burgers and among other food selections but there is a new multi-purpose Belizean sauce that you can spread or glaze over anything. We found out from the Co-owners of Fibbers Sauce today what sets their sauce apart.
It is available everywhere in the country.

The Colors Rave Party; Straight Out Of Miami
There is a new kind of party coming to Belize for the first time. It's called the Miami Colors Day Rave. DJ's and artists from Miami and New York will be coming to Belize to showcase just how they "Gwaff" at a Bashment. For this party - sure it's about the music, the performances and not to mention the liquor but it's also about hyping the place up with bright colors. Today we spoke with one of the DJ's and he told us why you all can't miss this one.
The Colors Rave party will be held this Sunday from 3 to 12 midnight. Kids pa $3 and adults pay $10. There is also a special party deal. The party will be taken to Bahamas next week.

A Summer Camp For Up-And-Coming DJ's
For most of you kids: Schools out! And there are a numbers of summer camps you can enroll in to keep you entertained and busy for the long break. We already told you about the Lake Independence Sports Camp but if sports isn't really for you then - maybe you can join the DJ summer camp where you can learn about the basics and at the same time just enjoy the beats. The coordinator came to our studios this morning and he told us more.
The camp starts on the 20th of this month and will run until the 14thof August. Girls and boys are invited. It will be held at the Department of Youth services and if you want to sign up you can call Lindy D at 602-1445 or pick application forms at the Dept of Youth services office. This is the 2nd year this camp is being held.

Home | Archives | Downloads/Podcasts | Advertise | Contact Us