Two Cases in B'pan Positive for Chik-V, Not Dengue
Two of the four suspected cases of Chikungunya in the Belmopan area have come back positive for Dengue - which has health authorities ruling out Chik-V in both cases. That's the case of the sisters from Las Flores who went to a private clinic in Belmopan and one of them tested positive for Chik-V, but on a quick test which is not approved by CARPHA, the regional testing headquarters in Trinidad. When their samples were tested at the Central Medial Lab in Belize on a CARPAHA approved test, they both tested positive for dengue, and once that appears, no further test for chikungunya is performed.
That leaves two more cases -both women from the Flores area of Belmopan who tested positive Chikungunya in El Salvador earlier in the year - returned to Belize, and started showing symptoms here. In the first case - her sample has been sent to CARAPHA in Trinidad - and the result is expected next week. In the other case, health authorities are still doing an active investigation on the ground - but have not yet collected a sample - because they are not getting full cooperation.
But health teams are on the ground in Flores and today took samples from six persons who could be showing symptoms of Chik-V.
We'll keep you posted.

Caracol Re-opens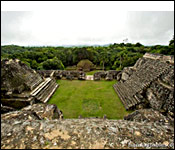 Next week Monday the Caracol Archaeological Site will re-open 4 weeks and 4 days after it was closed,. By now, you are very aware that the site was closed because Special Constable Danny Conorquie was killed while on duty. He was targeted and executed while he was looking after tourists.
Since then, law enforcement and military personnel have been on a high level of activation in and around the site, especially since there was an armed incursion around Camp Valentin shortly after the murder.
But, Caracol is one of the major tourist destinations in the Cayo District, and addressing the security concerns meant that no tours were going to the maya site. Those security concerns have now been addressed with a permanent BDF presence on the ground, and today, NICH's Director of Archaeology, Dr. John Morris outlined the new security measures that are in place:
Dr. John Morris, Director - Institute of Archeology
"We have increase on the security measures of the site. Primarily we have setup BDF outpost on the archeological reserve that would provide protection for our people who are working there and also for guests who will visit the site. This is in conjunction with the Belize Defence Force, we have a similar arrangement with them at the site of Xunantunich near Benque. This contingent will remain there at the site 24/7. They will do patrols in and around the reserve. We have also increase the number of personnel that the Institute of Archeology keeps at Caracol and in addition to that the number of tourism police has also been increased. We will continue with the escort by BDF for tourist who wants to go to Caracol, this is something that was there in place before, so all tour guides/tour operators, tourists who wants to go to Caracol at 9am the BDF from Douglas De Silva escorts them to Caracol and then at 2pm they escort them back to Douglas De Silva. A part from that of course the BDF and FCD are in the area. I think we have enough people on sire to take care of that. I mean when you include the 10 Institute of Archaeology personnel, the 10 BDF personnel and that of the tourism police - you are talking about 25-30 people on site."
NICH advises that the Belize Defense Force escort services will depart from Douglas D'Silva Forest Station at 9 a.m. and the escorts leave there at 2 p.m. Anyone wishing to go to the site must adhere to the escort hours.

TD 9 Inundates Belize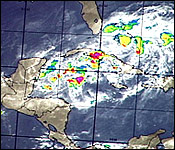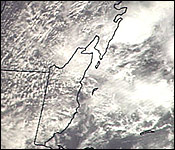 Tropical depression number 9 passed over Belize last night into early this morning. The remains of the tropical depression are now near the lower Yucatan coast and they will slowly shift east and south through the weekend. The main impact from this system will be heavy rain over Central America- but according to our Chief Met Officer, there will be a cold front crossing over Belize early tomorrow morning that will break it up.
Dennis Gonguez - Chief Met Officer
"Tropical Depression #9 formed in the Bay of Campeche couple days ago and moved across the Yucatan Peninsula as it cross the land mass of Yucatan Peninsula it weakened and during the course of last night and this morning the remains of tropical depression #9 cross Belize and hence the increment weather conditions that we had yesterday and earlier this morning. The remains of tropical depression #9 continue moving eastwards, however, there is a cold front that's entering the Yucatan Peninsula tonight and eventually crossing Belize before dawn tomorrow. Cold air from this cold front will wrap around into the remnants of tropical depression #9 and that will impede its redevelopment for a couple of days and subsequent to that the cold front will lie on Sunday evening near to the northeastern Honduras and the remnants of tropical depression #9 will also be at the tail end of the cold front at near northeastern Honduras. The more tricky part comes on Monday
when the cold air breaks up over us and whatever is out there starts moving westwards us on Monday. We are not sure what it will be. Presently all the intensification models are forecasting that - it will not reach anywhere. Tropical depression #9 will not redevelop. However we still have to be cautious that something could happen at the tail end of the cold front because typically this time of the year that is the scenario that occurs - that we get systems developing at the tail ends of cold fronts. We start Monday afternoon with a more easterly flow and as a consequence whatever is over northeastern Honduras will start to head towards us. So we are looking at some changes come Monday, possibly just rains, another rainfall scenario and as I said the models are not intensifying the remains of tropical depression #9. They are not developing it into anything, however we still just have to keep an eye on it over the weekend."
So it will be a wet weekend - here's a more detailed forecast now in the nightly weather report.

Bail For Alleged Drug Trafficker
Tonight, 38 year-old Axel Fuentes, a fisherman from Ranchito Village, who was busted with about half a million dollars in cocaine, is out on bail after being imprisoned for 5 weeks.
His attorney, Dickey Bradley, took an application before Justice Herbert Lord today, and asked the court to grant Fuentes bail for the charges against him. After considering the submissions from both Bradley and Crown Counsel Linbert Willis, Justice Lord granted Fuentes bail of $50,000, with the usual conditions that he must hand over his travel documents and report to police weekly until his case is complete.
As we told you, officers from Customs Department, Police Special Patrol Unit and BDF all worked together where they set up a checkpoint between miles 61 and 62 of the Northern Highway on September 18. At around 7:30 p.m., they stopped a Toyota pickup, which was being driven at the time by Fuentes.
They found a few iceboxes filled with fish, which seemed to be in order since Fuentes is a fisherman. One of the iceboxes seemed to be too heavy, despite it being filled with fish, and so, the officers decided to take a closer look. They ended up finding out that the icebox had a false bottom, which they cut open. That's when they found 18 bricks of cocaine to a total weight of 18.89 kilos - or 41 pounds. Fuentes, who is a Guatemalan/Belizean, was charged with drug trafficking.

Guat. Found Dead in Bz. River
On Tuesday we told you about the 3 Guatemalans who were shot at in the Clarissa Falls area off the Benque road. One was shot to the thigh, the other apparently escaped over to Melchor, while the other was reportedly shot to the neck but his body could not be found. Well, his body was found yesterday lying face down in the Mopan river about 500 meters from the Calla Creek Bridge. His body was identified by his brother Elmer Salazar as 22 year old Rudy Leonel Salazar. A Post Mortem Examination was conducted this morning and the cause of death was asphyxiation by drowning; there were also apparent gunshot wounds to his neck and upper back.
Police believe the shooter was a Guatemalan…

Alleged School Burglar Remanded Without Bail
Police say that he broke into a school, and so tonight, 21 year-old Gary Clark is at the Belize Central Prison.
The incident happened between last week Friday and Monday of this week. Someone broken into the St. Agnes Anglican Primary School in La Democracia village and stole a Dell laptop, $730 in cash, and 36 batteries. The culprit gained entry into the principal's office by prying open the door of the standard 6 classroom, which is adjacent to it.
Police investigated the report and charged Clark with burglary. He was arraigned today before Magistrate Hettie Mae Stewart, who remanded him to prison on the strength of the grounds from the Prosecution. According to the police prosecutor, the offence has become prevalent in the La Democracia area, and that Clarke may try to tamper with their evidence gathering process.
Clark returns to court on November 7.

Who will Replace Mahmud?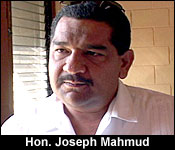 For the past few nights we've been reporting on Joseph Mahmud, the PUP Representative for Cayo North. He's not going to offer himself for the next election - which is a blow to the PUP, since his replacement will probably face an uphill battle - being that Cayo North has historically been a UDP stronghold.
So, who will replace him? Well, PUP sources tell 7news that the party has reached out to attorney Michel Chebat. Chebat is originally a Cayo native - who lives and works in Belize City. It would be an interesting choice for the PUP, as Chebat has gained prominence as an attorney for the Catholic Church - and last appeared in the injunction agaiNst the reggae performer Alkaline. But we are told the Chebat interest only at the initial stages - and we could not reach him for comment.

SIF Says 'Griga May Get Streets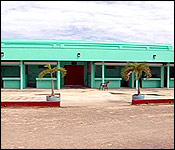 The Dangriga Market - for the Barrow Administration, it's like one of those wounds that just won't heal. SIF did its best to stitch it up - but yesterday the Dangriga Mayor tore it back open - and left it to fester in public view.
One of the Mayor's principal lines of attack is that when the contract for the market had to be re-negotiated with a new contractor, it cost four hundred thousand dollars more - money that was taken away from the town's overall disbursement from the Belize Municipal Development Project.
And so the mayor argues that the town lost when the first contract for 1.4 million dollars with Kennard Smart's company fell apart. And that loss means fewer paved streets. We asked the SIF project manager about it:..
Ernest Raymond, Project Supervisor - SIF
"It is not a situation where $400,000 was removed from one project to complete another project. We operate on the basis of an allocation for each town council and there is an overall budget for the project. In that regard, as we see it presently there is still the likelihood of the Dangriga municipality getting their two streets; Gasbi Ramos and Trucking Boulevard. When this project was first put to bid, it is interesting for you to note and to know that the highest bidder for this project was 3 million dollars at that time you know. We had bids at 3 million, 2.1 million and 1.4 million and in this case K & G Smart was awarded the contract for 1.4 million after meeting all the conditions."
Jules Vasquez
"You've said there is a possibility, you will still be able to do the Ramos Street?"
Ernest Raymond, Project Supervisor - SIF
"I would say let us see what the cost estimates are for the set of streets that we will do countrywide which includes Gasbi Ramos and Trucking Boulevard. Let us see those cost estimates."
Jules Vasquez
"Had things not gone so terribly array, wouldn't the paving of those streets have been a certainty as opposed to now a possibility?"
Ernest Raymond, Project Supervisor - SIF
"Again, if I may say that's how projects play out; projects by their very nature are subject to those vagaries of delays, cost overruns, budget....."
Jules Vasquez
"...corruption."
Ernest Raymond, Project Supervisor - SIF
"No, not corruption. In this case....."
Jules Vasquez
"4 people lost their job sir."
Ernest Raymond, Project Supervisor - SIF
"No, again I repeat Jules...."
Jules Vasquez
"You weren't involve you know, I don't say you were involved."
Ernest Raymond, Project Supervisor - SIF
"I can say I have oversight of the funds of the Belize Municipal Development Project and how it is being spent and I will tell you without any doubt that no money was stolen, there was no corruption involved in those funds. The auditors have confirmed as such."
Jules Vasquez
"But 4 men lost their jobs."
Ernest Raymond, Project Supervisor - SIF
"That has nothing to do with....."
Jules Vasquez
"It has everything to do with it, it's as a consequence of."
Ernest Raymond, Project Supervisor - SIF
"No, no, no, it's not a consequence of."
Jules Vasquez
"It's as a consequence of the conduct of the contractor...."
Ernest Raymond, Project Supervisor - SIF
"No, they did some inappropriate...."
Jules Vasquez
"With the contractor with whom they awarded the contract."
Ernest Raymond, Project Supervisor - SIF
"That's between them and the contractor, it's not between SIF and the works. No, SIF and the works stay on the one hand free of any finger pointing."
Notable is that back in 2012, the K and S bid from Kennard Smart was the lowest of any bid for the market - the two others were over two million dollars.

PG Mayor Complaining About SIF Too
And while the mayor of Dangriga has a well-sharpened axe to grind with the Social Investment Fund - the Mayor of Punta Gorda town also threw a blow yesterday. Mayor Anthony Fuentes says that SIF refurbished his council's municipal office and administration building for nearly half a million dollars - and the building is already leaking. He explained:..
Anthony Fuentes, Mayor - Punta Gorda Town
"The amount of money $416,000 was spent and there are already some defects on that particular building in Punta Gorda Town."
Jules Vasquez
"Really, so has this been reported to SIF? Have they indicated if they can remedy it?"
Anthony Fuentes, Mayor - Punta Gorda Town
"They have one year for the defects and one year have passed already, so we are left to maintain that particular building. Yes there is more needs to be done by the Social Investment Fund to ensure that the monies invested on these buildings - we get value for money."

'Griga Mayor Leaving Politics
And while the Punta Gorda Mayor is putting in his political points, you could say Dangriga Mayor Gilbert Swaso is doing it purely for either the principle or the pleasure of inflicting political blows. That's because he's not running for mayor again. Swaso did not contest the PUP's municipal convention where he would have faced a challenge. We asked him why:..
Jules Vasquez
"We are told that you are not running because they wanted you to face a convention when none of the elected representative face a convention. So it wasn't fair. Why aren't you running again?"
Gilbert Swazo, Mayor - Dangriga
"Well, I stand on principle and I've also decided that on a personal note that I will not continue within the political field. I am of the firm view that the type of politics that has been perpetrated within the country is very much perpetrated in a culture of dependency."
Jules Vasquez
"Shoudnt the party has said let him go through, if he wants to run as mayor again, he should run unopposed. Shouldn't they have done that?"
Gilbert Swazo, Mayor - Dangriga
"The political directorate, whatever that decision is - I was the one who at the end decide that I will not run. I made that decision. There were several options that were open and I state enough is enough for me for right now."
Jules Vasquez
So even if they offered you an endorsement you wouldn't have run?"
Gilbert Swazo, Mayor - Dangriga
"Right now I will not."

'Griga Mayor's Pvt. Business Venture Went Belly Up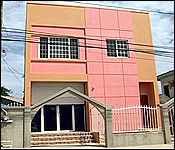 And so while he's through with politics for the time being - he remains a public official and one that had to endure some public scrutiny recently when a call center that he co owned went belly up - and left owing debts to workers and suppliers. We asked the mayor about the demise of "Wafagua Easy Call"
Jules Vasquez
"I am told it failed and that people were left unpaid and they had to go to you."
Gilbert Swazo, Mayor - Dangriga
"Okay, I certainly as a partner in the call center business. What we are doing it to get ourselves reorganized and we will commence operations very shortly. Whatever shortcomings will be rectified certainly and we will bring jobs to this municipality."
Jules Vasquez
"However, did the original Nigerian investors abscond and leave you holding the bag?"
Gilbert Swazo, Mayor - Dangriga
"They are still available here in Dangriga and certainly we continue to dialogue. We still remain a team and as I said we are getting ourselves reorganized."
Jules Vasquez
"Were you all left owing people at the time? I was told it was quite hastily wound-up."
Gilbert Swazo, Mayor - Dangriga
"There are still some outstanding issues that needs to be taken care of. But as I said we are reorganizing everyone who is owed, if they are still owed will be sorted out."
Jules Vasquez
"Now as a public official, this is the sort of taint on your reputation which you cannot afford to have."
Gilbert Swazo, Mayor - Dangriga
"Jules, life is a balance and I am doing things in good faith. I am not running away from Dangriga, I am not running away from anybody in any way or form. Hence the reason why I say I am taking responsibility to ensure that anyone who feels that they certainly are not treated fairly in anyway or form as a result of that operation to which I was a partner to - I have committed to say that we will make it right for them."
The mayor says when the call center re-opens, he hopes to hire 100 persons.

Police Look To Dealer For Clues In Stolen Hilux Pickups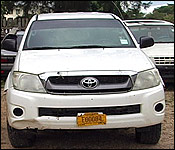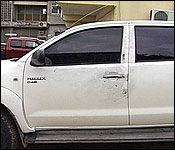 Yesterday, we told you about how Belmopan Police managed to recover a government owned Toyota Hilux pickup that had been stolen.
The Hilux belongs to the Department of Archaeology, and just like the other 4, it was parked in front of the department's headquarters in Belmopan. Just like the others, someone simply jumped in and drove off with it, but by a stroke of good fortune, one of the employees saw the vehicle as it leave the parking lot, and realized that none of the authorized drivers were behind the wheel.
Today, the Director of the Institute of Archaeology told us more:
Dr. John Morris, Director - Institute of Archeology
"There were several vehicles in the parking lot and in fact two vehicles were being loaded to go to one to Lamanai and one to Caracol and we were in the process of putting in supplies in those vehicles that we take to those sites and this fellow just walk off the street on the Ring Road and he got into one of the vehicles. He used a key to get into the vehicle and fortunately for us one of our officers were coming down the stairs with his load of stuff to put in the vehicle and he saw the vehicle driving off and then he said wait a sec, the other guy who us driving the vehicle is upstairs and he turn around and went back up and check and yes the other guy was upstairs and he said somebody drove off in your vehicle and that is how we realize that somebody had stolen the vehicle. We set chase after the vehicle in two of our own vehicles and then at the same time we call the police and the police then setup road blocks at the Iguana Creek Bridge and also at George Ville and that is how we were able to stop the theft of the vehicle."
The Director and his staff believes that the thief somehow managed to make a copy of the keys, and that's how he was able to get in without any difficulty. He told us today that they suspect that the person got the key on the day of servicing:
Dr. John Morris, Director - Institute of Archeology
"There are suspicions as to how someone got a key for it. We recognize that where we would service our vehicles, we had just sent the vehicle in for servicing a day and a half ago and there could be some connections there."
Daniel Ortiz
"You believe that someone made a copy of the key?"
Dr. John Morris, Director - Institute of Archeology
"Yes, we believe that somebody made a copy of the key. In fact they made a copy of the key and so that's with the police. The police have done fingerprint, scenes of crime analysis and they are in the process of trying to locate the persons that they think are responsible for it."
Daniel Ortiz
"Is it fact that you guys have done servicing - that other government vehicles go to get service there?"
Dr. John Morris, Director - Institute of Archeology
"Yes, it is one of the bigger service stations here in Belmopan. Its Belize Diesel and many of our government vehicles, in fact all of our vehicles are serviced there. For us it is to coincidental that we sent our vehicle for servicing and then somebody tried to steal it."
And so what do police have to say about it? Well yesterday the officer commanding Belmopan was more circumspect - but he did say that servicing has to be watched closely:..
Jules Vasquez
"Is someone influencing the drivers of these vehicles, who are multiple drivers, because they are government vehicles to let off a key or maybe they are influencing security guards to look the other way or is there maybe collusion at some other level where the keys are being left. Is that something you all are looking at?"
Supt. Howell Gillett - OC, Belmopan Police
"I think it's a combination of many things. There are many theories as I said earlier, but we are yet to have them concretely iron out. We are investigating and I am happy to say that we believe that with this latest case and all the ground work that we've been doing for the past other stolen vehicles, we will unravel what is really occurring. Our message would be to be very vigilant, secure the keys. When you are going to do any changing or any servicing at the different service agents, that somebody is there and you monitor where the key goes and so on because there are some theories, but I wouldn't want to go in details with them, but I think we will prove those theories very shortly."
We've since contacted Israel Pi Marin, the Managing Director of Belize Diesel and Equipment Company, and he told us that he would be willing to make comment when the investigation is complete.

'Pan Police Cleaning Up Recreation Area
And while Belmopan police are trying hard to crack that case, they are also working on providing safety for area residents on recreation. In August we told you how a family was held up in the Riviera area of Belmopan - which is a riverside spot outside of the city. Well, police got the area cleaned up so there's less room for criminals to lurk:..
Ins. Andrea Grinage, Deputy Commander - Belmopan
"People would come to the Riviera area to swim on maybe a Saturday or a Sunday and then they would be robbed. What we had notice the OC and myself had come down here and notice that the area was really bushy and we had liaised with the KOLBE Foundation and had gotten 15 inmates to come and assist us in clearing out this area. We had observed that the area was bushy so they were hiding in the bushes and the persons swimming could not readily see them. We would still like the people in the area coming to swim to take precautions, have their vehicle lock properly - don't display any valuable items in your vehicles - to help us in combating these crimes."
Police quick response teams will continue to patrol the area - and police will keep the grass cut.

Hon. Espat (Toledo West) Says New Schools Create New Needs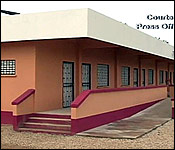 Last week - SIF and the Ministry of Education opened up two school buildings in the remote reaches of the Toledo District, namely Aguacate and Corazon. These are villages with new school buildings, providing major relief for school children who in the past would have to travel hours by road just to get to school.
But Toledo East representative Mike Espat said that there are some unintended consequences. He said the presence of a school has forced some of the children's parents to go work in the banana industry just to pay their children's fees. He explained:..
Hon. Mike Espat, PUP Toledo East
"What high school has done to them is put a lot more expenditure that they did not have before, so now they have to go look for a job and now you also have kids going to UB which takes the price up a lot higher."
Jules Vasquez
"Sir, but it's not that you are opposed to the education?"
Hon. Mike Espat, PUP Toledo East
"We can't, we came out of the classroom. I spent 17 years of my life in a classroom, so why would I be opposed to it?"
Jules Vasquez
"So now you who have seen the transformation of that area because you know what kids had to go through to get to school, it is a...."
Hon. Mike Espat, PUP Toledo East
"It was the People's United Party that introduced bussing for those kids to go to school."
Jules Vasquez
"Yes, but we don't want to play politics because then UDP will say that we put the school so they don't have to take the bus anymore."
Hon. Mike Espat, PUP Toledo East
"Mike Espat put the road with the PUP. They would not be able to get to school today if the PUP did not set the foundation and this is what you must understand."
Jules Vasquez
"Well I can't compliment you for doing your job."
Hon. Mike Espat, PUP Toledo East
"Well we never had to do it, but we did it nonetheless."

Meeting WTO Standards
For the past 5 days, all the government agencies involved in trade have been participating in workshop for Trade Facilitation Need Assessment.
As a member of the World Trade Organization, Belize has to ensure that the trade apparatus being used is compatible with the rest of the WTO members. The main goal of the assessment was to determine if the country is ready to implement the WTO Trade Facilitation Agreement, which was approved by the Trade Ministers for all the members in Indonesia in November 2013.
Now, it might sound like boring talk-shop to you, but the technocrats say it is needed to streamline trade. Today, the Director of Foreign Trade explained what the assessment has revealed so far about the weakness in the system:
Dr. Leroy Almendarez, Director of Trade
"One of first things we need to work with is to get the legislations in place. If it's in draft form, then we have to make sure that it becomes move from draft and be enacted because some of these things require legislation in order for Customs and the other entities to do what they need to do. We also looked at different measures that would have been in place by BAHA. We look at things like border agency cooperation, how does that exits? We also look at a single window, in other words where you have agencies working together and that has not been complied with, but one of the big things that came out of, because this is not the first time that this had happen, in 2009 there was a needs assessment and what came out of that was Customs having its Asycuda World system which has helped them quite a bit because of ports of entry. The main thing here is what you don't want for goods to stay too long in some area because some of these goods are perishable goods. So all those things we had to look at; how do you treat goods that have been detained and what measures are in place because on the other side that importer for example, if it's perishable, then it has to be stored somewhere. In one case we found out perishable goods that we do not have the level of cold storage that we would need across the country in order to take of that, so those are some of the things that we have looked at and in some cases now, we need traditional human resources; that is trained people and if we need to do that how does that happen? We need infrastructure to put mechanisms in place. The question what we have decided to do is when we look at the measures we will turn some of these things into projects."
The results of this assessment will form the basis for sourcing available funding from donor partners.

PACT Gives Grants
Yesterday the Protected Areas Conservation Trust awarded 5 co-management organizations with grants totaling about 1.2 million dollars. These grants will fund projects that will strengthen the conservation of protected areas in Belize. Acting Executive Director, Kerry Belisle discussed the importance of these grants to PACT's continued effort in preserving these areas for future generations.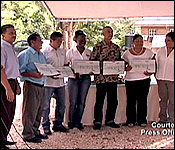 Kerry Belisle, Acting Executive Director - PACT
"I think we can then all agree that our grantees today should stand especially proud that their continued diligence and commitment to protected areas has earned them a place in today's award of almost 1.2 million dollars. But at PACT we understand our job is far from done and perhaps today more importantly commemorates just another step in the journey and a longer and even more audacious path. The path to achieving a sustainably funded and optimally functioning protected area system."
These grants were distributed in 3 categories: small, medium and large.

All Smiles For Dental Health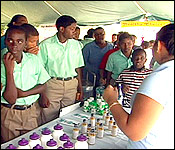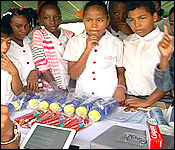 Today marks the end of Dental health week and to conclude the activities the Ministry of Health held a Dental Health Fair today at the Central Health Region Compound under the theme "Belizeans Big-up your smile, it reflects your style." It was all about educating the students about developing good cleansing habits to prolong the strength and health of teeth and gums. Courtney Weatherburne found out more:..
Courtney Weatherburne reporting
Everybody wants a clean mouth and a bright smile but many people don't take the necessary steps to keep their mouth clean.
So the health department held a Dental Health Fair today to reinforce dental health best practices
Dr. Raphael Samos, Senior Dental Surgeon, Ministry of health
"Dental Week is celebrated countrywide under the theme "Belizeans big up your smile, it reflects your style." It sound catchy right. It's a week of awareness that we do countrywide. Each region has their own sets of activity that they carry out from tooth brushing drills to radio talk shows, give out incentive gifts and the idea is to create awareness of the importance of dental and oral hygiene."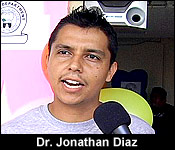 Brushing and flossing is only one aspect of the full package, there are also the visits to the dentist that many people loathe. But with these regular visits, you can avoid a whole lot of, in this case, 'toothache'.
Dr. Jonathan Diaz, Dental Surgeon, Cleopatra White
"I do see that as a trend. I do see that the main thing they always come to is extractions; "it hurts, I want to take it out, I don't want to deal with it, I don't want filling or anything." But then that's why we are here, that's what this fair is about to give them that knowledge that you could actually do something else than just taking it out. They could actually prevent you from a lot of chaos, lots of problems."
And these students want to avoid those problems in the future by taking care of their teeth now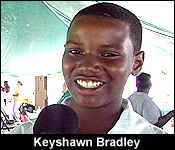 Keyshawn Bradley, Wesley Upper
"Miss I definitely like to brush my teeth because some of my cousins don't like to do it. I would do it, I would get up every morning to brush my teeth."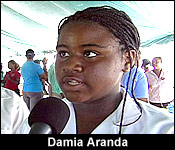 Damia Aranda, Wesley Upper School
"Listerine helps wash away 75% of germs, but you have to brush your teeth and floss it too, give it a total mouth cleaning. I see the importance because I don't want to get oral cancer and those stuff, but sometimes when it's cold my mother has to remind me to brush my teeth."
Adrianna Carcamo, Wesley Upper School
"That how you floss and uses Listerine."
Courtney Weatherburne
"So did you know all that information before you came here today?"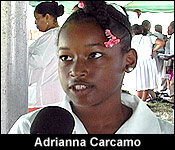 Adrianna Carcamo, Wesley Upper School
"Yes ma'am."
And in order to ensure that these students are actually taking care of their teeth, health officials have organized a dental health campaign for schools.
Dr. Raphael Samos, Senior Dental Surgeon, Ministry of health
"One of the programs which we have is going out to the primary schools itself and actually doing the dental education there as opposed to in the past we use to wait for them to come, now we go out there and not only in the city and different towns, but we go into rural areas of each district, so we have a mobile outreach program that we cater for and we carry out at least twice a month."
In connection with Dental Health week, all teachers from 5 schools received free dental cleaning from Monday to Friday. The Old Nursing School, Matron Roberts as well as Cleopatra White provide dental services in Belize.

Mexican Clown Troupe Visits
The Embassy of Mexico is inviting all Belizean children to the Bliss Center this weekend to enjoy a presentation by the theater clown company -"Triciclo Rojo." The group of dancers and clowns will be integrating dance, juggling, animation and music in a play called -The Basin Poet- which tells the story of a wandering knight who is always looking for small miracles to restore people's faith in their dreams. Sounds like quite a show and today we caught up with the clowns to get more on it.
Triciclo Rojo will be presented on at 5:00 pm at the Bliss Centre for the Performing Arts. Admission is free and open to the public.

Remembering "Nabi"..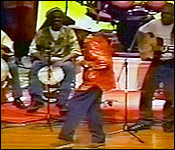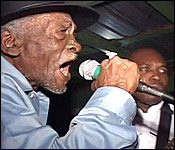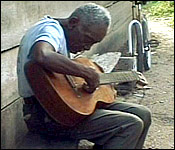 It's been two days now since 86 year-old musical Legend, Paul Nabor passed away, but still, the list of persons wishing to acknowledge his importance has not come to an end.
Today, the National Garifuna Council released a statement reminding that Nabor's influence was international. His music was influential in spreading Garifuna culture to the rest of the world, and today the NGC lamented his loss.
Indeed, as one of the most influential musicians performing in the paranda genre, Nabor ascended to iconic status. We've been doing a deep dig through our archives, to remember Nabor. Here's what we found:
Jules Vasquez reporting
Did you ever see him touch the stage? Did you ever see him dance?
Deseree Diego, Performed with Nabor
"I will tell you that everybody who knows Paul and who see him on stage, the moves that he has - that's what draw the crowd and I know everybody would want to remember him just showing off on stage."
This is how the crowd reacted at "Y-Not Island" in 2007 just at the opening chords of Naguya Nei...
Al Ovando, Performed with Nabor
"Naguya Nei is like I mean the anthem of the Garifuna people and the struggle of the people and the whole history of Belize. People that hears the song for the first time; he just steps on stage and once the guitar intro comes in, it's like everybody knows this song for like years and everybody gets up and just waiting for the song to begin and for Nabor to start singing and there is this energy I think that nobody else has. I've never seen it with any other musician or artist."
He sang with such intensity, gripped the microphone like his life depended on it. His voice conjured from somewhere deep within…deeper than his throat: a guttural, primal wail, as familiar as an old mahogany door sighing open, as fierce as a battle cry:
In Hopkins, they danced in the rain…At the Bliss, the Bourgeois stood up and cheered…
All over the world, Nabor set stages on fire.
Deseree Diego, Performed with Nabor
"To be honest with you he bring a lot of power. He has his own fans."
Al Ovando, Performed with Nabor
"It's like having a leader with the right direction and you know, you are just filling in - that's one of the biggest thing I think Nabor brought, that spectacle of a show to the audience. As old as he was, giving him all the leverage and all the backing so he could dance."
But perhaps what must endeared about Nabor was that when he stepped off the stage, he came right back to earth.
Barbara Norales, Nabor's Friend
"I think that his experience in life, a lot of times we don't accept the experiences that we have in life like, a lot of people would come and say, oh look at Paul Nabor live in the temple and live poor and he is comfortable with that. That is what makes him, him. That is what makes his soul, his soul, and he is comfortable in that environment. We have spoken about that - the level of humility that he had."
We've still got some more in the old archive and we'll be showing that to you leading up to the funeral.
Nabor's daughter was expected to arrive in Belize today - and from there, funeral plans will be decided.

PROFILE..
Tonight's I AM Belize Profile features inspirational teacher Fiona Huang, who lived most of her life in Taiwan.
While there, she nursed a secret dream to be a teacher, but she didn't get her opportunity to act on it until they moved to Belize when her husband retired.
Tonight, she tells the profile how she had to overcome culture shock and the language barrier so she could teach art:





Home | Archives | Downloads/Podcasts | Advertise | Contact Us