Helluva Historic Day At The House
Today at the House Meeting in Belmopan history was made and in the most ugly way imaginable. In fact what happened exceeds the limits of the imagination.
First the police fired a warning shot - while the House meeting was underway - directly in front of the National Assembly stairs when a protestor burst through the police lines….No one was hurt, but we've been covering the house for decades and we've never seen anything like that.
That was from a militant splinter of the church protest in front of the house.
And when the excitement from that died down that's when things went berserk inside the House chamber...
Cayo South Representative Julius Espat was named and suspended form the house but refused to leave, that's when police forcibly ejected him on the order of the house speaker...it was a scene unlike any in Belize's history...
And in the rush, our news director Jules Vasquez was also forcibly ejected from the house - dragged away by police.
We'll show you every single detail tonight - when we present the news in a different kind of way - instead of editing the stories we'll present it raw with my News Director Jules Vasquez narrating the store here in studio with me - we figure it's the best way to give you the whole story of this historic day...that's coming..

The Day Started with the Church Protest Which was Hijacked
but first we start with the church protest that preceded it all - Daniel Ortiz showed you COLA and the Christians along with The Poor People Organization for Healthy and Righteous Society laid the ground for a volatile mix:..
So that was the protest which started the day off - and you saw how the Belize city based agitators more or less hijacked the protest organized by the Spanish Arm of the evangelical churches...and things quickly got out of control after that.

A First: The Forcible Removal Of A Member Of The House
So we start with the biggest event on a day that had many - the police forcibly ejecting a member of the House, PUP Cayo South Representative Julius Espat...

Espat Says He Was Muzzled Because He Had a Point To Make
When he got out of the House Sitting, Julius Espat said he was deliberately muzzled by the house speaker:
Hon. Julius Espat, PUP Cayo South
"Well it's the first I've gotten beaten up by the police forces (smiling)
Crowd
"Inside the House."
Hon. Julius Espat, PUP Cayo South

"God damn. All I was doing was trying to explain the level of corruption that this country is experiencing and they beat me up. The Belizean people have to understand that I am not fighting for Julius Espat, I'm not fighting for PUP, I am fighting for the people that put me here and I have to be given an opportunity to express myself for them. I mean we are having so much problems. You know why they didn't want me to talk was because they knew I had information from the Attorney general about Barrow himself. He knows it. The Speaker called me the day before and say 'boss you can't talk about that man.' You see the Speaker went on the media yesterday to try to explain that the auditor general report is not important, because they made one mistake and to have them do that in the House. I apologized, but I am talking creole because that is coming from my heart."
Jules Vasquez
"What point do you stand on? You were wrong inside the house. You accept that and you were ready to apologize."
Hon. Julius Espat, PUP Cayo South
"My point was governance in public places. I have a right to speak about corruption in public places. That's my job, I'm the chairman of PAC."
Jules Vasquez
"You insulted the Speaker. The House has rules."
Hon. Julius Espat, PUP Cayo South
"I told him the truth. He is a paid assassin for the UDP in there. He ran for the UDP. So what do you expect, us to forget that? He was the man who was trying to break up Belize by saying "ram it." This is the same guy and I have had enough of him."
Reporter
"Sir but you are asking for rules to be followed elsewhere. You are not following the rules."
Hon. Julius Espat, PUP Cayo South
"Well if the rules have to be broken in Belize right now so that we could get back our country - I want my country back! And I am ready and willing to go to jail. That's what I told the police officers. I have officers from my constituency who knows I fight for them. One of them is right behind me. I fight for them and they were honest and they were fair. Some of them beat me up, that is cool. They took you all out so that you all couldn't see how they did it."
Jules Vasquez
"How did they eject you sir?"
Hon. John Briceno, Leader of the Opposition
"We have the video just like you."
Hon. Julius Espat, PUP Cayo South
"I am laughing right now, but it's not a laughing matter. I am feeling what the poor, oppressed people of this country faced every day - the Southside, Cayo south side too, Toledo - they can't their information when the god damn thieves are giving away passports to people left and right. 55,000 passports. That is 16% of our population have illegal of fraudulent passports - 16% of 350,000 people have illegal or fraudulent passports and they don't want us to talk about it in there."
Reporter
"What do you expect to happen after this?"
Hon. Julius Espat, PUP Cayo South
"I don't know ma'am, but I will fight for my people to the end."
Jules Vasquez
"Mr. Leader of the Opposition, what's next for the PUP?"
Hon. John Briceno, Leader of the Opposition
"Certainly as I was pointing out to the Speaker, that he needs to be more tolerant. That the member from Cayo South was speaking the truth and the UDP does not want to hear the truth. This was all planned out that they did not want us to talk about the auditor general report, because we know the level of corruption is from the highest levels of the UDP all the way to the bottom to the drivers. Minister are named, you have drivers named, you have UDP operatives are named and when you a put a money figure to the amount of Visas and passports that are missing, we are talking about hundreds of millions of dollars that have been stolen from the people of this country and this UDP is saying that they don't want and will not hold anybody responsible. The Prime Minister said that there was no wrongdoing when the auditor general is saying that there are illegal actions taken by ministers. This is in the report Jules and they are doing nothing about it."
Hon. Julius Espat, PUP Cayo South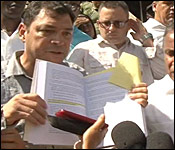 "The reason why they kicked me out is because Dean Oliver Barrow and Kim Simpliss Barrow recommended a person for nationality that could not and doesn't have the requirements to pass nationality and that person is his brother-in-law. His brother-in-law didn't have the necessary information and the necessary time in Belize for him to become a Belizean citizen and Barrow in his way allow everyone to break the law so that he could have gotten his nationality and he could get his passport. Mr. Vasquez and all the media, page 172. It quite clear right there. This is the reason why they kicked me out of the House of Representatives. Who recommended him knowing fully well that?"
Reporter
"Kim Simpliss Barrow."
Hon. Julius Espat, PUP Cayo South
"And Dean Barrow. That is why they kicked me out. They don't want it on the record."
Hon. John Briceno, Leader of the Opposition
"That is why they don't want us to discuss this record. When I was going through this I wanted to vomit, I wanted to vomit when you look at the level of corruption that's taking place under this government and nobody is going to be held accountable? Something must be wrong with this government. Jules anybody could see, look at any page you could see all the wrongdoing that is going on with this government."
Reporter
"What do expect need to happen to them?"
Hon. John Briceno, Leader of the Opposition
"They need to be held accountable and I am saying right now, I am going to have our senators to call for a senate investigation. When Senator Lisa Shoman was calling for the senate investigation, what did Godwin Hulse say? "Let's wait for the audit report." We have the audit reports, so I am telling Godwin Hulse let's see what you are going to do. Are you going to block it again? And then once we get into government we are going to go through this and anybody that can be held liable, we are going to them liable and if they have to go to jail, they are going to go to jail. Enough is enough."
Reporter
"Sir we would not be doing our jobs if we say that the PUP past administration is named in there as well."
Hon. John Briceno, Leader of the Opposition
"I said anybody that had any wrongdoing must be held accountable. This government was elected because they say that they were going to stop this and now we find out that it's been the worst it has ever been in the entire history of this government and we are only looking at 2013. Last month 100 visas were given. Let's not forget. When you hear for people to get their visa application accepted, they have to pay $1,000 to get into the door, they have to pay $1,000 to get into the second floor so that the committee can.. We are talking about a lot of money and until we..."
Jules Vasquez
"Even your name is there. I saw it once for recommending a Visa. I saw it. I think it's an international person. It's in the Visa One."
Hon. John Briceno, Leader of the Opposition
"Please show me the page. What I am telling you is that we also need to start to put teeth into the legislation. We have enough laws, we don't need no more regulations. What we need is put teeth, that if you do wrong, you go to jail."

7News Director Ejected By Police
We return now to our streaming coverage of today's house sitting - we've already shown you the major events: a shot fired on the stairs of the national assembly and PUP Cayo South Representatives Julius Espat being dragged out of the house.
But the media was also put out of the House. That's also a first - but the police wanted us gone so we wouldn't get footage of when they ejected Julius Espat., In studio with me is Jules Vasquez to narrate just what happened - Jules - you were at the center of it - tell us what happened:...

Police Found Kidnapped Stann Creek Child in Belize
And we'll have a little more from the house meeting later, but we turn now to regular news.
9 month old Aiden Matus has been reunited with his mother after he was abducted yesterday morning in Bella Vista village. The report is that 2 men barged into his mother's house, grabbed the baby and left. The mother posted pictures and posts on facebook, frantically pleading for help to find her baby. Well, the baby was found last night but not in Stann Creek, but in Belize City. Now the entire situation raises so many questions and it is still unclear as to why these men would target this family and kidnap baby Aiden. Today at another event, ACP Chester Williams tried to answer all the questions he could.
ACP Chester Williams, Regional Commander, Eastern Division South
"Last night shortly after ten p.m., the child was found in the Cemetery area. Police went and located the child, the child was taken to the Domestic Violence Unit and then to the hospital to ensure that the child was in good state. Thankfully, the child was unharmed and I believe by now the child has been united with his parents."
Duane Moody
"Sir, how did you guys get this information that the child was there?"
ACP Chester Williams, Regional Commander, Eastern Division South
"Well a neighbor or someone who lives in that vicinity, notified the police that they saw the child and they went and they located the child and they called the police and the police went in and retrieved the child from there."
Duane Moody
"Sir, is there any information in terms of a grey SUV that brought the child there, because that's what we understand. He was kidnapped from his home in Bella Vista by two dark complexion male persons in an SUV."
ACP Chester Williams, Regional Commander, Eastern Division South
"Well I am not sure. We have not received that information as it relates to the dropping off of that child. But I will tell you that there is certain information that we do have that we are following - that I will not be privy to tell you at this time because the investigation is still ongoing and I do not want to put too much information out there to alert those persons who are responsible that we are on their trail."
The child is safe and sound with his mother. We will keep you updated.

Doyle Garbutt's Mysterious Death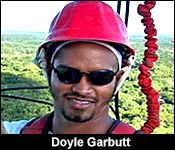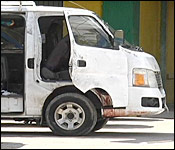 Who killed Doyle Garbutt ? Police still do not have the answer. As we told you, Garbutt was shot in the head on Wednesday night on Balam Street. His body was found inside a white van that was in front of a wooden house. Today ACP Chester Williams told us this murder case will be hard one to crack.
ACP Chester Williams, Regional Commander, Eastern Division South
"I just came back into the country yesterday and yes, I have been following the news as I was away and since I came back I have been briefed by my deputy as to the occurrences in my absence and I believe he had given the media an interview on that matter and I think that we still stand where that interview was left. We have no additional information at this time. It is still an investigation that have us baffling. We are trying to figure out what went wrong. When we have these sort of murders they are more difficult to solve. It is not a gang related murder where we can say this gang is responsible or that one as the case may be. So, we don't know what Mr. Doyle's connection to anyone was or why he was in that area."
Reporter
"Why he was in that area?"
ACP Chester Williams, Regional Commander, Eastern Division South
"All those information is still unanswered. We continue to probe for answers as it relates to that investigation."
No one has been detained as yet and there is no clear motive.

Sexual Discrimination At Police?
And continuing with police news - our next story joins crime news and all this talk about section 53. A woman who says she's a lesbian went to make a report at the police station and claims she was treated differently because of her sexual preference.

PM Says He Has Some Flexibility on Section 53 Appeal
And while temper, ego, and police mishandling of basic situations took the headlines at today's house meeting - there was some real news coming out of the session - before everything went haywire. The most significant is that the Prime Minister found some wiggle room on the case for an appeal of the section 53 judgement. He says he is not prepared to appeal on the grounds that anal sex should be kept illegal - he feels it should be legal. But he says he has common cause with the Catholics in that because of a document from the Vatican:...
Rt. Hon. Dean Barrow, Prime Minister

"Somebody drew my attention to the statement of the Vatican of the Roman Catholic Church of the Holy See from as far back as 18th December, 2008 at the 63rd plenary of the United Nations with respect to their declaration on human rights, sexual orientation and gender identity. I have taken from them religious website, what the statement of the Catholic Church was? Statement of the Holy See on the declaration on human rights, sexual orientation and gender identity, 18th December, 2008 at the 63rd plenary assembly of the UN promoted by the French presidency of the European Union. The Holy See appreciates the attempts made in the declaration on human rights, sexual orientation, and gender identity presented at the UN general assembly on 18th December, 2008 to condemn all forms of violence against homosexual persons as well urge states to take necessary measures to put an end to all criminal penalties against them. If that is the position of the Catholic Church, what then are we joining issue over? If it is the fact that the chief justice also said that he interprets sex in the constitution to mean sexual orientation then let us talk about that. The Holy See from 2008, made clear that it could not support that. I am subject to my cabinet but, I am prepared to say to cabinet, if the Catholic Church wants clarity or even wants an appeal with respect to the extended or the interpretation of sexual orientation, that's a matter that we ought to discuss."

PM says "Intercourse Against the Order OF Nature" Enters All Spheres of Sexuality
And so while he is willing to appeal the judgement on the basis that the Chief Justice may have misinterpreted sex for sexual orientation - the PM says the issue of anal sex is non-negotiable - because that is a normalization of the laws which is much needed because it covers both hetero sexual and homosexual spheres of intimacy:...
Rt. Hon. Dean Barrow, Prime Minister

"Mr. Speaker, something came to my attention this morning and made me feel that I should say something at this sitting. Please, again the nation needs to understand that section 53 before it was struck down by the chief justice made sexual conduct against the order of nature. I am quoting, against the order of nature, between adults, a crime punishable by 10 years imprisonment. Now, sexual conduct against the order of nature has been interpreted to mean a range of things, most notably and most sensitively from the churches point of view, it clearly included anal sex but, anal sex between adults not just between homosexuals. Anal sex between adult was criminalized. What a lot of people don't also understand that certainly well before your time Mr. Speaker when I was a criminal lawyer that against the order of nature included as well oral sex. So, that until the court, you all need to laugh because I want to know who among us is not guilty in terms of that larger definition. Anyway, Mr. Speaker just again for the sake of clarity that thing included oral sex between a man and a woman. So, to the extent that the chief justice's ruling does no more than to say, sexual acts, acts of sexual behavior between consenting adults in private should no longer attract a criminal sanction. I insist on my own position that the judgment from a legal point of view is correct."

Hon. Elrington Wants No Apology From Guats
And also today in the House, Foreign Minister Wilfred Elrington gave a very tepid response to the OAS report. He received it officially yesterday and today in the house he didn't say much other than dispassionately re state the basic findings. So we asked him outside, don't the Guatemalans owe the Belize military an apology?:
Jules Vasquez
"What is in the report, suggest that the Guatemalan who raised such a furor such hue and cry, called the Belize soldiers such ugly names, operated in less than good faith with the investigation?"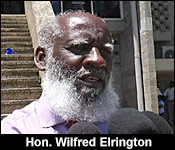 Hon. Wilfred Elrington, Minister of Foreign Affairs
"Well, people have different pressures especially government officials and Guatemala has been going through a difficult time. The officials have been having tremendously difficult times. They like to emphasize that Belize is only 1 issue they are dealing with and it's not all that important to them. So, historically when governments are under pressure they look for an escape goat, this might have been the case."
Jules Vasquez
"But shouldn't an apology be forthcoming?"
Reporter
"Or demanded?"
Hon. Wilfred Elrington, Minister of Foreign Affairs
"Well, I don't know to what extent to want to..."
Reporter
"The prime minister seems to think so sir."
Hon. Wilfred Elrington, Minister of Foreign Affairs
"Yeah, but the Prime Minister has his own view. That's the beauty of democracy. We all have our own views and even within the cabinet, we all have our own views. So, that's the Prime Minister's view."
Reporter
"But from a foreign affairs perspective, wouldn't one be deserved?"
Hon. Wilfred Elrington, Minister of Foreign Affairs
"From a foreign affairs perspective, the important thing is that we remain cordial with the Guatemalans, that we deal with them in a way whereby we will be able to act in a more friendly way towards us."
Reporter
"Sir, but again in your personal opinion as our foreign minister, you don't believe they owe us an apology?"
Hon. Wilfred Elrington, Minister of Foreign Affairs
"I really don't think that we should get caught up with demanding apologies from anybody."

Elrington Hopes The PM Is Flexible on 53
We also asked Elrington about his position on section 53. Before the cabinet decision, the former attorney general said he wanted it appealed. Today, he said that the Prime Minister is coming around to his position:..
Hon. Wilfred Elrington, Minister of Foreign Affairs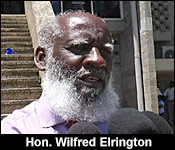 "The roar that started, I had already really expressed my view. That's really in the public domain. Demonstrations are healthy. Expressions of peoples view and opinion and honest and fairway is healthy. That is the basis of democracy and it is when one is able to express one's views, discuss and debate it and come to a consensus in a rational way, that is when we know that we have a good mature democracy. When things break out into violence and that kind of thing, then we know that our democracy is still lacking. So, that I have no difficulty with demonstrations, I used to be very active in them in the 60's and 70's when I demonstrated against Guatemala and was convicted and arrested. So, I can't hold anything against the people who want to express their views. I did the same thing then and I would do the same thing now, if in fact things were happening that I thought..."
Jules Vasquez
"Except, you did it thinking it was an unjust regime, they now think the same thing about you."
Hon. Wilfred Elrington, Minister of Foreign Affairs
"Yes, and they are free to do that, that is how life is. It's a cycle, cyclical. People see things in different ways. As a matter of fact, the young tend to see things differently from the old. So, that is not surprising, it is healthy. It is good."
Jules Vasquez
"If you were young right now, you might be protesting against this government."
Hon. Wilfred Elrington, Minister of Foreign Affairs
"I probably would have been doing that too. You don't know. You never know."
And while Elrington was hopeful about what he saw as flexibility form the Prime Minister, former Deputy Prime Minister Gaspar Vega apparently is not. He was absent without excuse from today's house meeting - and our sources say it's because he firmly opposes government's position on section 53. He had a report to present in the house today and so his absence was made more conspicuous. We'll have more on that story next week.

Cops Helping Kids
Today while all hell was breaking loose in Belmopan, Southside Commander ACP Chester Williams was doing some community relations work in Belize City. His formation gave away schoolbags to a hundred kids and 7News was there:
Next Williams says he is going to Ghost Town and Jane Usher.

Man Gets Off OW Murder
A man got free from a murder charge yesterday. Trinidad Pineda was acquitted of the 2012 murder of Cristobal Santos, that is after the judge accepted and ruled that Pineda acted in self defense. Several witnesses were called to the stand, vindicating Pineda's position. One of the witnesses told the court that Santos had threatened to kill Pineda before and on the night of the incident, Santos was the one who assaulted Pineda first. The incident happened in March 2012 in Orange Walk. Pineda went to visit his girlfriend, who is a relative of Santo's wife. When Santos saw them, he went up to Pineda and threw liquor in his face. They got into a fight and when Pineda noticed Santos coming at him with a knife, he grabbed his cutter and stabbed Santos in the chest.
In regards to the court case, although Pineda got off the murder charge, he still has to serve time for escaping police custody. He escaped in 2013 but was police quickly recaptured him. So Pineda still has to remain behind bars until May 2017.

Charged For King's Park Home Invasion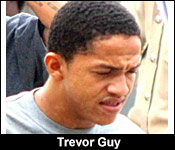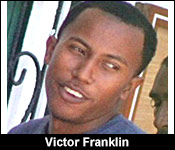 On Monday there was an armed home invasion at the King's Park home of 75 year old Maria "Maude" Sylvestre. Police say Thieves made off with over $17,000 in jewelry along with $20,000 US dollars in cash.
Today, police charged two men: 23 year old Trevor Guy, a Belize City resident who was charged with a single charge of aggravated burglary and 20 year old Victor Franklin who was charged for handling stolen goods.
Guy pleaded not guilty to both charges however, due to the nature of the offenses which involved a firearm no bail could be granted and Guy was remanded to the Belize Central Prison. Franklin' got bail in the sum of $1,500 dollars.
PM Calls Hon. Espat Allegations, "Nonsense"
And while he didn't speak to the press when he was leaving the national assembly – actually police held the media at bay - Prime Minister Dean Barrow did grant Jules Vasquez a phone interview this evening. We wanted to ask him about the allegations made by Julius Espat:
Jules Vasquez, 7News
"He's saying that you instructed Mr Mike Peyrefitte, the Speaker of the House, to shut him down..."
Rt., Hon. Dean Barrow Prime Minister, Prime Minister
"What?"
Jules Vasquez, 7News
"...Because he intended to bring up where you and your wife referenced in the nationality audit,"
Rt., Hon. Dean Barrow Prime Minister, Prime Minister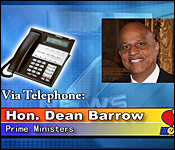 "Sir, let me deal firstly with the allegation that I instructed Mr, Michael Peyrefitte - that is absolutely a lie and it insults me and it insults Michael Peyrefitte. Michael Peyrefitte is his own man, he's the speaker, anybody who was listening and observing what was taking place would have seen the sequence of events, would have seen the way that Espat challenged the speaker. The speaker's decision was his own. So that is absolutely outrageous. In terms of some allegation about my having acted as a referee for my wife's brother in law. I have no doubt that he applied for a passport I would have in fact certified that I know him for so very many years. If he's saying that I wrote some sort of a letter asking that he be given his nationality, I do not recollect any such thing and I would believe that that is absolute nonsense. And in terms of the substance of his charge, my wife's brother in law maintains a residence in Belize, you can argue about what is enough to satisfy the requirements of the law, that's a matter between him and the immigration officials. "
Jules Vasquez, 7News
"But, Sir, were you aware that your name and your wife's name is in the nationality report?"
Rt., Hon. Dean Barrow Prime Minister, Prime Minister
"No, I was not, I was not."
Jules Vasquez, 7News
"And if Indeed it says that he gained his nationality, it was an irregular process because he didn't have sustained or unbroken residence in Belize. Is this something that you then regret since you are now - to whatever minor extent - painted with the same unfortunate brush."
Rt., Hon. Dean Barrow Prime Minister, Prime Minister
"Man, listen, listen, listen, no, no, no, please. I cannot be painted with any unfortunate brush. You people have been about allegations in the audit that suggests people were writing letters and vouching for individuals that they did not know and that sort of thing. This is my wife's brother in law, married to my wife's sister - who is Belizean - entitled to - (married for 20 years or so) - having married in Belize - entitled as far as I am concerned to get nationality, and for me to have signed the passport photos and, ah, the recommenders portion in the application - what on earth could be improper about that? That's nonsense. Absolutely nothing to it. "
We'll have more of that telephone interview on Monday's newscast.







Home | Archives | Downloads/Podcasts | Advertise | Contact Us