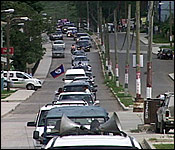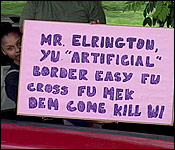 But, while the Belizean Government has been communicating with the Guatemalan Government through the diplomatic channels, the pressure groups say that it's not enough.
That's why they staged a motorcade from San Ignacio to the Benque Viejo Border today. That's where they held a protest in the parking lot on the Belize side of the Customs and Immigration, hoping to catch the attention of the OAS Officials, whose border headquarters were within shouting distance.
Today, 7News went west, where we followed the demonstration from start to finish. Daniel Ortiz reports:
Daniel Ortiz reporting
Everyone gathered at the Macal Park, greeting, and organizing themselves, representatives from the Belize Territorial Volunteers, the Belize People's Front, the Cayo Tour Guides Association, the Rod of Correction and a few PUP personalities.
But the Tour Guide's Association would not join the group on the motorcade.
Joe Awe - President, Cayo Tour Guides Association

"This is one of the most important protest of our history as tour guide association in the Cayo District."
Mike Rudon, Ch 5
"I understand that although you all are in support you all will not be going to the border with the protestors."
Joe Awe
"We had an emergency meeting with some of our members yesterday and we decided on two things; one, the first and most important thing is that we don't think his protest should neccessraily go to the border. This protest should go to the ministry of national security. As you heard on Channel 5 yesterday Col. Shepherd from the BDF said it is devastating blow to national security. I don't think that is a political statement - that is a fact."
Nevertheless, at a few minutes to 10, everyone joined the line behind the Police Escort, and started to form the motorcade.
It took about 40 minutes to travel from San Ignacio to the Western Border.
There, everyone gathered for a symbolic gesture in honor of the late Special Constable Danny Conorquie.
Jennifer Conorquie - Aunt of Deceased
"On behalf of my sister Jean, Danny's mother she really appreciate this. She is in tears but we just have to bear with her. Danny was loved by so many people and she want to thank the police officers in San Ignacio especially Mr. Thompson."
Reporter
"Did you have any idea that he was this much love by the community?"
Jean Conorquie - Danny's Mother
"No idea, I never knew that he was loved so much. I knew that Danny had lots of friends, but when I came out here and I heard over the radio how people talk and call in and thing and I said my son, I never knew that you were loved by so many people and that gave me the strength to come out. I feel good now because I see everybody taking part; the village came out to take part."
And then the leaders of the demonstration turned the rhetoric all the way up:
Neferteri Nancy Marin - Leader, Belize People's Front
"Our border is porous, they are taking us over. They talk about Nancy will disrupt diplomatic relations because I am bringing people to the border. Which diplomatic relations? We are being invaded and we are in denial. Our government is in denial. We are being invaded by Guatemalans slowly."
Wil Maheia - Belize Territorial Volunteers, South

"We as Belizeans have got to stand up for our country and for our borders. All of a sudden we find money to pay the mortgages but we can't find money to manned 50 miles of border line because all the incursions is happening between Garbutt's Falls and Gracias Adious. It's not happening up north where there is private lands because Barry Bowen and Yalbac and Program for Belize will not let incursions take place. You have 3 companies up there and they could man their border. We have a whole country to man between Garbutt's Falls and Gracias Adious and we are so incompetent that we cannot do that."
Orlando De La Fuente - Border Activist

"I think Mr. Elrington is being ill advised and just to watch him on TV it's really heart wrenching because I don't know how much further he could bend over anymore, I don't know. But it has to stop and I don't think the government realizes that their foreign polices does not reflect the will of the people. We need to change course people and we need to galvanize this energy right now. We need to refocus our energies and come up with a strategy moving forward."
Audrey Matura - Shepherd - Activist
"Many people don't want you all to know that just before the shooting with Danny the reason the BDF could not respond immediately was because the vehicle broke down. That is what Sedi Elrington should be clamoring about. How come we don't even gave them the proper tools? You know what else they don't want you all to know? They don't want you all to know that yes someone died now! But long before that our security
personnel were being shot after; BDF and the special constable and the police and the people from FCD - that is the reality on the ground. It did not made the news because no one died and for those guides it has become an everyday norm of life. But they didn't want you all to know that, but those were the warning shots. Those were the warning shots that they never took serious."
But, the biggest criticism coming from the Government officials is that nobody should fan the flames of suspicion by suggesting that the culprits are Guatemalans. San Ignacio's Commanding Officer Assistant Superintendent Dinsdale Thompson had to retract such a statement. According to those who were gathered, ASP Thompson said what everybody was thinking, but too afraid to admit for the record.
Wil Maheia - Belize Territorial Volunteers, South
"In this country ladies and gentlemen, you see how far we have deteriorated hat not even the police officers can speak the truth because when Mr. Thompson spoke on Sunday he was not reading, he was speaking with authority, he was speaking from his heart and he was telling the truth, but in this country when you tell the truth you have to go back and retract the truth."
Jennifer Conorquie - Aunt of Deceased
"When he was at the funeral on Sunday and he repeat what he said - what he said is said, you can't take that back and when he said that at the funeral there was a big relief in our hearts when he said that and then he had to retract it back, but what is said is said already, you can't take that back and Mr. Thompson personally from our family we want to say thank you very much."
Neferteri Nancy Marin - Leader, Belize People's Front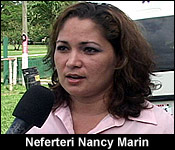 "I have no doubt in my mind that Mr. Thompson was force to do that - I am 100% sure. Mr. Thompson is an exemplary officer. Here in San Ignacio we are extremely happy to have him here. You can feel the difference when you enter that police station. The PR is much better than we had for years. People have confidence in our law enforcement in this area with Mr. Thompson there. I know that he must be under a lot of pressure. I have not spoken to him about it personally, but I will say that the Belize People's Front is standing behind Mr. Thompson."
And to the officials waiting for indisputable proof about the Culprits who killed Danny Conorquie, the activists had this to say:
Audrey Matura - Shepherd - Activist "The evidence, if the people at national security want to publish it and you all should demand to see it. The evidence is that FCD who will willingly give information; every time they in that area and they track down - it leads to the Guatemalans. When the BDF and the police patrols
go they have yet to tell you that they find none Guatemalans there, it's always Guatemalans there. The other physical evidence that you will find is that people garbage that they leave behind. Another key thing that I will challenge the people who really have doubt especially the foreign minister, if he still have doubts is that there are 5 horses that were captured from these men. If anybody knows anything about horses by the way and I had horses as a child is that once you train them and you give them a pattern - if you know what to do they will lead you right back to where they always go rest, so left on their own they will always go back to their trace. If the Prime Minister any problem we can put him on one of the horses and let the horse lead him to where that came from. If you are asking me about evidence, as a persecutor if I was called to persecute this case and was ask to advice on how to get the evidence, that's what I would do."
Wil Maheia - Belize Territorial Volunteers, South
"They are only like a few hundred of them that really around the Caracol area working, so we know who they are. If the OAS or the government or anybody serious about tracking them and serious about working with the Guatemalan counterparts - they could find the killer of Mr. Conorquie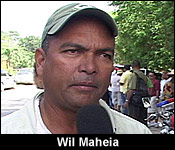 if they really want to. It's not like looking for a needle in a haystack."
Joe Awe - President, Cayo Tour Guides Association
"No Belizeans not even the gangs in Belize City or anywhere there are gangs ever pull a gun and killed a police officer, so this is somebody that really didn't care."
By our head count, there 120 persons who attended the protest this afternoon.
Government Battles Ashcroft Alliance Over Universal Guarantee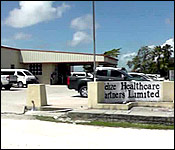 Today in the Supreme Court, the Ashcroft Alliance and the Government of Belize were back at it - and this time they were arguing over one of the seminal events that led to the demise of the Musa Administration. That's the publicly guaranteed 33.5 million dollar Belize Bank loan for the private hospital formerly known as Universal Health Services. In 2007, it was revealed that Former Prime Minister Said Musa and then Attorney General Francis Fonseca had signed a loan note guaranteeing the debt for UHS without Cabinet's knowledge and without taking it to Parliament.
PM Musa eventually - and without public disclosure - used a 10 million US dollar grant from Taiwan and another 10 million US from Venezuela to pay off the debt.
The Bank then sold loaned that money to the Healthcare Partners group and sold the hospital for 39 million. That should have put the matter to bed but it didn't, and the Bank still wants back its money. It says that's because $20 million dollars that former PM Musa had paid to settle the debt, had to be returned to Government and so the settlement agreement collapsed and the Government remains on the hook. The London Court of International Arbitration agreed with the Bank and now it is going to the Supreme Court of Belize to try and enforce the award here.
But, government says it can't help them…because it's illegal to pay a loan that never went to the House. Government's Attorney Denys Barrow explained: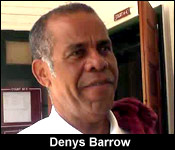 Denys Barrow, attorney
"The argument of the government is, is that section 114 of the constitution says that you cannot pay any money out of public funds without the constitution or some law authorizing it to be done. What was contemplated here was that the 2007 loan note was to be paid out of government funds. That didn't take place because rioted and prevented that taking place, so Belize Bank took government to arbitration. The arbitration tribunal decided that the loan note should be paid by government. Government said if we pay that loan note, we will be paying money out of the national treasury for which no law makes provision. Therefore i would be illegal."
Illegal and just plain wrong, because Government claims the Bank is trying to double dip for a debt, which was settled:
Denys Barrow, attorney
"So BHPL (Healthcare Partners) borrowed 45 million dollars from Belize Bank and it take 39 out of that to buy the assets of UHS. Remember now that UHS is owned by the people of Belize, so that hospital then belong to us and we sell that hospital and all its assets to Belize Healthcare Partners and Belize Healthcare Partners pay us 39, but that 39 that that they pay us, they pay us by paying the bank. So the bank got 39 million dollars for those assets, so they got the 40 million from Taiwan and Venezuela, took that money and lend Belize Healthcare Partners. Healthcare Partners buy the assets that we the people use to own, they now become the owner. Belize Bank got the 39 million dollars, we have nothing to show for us and Belize Bank wants to collect again."
Eamon Courtenay and Jose Alpuche appeared for the Belize Bank. Courtenay left before we could speak with him. Justice Shona Griffith has reserved judgment for December 16, 2014.

Cop Sent To Jail For Attempt To Corrupt Another
Police Corporal Darius Martinez is spending the first night of an 18-month sentence after he was convicted before the Chief Magistrate of attempting to corrupt a public officer. The allegation was that he tried to bribe a member of the Gang Suppression Unit to give him information about the investigation into the infamous John McAfee case.
The main witness in the trial against Martinez was Woman Police Constable Stacey Smith who testified that on May 11, 2012, Martinez contacted her by cell phone and asked her if she wanted to make some money. She says that Martinez didn't go into detail about what she would have to do to earn that money until they had a second conversation, which she recorded. That recording was presented before the court and admitted into evidence. In that conversation, Martinez wanted WPC Smith to tell him what the GSU found at McAfee's residence outside of Orange Walk Town in May 2012. He was also interested to know about a diary which was supposedly confiscated.
As we told you, Martinez's attorney, Anthony Sylvestre, made a no-case submission, which was rejected by the Chief Magistrate, who ruled that the prosecution had established a prima facie case against him. Martinez then offered an explanation from the dock that he wasn't trying to corrupt WPC Stacey. He says that he was only trying to ask her to provide security for John McAfee.
Chief Magistrate Ann Marie Smith announced her ruling today that it was clear that Martinez asked the officer to compromise her integrity. With that, she sentenced him to served 1 year and 6 months in jail.

Alleged Park Shooter Jailed For Gang Membership
Tonight, 23 year-old Michael McDonald, a King Street resident, is at the Belize Central Prison after he was taken to court for a very public shooting, which terrified BTL park-goers early on Sunday morning, around 3:00 am.
According to police, they responded to a shooting in the vicinity of the BTL Park. They caught McDonald with a .38 firearm, and they also retrieved 5 expended shells. No one was injured, but police charged him with causing public terror, discharging a firearm in public, keeping an unlicensed firearm. Additionally, they say that he claimed to be a member of the George Street Gang, and so, he was charged with professing to be a member of a criminal gang.
He was arraigned before the Chief Magistrate, Ann Marie Smith, and due to the nature of the offences, he was remanded into custody until November 17, even though he pleaded not guilty.
Apparently, there was some confusion over whether he had been shot because Macdonald was seen lying on the street - but he was having an asthma attack.

Robber Said He Wanted A Blood Test
Yesterday, a man who went to a medical lab asking for a blood test ended up robbing the lab. At 1:15, two men went into the Belize Medical Center on St. Thomas Street. One of them said he needed a blood test and went inside to have it administered. But before he could sit down, he pulled out a gun and robbed the 65 year old lab technician. Two women who were in the waiting area dashed outside the door ads the men grabbed the money from the cash pan.
The owner of the lab tried to grab one of them on the way out, but he turned the gun on him - and the owner let him go.
No one was hurt and police have no suspects.

Daylight Downtown Robbery
There was a brazen broad daylight robbery in the heart of downtown Belize City this morning, but this time it wasn't a business that was targeted it was a customer.
According to reports, an Italian man entered Lavish store on Albert Street and was robbed of his phone. We found out that the customer was so badly shaken up that he refused to give a statement to the police because he feared his and his family's safety..

Fatal Accident Outside Free Zone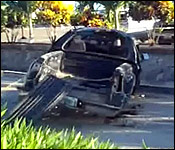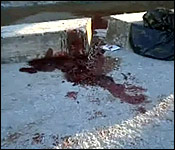 Yesterday afternoon there was a fatal accident at the Northern border. It happened at around 4:00 pm when Mexican watchman 37 year old Jose Benigno Lopez, shot out of the free zone at high speed in a Ford Ranger pickup. He and his 50 year old passenger, a Mexican farmer flipped when Lopez lost control of the vehicle and it flipped several times.
Both men were flung out of the vehicle and Lopez suffered a fatal blow to the head. His body was taken to the Corozal Town Hospital where it was pronounced dead on arrival. His passenger Tilo Lopez was treated for minor bruises and a small cut wound to the head and was released.

The Art Of Defensive Driving
Many of you who have been driving for over 15 years may think enrolling in a driving workshop, is useless and maybe even laughable, after so many years on the road. But you might be surprised to find out that some very seasoned drivers are benefiting from a defensive driving workshop. Courtney Weatherburne has the story.
The workshop lasts for 4 days: Two days of theory and two days of practical. About 24 drivers are attending.

Is El Pilar Another Archeological Hotspot On Border?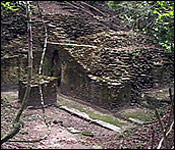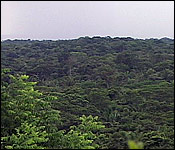 At the top of the news, we showed you the dramatic video footage captured by the tourists who were at Caracol when Danny Conorquie was killed. The conservationists and tour guides who operate in border hotspots, like the archeological reserve areas, say that Conorquie is not the first law man to be shot at, just the first to be killed.
The Cayo Tour Guides Association was very vocal about the lack of tight security at the Caracol Archeological Site, but they stress that this is not the only historic Mayan site that remains under pressure by illegal border activities.
Today, after the protest for Danny at the border, they took the media to the El Pilar Mayan Ruins inside the national park which is under the jurisdiction of NICH.
They say that for years the site has been under pressure by Guatemalan border bandits who target them and their guests when they visit El Pilar. Our team arrived shortly before news time, and will have a full look at the problem they face tomorrow, but here's an excerpt of our discussion with the tour guides:
Patrick Bradley, Cayo Tour Guide

"We are in one of the main temple in El Pilar, the site that have Belize right here. Right beyond the site across the building is Guatemala and we have the same situation when we come to do a tour in Belize without any security, without any kind of access without any help in the area. We are always on our won with the tourists and Guatemala is next door and at any time poachers could come in and have a way with us."
Joe Awe - President, Cayo Tour Guides Association
"We have conceded El Pilar to the banditos, nobody goes to El Pilar because we are very scared of going to El Pilar."
Tomorrow, we'll have a more in-depth look at El Pilar and the pressures it faces. Plus, we'll also show you that not only do Guatemalans come over to Belizean territory to cut down very important forests. Belizeans actually go over to their side and do it as well.

Chiquibul, Security Problems Since Forever
And while El Pilar is a hotspot – Chiquibul – with its vast forested area, its bounteous timber stock and its gold reserves…are a cauldron. 7News was the first media house to go embedded with the Friends for Conservation of Development in 2009 – and sound the alarm about the security and conservation issues inside the Chiquibul. Since then our teams have gone inside the Chiquibul many more than any other media house. Tonight, we look back at our first engagement in 2009 – which is a very small snapshot of how dangerous and difficult law enforcement in Chiquibul can be:…
Jules Vasquez Reporting,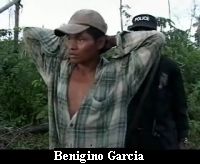 "He has a machete; he has a weapon" those were the words of the BDF as they chased down Benigno Garcia and captured him here – 600 metres from the Guatemalan border in the Caracol Archaeological Park. The BDF caught him but the police on the patrol had the power of arrest.
Garcia was searched – while the park ranger for Friends of Conservation and Development unloaded his 22 rifle which carried 6 live rounds. Garcia's dogs looked around confused – while the BDF brought his makeshift knapsack into the open area where they questioned Garcia.
Q: "What is he doing in Belize?"
A: "I am just taking a walk around."
Q: "And then they ask him – does he know if he is in Belize"
A "The truth is I don't know – I just came and I do not know these areas"
But what he knows to do is hunt gibnut as was amply demonstrated when he opened his sack. A pair of gibnuts but he didn't use the gun on them, he smoked them out of a tree bark and used the machete and bundled them for good measure with a few xate leaves.
Still it's crime, hunting in an archaeological park, and hunting in another country, and possessing an unlicensed firearm and ammunition which meant the patrol had to hike him back to D' Silva Camp 8 kilometres away and they had to move double time because they heard him talking to someone before he was captured which means that the person who was with him could have dashed the half a kilometre across to safety the nearby Guatemalan community and alerted the villagers – who are hostile to Belize authorities who could have mounted an assault on the patrol.
A very real possibility; it's happened before, but fortunately, today they did not, or could not because we moved so fast and three hours later – after a 6 kilometre hike Garcia was on the Carcaol Road - ready for the three hour ride to San Ignacio Police.
Lt. Justo Velez, Officer Commanding
"This is normal, the Guatemalans always coming into Belize to do either xate cutting, hunting, farming, and all these illegal things that they always do. For us whenever we go to the border, whenever we encounter somebody well, we just detain them as per procedures."
Of course, this is just one of the many violations by Guatemala within the Caracol Reserve and the vast Chiquibul Forest – tomorrow – we'll report from places cameras have never been deep inside Chiquibul.
And to give you a refresher or some deeper background on Chiquibul, all this week, we will be going into our archives to review some of the issues in the protected area.

A Magazine For Investors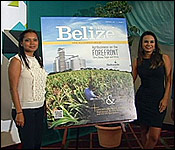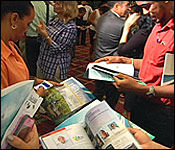 Beltraide launched the 3rd volume of its INVEST BELIZE MAGAZINE today. A ceremony was held at the Belize Biltmore Plaza not simply to launch another publication but more importantly, to celebrate the foreign investment opportunities it will garner for Belize. The CEO in the Ministry of Trade and Investment shared his vision on the impact the magazine will have on Belize's global image.
Mike Singh

"So we started with the first edition and then we ended up with the second one. Before we had a different publisher. We made a decision to spread the business and to work with McNab Publishing this time and I think the quality we are getting is exceptional. I think the quality of articles is exceptional. We are getting articles written by very senior people in government and very qualified people in the private sector. I can't compare it to a local publication sort of what a local newspaper is. It's really a very high end, very qualified publication that speaks in depth of what Belize is all about and the opportunities we have for investment. If you look at the list of advertisers in our magazine, people are believing is us and they are coming on board because this is something that is not really only a promotion piece, it's really a piece for us to show that Belize is on the move and I think that's a signal that the private sector believes that we are on the move for them to go in a positive magazine to put an ad in that kind of promotion I think they see value in it."
The magazine is available on the Beltraide website or at government departments and Embassies.

Getting Brands Up To Standard
If you are into shopping, you certainly have your favorite brands that you purchase on a regular basis. Well, you better start looking beyond brand loyalty to the possible threats the consumption and usage of some of these products may have on you. Many of these products may have harmful substances or undeclared or uncertified ingredients. The partners in the CARICOM Rapid Alert System for the Exchange of Information on Dangerous (non- food) Consumer Goods met today to educate members states on strategies to regulate this issue and to get those harmful goods off the market.
McClauren says that efforts are being made to link CARREX CARICOM with the OAS information system to facilitate a broader sharing of data on this issue.

Maya Leaders Meet PM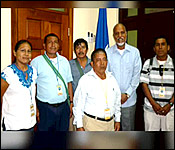 The Maya Leaders Alliance met with the Prime Minister in Belmopan last Thursday to say that they are willing to engage with the oil company US Capital Energy and the Government, but on certain terms.
It is a follow up on a letter from the Alcaldes' Assembly notifying Government that the Alcaldes are developing a proposal for consent agreements by oil development and other extractive industries for activities on Maya traditional lands. A statement says, quote, "This proactive initiative by the Maya People manifests our commitment to explore opportunities for constructive, respectful, and good faith engagement with the Government of Belize and extractive companies on Maya traditional lands, looking forward to a future in which the legal status of those lands is no longer in dispute." End quote.
The statement adds that the meeting generated common understandings on several key issues where The Prime Minister assured the Maya Leaders that the government agrees that the Maya People must be respected, consulted, and included in initiatives that impact or can impact their communities. IT adds that, quote, "He communicated a welcome commitment to dialogue and engagement with the Maya People.." and concludes, quote, "We are encouraged by this new commitment from the Prime Minister."
The Toledo Alcaldes' Association also put out a statement on the murder of Police Special Constable Danny Conorquie. The statement notes that quote, "a little over a year ago, an Alcalde of one of our Maya village in the Toledo District, was shot with a handgun by a Guatemalan national in the Columbia Forest Reserve. Since that incident, Alcaldes and Chairmen from the Maya Villages along the Guatemalan border continue to frequently report incursions unto their community lands and barbaric acts of intimidation upon their lives, family and property by Guatemalan nationals." It closes by saying, We reiterate that the Government of Belize immediately put in place affirmative measures to ensure that there is safety for all Belizeans.





Home | Archives | Downloads/Podcasts | Advertise | Contact Us