Zimbab: How I Dodged Death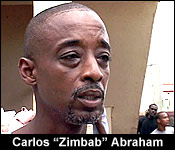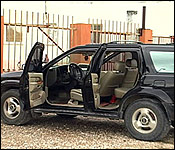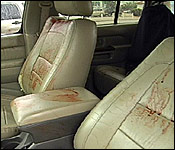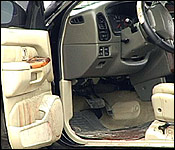 Tonight the city remains calm after the attempt on the life of George Street General, Carlos "Zimbab" Abraham yesterday in Belize City. As we told you, Abraham was on Lakeview Street yesterday morning at 10:00 when a gunman opened fire on him as he sat in his SUV. Even though he was shot in the face, Abraham survived. Today he spoke to us via phone from his hospital bed and told us how he did it:..
Jules Vasquez
"How serious are your injuries?"
Carlos Abraham AKA Zimbab, Stable Condition
"Minor you know, the bullet didn't touch any main organs, it's just flesh wounds. I got shot in my face, in my jaw and then it ricochet through my neck."
Jules Vasquez
"But how you survive a shot to the face?"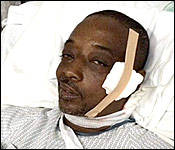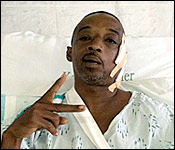 Carlos Abraham AKA Zimbab, Stable Condition
"The Father above, I tilt my seat before I see the shot coming and so I just pull back my head."
Jules Vasquez
"How far was the shooter when he shot after you?"
Carlos Abraham AKA Zimbab, Stable Condition
"About 6-8 feet from me. Close, I was looking down the barrel of the gun."
Jules Vasquez
"But you saw then circling."
Carlos Abraham AKA Zimbab, Stable Condition
"Yes, I saw them prior to the shooting, they passed me by. I saw them, but like I said its some youth that I knew, who are always begging and I always give them something. I didn't have that in my mind that that was what they were up to. When I saw them, one man stop at the lane and then one man continue. I felt like they were coming to ask for something because that's the usual thing like I said. So when I conscious, the youth was close and I look back to see what was his intention. I saw the gun being raised up at me now. The only thing I could have done was pull back way in my vehicle between the iron thing between the two window and that was how I avoid all the shots through that spot. When the man done shot me he ran. He was more frighten that me. I was about to drive myself to the hospital. I got shot on my neck and the blood sprayed out like a pipe. I took off my jacket and I tie my neck tight to stop the pressure of the blood and I start my vehicle and swing it around, then my uncle yelled for his son to take me to the hospital and so I got into the passenger side and he drove the car. I walk come into the hospital."
And tonight he remains in the hospital in a stable condition. He says he is eager to go home. As he noted, his most serious injuries are a fractured jaw and shoulder.
Surely, he is lucky to be alive, but many have asked what was Abraham doing in the territory of another gang, the Ghost Town Crips. He told us he had no concern at all being there because he was visiting his uncle's tyre shop in a neighborhood he actually grew up in:..
Jules Vasquez
"You were doing business?"
Carlos Abraham AKA Zimbab, Stable Condition
"It was business. I went to my uncle because we are trying to get a container of tyres in town to sell used tyres and my uncle and I are in the business, so I went to him to finalize the thing. I wasn't there not even 5 minutes, about 2-3 minutes the longest."
Jules Vasquez
"But then you were in Ghost Town zone."
Carlos Abraham AKA Zimbab, Stable Condition
"I was born and grown here, down Banak Street right where I got shot. I retired from the streets a long time. 2-3 years now I move from George Street, I don't even live around George Street. I don't even live in town. I move out of this thing all together due to my little youths them."
Jules Vasquez
"You will press charges because they caught the guy."
Carlos Abraham AKA Zimbab, Stable Condition
"I will press charge, let the man they deal with the courts. Like I said I have change my life style and I will show them that."
Jules Vasquez
"And so now you feel like how the retaliation might jump off because of this?"
Carlos Abraham AKA Zimbab, Stable Condition
"I have soldiers around, the love is still there and I can't tell them don't do anything, because I am in here. Then none of them will come here to look for me. They will take that matter into their own hands."

Police Trying To Supress Possibility Of Gang Retaliation
That dire prediction doesn't seem to bode well for keeping the peace in the streets - which is why police say they have detained key gang figures and dispatched additional patrols.
In fact, ever since the shooting, police have been staying ahead of the crime: they were the first to respond and detain the alleged shooter - even though they didn't manage to get the gun.
At a press conference at the Queen Street police station today Police said the key suspects so far are minors:..
Supt. Hilberto Romero, O.C., Crimes Investigation Branch
"An investigation was carried out which had led to the detention of two minors. Quick police response lead to the detention of one of the minors who is now in custody. Police responded adequately and they pursued one person and he was apprehended."
Jules Vasquez
"These young men, are they gang affiliated, these suspects and the detained person?"
Supt. Hilberto Romero
"We believe the suspects that are in custody are gang affiliated."
Reporter
"Have you established a motive?"
Supt. Hilberto Romero
"No, we are working with several leads that we have, but we don't have an exact motive at this time."
Jules Vasquez
"Mr. Carlos Abraham is associated with George Street and I know he was in the area control by Ghost Town Crips. Is it a specific rivalry between those gangs?"
Supt. Hilberto Romero
"Like I mentioned, we are still working on establishing if it is those two gangs you mentioned, but we still haven't conclusively established a motive at this time. They have put additional persons in the area of concern and over the weekend and even going towards the month of December we have several operations that will be launch to try to control any further escalation of violence on the streets."
Police expect to bring charges by tomorrow against the two minors currently in detention. They are seeking one more person who is an adult.

Itís Confirmed, Chik-V In Belize
Three weeks ago - we told you that Chikungunya had been confirmed in Belize - but at the time we couldn't say it with 100% certainty because CARPHA, the Caribbean Public Health Agency hadn't confirmed it.
But now they have.
A press release today confirmed that the Ministry of Health has received confirmation of a positive laboratory result for Chikungunya from CARPHA in Trinidad. As we had told you, the case comes out of Las Flores in Belmopan.
It's nothing that wasn't expected, since Chik-V has appeared in all our neighboring countries including Mexico, Guatemala, Salvador and Honduras. In fact, this first confirmed Belizean case is believed to have originated in Salvador.
But, now that it's here, what are health authorities going to do about it? That's what we asked the Director of Health Services today in Belize City:..
Dr. Michael Pitts, Director of Health Services
"Over the last 3 weeks we had some rumors. In fact parts of the press reported they believe people were saying they have signs and symptoms of this disease in parts of the country. In fact we zoomed down on rumor surveillance activity in Las Flores area. That is an area where we believe was at high risk for possible Chik-V because it's a big immigrant population with people moving in and out of Salvador where there was Chik-V. So essentially there were different screening being done and we have sought to confirm those tests in CARPHA which is the reference lab for confirmation. And its over the 19th November that we got email confirmation that one of 4 tests that we had sent is positive."
Daniel Ortiz
"What's the next step now that we know that....?"
Dr. Michael Pitts, Director of Health Services
"From the time that we had the rumor surveillance, we went into the area to look at the different risks in that community and we began doing cleanup campaign, heighten our spraying activities, having community meetings with the people in that area to encourage them to do certain things with the environment to help to reduce mosquito population. As we speak we have to heighten the response general across the country, so in each district we have the tools out there, we have the vehicles, we have the vector control persons to do certain things. Last week we had training with our community health workers to ensure that we have an integrated approach from the bottom up in terms of vector control activities. So at every village we have a collaborator there to speak to people about what they need to do to control mosquitos and so with the objective to limit the amount of possible Chikungunya."
There are still three more highly suspect samples awaiting analysis at CARPHA.
So, what are the symptoms of Chik - V? Well it's similar to dengue with fever, joint pain, headache, and muscle pain. The joint pain in Chik-V is more acute. If you have these symptoms, you should see a doctor.

Cop Caught Trafficking Weed At Northern Border
Reliable reports reaching us tonight say that a police corporal has been intercepted with wholesale amounts of marijuana at the Santa Elena border in the Corozal District.
It happened at 5:20 this evening and the search of his car, a red Geo Prizm with Corozal plates is ongoing at this time - but we can tell you that two parcels of compressed marijuana were found under the hood of his car. This suggests that he was trafficking high-grade marijuana from Mexico.
And the particularly hapless corporal was not only trafficking weed - his car also broke down at the border. And when a car breaks down - where do you check? Under the hood, right? Well, that's right where he had the two parcels stuffed.
The corporal was along with two other men also from Corozal. We have their names, but cannot release them until they are charged. Corozal police and customs are presently processing the car.

Cop Charged For Sex With Underaged Girl
Police Constable Rupert Thomas is back in jail - for the second time in less than a year - and again he is accused of having sex with a minor.
He took a 15 year old from Cayo to Seine Bight with him where he had sex with her. A friend lured him to Dangriga where police recovered the girl and captured him. He was charged with unlawful carnal knowledge and remanded to the Belize Central prison until the seventh February, 2015.
Last year in December he was also remanded - at the time it was Aggravated Assault of an Indecent Nature. At the time, a 14 year old girl from Cayo told police that he fondled her while having intercourse with her 16 year old sister.

Youths And Road Safety
2,000 Belizean youths are expected to benefit from the Road Safety for Belizean Youth Project. The main objective of the project is to train these youths on driving risks and road safety measures.
They're a key demographic because persons aged between 16 and 29 account for 30% of road traffic fatalities. That's a highly disproportional figure, and president of the Belizean Youth for Road Safety explained how this project can considerably decrease this figure.
Eric Sanchez, President, Belizean Youth Road Safety

"The idea is to try to reach 2,000 youths and we were given a specific timeframe for that and that is why we are doing the training over at the high schools and we did a training at the 6th forms, so what we want to do now with these amount of individuals, it's just going to accumulate for us and with that we would be able to reach our 2,000 maximum. With a presentation to the President of the CDB, we would be able to hopefully garner the trust and support in that we are doing the right thing and that we are making the positive step towards the development and the proper rearing of our country. We have been doing trainings for about 2 months and I must say we have reach almost a half of that and we have about one year plus more to go, so I think in terms of reaching 2,000 youths its very practical. Our training structure is more of a facilitating type workshop, we don't go and just regurgitate information; we go and try to instill, we try to do it in a very professional, very young, fun innovative way."
Dr. William Warren Smith, President, CDB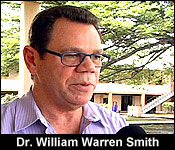 "The objective is to reduce fatalities on the roads so that a very important component of that exercise is building awareness. What today is all about is to get an idea of the very important role that the young people of Belize are playing in trying to build that awareness. There are number of other such developments that are part and parcel of the project, so it's an infrastructure project combine with a very critical awareness component."
After the launch today Dr. Smith was taken to the CDB funded Mental Health Clinic and the Buttonwood Bay drainage project. For the Youth Road Safety Project CDB has granted a loan of $7.248 million US dollars while the Government is contributing about $1.6 million US dollars. The Road Safety Youth group have reached out to 823 youths so far and have until next year to meet their 2,000 youth mark.

UNFPA Scolds Media For Negativity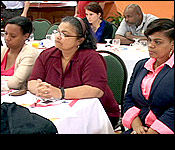 Youth empowerment is a vision many stakeholders in education and youths themselves attempt to realize. The UNFPA's new report called "The Power of 1.8 Billion Adolescents, Youths and the Transformation of the Future" strives to do just that by highlighting the challenges youths face and possible solutions.
Normally one would see youths, government officials, teachers and other key stakeholders involved in this discussion but the main target audience for today's meeting was the media and our role in positively impacting youths. Erica Goldson the Assistant Representative of United Nations Population Fund discussed the objective of the report and how it can improve the lives of youths.
Erica Goldson, Assistant Representative, UNFPA
"It basically bring to the forefront issues that affect young people and the challenges it's in and it's a global report but when you look at the report, a lot of the issues mentioned in the report is our reality in Belize. And so the report is creating an opportunity for us to really start the discussion around more or greater investment in young people."
Courtney Weatherburne
"Yes empowerment is a great issue, but some youths today don't even have the time or the luxury to sit down and think about okay, I am going to be empowered, I am going to be engaged in social issues when most of them pretty much don't know what they are going to eat for the day."
Erica Goldson
"I agree - good. So earlier the doctor mentioned about the other determinacy that affect or factors that contribute to maybe the poor development of a young person, so we have to start to look at that. Try to see how we can address all the social factors affecting young people, so we can't just only look at preventing HIV or preventing adolescent pregnancy which is extremely important, but we have to look at the other contributing factors; the issue around poverty as we mentioned, the unemployment issues that some of them are facing."
At the end of the month coordinators will host a 2-day workshop for the youths to join in the discussion. The report was launched last year.


Robbed Of 4K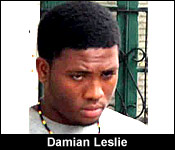 Police say that Damian Leslie and Norman Tillett robbed an A&R Employee, and tonight, they are at the Belize Central Prison.
It happened yesterday at the bus stop in front of the Pallotti High School. The A&R employee told police that he was on his way to make a deposit of over $4,000, when 2 men approached him and robbed him at gunpoint. Police moved immediately to investigate the case, and they charged Leslie and Tillett with robbery.
They were arraigned today before the Chief Magistrate Ann Marie Smith, where they pleaded not guilty. Due to the nature of the offence, they were remanded into custody until January 28, 2015.

4 Men Robbed 13 Year Old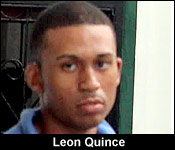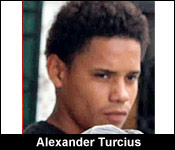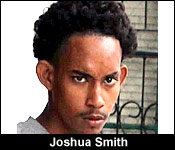 4 other men are in jail tonight after police accused them of robbing a 13 year-old boy on Tuesday.
It happened on Thomas Vincent Ramos Street in Belize City where the 13 year-old minor was supposed to go to the store to buy for his parents. On the way there, 4 men who robbed him of $27 dollars, which he would have used to pay for the groceries.
Police investigated, and today, they charged Joshua Smith, Alexander Turcius, Leon Quince, and Marquis Coc. They were arraigned today before the Chief Magistrate, Ann Marie Smith, where they pleaded not guilty. She denied them bail based on the strength of the prosecution's objections. They will return to court on January 28, 2015.

Cane Farmers And SICB Agree To Meet Next Week
On Saturday, the Belize Sugar Cane Farmers Association gave the Government appointed industry regulator, known as the S-I-C-B, or the Sugar Industry Control Board until today to bring all sides of the sugar dispute to the negotiating table so that they can hammer out a resolution.
But, two of the members of the SICB are out of the country, so they could not get the meeting together. Today the Cane Farmers Association agreed to wait until November 25th when the SICB had first planned to hold its meeting.
In the meantime, the BSCFA executive has met with the Deputy Prime Minister.
On the ASR/BSI side of the dispute the company has decided to push back the date for issuing its final agreement. That was to have been done today, but the company says it has been getting sufficient and steady feedback from farmers to convince them to hold off on issuing it until they can factor in all the farmers issue - which, we are told, extend to safety and security.

Wesley Discourages Bullying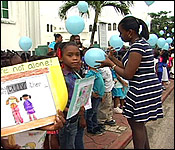 Bullying is a social phenomenon that is often dismissed in Belizean society. Self-defense and "rough-play" are used as camouflage against detection and reprimand. But it is a prevalent issue in Belizean schools - more so than you might guess. And today our Albert Street neighbors at Wesley Lower School attempted to put a stop to it, through their anti-bullying initiative called "Say Something: Be a Buddy not a Bully".
Today students assembled outside their school compound on Albert Street to promote this initiative. One of the teachers, Rudolph Neal spoke to us about the detrimental effects bullying has on school children and how it can be addressed.
Rudolph Neal, Teacher
"Definitely bully is indeed a problem. Often times because we live in Belize we perceived that bully isn't a problem here. But it is indeed a problem and even at the school here we experience different acts of bully; teasing, punching, kicking, name calling, some even want to perpetrate acts of violence. Children are accustomed to keeping quiet, holding things in - that is our culture here, even us as adults.
When something is bothering us we tend to hold it in. However, for the past week that we have embarked on this venture, we have stressed the theme "Say Something" and that is important because whenever you hold it in that's when it boils up the most and then it leads you to do things that will be undesirable unwanted outcome."
The initiative began last week Monday and continued throughout the week with special guest speakers from the Community Policing Department.

The Finest And Fittest At Coast Guard
Yesterday, we showed you day 1 of the Coast Guard's Best Warrior Competition. The tournament is being held for a second year - as an opportunity for the Coast Guard to assess the fitness of its elite members.
Yesterday was all about the fitness test and the 2 mile ocean swim. In today's competition, the teams had to complete a 6 mile run in the morning, and a 4 mile obstacle course called the Coast Guard Medley.
7News was back at the compound during the medley and as the competition officials promised, the level of difficulty was increased. Here's how it looked:
Daniel Ortiz reporting
This evening, each of the squads had to maneuver around a 1-mile course saddled with heavy weights. The purpose of this event, like the others, is to try to complete it as quickly as possible. The clock didn't stop running until the last man finished the course.
They each began by wearing a vest weighing 30 pounds, then, after completing a lap with that, the squad then took up a 40 pound Bergan. By that time, the first lap was already taking its toll.
And by the time the squads came around for the third lap, the effects of the backpacks and vests was clearly visible. That's when they would take on the toughest challenge yet. The team of 8 had to find a way to carry a stretcher with two jerry cans filled to the brim with water. That's an extra 150 pounds, a simulation of an injured comrade in need of emergency transportation.
On the 4th and final lap, the squads had to carry 4 shoulder weights with them, each weighing 25 pounds, the lightest of the burdens, but with all the cumulative load before this lap, it appeared to be the heaviest load that each men had to bear with them all the way to the finishing line.
To top it all off, the final obstacle that the squads had to overcome is a climb up a rope 18 feet into the air. It didn't count unless each climber gave a convincing slap of the verandah at the top. And, the clock didn't stop until each and every man on the team made it all the up, and all the way down.
For the officers' squad, Lt. Monima was the last man who needed to make it up the rope. He demonstrated just how physically demanding the medley challenge was. On his first try, he made it half-way up the rope, but by that time, he was too tired to finish the obstacle. He slid back down the rope, causing his competitors, and team mates to doubt whether not he'd ever make it to the top.
For about 15 minutes, Lt. Monima struggled to get up the rope, and with each failed attempt, he was bringing his team closer to an incomplete for the day. That would mean that all the hard work of his teammates would not earn them any points.
Finally, his team inquired with the competition officials, and after getting, greenlight, they formed a pyramid helping Monima up the rope, so that he could touch the verandah.
Some bystanders said that wasn't fair, since he didn't make it up on his own strength, but no one argued that it was the strong teamwork - which is acceptable in the competition - that allowed him to get to the top.
When the times were finally recorded for the medley course, it revealed that the Fleet Team remained in the lead. They are followed closely by BSAG, and the Seals in third place, the Recruits trailing behind, and the Officers Squad bringing up the rear again.
Their performance today determines the layout of the competition tomorrow.
Lt. Derick Castillo - Training Officer, Coast Guard
"Tomorrow we do the march and shoot. We leave from Boom Bridge, 6:30 we assemble there, 7am in the morning the first team leave from there and the same process continue. The team that will 5th place here today will be the first team leaving from there 7am and every 10 minutes thereafter the other teams follow behind."
Mike Rudon, CH5
"And do what in particular."
Lt. Derick Castillo - Training Officer, Coast Guard
"We will march and then we start off with the Bergan which have 40 pounds in there. Helmet and all that military stiff that have you looking like you are preparing yourself to go to war. They will march with that Bergan and all that weight and then along the way we will meet jerry cans with water in there that you must take a long with you as a team. Along the way you also meet some containers, they will take those also. The stretchers that we have there they will pick those up and take them all the way to the range. When they get to the range, these guys will be extremely exhausted, but we still want them to be able to fight, so after taking all that kit off and place that down, they will be issued an ammunition and they will have to crawl from 250 meter firing point to 200 meter firing point and then engage falling place which will be 200 meters away from them."
And if you're wondering how come the Fleet officers and the recruits are doing better than the Elite Coast Guard Seals, the commanders explained to us today that the potential Coast Guard Seals are chosen from the ranks of the Fleet Officers. Recruit Intake #5, which passes out next week Friday, has also being doing intense physical training for the past 13 weeks to become members of the Coast Guard.
From the BDF, the Belize Special Assignment Group is the most trained unit, and they are considered very close contenders for the championship.

PROFILE...
E Roy Cayetano - he's a well-known educator and the former Deputy Chief Education officer. But you may not know that he was also self-educated - the man with a Master's degree didn't go to high school because his father couldn't afford it.
But that same father, a teacher, did instill in him a commitment to learning - and that has taken Roy Cayetano right back to the classroom at the Gulisi Primary School in Dangriga.
In tonight's profile, he explains the broad arc of experience that brought him back to school:..

Cayo Tourism Roads In Trouble
We all know about FECTAB and the various issues they are fighting with the BTB and NICH, but now The Cayo Chapter of the BTIA and the Cayo Tour Guides Association are calling on that same NICH and BTB to fix the roads to Mountain Pine Ridge, the Barton Creek Cave, and the Road to Cahal Pech.
A release form the group says that the roads in horrible condition and with the tourism high season about to start, the sites will be inaccessible and make for heavy financial losses for industry stakeholders out west.





Home | Archives | Downloads/Podcasts | Advertise | Contact Us