Belizeans Held In Guatemala?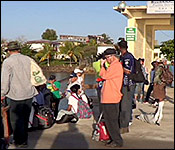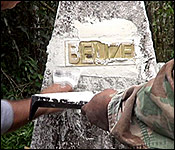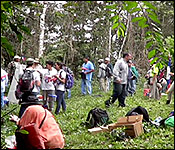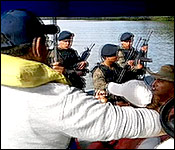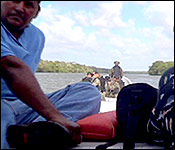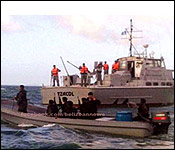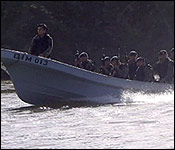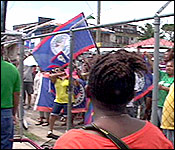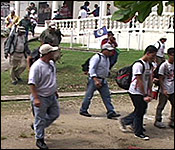 On Saturday evening at 4:30, all of Belize was gripped by the report that 40 Belizeans had been taken prisoner by the Guatemalan Coast Guard. That has never happened before - and it sent a collective shiver across the nation. Happily, though, within hours, what was first presented as a hostile situation appeared to have softened somewhat: the Belizean "detainees" suddenly became guests of the Guatemalans in Livingston.
But, the entire narrative of what led up that and what followed it is a first for Belize. And it shows two things: how tricky it can be toeing the southern borderline, and how even uneasy neighbors can find ways to work things out.
Tonight, we'll have every interior and exterior angle on this story, from beginning to end. Daniel Ortiz reports:..
Daniel Ortiz reporting
It should have been just an expedition to the Gracias A Dios border marker at the southern-most point of the country, but on the way back, the expedition of 37 persons representing the Northern Chapter of the Territorial Volunteers were intercepted by the Guatemalan Military and taken to the Eastern Port town of Livingston, Guatemala. The initial concern was that they were being detained, possibly to be imprisoned, for making an incursion into Guatemalan Territorial Waters.
Wil Maheia - Southern Territorial Volunteers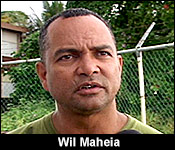 "Yesterday morning these folks arrived here from Orange Walk. They left Orange Walk actually around midnight, to reach PG by 6am - 7am and by 7:30am, they were onboard the vessel that was going to take then to Gracias Adios. They boarded the vessel and everybody was in a festive mood. It was very patriotic, people taking out their flags and blowing their horns and going to Gracias Adios. As you know it's the southernmost marker and they went up there to put the plaque on and on their way back, the Guatemalan Marines had intercepted their boat. One of the marines boarded our boat and then tied up our boat to the vessel and they took it to their military station at the mouth of the Sarstoon. When they came back down, the Guatemalans took them to their military base, then escorted them to the Livingston, Guatemala. When they got there, they were detained and they were questioned by the Guatemalan authorities and then after that, they were set free."
They were free to roam around, and free to leave, but the captain decided that the 40 persons ought to stay the overnight in Livingston because the seas would have been choppy and dangerous.
The captain realized the next morning that by sleeping in Guatemala, the Port Commander and other government officials had enough time to prepare a document that they asked him to sign. That delayed their return to Belizean soil longer.
Wil Maheia - Southern Territorial Volunteers
"This morning when they were getting ready to leave again, as they were getting ready to board the boat, there comes the Capitan del Puerto, which is the boss of the port over there - the government boss and call in the captain. That's where they are right now."
Reporter
"Call the captain for what?"
Wil Maheia - Southern Territorial Volunteers
"We don't know. They just summon the captain, so that's why the boat hasn't left Livingston yet."
Maheia and others, including National Security and Foreign Affairs CEO's George Lovell and Lawrence Sylvestre, and other Foreign Affairs staffers were forced to wait for their arrival. But, why did the Guatemalan marines escort the Belizeans to Livingston? Well, the Territorial Volunteers say that the military personnel informed them that they had strayed into Guatemalan territory for 5 minutes. At the diplomatic level, that was communicated to Belizean government also, but more importantly, the Guatemalans informed Belize through the military and diplomatic channels that it wasn't a detention. No, they are claiming that it was a humanitarian effort - that they rescued the Belizeans from choppy seas, and from a vessel which appeared overcrowded and dangerous.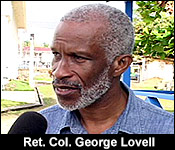 Ret. Col. George Lovell - CEO, Ministry of National Security
"The Guatemalan officials - they detained them because they were: 1.) in Guatemala and 2.) The amount of passengers that they had on the vessel appeared to them to be very unsafe and it was for their own safety, that they decided to detained them and that's the reason why they were taken into to Livingston. They were clear to mention to us that they were not arrested and they were not going to be put in jail."
But, the Guatemalan Port Commander delayed the captain with this impromptu morning meeting for 3 hours past their intended departure time, and by 10:50 a.m. yesterday, signs of the Belizeans started showing on the horizon.
By the time they arrived at the pier, they received a patriotic welcome. Tales of their "detention" unleashed a firestorm of commentary on social media and on national radio.
After all the unplanned celebrations completed, 5 key persons of the forty taken by the Guatemalan military were asked to debrief the Government officials, which lasted for about 2 hours. The leader spoke with the press after.
Giovanni De La Fuente - Leader, Gracias Adios Expedition
"This morning we had some negotiations with the commandant of Livingston and we were released. There was no charge for the group and the captain was released with no penalty. He only had to sign a documenting stating that he had accidentally entered a creek for the distance of 100 yards and a time of approximately 5 minutes."
But Wil Maheia, founder of the Territorial Volunteers, vouches for the captain that with his expertise and knowledge, he would never have crossed into Guatemala.
Wil Maheia - Southern Territorial Volunteers
"Our captain have a wealth of experience. There is no way he would have strayed into Guatemalan side, so if they are saying that, I could tell you that that's a lie."
Daniel Ortiz
"It is taken at face value that the Guatemalans who detained the Belizeans are right in saying they were in Guatemala."
Ret. Col. George Lovell - CEO, Ministry of National Security
"No, we can't and that's the reason we need to hear what they had to say, no we need to hear what our people have to say."
Giovanni De La Fuente - Leader, Gracias Adios Expedition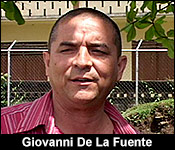 "He signed off on that paper, because it's the truth. On our way up the river, there are many tributaries and creeks and he accidentally took one of these creeks for approximately 5 minutes, less than 5 minutes and we covered a distance of approximately 100 yards and then we notice we were on the wrong route and we turned back. So, that is the truth."
But that's not what the captain, Guillermo Avila, is saying. He has retained attorney Audrey Matura-Shepherd for legal advice to undo what his signature to this document means for him in Guatemala. He's admitted to a maritime offence, and although there was no penalty for it, he claims that he makes a business ferrying clients back and forth from Livingston to PG. His attorney told the press that he only signed the documents under duress, that if he didn't sign his passengers would not have been allowed to leave.
Audrey Matura-Shepherd - Attorney for Boat Captain
"The only way they would have released them to today, is if they sign such a document which he signed. This is a copy of the document he signed. He does not read Spanish, he signed a document he is not fully aware as to every word and its content and its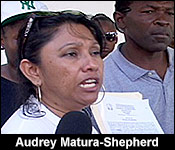 meaning, but Mr. Avila wants it to be known, that it was clear to him that if he did not sign, he and the vessel could not leave and the passengers could not leave and he had to make a judgment call to get the people here back in Belizean territory. Now, we are hoping that our government, through diplomatic notes, can deal with this, because this was signed under duress."
That may well be the case, but the Foreign Ministry gave a stern, well publicized warning that this could happen. So, wasn't this ordeal somewhat self-inflicted?
Daniel Ortiz
"How do you answer to the criticism that this detention was somewhat self-inflicted because you all went there knowing that this could have happen?"
Giovanni De La Fuente - Leader, Gracias Adios Expedition
"Listen, the captain has already signed off on a document stating that he accidentally entered a tributary for 100 yards, approximately 5 minutes and that is the truth and the truth will set you free."
Wil Maheia - Southern Territorial Volunteers
"People who say that, I would consider them very unpatriotic. This is our country all 8,867 sq. miles - belong to all Belizeans. So, if you are telling us Belizeans that we are agitating when we walk or defend our country, then I consider those who make those statements, very unpatriotic."
Whether due to the improved relations over the years, or because of the recent signing of the 13 bilateral agreements between Belize and Guatemala, the 40 person expedition team was released less than a day after they were taken into custody.
Wil Maheia - Southern Territorial Volunteers
"Fortunately, for the Belizeans onboard, which is in my opinion, a blessing in disguise - there were a Cuban consulate or some top person from the Cuban Embassy who was onboard, so with their help, they were able to like quickly free the people. In Belize, I consider everybody to be equal, but the fact that we had some, I would say high profile people on the boat, I think that was kind of what led to the quick release."
Ret. Col. George Lovell - CEO, Ministry of National Security
"I believe that our action was swift and the action of our authorities may have caused them to take the action that they took."
But the activists say that if nothing else, this ordeal ought to show the Belizean Government that better efforts ought to be made to maintain a presence on the border, instead of only relying on BDF manned observation posts, manned by the BDF.
Wil Maheia - Southern Territorial Volunteers
"Our government has been promising, under both administration, to put a base at the mouth of the Sarstoon. Money was allocated. It was never put there. It's just like basically a disgrace that we Belizeans when we go to our borderline, we have to ask the Guatemalans permission to go up our river."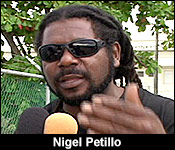 Nigel Petillo - President, BGYEA
"To you Mr. Foreign Minister, this again is having you understand that you need to come out here personally and see what's taking place and put something out there, so that other Belizean could feel safe as when it comes to walking in our country Belize. I want to know that walking from here to there, I am still in my country and I am not supposed the fear the idea of Guatemalans detaining me."

The Gracias A Dios Timeline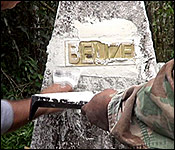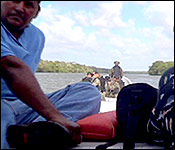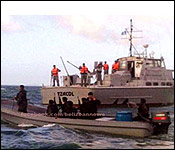 So, we've showed you the detention and eventual release, but why were these Belizeans at that location to have been taken into custody?
Well, viewers may remember back in 2013 when Toledo border activist and politician, Wil Maheia, started the "Clearing the Border Initiative". He and the organization called the Belize Territorial Volunteers started clear strategic border locations along the border, including Aguas Turbias in the north, Garbutts Falls in the west, Gracias A Dios as the southernmost point of the country, and the unregulated border point of Jalacte.
Since then, the border trips became less frequent, but on Saturday, the Northern Territorial Volunteers decided that they would place a bronze Belize plaque at the Gracias A Dios marker.
Our colleagues from PGTV sent a camera man on the trip with the volunteers, and with their assistance, we've put assembled a narrative of how the whole thing went down:
Daniel Ortiz reporting
A group of 40 persons, which included Boat Captain, Guillermo Avila; his 2 crew members; a camera man from PGTV, and the remaining being men and women from the Orange Walk Districts, got into the vessel "Dore".
After everyone and their belongings were inside, the vessel left the PG Pier. Out on the Sarstoon River appeared calm, and few miles more toward inland, the Belizeans encountered the Guatemalan military who were on a river patrol.
Some of the group socialized with the military, who appeared friendly, and very much at ease around the Belizeans and their cellphone cameras. Even though they had weapons drawn, they appeared non-threatening. A few of the Belizeans boarded their boats, and got closer in proximity.
Eventually, these 2 Guatemalan military boats allowed the Belizean vessel to continue making its way. All the while that Captain Avila piloted his boat, the Guatemalans kept a watchful eye. The Belizean vessel traveled further inland on the river for an undetermined amount of time afterwards, and eventually, the expedition arrives at the desired location, were they could no longer travel by boat.
Everyone made their way off the boat, while the ever watchful Guatemalan military kept an eye on the proceedings. With their flags at the ride, the team of 40 made their way over to the border marker on foot. After what appeared to be a short walk, the group arrived at the Gracias A Dios marker.
The Volunteers started their cleaning efforts, and shortly after, a bit of masonry was done to prepare the border marker so that the "Belize" plaque could have been placed on it.
Giovanni De La Fuente - Leader, Northern Territorial Volunteers
"As you can see we are here today to commemorate the installation of a Belize plaque on this monument and we have a group of brave Belizeans here that brave the weather, the route and thank God we have arrived safely and we are currently in the process of installing this bronze plaque that will forever let people know that this is the initiation of Belize southernmost point. So, once again, February 28th, 2015 - plaque installation ceremony, Gracias A Dios."
Robert Clinton - Participant, Northern Territorial Volunteers
"I am here to represent all the Belizeans in the diaspora who were unable to make it to the ceremony of the installation of this plaque, which will represent the southernmost point of Belize."
Another amount of time passed, and the men finally finished with the preparations on the marker, The adhesive was finally placed to stick the plaque in.
Finally, the plaque was installed, and the Volunteers made sure to note its significance with the ceremonial singing of the National Anthem.
All the time, the Guatemalan military was ever watchful, and according to reports from the volunteers, the boat captain even shared refreshments with the soldiers, to further reiterate that they all came in friendship. Eventually, the Volunteers then board their vessel, and made their way back to the mouth of the Sarstoon River, with the military following them, the same way they had come in.
Little did they know that this time, instead of being careful guardians, they had switched roles to become enforcers, who were given orders to escort them Livingston, Guatemala.

A Heroes' Welcome in OW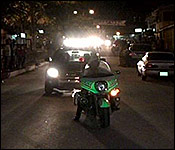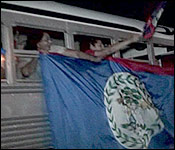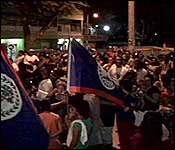 Of the 37 volunteers, all except one are residents of Orange Walk. That person is from Corozal, and late into Sunday night, the 36 arrived in Orange Walk Town to a hero's welcome, complete with motorcade and homecoming ceremony.
The media was also there, and Leader of this expedition Giovanni De La Fuente, said that even if they knew beforehand that they would have been taken into custody by the Guatemalan military, they would have still had to courage to go: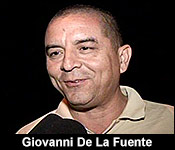 Giovanni De La Fuente - Leader, Northern Territorial Volunteers
"This reception is great. I wasn't expecting and the people of Orange Walk, they really make you feel good. We still have people that loves Belize."
Reporter
"After all what happened, would you do it all over again?"
Giovanni De La Fuente - Leader, Northern Territorial Volunteers
"We function as a part of a group and the group is already talking about returning to another border monument that is called Garbutt Falls in the Cayo District and of course, if it is their desire, we will return."
Reporter
"How do you feel to see Orange Walkenos came out tonight to give you a warm welcome back to Orange Walk after such an ordeal?"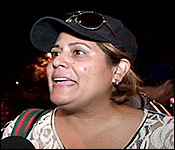 Participant
"Oh my gosh, it's overwhelming. I never felt such sense of pride. I've always been proud of my country, but tonight seeing Orange Walkenos out, makes me more proud and overwhelmed."

The De-Brief Test
As you heard in our story, a part of the welcome back in Punta Gorda Town involved the a meeting with the Chief Executive Officers of the Foreign Affairs and National Security Ministry, along with Belizean Ambassador to Guatemala Alexis Rosado, and other Foreign Affairs staffers. In that meeting, 5 key persons from the group were asked to debrief the Government officials, so that their version of events could be compared to the version which Guatemala relayed through diplomatic and military channels.
National Security CEO George Lovell told the media that from what the Belizeans have reported, a diplomatic note will more than likely be sent: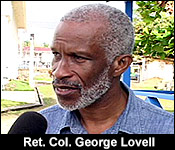 Ret. Col. George Lovell - CEO, Ministry of National Security
"The reason why we had these interviews, was basically for us to establish precisely what the facts are from the people who were out there and who had firsthand experience of what transpired on the ground. As you may have heard, we have been talking to our OAS officials, our BDF and foreign affairs officials and they themselves were relaying to the Ministry of National Security secondhand information. This was an opportunity for us to hear from our people who were at sea, who had experience the ordeal that they went through since 4 o' clock yesterday and it was just necessary that we speak to them, so that we could have gathered our facts and be able to deal with this in a very responsible manner. There are a number of things that were said, that I am very concerned about and we ill definitely as a government, have to take up those concerns with our Guatemalan counterparts. i don't want to go into the details, simply because there is a confident building measures, which speaks to protocol, in which we must follow when we address these things and so I need to first of all, brief the Prime Minister, the Minister of National Security and the Minister of Foreign Affairs on what we have gathered here today and once we have gone through that, those concerns that I have just listening to the various statements made by those who experience this ordeal out there, I will discuss those details and then there are certain actions we will have to take going forward."
H.E. Alexis Rosado - Belizean Ambassador to Guatemala

"I am very disappointed by what happened. We are still trying to clear up all the story - the full picture. But what it tells me is that we need to implement those agreements and do more to keep that level of contact communication cooperation. I think the fact that we manage to get our Belizeans back home so quickly, in fact, they could have come home last night, but because of the choppy waters and so, they decided to overnight. But the fact that we manage to get them back as quickly as possible, I think is a good indication of the communication and the links that exists between the militaries and also between the foreign ministries. That of course, without prejudice to establishing all the facts surrounding the whole situation. From my point of view, I think the most important thing is that our Belizeans are back home, they are safe and they can be with their families and friends and be at home safely and secure. I think that's the most important part. The rest we will have to deal with in due course."
This evening, the Government of Belize sent a press release, which says quote,
"The Belizean Government's deep concern about the ongoing incident was raised with senior authorities of the Guatemalan Government and of the OAS..."
"Initial reports suggest that by an error of navigation the Belizean vessel may have unintentionally entered into Guatemalan waters. These reports also suggest that the Guatemalan authorities may have erred in their judgment and placed the passengers of the vessel at risk by diverting the vessel to Livingston, Guatemala. Also the reports suggest that the Guatemalan military officials may have entered illegally into Belizean waters at the Sarstoon. The Government of Belize will be taking necessary measures to address these concerns…including the request of a joint verification exercise along with the OAS." End Quote.
The Government also warns the Territorial Volunteers saying quote, "The Ministry of Foreign Affairs wishes to caution that while there are no areas in Belize where Belizeans are not permitted to visit, those areas within the proximity of the border continue to remain the subject of an active controversy between Belize and the Republic of Guatemala. Official reports furnished to the Ministry of Foreign Affairs by the OAS reveal that the same group which organized this weekend's excursion had exactly one year ago planted palms on the wrong side of the border."
It continues,
"The Ministry maintains its view that it is…potentially dangerous for the organizers of excursions of this type to expose innocent Belizeans, especially minors and elderly, to the risk of inadvertently entering into Guatemalan territory." End quote.

Two Murders in Four Hours In Lake-I(Raq)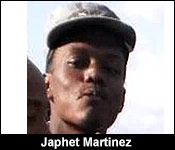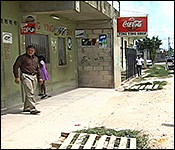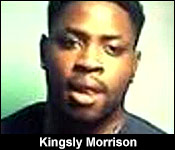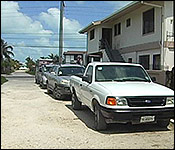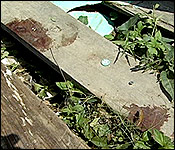 It was a very violent weekend in the city: there were two murders - and two shootings, in addition to at least two vicious beat downs.
The weekend murders are the most troubling; they both happened on Sunday night and come on top of two murders last week. And, just like the ones last week, they are believed to be gang related.
The violence started at around 6:00 pm near the complex building - and 6 hours later, two young men would be dead, with another injured. More than that, the entire large neighborhood was traumatized. Monica Bodden reports on what police and relatives are saying:..
Monica Bodden reporting
The first murder happened around 7 last night in front of this Chinese's store at the corner of Alicia Street and Estel Street. 27 year old Japhet Martinez was riding his bicycle when a man came from behind, who was also riding a bicycle and fired several shots in his direction.
Sr. Supt. Alden Dawson - OC, Police Precinct 2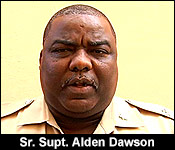 "We had two murders on Sunday in the Precinct 2 area. The first one was sometime after 6. Police was called to the St. Martins area, where upon their arrival, they learn that a young man, Japhet Martinez was riding his bicycle on Alicia Street and upon reaching its intersection with Estell Street, a male person of fair complexion rode up behind him and fired several shots at him of which most of the shots caught him. He was escorted to K.H.M.H. and later succumbed to his injury."
Reporter
"Has investigations revealed whether he was the intended target?"
Sr. Supt. Alden Dawson - OC, Police Precinct 2
"No. Not at this point. We believe he was, because he was the only person at that time in front of the shop at the intersection and the shot was directed at him."
Reporter
"We understand that surveillance footage has been recovered that would show what transpired around that time when he was killed."
Sr. Supt. Alden Dawson - OC, Police Precinct 2
"I haven't had any information that surveillance footage was recovered, but probably Mr. Romero could assist you, because he is the lead investigator in that matter."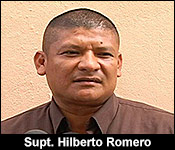 Supt. Hilberto Romero, O.C., CIB, Eastern Division
"The investigators are presently reviewing that video footage, our technicians are downloading the information and we have not reviewed all the footage…it takes time to review all the footage so they are working on that at this time."
Just 4 hours later and there was another murder in the same vicinity. This time on Periwinkle Street. According to an eyewitness, 24 year old Michael Welch and his cousin 24 year old Kingsly Morrison were sitting in the pan of this white pickup truck socializing when they were approached by 2 gunmen. Morrison was shot to the upper right shoulder and managed to run towards Mahogany Street -where he escaped. Welch wasn't so fortunate.
He tried to escape but his foot got caught between the openings of this wooden crossway. He received gunshot injuries to the chest, abdomen and leg. And eyewitness saw the gunman standing over Welch and heard him crying out for mercy.
Sr. Supt. Alden Dawson - OC, Police Precinct 2
"The police was once again called out sometime after 11 p.m., where they learnt during an investigation that 24 year old Michael Welch and Kingsley Morrison were socializing on Periwinkle Street when two persons passed by and fired several shots of which the shots caught the now deceased Michael Welch. One to the chest, one to the abdomen and one to the leg and he is, like I said, now deceased. While Kingsley Morrison remained stable at the K.H.M.H."
Reporter
"Are any of these victims members of gang?"
Supt. Hilberto Romero, O.C., CIB, Eastern Division
"We cannot say at this time. The investigators are working on that. I know the second murder, these were persons who were just hanging out at that particular area when two gun men approach and fire shots. We do not know if they are from any gang."
And even though both shootings happened in gang rivalry territory, police say they have no links to determine whether there were related. Today we travelled to Maxboro to speak with the sister of Michael Welch who believed that her brother was at the wrong place at the wrong time.
Reporter
"We know that he was a DJ and all indications are that he was innocently killed. Talk to us about him, Michael, what you know about him - why you think anyone would want to do something like this to him?"
Voice of: Monisha Welch - Sister of Deceased
"Sometimes you are at the wrong place at the wrong time and sometimes things happen."
Monica Bodden
"You don't believe that your brother was involved in anything?"
Voice of: Monisha Welch
"I know he wasn't involved in anything. I know that for a fact and everybody knows that."
Reporter
"When was the last time that you spoke with Michael?"
Voice of: Monisha Welch - Sister of Deceased
"Every day we talk. Two weeks ago he came and brought $20 for his sister and they talked. Every day we see each other, because every day I go to Belize City."
Reporter
"What is it that you would like people to remember him?"
Voice of: Monisha Welch - Sister of Deceased
"He was a jovial person and full of life. He always wanted better in life. He tried his best and he loved all of us and would do anything for us."
NOTABLY, Both Morrison and Welch were DJ's. Welch's sister told us he was supposed to start his first day working at Belize Bank today.

Mother Of Accused Man Rejects Murder Charge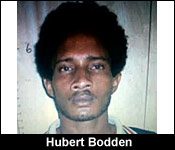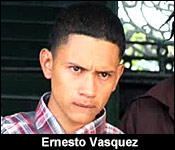 And while police have two more murders to solve, they've made an arrest for the killing of 29 year-old Hubert Bodden.
He's 19 year Ernesto Vasquez, aka "Neto", who was arraigned on the charge of murder when he appeared today before Magistrate Herbert Panton. Vasquez was remanded into custody until April 17.
Bodden was shot and killed around 2:15 p.m. on Thursday, February 26, while he was on Cedar Street, located behind Habet and Habet Hardware Store. According to reports, Bodden was mistakenly shot by a bullet that was intended for a man who had fled from the scene.
But, the family of the accused man are convinced that police have got it wrong. Ernesto Vasquez's mother visited our office about an hour ago, and she told us that police have a history facebook messages, which precise GPS and time stamps which show that he was at his girlfriend's house at the time of this murder. She says that police are ignoring the evidence, and they're jailing an innocent man. Here's her impassioned plea for his immediate release:
Gloria Carr, Mother of Accused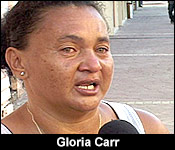 "He is clean little young boy, 19 years old and they took him to prison for a thing that he didn't do. I never knew that I would be coming next for my child who wasn't there. It hurts me because he is the only one I have. I have another son, but he has a family, but I don't mess with him as much like I how deal with my little boy because when I am sick, he is there for me. He doesn't turn me down. I trouble with my heart and kidneys - I have pressure. I am here to say that my son is an innocent child. The young man that they have right now at the "pisshouse," they haven't charge him yet and he is there from Sunday. My son is there from Thursday and today makes 5 days. Sunday they charge him for murder."
Voice of: Friend of Accused
"If you are picked up for a crime that you are said to be involved in or committed to, how would you take me to the station and then tell me that I am involved in such incident, when you found me at my girlfriend's house? For one, if I am on facebook, there is this little thing on facebook that is called GPS. It can pinpoint where you are at and if you check his facebook, it lines up with the time and your location on it. When you found him, he was with his girlfriend and he told you that he was taking pictures with her and he can show you that on his phone and they have it on paper. That should be able to tell you something, if I don't know anything about what you are telling me about. That is a clear indication that I was not involved in the said act."

Jamie Chavaria Shot (Again)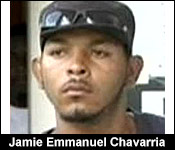 And there was another shooting of note in the city. This one happened on Saturday night on West Canal between Berkley Street and Rocky Road. Just before midnight, 26 year old Jamie Emmanuel Chavarria got out of his vehicle and was crossing the street when a gunman ran out from through an alleyway and opened fire on him. Chavarria was shot in his left arm and left side of his chest. He managed to crawl towards his vehicle and escape. He is listed in a stable but critical condition. Chavarria told 7news today that he could not recognize his attacker and he is still puzzled as to why he was shot.
Chavarria was shot in Ladyville in December of 2012 - the man he was with was murdered.

A Mexican Murder In San Victor
And turning now to the north, a Mexican was killed in the village of San Victor in the Corozal District. Yesterday afternoon at around 1:00 pm, villagers found a dead man in a pimento bungalow house. He had been viciously chopped to the face and head, and had puncture wounds on the neck and chest. Police say he was with another Mexican who is a suspect, but outside of that there are very few other known details. Here's Officer Commanding Corozal, Superintendent Andrew Ramirez:
Supt. Andrew Ramirez, OC - Corozal
"We have no other information except that the person was known as Sergio Martinez and he also indicated to the persons that he had been communicating with, that he was a Mexican national. As part of the investigation we have another individual in custody presently being interview in relation to this scenario. That person also identity has not been confirmed. Initial information is that are both partners, because he had been interviewed by the consulate as well Ms. Espat here in Corozal and also myself. Most of the information that he has indicated is basically that they are friends, as if to indicate that there is no need for him to be injuring his partner or companion."
San Victor is a major point for contraband activity - and because of that it has a close relationship with Mexico.

The Egg Hurling Culprit?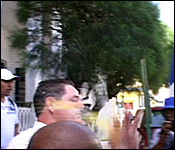 Egg on the face - that's what UDP Cayo Northeast Representative Elvin Penner ended up with last week Friday when he went to the Supreme court in Belize City. Police caught the man who stoned him immediately - and today he went to court.
He is 33 year old Allen Valencio, 33, a construction worker of Belama Phase 4. He was charged with common assault and throwing missiles. But he isn't charged for stoning Penner; Valencio was read charges of common assault upon and throwing missiles at Sylvester Maldonado, who is reportedly Penner's driver. Valencio pleaded not guilty to both charges and the court prosecutor had no objection to bail since Valencio got $500 dollars station bail when he was first detained on Friday. Valencio is due back in Court #3 until April 23, 2015.

The Harmonyville Compromise
Last week, Friday, we told you about the settlement between the Government of Belize and the grassroots organization, BGYEA about the use of the buffer area in Harmonyville. The bottom line is that BGYEA will plant their corn in other reserve lands within the community - areas that are not road reserve. It appears to be an amicable resolution, but BGYEA's president, Nigel Petillo, says that Government caused them to lose $30,000 in preparation of the buffer zone, which they would seek help to recover:
Nigel Petillo - President, BGYEA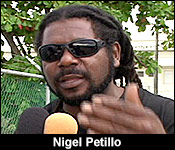 "To be honest with you I still feel as if though we are still being held back to a certain extent. First of all this whole thing about no trespassing. You need to keep that in mind. This wasn't about us trespassing. The government was actually looking for a way to hold back BGYEA - to halt all explorations and all our initiatives. Dragging us back and forth in court for almost a year, without actually sitting down and say let us really address the idea or the reason why you wanted to plant corn and I'll have you know, one of the main reasons we needed to plant corn was we need roads. We need road in Harmonyville. You can't expect much from a community without infrastructures and so the government decided to then to negotiate with us - to say that they are willing to drop all charges if you will do this and that. It was a bogus charge, to come up with the idea of trespassing when we are actually partners with the government when it comes to managing this land. We have a stake there and to say well. Not allow us from cultivating something such as corn in this buffer space, then it says a lot."
"However, through the mediation process, we have agreed that the said land and we have never really disputed that, that the buffer actually belongs to the government of Belize. As a community, we were made to understand that we are managers of that land by the Commissioner of Lands and so we proceeded with our initiative, which was to cultivate the buffer zone with a 3 month crop such as corn and in return, we could have been able to maintain the buffer zone and even make extra revenues off of that to sort of develop our community and build roads. Certainly, I am happy that we got over that and it's time for us to move on. We could have probably been on our third crop now, but they have allowed us to cultivate some 60-75 acres of public spaces that we have within Harmonyville; the cemetery, parks, playgrounds etc. and those add up 75 acres of land. So, we are preparing and getting ready to clean those lands and proceed as far as planting corn again, so that we could make this money and try build some more roads. Again, we are still in a situation where we still need assistance. We are still asking that you consider or perform your duties."
Petillo wants to negotiate with the government over the lawyer fees BGYEA incurred because of the lawsuit.

Man Viciously Beat Up For Defending Daughter
A man was viciously beaten up on Saturday afternoon in Belize City. 42-year-old Wood Carver Oscar Williams, was walking on Southern Foreshore along with his 13-year-old daughter when a group of men in front of an abandoned concrete started throwing cat calls at his daughter. Oscar Williams approached the six men and that's when they put a vicious beat down on him, knocking him unconscious and bursting his head in various places.
Police say he is in a Stable condition. Police have not arrested the men.

Man Perishes In Southern Blaze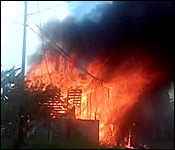 A senior citizen perished in a fire in Dangriga on Sunday afternoon. 65 year old Telma Lewis left her house on errands while her disabled 61 year old husband Alvin Dale Lewis stayed home. But shortly after she left - she had to run back home because the 14x20 two storey wooden house had caught on fire. It burned rapidly and by the time fire teams arrived, Lewis had already perished. Initial investigations revealed that the fire started from downstairs. The house was valued at $17,000.00 and was not insured.

Get "Eeena It" For Election Day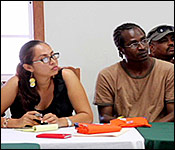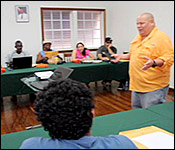 This year for the 2105 municipal elections Chanel 7 and KREM are teaming up once again. We've been doing this since 2003 - which we called the moment. Then in 2006, it was "turn it up," "08 Now" in 2008, the big test in 2009, the verdict in 2012, and for 2015, we are going to be eena it. The team of more than two dozen national correspondents had a preparatory session at the ITVET building in Belize city on Saturday and Mose Hyde and Jules Vasquez told us what the coverage intends to do:..
Mose Hyde - KREM TV/Radio
"The municipal elections 2015 is filled with intrigue and it demands maximum fire power and so as it has been in the past, the resources of Albert Street and Partridge Street come together - manpower, the expertise our journalists, technical expertise, to really make sure that the length and breadth of the elections is completely cornered and surveyed and then delivered into the home of our listeners and viewers."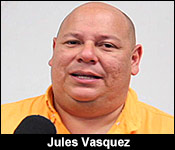 Jules Vasquez, Ch7
"Why we have this every time, this particular meeting is because its "expensive" and it puts a lot people... people come from PG, from San Ignacio, people put themselves out of the way, through away they whole Saturday. But why it is important, because at these meetings, we believe a certain synergy, because on election day for the coverage to work, we need an alchemy of some sorts - all these personalities, all these ideas, sort of coalescing into a magical mix of information and to some extent entertainment and that's what we intend to do in this election, to have all these 25 people that are in this room today and there are a few others, jump off a building and learn to fly."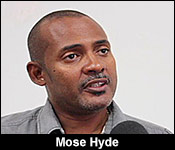 Mose Hyde - KREM TV/Radio
"So, everyone is going to be "eena it." The listener and the viewer wants to know what's happening, they want to get the latest count, they want to get the latest analysis and there is no better place to go than the "eena it" coverage that is going to be brought to their homes via the merger of KREM Radio/TV and Channey 7."
Daniel Ortiz
"There will be other broadcast on that day obviously. Why should the viewer tuned in to make sure that they get this coverage?"
Mose Hyde - KREM TV/Radio
"Really, I don't know of any other broadcast. Really, I don't know, but maybe there is another one, but sure as heck, I think it's only one bro. I'll be honest with you, there is only one - "eena it"."
The coverage starts at 6:00 am on Wednesday and it will be simulcast on KREM radio, KREM TV and Channel 7.

Gilroy Shuts Up The Press
Gilroy Usher - he's the PUP's Standard bearer for Port Loyola - and when he called a press conference for this morning two days before election we were very suspicious. But, bia text message, he told the media, it was non political - there wouldn't even be a political shirt of flag in sight - he was appearing as a regular citizen. Now, when a politician tells you a story like this two days before a major election, you know that he's trying to run a game on you. And we were right - Jules Vasquez got to the bottom of it:

Hon. Boots Goes Off On Gilroy
And what did his opponent Anthony Boots Martinez have to say about the press conference? Well for starters - he criticized Usher on his lack of experience in politics and ridiculed him for having the press conference in the Queens Square area instead of the constituency he is running in- Port Loyola. Here is how Martinez put it:
Boots Martinez predicts that he will beat Usher by a margin of over 800 votes.

The Street Sweeping Stunt
While Martinez says Usher was completely lost, he, on the other hand, says he was exactly where he was supposed to be today - visiting residents in Port Loyola. Now, usually, politicians would blatantly deny any attempts at pulling off political stunts - two days before an election. But when we caught up with Martinez and his supporters on Jane Usher Boulevard, he told us quite candidly, that he has no shame in admitting that it is one of those stunts but that it comes with the territory.
There were about 50 supporters accompanying Martinez today. Usher had 30 people at his press conference, but he told us those were just good citizens, not supporters.

Who Will Be PG's Mayor?
In two days, residents of Punta Gorda Town, like the 8 other municipalities, will pick their municipal leaders for the next 3 years.
Now, you may know of the financial difficulties that PG has been experiencing under a PUP Town Council. Nontheless, Mayor Anthony Fuentes believes that he can convince the PG voters to give him another term even though the UDP Central Government will still be in power for most of this new administration: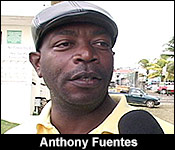 Anthony Fuentes, Mayor - Punta Gorda Town
"The Punta Gorda Town Council, since being elected on the 7th March, 2012, have been diligently working from day one. The difficulty that we have is that we are operating a UDP central government which is more than hostile to the Punta Gorda Town Council, but nevertheless, through the efforts of both myself and the other councilors, we have been working and getting assistance from people from America and they have assisted us tremendously, which would be the other way around. The government of America of America should help Belize government and Belize government should help the Punta Gorda Town Council. They should also respect the decision of the majority of the people that went to the polls. I keep on saying that they are not only hurting Anthony Fuentes as the mayor, but also their UDP supporters who supported them on March 7th, 2012. So, they are hurting the people of this municipality, which is unfair, because people down here also pay taxes and we deserve a fair share on the country natural resources."
Daniel Ortiz
"How do you respond to those who say that while you've done, it's not enough and you don't deserve a second term?"
Anthony Fuentes, Mayor - Punta Gorda Town
"We will always have these types of people. The bibles says, those who have eyes, let them see. And of course a number of them have criticize me, but I always tell them, the best revenge is success and I continue to do good for the benefit the citizens on Punta Gorda Town. I am from here. To date, this municipality brags about a credit union because of me, the Toledo Teachers Credit Union, which is benefitting thousands of people."
Border Activist and member of the People's National Party, which often allies itself with the political Party, Vision Inspired by the People, (VIP) believes that PG should elect him as mayor. His reasoning is that over the years PG has tried both the PUP and the UDP without getting much results: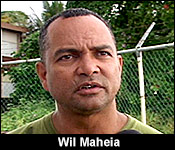 Wil Maheia, Mayoral candidate - PNP
"People of Punta Gorda see that this town has been neglected. Both persons who are running for mayor, the PUP and UDP, they are elected and like in the UDP case, Ms. Fern Guiterrez, her government is in power and there is not one job that could be pointed to that she has created or Mayor Fuentes. I could tell you right now, myself, lobbying for jobs to come to Punta Gorda. I am the founder of TIDE which hires over 30 people right now. So, that's just one example where I have already brought jobs to Toledo. The BelCampo investor, I am the one that lured them to Punta Gorda and hires well over 100 people and so I am looking and fighting for Punta Gorda, for jobs to come to Punta Gorda and I hope that the people of Punta Gorda realize. I think they do, despite the fact that the Petro Caribe money is flowing right now - it's a temporary thing and I think people hear are familiar with the phrase of "one day belly full, no fatten maga dog" and I think that's what the people are thinking right now. They realize that have been taken likely for too long."
The other candidate in the mayoral race is UDP's Fern Gutierrez, presently the only elected UDP councilor in that town, who now wants to be Mayor. She told us yesterday that residents should choose her because she brings new ideas, as well as the ability to dialog and collaborate with the UDP central Government:
Fern Gutierrez, Mayoral candidate - UDP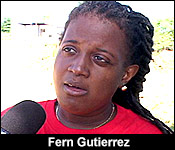 "I've always been a solemn member of the United Democratic Party, but my decision to offer myself as the mayoral candidate for the party springs to my connection with my community. I believe that we need to be the change we want to see in this world and so, as the young adult in our community it's important that we get prime leadership and I believe it comes with the correct people. The main things that I will be able to offer is: do we approach the leadership, meaning that it's not about Fern Guiterrez, it's simply not about Anthony Fuentes, it's simply not about Will Maheia, UDP or PNP. At the end of the day after elections, it's about working with my community, making sure that Punta Gorda is first and foremost and the fact that I am directly committed to my community. I am from Punta Gorda Town, my desires, my roots is directly connected to this community and I want to see it grow and transformed. And last and not least, the fact that central government at this point is Unite Democratic Party and our ability to network with central government, to work with the business community, to work with the skillful persons in our community, to look for funding outside of Toledo and to galvanized change in our municipality - is what I will be able to offer."

PG Mayor Defends Record
One of the things which may come to the minds of the PG voters on Wednesday is the fact that their town hall was having so much financial difficulties that The Ministry of Local Government had to send in a financial controller to manage their affairs and allow the Town Council to keep functioning.
The mayor maintains that he did the best that he could with the financial resources he had:
Anthony Fuentes, Mayor - Punta Gorda Town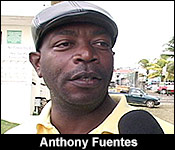 "Finances at the town council during the month of November/December/January/February and so on are very healthy, because we collect our property taxes, trade licenses and so on. But leading on April, May, June and so on it becomes very difficult. Being a municipality where there is less jobs down here, so we have difficulty collecting our property taxes and with that then we have difficulty providing certain services, because the trucks are not new garbage trucks that we have. They were donated to us. The compacter was donated to the Punta Gorda Town Council by Mayor Richard Daly nearly 10 years ago and from time to time it will go bad, work will have to be done on the truck and so because we do not have jobs, people do not come in and pay their property taxes, then the council have difficulty with finances. However, if it was a UDP town council, the government would have bailed out that town council, but because it is a PUP town council, while they want us to look bad in the eyes of the general public and so, they assigned Mr. Hinds from Punta Gorda Town, who is a native of Punta Gorda Town, to be the financial controller and so they have pumped in additional money in Punta Gorda Town Council, of which if I had ask them before Mr. Hinds come here, they wouldn't have provided me with that additional finances."
According to Fuentes, he had to pay off an overdraft facility and a loan which was made by the previous town council.

They Hurt The House Of Culture
On Sunday February 22nd, the San Pedro House of Culture was burglarized. About 20 artifacts were stolen and none have been recovered. Some of those artifacts include a range of Conch shell jewelry and ceramic pieces. According to the Director of the Museum, Sherilyne Jones, this burglary is a harsh blow to the House of Culture and more importantly to Belizean heritage.
The House of Culture was recently opened in November of last year.

Making Education Count
Hundreds of preschool students poured into the city streets this morning. The students along with their parents and teachers marched with banners and posters celebrating Child Stimulation Month. They began at the Constitution Park, moved along Cemetery Road right up to the memorial park. While it might seem that these students, parents and teachers are simply taking a free day to march under the sun - they say it goes beyond that. This movement is really about evoking a passion for learning from an early age.
There will be a host of educational and recreational activities for kids throughout the month.


Oscar Williams Revisited
And in an update to a story we ran earlier, we didn't get to air the file footage we have of Oscar Williams - who was badly beaten by 6 men while trying to defend his teenaged daughter. This is from our archives in 2005. We'll have more on the story tomorrow.

Home | Archives | Downloads/Podcasts | Advertise | Contact Us