Police Force Cayo Cop To "Come Again"; Danny's Killer Was Not (Necessarily) A Guatemalan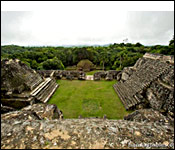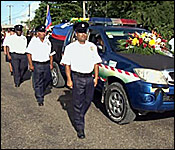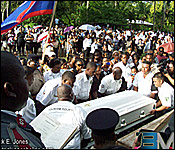 The funeral service for 20 year old Police Special Constable, Danny Conorquie was held yesterday in his home of Georgeville village. Conorquie was killed on Thursday at the Caracol Maya site, and the perpetrators are believed to be Guatemalan poachers - who were in the area illegally and cutting trees without a license. Police investigators are working on the theory - and it is a very disturbing one - that Thompson was killed merely as an act of retaliation against the state after a team of Belizean lawmen confiscated five horses and lumber form them earlier that day. Police say that Conorquie likely didn't have anything to do with it - but still was targeted for attack because he only had one other officer with him.
So, Conorquie, who was assigned to the Tourism Police Unit, died doing his job, protecting 12 tourists and a guide who were on the site - without a BDF escort that day because the soldiers didn't have any working transport.
Nationally, it's very heavy: a Belizean lawman - the first - killed by Guatemalan cross border bandits; but for his family, the weight is so much more: They lost a son and brother just as he was coming into adulthood. Yesterday afternoon, Danny, who aspired to be a full police officer received a police burial in his home village of Georgeville. Police from Cayo and the Tourism Police unit carried his coffin draped with the Belizean from the funeral service to a waiting police pickup. There was a procession on the Western Highway with a police escort, and a cordon of police officers. Senior police officers were also in the procession.
They escorted the body to the village cemetery where fellow lawmen lowered his body into the grave - followed by a gun salute. At the funeral, Officer Commanding San Ignacio, Superintendent Dinsdale Thompson gave his farewell to the group. Like everyone else, he had only good things to say about Conorquie:
ASP Dinsdale Thompson OC, San Ignacio Police
"He said boss whenever I return from Caracol I want you to write a recommendation for me because I will go and join the next intake. I tell him yes Danny I will surely write that. I would have been in deed a pleasure to write a recommendation letter for Danny without any hesitation, like what his cousin a person with great quality, so Danny wanted to join the Police Department in the next intake that is coming very shortly. Whatever many people have said, Danny is indeed that type of individual that we know at the Police San Ignacio Formation. He will be greatly missed by the police department, by his family and the entire members of the police department and the Commissioner of Police, the CEO of the Tourism Unit. They will definitely miss him greatly. We have not just lost a special constable, but we have lost a great man; someone wonderful that we can in deed looked at as an icon for being a right standard of relating to the public. The right way of how to address people. He would many times come to my office along with Cpl. Young from the Special Branch in San Ignacio and other officers and said boss I want to borrow your gun, we are going out on a mission and would say here Danny go ahead. Whenever he comes back he would tell me all what he did. Danny was always committed. One time I gave him an assignment and later on I called him and ask if he had finish the assignment, he said no boss because an emergency came up with the other officers and I had to go. I said okay, I have trust in you and I know that you will do it. And when he came back he said I did it boss. He is indeed like what his mom was telling us that Danny would not give up."
And in that same address, Thompson took the opportunity to speak to the grieving friends and family about the progress of their investigation. He declared definitively to everyone that Conorquie was killed by a Guatemalan:
ASP Dinsdale Thompson OC, San Ignacio Police
"Now the issue pertaining his death in Caracol, we have done all that we can do in relating to investigation. Our officers went out there, we have done interviews and are still interviewing some more persons in relation to who have seen and have heard certain evidence that we can put together and what we have concluded with our investigation that it is not Belizean, it is not any other Central American but Guatemalans that did this. It is more than time for us Belizeans to raise up when it comes to those who want to just come upon our soil and take our lives or take our possession in the way that they are presently doing it. Tomorrow I understood that there is taking place a rally, a demonstration in support of the family, in support of peace within the country on Belize saying that we Belizeans we are tired of Guatemalans coming here and just intruding upon our lands and taking our lives, taking our substance just for the sake of taking them how they want. Danny life for sure we are celebrating, but it goes towards saying that it is time for us to rise up because when we see that other nationals coming in from other countries and killing the citizen of Belize, not only citizens but law enforcement officers - then it is saying something that we need not sit down anymore and allow activity or such type of behavior by foreigners upon this land no more, so as I said we are continuing our investigation and we won't leave any stone unturned and know for sure that our diplomatic part will be kicked in in relating to this to bring about the individual or individuals who have cause the death of Danny to persecution here in Belize."
Today, there was an un-precedented reversal of the position. 24 hours after he said it, and it made national headlines, the police press office issued a statement from Officer Thompson saying, quote, "I am hereby retracting what I had said publicly at the funeral. I would like to now say that we have no evidence to prove that the culprits who shot Danny Conorquie are from Guatemala."
If you're saying "wow!", so were we. But that sudden, sharp and rather embarrassing reversal is an effort on the part of the government to de-escalate tensions with the Guatemalans. This is much to the dismay of Conorquie's family who told the media on Friday that they were enraged by the comments of Foreign Minister Wilfred Elrington who cautioned against calling the culprits Guatemalans without certain proof of that.
But, there's only so far you can go with that because anyone who knows even a little about that area five kilometers from the Belize - Guatemala border knows that armed Guatemalans are all over it, and engaged in multiple illegal activities.
Today Prime Minister Dean Barrow issued a statement, quote, "There are reasons to believe that Guatemalan nationals may be responsible for the shooting and this has been communicated to the Guatemalan Authorities and the OAS. The Guatemalan Foreign Minister expressed his government's regret over the death of the Belizean Special Constable and offered full collaboration in the effort to bring the perpetrators to justice."
The statement also says quote, "The Prime Minister has spoken personally to Special Constable Conorquie's next of kin, and offered every assurance that the ultimate sacrifice made by this Belizean hero will not be forgotten....the Government commits to looking after the financial welfare of his immediate survivors." End quote.
The statement adds that "Every effort will continue to be made to strengthen the security arrangements in the border areas."
On Friday the BDF launched Operation Incisive Gallop 2, to clear illegal border incursions along the Chiquibul Forest.
During the last operation by the same name in May of this year, a total of 25 fields covering 125 acres were discovered and destroyed.

Matura Shepherd Leads Motorcade and Protest For Constable Danny
But even though the Prime Minister has expressed condolence and the BDF is moving into the area, a number of pressure groups and organizations say that they will go ahead with a protest they had planned in Danny Conorquie's name.
One of the main personalities behind the protest is CWU President and attorney Audrey Matura-Shepherd. She told the media this morning that you should come out and show your solidarity if you are outraged about how Conorquie lost his life:
Audrey Matura-Shepherd, President - CWU

"It is an effort being organized by the people of San Ignacio namely The Belize People Front and a lot of other NGOs and entities and with the support of the family of Danny Conorquie. What is happening is that they will meet at 9am by the Macal River Park and from there, there will be a motorcade to the border. We are trying to secure a space where the protest can occur by the OAS Office or it will be by the park that is being negotiated with the authorities by the parking lot if anything. But the thing is that we are going to the border. Why are we going to the border? Simply because we want to know that it is a border issue we are dealing with and our government needs to take heed of it. It's not to irritate anyone, it's not to upset anyone, but it is being symbolic because what we are having are border incursions and incursions which our government definitely know has been occurring for years and that it has been escalating in recent times. They know it because they have all the security meetings/briefings with the parties over the Guatemalan side, Mexico, all over. They know that this has been happening. There have been several shooting before at our security personnel near Caracol, but none has led to a fatality. This one that lead to the fatality is only now bringing to the forefront the fact that what the authorities know, but what the general public didn't know and that is why we are going to the border. It is supposed to be peaceful and symbolic and we want people to take their flags out and take a stand. You have to take a stand, stop complaining on Facebook, stop complaining in your house and just grumbling in your workplace - take a stand. It has to be that your government this is serious. Imagine, this young man died in the line of duty; he was executed in the line of duty and we don't even see our flags flying half mask. We don't even see our people crying out and protesting. Don't they realize what this means? So there are some of us with a social conscience and the people from San Ignacio as usual have asserted themselves and are making the first move."

Contempt Heaped Upon Hon. Elrington
But, the first Government official who urged caution and restraint about the Conorquie murder was Foreign Affairs Minister Wilfred Elrington.
The cautious position was maintained in an official release from the Ministry of National Security who referred to the culprits as "Hispanic males."
Today, when asked about it, Matura-Shepherd called out Elrington, suggesting that his handling of this delicate situation is trivializing the significance of Conorquie's death in the line of duty:
Audrey Matura-Shepherd, President - CWU
"There should be more than an apology. I have not yet even heard a public condolence issue. I have not even heard anything that they say they will improve their training, they will give them better support. I have not heard anything. I haven't even heard compensation to the family. I have heard nothing. There should be more than apology and to this nation and the minister of foreign affairs better be re-track his mad statement that he docent believe its Guatemalans or the evidence doesn't bear it. So is he saying that the police, the BDF and the special constable are lying?"
Today, Matura's Christian Workers Union sent out a release saying the rally and motorcade starts tomorrow at 9:00 am in Cayo.

Bail For Bahamian Securities Traders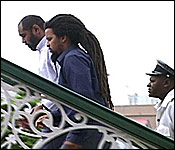 Bahamian securities traders, Rohn Knowles and Kelvin Leach, have been on remand to for over 3 weeks now, since Belizean authorities picked them up when they tried to leave the country on a chartered flight. Well, as soon as they meet a 100 thousand dollar bail, they will be free to go.
That was the decision that Justice Denis Hanomansingh made this morning after hearing arguments from their attorneys and the Solicitor General's Office.
Senior Counsels Godfrey Smith and Eamon Courtenay argued that Belizean authorities have been illegally detaining them since their arraignment for the financial charges, for which they were granted bail.
As we told you as soon as they were arraigned before Magistrate Herbert Panton, they were served with a provisional warrant for their apprehension, and then sent to the Belize Central Prison.
Smith and Courtenay put for detailed submissions that the Attorney General Ministry did not give Leach and Knowles their opportunity to be heard by a magistrate on this provisional warrant of arrest.
After hearing from the new Solicitor General, Anita Jackson, Justice Hanomansingh found that the Attorney General's Ministry did not follow the proper protocol and violated the rights of the Bahamians when they were not presented before a Magistrate.
He was particularly concerned that he couldn't find any Magistrate's orders in the documents presented before him that the men had been denied bail after being given their opportunity to plead their case.
Outside of court, we spoke to both of their attorneys about the outcome, and here's what they told us:
Godfrey Smith, attorney

"The reason he did so was that he came to the conclusion based on arguments that the process was defective, that the government misunderstood their powers under the extradition act and just grab the men and sent them off to Kolby Prison without giving them an opportunity to challenge the basis of the provisional warrant for arrest, to make arguments to bail or any such thing, so he was oblige to grant bail."
Reporter
"The sum of $100,000 each, can you explain how this was derived?"
Godfrey Smith, attorney
"It's a matter for the discretion of the judge. Yes it's a steep figure but that a part I supposed the judge had some averments to the fact that it's an extradition related matter and so on."
Eamon Courtenay, attorney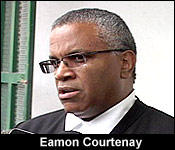 "What we have here is an unfortunately, and I guess the judge upheld it, an application of the treaty completely outside the law. You cannot pick up people on a warrant that says bring them to me meaning the chief magistrate and just decide to take them to Kolby, so we pointed out to the judge first of all that that was wrong. Building on that we made the point to the court that we are not even sure that these are extraditable offences and before the magistrate can issue the warrant, she has to be satisfy that they are extraditable and that is why a hearing has to take place for that to be done. That was not given to our clients and there was the argument that where are here guys going to go? There are Interpol alerts for them, they can't leave Belize. If they go to Bahamas there is an extradition treaty there and we pointed out that the evidence from the government did not reveal any risk. They had to basis to say that here is a risk that these people are going to go somewhere."
But, as we've told you, Smith and Courtenay have been criticizing this extradition procedure by the Attorney General's Ministry before this ruling came down. Last week Thursday, we asked the Attorney General, and he dismissed being baseless, the criticism which the Judge says now turns out to be very substantial. For context, here are his comments:
Hon. Wilfred Elrington, Attorney General
"The matter is in fact in the process of going through the motions for extradition."
Daniel Ortiz
"Sir, the attorneys are arguing that without the actual requests, the formal documents which says that the US government wants these men. Your Solicitor General's office and government attorneys are pre-empting the process, thereby doing the work of the US government for them locally."
Hon. Wilfred Elrington, Attorney General
"I with my own view would be to dismiss that suggestion out of hand because before I left last week I called in the two attorneys who were dealing with the matter and I told them of the importance of being very circumspect in dealing with all matters that come before us. They are not supposed to do anything out of what is prescribe in our law. They can't pre-empt any action, they can't act because they think that in fact the United States will like to have this happen. I advise very strenuously against that and I am sure they would abide by their advice, so I would not entertain this suggestion that in fact they are jumping the gun, I am pretty confident that they are acting very properly in what they are doing."
The conditions of the bail is that the men must report to the Queen Street Police Station every Monday and Friday until the extradition proceedings are completed. Additionally, their travel document, which were confiscated by the Financial intelligence Unit, will be handed over to the Clerk of the Magistrate's Court.

Strong Complaint Of Abuse Against GSU
Early on Saturday morning a GSU officer on motorbike was knocked down on North Front Street while on duty. That apparently sent the hard charging unit into high alert mode - as they looked for the culprit - reported to be driving a pickup. The led them to pull over Allan McCoy, a mechanic who was leaving MJ's nightclub on West Collet Canal. He first saw an unmarked vehicle pull up - and he thought someone was trying to rob him. But it was the GSU - and he says they later fired shots in the air as he was trying to escape. They eventually forced him to pull over - and he told the media today that's when they put a beating on him. He explained the encounter in detail to us:
Allan McCoy, Claims Police Brutality
"Two of them grabbed me and threw me to the ground and handcuffed me; one of them put his knee in my back, on my shoulder blade and the other one or the same one, slap me on the back of my head and I told them that this is uncalled for because I am not resisting arrest in any way. Anyway, they ask where I was coming. They said, you know what you just did and I said no, please explain to me what you are arresting me for because as far as I am concern I was at MJ's bar and I've been there all night and I have proof and if you want to know just go over there. They took me back to an accident scene. On the ride over there, the two officers; a male and a female, two of the assaulted me several times in the back of the truck. The officer was in the back of the pick-up truck with me all the while, he got back in the truck and he started to punch me in my belly and in my ribcage. He punched me a few times in my head and in my face, but the one that got me upset was the one that punch me in my face. When they finished their first wave of assault they had on me with those officer, several of the GSU's came on the scene one by one and they started to hit me in my face, everyone took their turn. When the second wave started again the same officer who was beating me the first time, he jumped in and started to beat me up again. By this time one of the officer had already punched me in my face and it cut underneath my eyes and swollen up my entire face side. Then the female GSU took out a long rod and started to strike me in my chest like I was a fish - with a metal rod you are striking me in my chest, which really hurts."
"Mark Flowers came on the scene and because I know his face, I know him from Facebook, I said Mr. Flowers, this what you are doing is wrong. I told him come on, I am not a criminal and you guys supposed to know who I am. I told him that I recently worked on a vehicle for you. He said shut, I know it's you, you don't need to tell a lie, we already know it's you, we are watching you. I told him that you guys have the wrong person. I saw him approach me from the back coming at an angle and when he reaches behind me he slaps me in my head. I spun around and I saw that the person who slap me was the only person standing behind me with his hands still in the air was Mark Flowers. So I can tell you all and everybody out there that Mark Flowers condones abuse and violence by the GSU. The female officer even told me while she was assaulting me that I must tell her the truth, tell her that I did it, if not they will kill me. She said that we will kill you if you don't tell us that you did it and I told them if you all want to kill me, go ahead because all you all will be doing is killing an innocent person, I have nothing to do with this. I said you all are accusing me wrongfully. She said that you will die tonight."
"A little after that police officers came on the scene and that is when everything stopped. When the officer came, he ask me if my face was due to the accident. I told no, it is compliments of the GSU, so he ask me why and I explain to him and I told him where I was and ask him if he could please go and verify my story before. So he went over and he verified it, he said I got your story from the owner, from the security that everybody says that you had just left from there. All that confirmed to me that everything for that night was bogus and the GSU acted irresponsible. These guys literally took the law into their own hands, became judge, jury and executioner and at the end of the day it is me that suffers."
"Up to yesterday my whole face was swollen up, probably you could see that it's still swollen. I have some bruises over here. My chest up to yesterday hurts. I can't sleep at night because I have these injuries. I also have an injury in my back; when I lie down on my back it hurts. This is inhumane. This is dictatorship. What you all are doing. What kind of country we are living in? This is a barbaric action. They don't realize that when they go out there and abuse people, that's what they are doing. These people on the streets know about violence and you are bringing back violence - you are not teaching anything new. You are teaching them the same violence that they already knows."
We tried contacting the Commander of the GSU, Inspector Mark Flowers but he did not respond to our requests for comment on the complaint generally and the specific allegation against him.
McCoy has made official complaints to the Ombudsman, and the police professional standards bureau. He says he plans to sue the police department.

Police Accused of Outrageous Abuse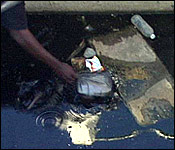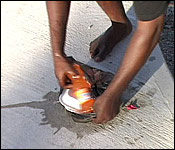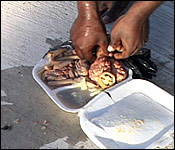 There is another credible complaint of police abuse that came to our newsroom today.
22 year-old Tremane Ciego is furious because he says he was beaten up and robbed by police last night. He was heading home on North Creek; the gas station attendant had his entire week's pay on him after cashing his cheque, and he went to buy food at around 11 o'clock.
He says that when he arrived at the intersection of Central American Boulevard, he was stopped by 2 police officers. What happened next, if true, is outrageous by any standard. He says that one of the officers pulled a gun and brutalized him. He then kicked him into the canal, and after the officers released him with no charge, they stole several hundred dollars from him. While explaining the entire encounter, he was so furious that at times, he could barely talk, but he walked us through the entire ordeal. Here's how he described it:
Tremane Ciego
"He punch me in my face and I fell like this on the ground and he beat up me down here on the street. When I pick up my bike I ask the man where is my money. The man says that he doesn't have any money to give you because you will die right now. The man put me down here on the ground and he stomp me in my chest and that's why my chicken and my juice is right there in the drain. I can show you my chicken and my juice down there; a soft drink and 4 chicken legs - I'll show you. They beat me bad down there for no reason. The officer told me to raise up my hands and I did and I told him that I didn't do anything. It's not like I was fighting against him or something like that. The police mobile came and the sergeant (I don't want to call the sergeant's name) save my life because I already knew that the officer would have shot me right down there. The officer told the sergeant that he will kill me, that I am lucky. After that I went to the station and the officer was still threaten to kill me. He told me that when he meets me out here off duty that he will kill me."
Daniel Ortiz
"How do you know that this man was drunk?"
Tremane Ciego
"You could have seen. As he pointed his firearm he was trembling. I can show you my police record, I don't have a criminal record. I went to buy a six dollars leg and an orange juice and a stout that I was drinking. The officer felt that I was drunk and that's why he searched me and when I told him about my money he told me that he will kill me and then he stomp me in the drain and that's why my chicken and my juice ended up there. I work hard for my money. I go to work every day. I am tired of this. He passed my house every evening and in the morning. He sees me and he knows me. When I ask him for my money he says that he will give me a run. He crack the gun in my head and tells me that I will die."
For the record we note, that the police record he showed us, which he recently got to apply to the BDF as a recruit, shows that he has a clean criminal record.
Ciego has made an official complaint to the professional standards branch, and police sources told us that 2 police officers have been detained.

A Fortunate Weekend: Two Men Shot In Execution Attempts, Both Survive
Two men were shot this weekend; luckily they both survived.
The first shooting was on Friday night after 10:00 near La Democracia. 21-year-old Joshua Daniel Martinez and his 16 year old sister had just alighted a Shaw's bus at the Democracia junction on the Western Highway. They were sheltering from the rain under the bus shed, when three men walked up and one of them fired six shots at them. Martinez was hit on the right arm and back. He is in a stable condition at the KHMH. Police have since arrested 20-year-old Adolphus Palacio of Mahogany Heights pending charges.
And then three hours later in Belize City, at 1:40 am on Saturday morning, 30-year-old Joseph Debride of Lucky Strike Village opened the door of his house on Curassow street, Belize City but a gun man was lurking. He came up from behind and shot him three times: once on the right side of the neck, one in the back, and once on the right leg. Police were quick to respond and arrested a 17-year-old from Lakeview Street for Attempted Murder, Dangerous Harm, Use of Deadly Means of Harm and Kept Firearm without a gun License.

A Cobweb Of Cables Strewn In Street After Truck Snags Phone Line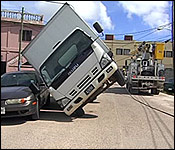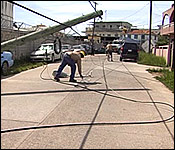 There was a bizarre accident this morning at 8:45 - the likes of which we've never seen. It happened on Evergreen Street behind BWSL Headquarters in Belize City. A Grace Cargo truck was rolling on the paved Street - when the top of the trailer got snagged by a low lying cable across the street - one that looked to be a phone wire. The driver says he kept rolling, trying to slow down, but the first snag, caused all the wires to get lower, and that's when another thicker wire caught the truck, pulled it backwards and eventually almost tipped it over, causing it to lean precariously on three wheels, toppling unto a parked car - which kept the truck from falling over unto its side.
And while that mini disaster of the cargo truck completely crushing the car was averted - it was a complete disaster on the street: the tension on the wires and the forward momentum of the truck snapped a lamppost causing it to tumble to the street at a right angle. From there it was like a domino effect with wires from BEL, BTL and the Cable Companies coming undone in chaotic fashion - leaving a cobweb of cables across the street.
It caused a 9 hour blackout, traffic blockage and major headache for the utilities - mainly BEL which had to untangle the mess and get the cables back up. A late evening report from BEL says that power wasn't restored until 5:10 pm because customers on five streets connected to three transformers were affected. BEL crews replaced damaged poles, power lines and equipment. The driver appeared to be not at fault since the phone line was hanging too low for a minimum clearance.

Brazen Daylight Robbery of Marlboro Store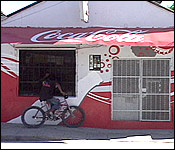 Yesterday afternoon, a Chinese Businesswoman and her husband were robbed in a brazen daylight robbery at their shop on Freetown Road.
3 men entered her shop through the backdoor, held them up at gunpoint, assaulted them, and robbed them $6,700 worth of cash, electronics, and personal items, and fled the scene.
Police say that the couple were cooperating, but that didn't stop the gunmen from striking the husband in the head with the gun:
Rafael Martinez, Police Press Officer

"On the 28th September at about 12:45pm we had 3 male persons that went to #34 Freetown Road Malboro Shop owned by Belizean-Chinese business persons and they were held at gunpoint and robbed of electronic items and cash of over six thousand dollars and of course they guys they all took off and so far police have not gotten any one of them. We have not detained anybody, but we are following several leads regarding this robbery."
Police are investigating but they have no leads at this time.

Heroes Of The Seas
On Saturday, OCEANA awarded two persons they call OCEAN Heroes, coral researcher Lisa Carne and Manatee expert Jamal Galvez for their efforts in protecting the marine environment. If you watch 7News you'll know Jamal well enough, but the OCEANA tram chronicled his work:…
The Oceana Hero award was established in 2009.

Taking A Look At The Injured Coast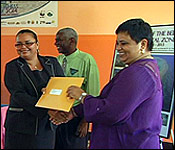 On the topic of Belize's marine life, the Coastal Zone Management Authority and Institute is hosting Coastal awareness week. Today the week of activities began with the launch of the State of the Belize Coastal Zone Report. CEO of the Coastal Zone Management Authority and Institute, Mr. Vincent Gillett discussed the importance of this report in public awareness and marine resource management.
Vincent Gillett, CEO, CZMAI
"What we want to try to do as part of that management is to inform, educate as many people as possible about many of the various things that are happening in the coastal zone and most importantly we have to collect information data. We have to relate to the communities. We have to get information so that we can use that information and put it in a particular form so that we can use to educate as I said before and give guidance to our departments or ministries as to what is the best way what we should do. Sometimes people simply are not aware of the importance of boating; where to boat, how to boat - where the reef is located and as a consequence they create run into little difficulties. While we are seeing that most of our boat captains for example are very much aware of what is happening there in terms of the location of the reef, but invariably sometimes accidents happen. So it is our responsibility to inform; we create maps; we talk about the critical areas that are on the reef; where the critical areas are where fishing takes place; what are the important sites in terms of the lobster areas where fishermen work and so on; where manatees are; where important reef systems are - all of these things are significant. They are important and it is relevant to our management and to our planned development."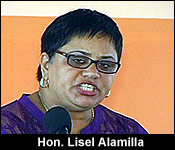 Hon. Lisel Alamilla, Minister of Forestry, Fisheries and Sustainable Development
"The launch of the state of Belize's coastal zone report 2003-2013 represents an astonishing compilation of the research outcomes and the expert views from a wide cross section of 34 Belizean scientist and their international counterparts and chronicles the dynamic state of Belize's coastal zone over the last 10 years."
To end the week they will be hosting a movie night and video competition showcase at the Memorial Park on Friday night at 7.

Alleged Shooter Remanded
In our last segment, we told you about the shooting incident in La Democracia in which 21 year-old Joshua Martinez was injured. Well tonight, 20 year-old Adolphus Palacio is at the Belize Central Prison after being taken to court after he was accused of being the trigger man.
As we told you, on Friday night after 10, 21-year-old Martinez and his 16 year old sister were sheltering under a bus shed, when three men walked up and one of them fired six shots at them. Martinez was hit on the right arm and back. He is in a stable condition at the KHMH.
Police investigated the shooting, and they charged Adolphus Palacio Jr. with attempted murder, use of deadly means of harm, and dangerous harm. Those charges alone would have been an automatic remand, but police additionally charged him with professing to be a member of the George Street Gang.
He was arraigned before the Chief Magistrate Anne Marie Smith, and he was remanded to November 11.

More Bad Luck For Arthur
And in one more bit of police news, Arthur Sadlivar's bad luck streak continued when his home in Camalote was robbed. Saldivar lives in Maxboro but says that on Sunday night at 10:30p.m. he visited his residence in Camalote and saw that inside his house was ransacked and realized that his house was burglarized and stolen were a Sony Bravia Home Theater System valued at $3,000.00, a Samsung Brand Digital Video Recorder valued at $5,000.00 and also damaged was a back-up power supply valued at $1,200.00.

Home | Archives | Downloads/Podcasts | Advertise | Contact Us