Bulgarian ATM Fraudsters Plead Guilty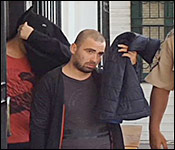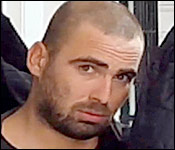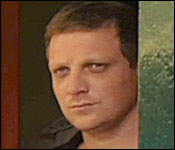 Ten days ago, we showed you the 2 Bulgarian ATM Scammers who are believed to have stolen thousands of dollars from Belize Bank ATM's from around Belize City. Initially, 25 year-old Halid Aptula and 28 year-old Georgi Petrov were each arraigned on 1 count of theft for only 500 dollars. Well today, when they were taken back to court for an adjournment, the police slapped on 17 additional counts of theft. And that's where the Bulgarians did a very surprising thing: they stood up and pleaded guilty to all charges brought against them.
As we told you they were caught on Saturday, May 7, by mere chance, after a vigilant internal auditor from Belize Bank spotted Halid Aptula in the act of scamming the Belize Bank ATM. Both men, it appears, had stolen pin numbers from persons outside of Belize. The investigation into the scam revealed that they had an interesting cyber theft scheme going on. They installed hidden cameras at ATM's outside of Belize, which captured PIN numbers of bank patrons. They then made fake credit cards, and they then came to Belize, where they used the stolen pin numbers and these fake cards to make mass withdrawals, all of which were stolen monies.
The Belize Bank told the police that their ATM's in the City had been targeted on several different occasions in January, March, and May of this year. Police investigations revealed that these men were in the country on all the dates that these fraudulent transactions happened.
Police found 111 fake credit cards in the men's hotel room along with 250 blank plastic cards. Initial court reports said that they found $2750 in cash. Well, police updated the court today that what they actually found was $21,750.
Today they were charged with 17 additional counts of theft of money, in increments of $200 to $500. On Friday May 6, and Saturday May 7, both men made a total of 18 different withdrawals of $500 or less. That's what they pleaded guilty to before Senior Magistrate Frazer today when she arraigned them. The bank is accusing Halid Aptula of stealing a total of $6,800, and they're accusing Georgi Petrov of stealing $8,000.
After both men pleaded guilty to each count, Senior Magistrate Frazer adjourned the case to consider what sentence they should get. She had to consider handing them a fine, or a prison sentence, and the attorneys for both men interceded asked the court to consider a fine because they had not wasted the court's time by pleading guilty.
When the Senior Magistrate returned 2 hours later, she informed both men that she was reserving judgment until June 8. So, both men had to return to Prison on remand while they await the Magistrate's ruling. When the hearing finished we spoke with one of their attorney's outside about the outcome: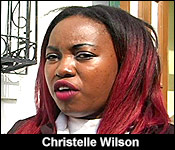 Christelle Wilson, Attorney for Georgi Petrov
"Today we had additional charges levied against our clients, bringing the sum to about $8,000 from my client Georgi and $6,000 plus for Mr. Halid. So what we did, we made submissions to the court to the effect that since the law prescribes, the summary jurisdiction offences act provides that if somebody is convicted of theft, they can be charged with a fine as opposed to imprisonment. Si our submissions were along that line that they've pled guilty, they are aiding the court in saving the court time, instead of going through a very lengthy trial and putting the bank to prove them - they have accepted liability even though they might not agree with some of the facts, they accepted liability and they are now willing to just pay a fine and go home. But as you all know today that was not the end result in the courtroom this afternoon, because the judge is reserving her decision for the 8th June."
Reporter
"Were you all surprised by the prosecution indicating that they would actually move to seized all the money and other things found?"
Christelle Wilson, Attorney for Georgi Petrov
"It caught me very much off guard, because the last time we appeared in court which was some 11 days ago, they made no indication that they were going to do any type of seizing order and they waited to hear our submissions, they waited until the judge was about to deliver her ruling to come and say 'oh just so you know I want to give you notice that we are going to be putting in an application to cease their monies and their goods under the FIU act.' I think it was ambushed to us and I am grateful that the magistrate is giving us time to review the submissions that they have made, the application and come prepared to argue that application. Because they really took me off guard when they brought that."
As you heard, the charges that both men pleaded guilty to are only from May 6 and May 7. But, as we told you, the Bank became aware of the scheme since January, and police investigation show that every time the bank was targeted, both men were in the country. But, at this time, they aren't facing any charges on any of those other occasions when the bank was targeted. Our information was that the police suspected them of stealing as much as a few hundred thousand dollars from Belize's banking system, so given that they are only facing charges for less than 20 thousand dollars, did they get off easy? That's what we asked one of their attorneys:
Daniel Ortiz
"Were they treated with leniency, because they were not prosecuted for those instances where the bank is reasonably certain that your clients were in the country and those instances happened as well?"
Christelle Wilson, Attorney for Georgi Petrov
"Well remember in these types of criminal cases, the prosecution has to prove beyond a reasonable doubt that these two persons did in fact steal monies in that timeline that they have given. So far their virtual complainant which is the bank has only produced those two dates as you rightly mentioned. So I would say that they've been treated with leniency, but they can only answer to what the prosecution and the bank is putting forth. So maybe it's that the bank has not tied up that loose end yet to say with definity who is responsible for those monies that went missing in January, February, March or whatever the date was. But they can only answer to the two dates that were put in front of them."
Daniel Ortiz
"Experienced ATM Belize Bank user tell us that you can only withdraw $500.00 at a time for each transaction. The fact that your clients have pleaded guilty to 18 attempts would suggest well-develop scheme. These are scammers who know exactly what they are doing."
Christelle Wilson, Attorney for Georgi Petrov
"Well I wouldn't say that these are scammers who know exactly what they are doing. What my clients have always maintained was that based on instructions they withdrew monies from the ATM. They are still not under the impression that it was in any way theft, because they used legitimate cards to pull the monies from the ATM. It is the bank now that is saying these cards were illegitimate cards and the accounts were not for them to pull from. So it's really for the prosecution and the bank to prove otherwise. Today, they accepted liability for going into the bank and withdrawing money. They are not saying that they did anything illegal, they are just saying yes we took monies and if you are going to fine us guilty for taking monies - we will even give you back the monies. We took these monies, we will give you back, but that's as far as they are saying and as much as I could tell the media at this point."
As we told you, the case continues on June 8, and we'll be there to tell you what the judge decides.

PUP Takes S.I. Challenge To Supreme Court
Yesterday, we showed you our interview with Opposition Leader John Briceno about the PUP'S trip to the Sarstoon River, scheduled for tomorrow. Member of the Party's National Party Council and the entire media, are preparing to go down to Punta Gorda, where they will try to get in or near the Sarstoon.
And while that is one front, on another front, Briceno and the party's legal advisor were in the Supreme Court before Chief Justice Kenneth Benjamin this morning for the first hearing of their challenge to the Sarstoon Statutory Instrument. That's the now infamous law which restricts civilians from entering the Sarstoon for a period of 30 days.
The S.I. expires next week but the case went before the Chief Justice for the first time today, and the Government's attorneys told the court that they were not ready to file their arguments, given that the date for the hearing had been moved up. So, the Chief Justice adjourned it until June 27, by which time, the Sarstoon SI will be history. So, was the adjournment a setback for the PUP? Here's what Briceno and the PUP's legal advisor had to say about it:
Andrew Marshalleck, SC - PUP Legal Advisor
"The first hearing of any claim of this nature is normally case management. It's when the court schedules' out what steps are to be taken and when in order to try the claim. But what happen here today is because of the early date that was fixed, the time for government and the governor general to file papers in defense hasn't yet expired. So that nothing has yet been filed an indication was given that they need time in order to respond to it. The date was therefore adjourned to June 27th."
Daniel Ortiz
"Was that a delaying tactic in your mind, or did that cross your mind any at all as the attorney?"
Andrew Marshalleck, SC - PUP Legal Advisor
"Yes, that's to be expected. That through for any case and we expect that by the time the hearing came on, the law would have been expired. The issues that arise from that is something we anticipate and we have to confront head on."
Reporter
"Speak to us about the grounds basically of this challenge."
Andrew Marshalleck, SC - PUP Legal Advisor
"The grounds of the challenge is that the governor general in deciding to promulgate the SI, acted outside the scope of his authority as conformed by the provisions of the public safety act, in that the trigger for making a law of this nature is that he must be satisfied that there is a risk to public safety caused by some risk of civil commotion and again we say that there is nothing that happened or that was likely to happen that would have given rise to any civil commotion which would have entitled him to do as he did."
Daniel Ortiz
"Coming back on June and if the government does not renew or extend the SI in any kind of way, will the court still be minded to hear this case, given that it will then become academic?"
Andrew Marshalleck, SC - PUP Legal Advisor
"The mind of the court will be known when they pronounce upon it. There will certainly be arguments both ways. Our position will be that there is benefit to be had in the course defining the circumstances in which powers of this nature can properly be exercised. The government will of course say that there isn't much value to be had in that and there is no practical risk of this thing happening again. So there is no point to it and it's a waste of time. Those arguments will be put and will be fully ventilated. As to what the mind of the court is, we will learn of it when it's pronounced."

Will Police/Coast Guard Block PUP's Sarstoon Expedition?
So, while the PUP has to wait an entire month to have their lawsuit against the Government heard, it's possible that their other planned Sarstoon action might not happen. Our information is that security forces will attempt to stop them from leaving Punta Gorda Town by boat - same as they did the Belize Territorial Volunteers 17 days ago.
So, is the PUP prepared for that possibility? Here's what the Opposition Leader had to say:
Reporter
"I've gotten it on good grounds that the national executive will be stopped tomorrow. Will not even be allowed to go on the waters - will be stopped in PG by elements of the Coast Guard and the police. Are you surprised to hear something like that?"
Hon. John Briceno, Leader of the PUP
"Well I'd be most disappointed in the government and in the Prime Minister, because the Prime Minister last week made a pronouncement that he would lift the tight restrictions on Belizeans visiting the Sarstoon as long as you report to the B.D.F.'s Forward Operating Base. We are saying it is not a political trip, it is an educational trip. We believe that we need to go firsthand to look at what is taking place to have a better understanding. In our trip to the Sarstoon we are not calling the masses to go. We are inviting the National Executive and the Parliamentarians. In effect it is the leadership of the P.U.P. that is going. We want to act responsibly and to control the numbers that are going. We are going there in peace and as law-abiding citizens. The Prime Minister has said that we can go, and I would be most disappointed if the Prime Minister were to take back his word."
Reporter
"The SI speaks specifically about the Sarstoon, entry into the Sarstoon. But what we have seen is that elements of the Coast Guard have been stopping people from even leaving the pier in Barranco and we understand that they will be stopping the National Executive from even leaving PG, effectively from going into the seas. Is that even a further abuse of it?"
Andrew Marshalleck, SC - PUP Legal Advisor
"The schedule to the SI gives some GPS coordinate and I am not sure how far they extend out. Certainly if it is that the law enforcement is acting to restrain people's free movement, to restrict movement even outside those coordinates, then they themselves will be acting in breach of the law."
As we told you, we'll be there to see how it all plays out in PG, and we'll have updates on our facebook page, and a blow-by-blow account on Tuesday's newscast.

Belizean Fishermen Caught Smuggling Conch In Honduras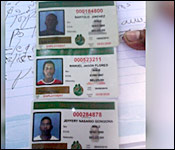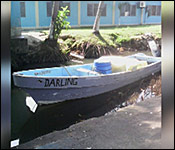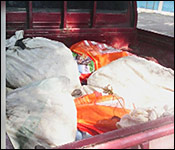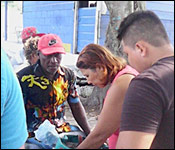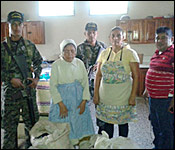 We always hear about foreign fishers form Honduras and Guatemala raiding Belizean waters and then taking out of season catches south to their countries. But, it's a dirty trade in which Belizean fishers also play a role - and there's proof of that tonight.
A trio of Belizeans were caught last week Thursday in Honduras in an illegal fishing operation. They are Manuel Flores and Bartolo Jimenez from Belize City, and Jeffery Gongora from Ranchito, Corozal.
According to reports from Honduras the group were found at the entrance of the Alvarado Lagoon, in Puerto Cortes, Honduras. Inside the vessel the authorities discovered 600 pounds of conch in an icebox. The conch is believed to have been captured in Belize and then taken to Honduras for sale. The products were impounded and the men were arrested. The boat remains at the naval base in Puerto Cortes and the illegal catch has since been donated to an orphanage and home for the elderly in that country. As for the three men, they were handed over to the Honduran immigration department and are now awaiting deportation back to Belize.
The men were on the boat named "Darling" owned by Honduran Ada Linda Rosales. Interesting thing is, the vessel had dual registration, both in Belize and in Honduras - which is illegal and fraudulent.

Churches Say "No" To PUP
The Belize Council of Churches is saying NO to the PUP Sarstoon trip this weekend. Today they called the media to a press conference at the IVET conference room to present their position on several matters concerning the ongoing Belize/Guatemala dispute. But before we get into the broader scope of their position, here is what they had to say regarding tomorrow's PUP expedition:
Bishop Roosevelt Papouloute - Methodist Church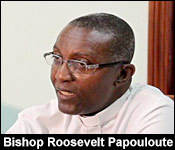 "We are just coming out of a meeting with the Leader of the Opposition and some of the members of the opposition party that were present and we have made our position very clear that we would support a stop to that trip tomorrow to give to the negotiation in the process to take its course as all diplomats seek to meet with those from Guatemala with the support of the international community to arrive at a peaceful resolution to this. So, yes we have call on the opposition party not to pursue that trip tomorrow."
So PUP did not get the churches blessing before tomorrow's expedition- instead they got a stern "Do not go!" This is quite a contrast tone from the response that the Northern Territorial Volunteers got from the Catholic Bishop who blessed their leader on the eve of their planned expedition last year August.

Churches Take Position On Bze-Guat Dispute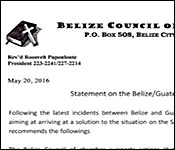 Now back to the real reason of why we were called for the press conference today. The topic of the Belize/Guatemala dispute has been at the fore of National discussion for a while. But the churches are only now choosing to come out publicly on the matter. They prepared a one page document outlining their position on several key issues surrounding the dispute. They presented this to the media today.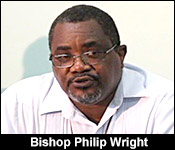 Bishop Philip Wright - Anglican Diocese of Belize
"The Belize Council of Churches calls on the people of Belize to support the peaceful approach that our government brings to the negotiation table. The Belize Council of Churches calls on the Government of Belize and the Opposition Party to work together for the common good of Belize and a peaceful solution to this problem. The Belize Council of Churches calls on all parties involved; governmental, political and nongovernmental to work for a united front at arriving at a peaceful resolution. The council calls on the media to be more responsible in its reporting so as to avoid an atmosphere in panic among all parties. The Belize Council of Churches calls among the Government of Belize, the Opposition Party and all who are intimately involved in the process to be resolute in their effort at maintaining Belize's sovereignty and territorial integrity."
Leroy Flowers - Past President - BCC "We are very much aware of the challenges and the steps that the government and the opposition seeks to make in this regard, because we feel that this is such an important issue. But also we realize that it is also a very divisive issue and our political leaders use it from time to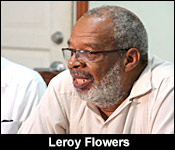 time throughout our history and we are seeking to get both the government and the opposition to be on one page. That is a very challenging for varying reasons which I'm certain you are very much aware. But more importantly we feel that in dialoging with both the government and the opposition, that this is the right step to bring about the influence that we feel because this is such an important issue. It is such a long standing issue in our history, that we feel that we have got to challenge ourselves and our leaders to transcend the political climate. We feel that we are at a sober voice in all the rhetoric. It is sad that we in Belize question each other's patriotism, if you are not willing to go down to the Sarstoon. Yes, there are challenges and they will all continue to be challenges in terms of our open boarder and that will never end, but we have got to do a better job in bringing the whole awareness. That's what this is really about."

Ecclesiastical Diplomacy?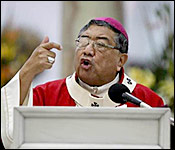 But more than just putting forth a position, the churches say they are also actively pursuing solutions to the problems in their own way. For starters, they will be holding a day of prayer next week Sunday. But the most substantial move that the churches are making is the dialogue they are attempting to create with their Guatemalan counterparts. One of the those contacts is Archbishop Oscar Julio Vian Morales. He made headlines earlier this week for his criticism of the Guatemala government using the territorial dispute as a distraction.
Bishop Christopher Glancy - Auxillary Bishop. Roman Catholic Church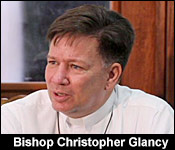 "In the media this week there was reporting here in Belize, the arch bishop of Guatemala City and what he said in preaching about the situation. I called him yesterday, I know Archbishop Oscar Julio Vian from meetings that I have been with him both in Costa Rica and Bogota Columbia. I in fact visited him in his office as well in Guatemala City when I was there giving retreat to a group of priests. So, we have a relationship already and I thanked him for his words and said, we were interested in looking at how we could pray together and work as church in neighboring countries more exploring those possibilities, what we might be able to do together but since it hasn't been set yet, I don't want to make any announcements further than that, other than we are in dialogue."

Churches Say "Amen" To ICJ
We also asked the head table about their position on the ICJ. Should Belize go to the ICJ to resolve its territorial dispute with Guatemala? Here is the Council's consensus on that matter.
Reporter
"What's the council's position on whether or not the matter should be resolved at the International Court of Justice? Have you sat and discuss a formal position on that matter?"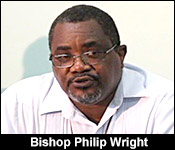 Bishop Philip Wright - Anglican Diocese of Belize
"We believe we should go to the ICJ and pursue the diplomatic course."
Present at the head table in support of the positions taken today were Bishop Philip Wright of the Anglican Diocese; Auxiliary Bishop Christopher Glancy of the Roman Catholic Church; Bishop Roosevelt Papouloute of the Methodist church; Reverend Canon Leroy Flowers, past president of the Belize Council of Churches; Karen Taylor, president of the Black Cross Nurses Association; and Fred Shyu, of the Belize Chinese Christian Mission.

Melchor-ians Will Protest Against Guatemala City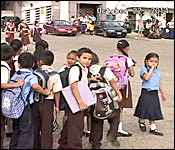 And while the PUP goes to the Sarstoon in protest of the Belize government's law - and also against Guatemala's military presence - at the same time, Guatemalans will be doing their own protest out west. But they won't be protesting against Belize. Nope, they're protesting against their own government! It seems that since the Guatemalan government seriously stepped up its aggression one month ago - the flow of Belizeans over to Melchor has slowed to a trickle. Guatemalan Immigration authorities report a decrease of 80% in Belizean visitors - and that has put a serious hurting on businesses in that border town. And so, reports to security forces in Belize say that tomorrow, Melchor business owners will be protesting against their capital, Guatemala City for sponsoring the aggression against Belize which has ha da serious business backlash.
According to our reports, two paydays have passed without a single excursion going to Melchor - which is highly unusual. Our sources say that presently the only people going across to Melchor regularly are residents of Benque and Cayo - who always shuttle between the border towns for business and family reasons. Business owners in Melchor have noted that creole Belizeans have almost completely stopped visiting their town.
And while that traffic has virtually stopped, we should note that close to 700 students from Melchor continue to cross daily into Belize to get their education. They move freely, and are not even being forced to get a student permit, which would be 50 dollars per head annually in additional revenue for the government of Belize.

Alrick Smith charged for Planning Hit on Lozano Family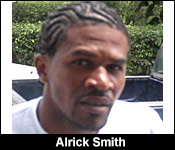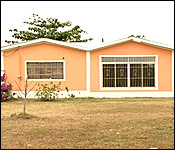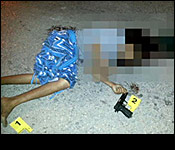 Police are making major progress in the fatal Ladyville shootout investigation. As we told you, both 19 year old Darwin Estuardo Prado and 28 year old Egbert Baldwin were charged with a number of offenses. Those include 3 counts of attempted murder, 3 counts of use of deadly means of harm, 1 count of wounding, 1 count of grievous harm and 1 count of dangerous harm. These charges were brought against Prado and Baldwin for shooting at Lozano's crew outside their Marage road house. But another ominous element has been introduced, in the form…of the infamous Alrick Smith. Yes...he is in the news AGAIN! for the second night in a row but tonight he is the one charged for abetment to commit murder. Now police had told us that they are examining the familial link between Smith and the deceased gunman Lionel Rhamdas - they are in-laws, and police said they had to be prepared for any retaliatory acts from Smith and his crew. Well so said, so done - after the death of his brother in law Rhamdas, Smith allegedly threatened the life of 11 members of the Lozano family including the mother Cynthia Lozano and her sons. Apart from Smith's charge, police also found a weapon that is believed to have been used to kill Rhamdas. Today at a press briefing Assistant Commissioner of Police Edward Broaster gave us more details.
ACP. Edward Broaster - OC. Easter Division Rural
"Our investigation continued and Mr. Alrick Smith has been also charged for abetting the commission of murder upon Miss Cynthia Lozano, Jerome Lozano, Casey Lozano, Atley Lozano and 8 others who we will not name at this time. This stem out of an incident that occurred the wee hours of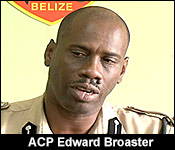 Saturday morning where Mr. Alrick Smith made specific threats to the Lozano Family. As a result of our continuing investigation we also recovered a 9 millimeter pistol along with 11 rounds of ammunition which we believed was used in the shooting that night. It is being processed to determine whether or not that gun was used to fire fatal shot that took the life of Mr. Lionel Rhamdas."
Police told us they have to confirm if that gun was the one used in the fatal shooting. We will keep following this volatile case.

From Threats To Action : Men Found Scouting Lozano Residence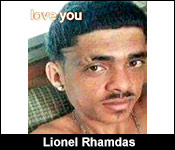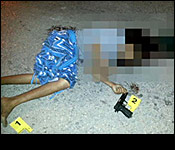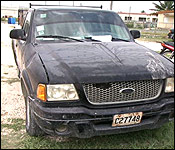 Now although Smith has been charged, police remain alert and in tune with the street operations in Ladyville. That's how they caught 4 men and a minor in a truck, lurking near the Milpa and Marage Road Area - right where the Lozano's live. Police spotted them around 11:30 last night and they were all searched. No weapons were found but what raised the red flag was the fact that one of the men in the vehicle was Rhamdas's cousin. Police told us that last night was not the first time men were seen suspiciously scouting that area.
ACP Edward Broaster, O. C. Eastern Rural Division
"This last evening due to efforts of our police officers in the Milpa-Marage road area, we came upon a black pickup truck, C-27748 which was driven at the time by Glen Reneau, 34 years of a Neal's Pen Road address. A juvenile, 16 years of the same address, One Germain Patnet, 31 years of Manta Ray Boulevard, Curl Estrada, 28 years of Silk Grass Village and Dion Rhamdas of Manta Ray Boulevard in the area of Bobo Hill near the Milpa-Mirage road area. Upon seeing the police, the driver of the pickup, increased speed. However, the police managed to intercept them and we have been conducting searches in the area this morning to see if any firearms or what have you was thrown out. Yesterday morning, we had reports that there were 4 other male persons in that area with firearms. We had combed the area and we did not find anyone in the area, but we had made sure that we placed resources in that area to see what is happening and these are the individuals that we came upon around 11:30 last night."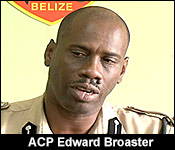 Reporter
"In your comment just now I heard Rhamdas. Would that mean that those persons were out to take revenge or retaliation for the death of Mr. Rhamdas?"
ACP Edward Broaster, O. C. Eastern Rural Division
"We cannot say absolute, but given the nature of the relation a cousin of Lionel Rhamdas and the area they were in and the fact that we had 2 reports of gun men in the area, engaging them in that area we believe that something was amiss indeed."

Police Push Peace Project Among Ladyville Gangs
Now things are only getting worse in the Milpa-Marage Area since that Saturday morning shootout at the Lozano home. But how are police dealing this? Today they told us that their primary focus is gang interventions.
Broaster had told us that it is quite a challenge getting all the groups to settle their grievances because they all refuse to compromise or even speak to one another.

Peace Park At Pilar?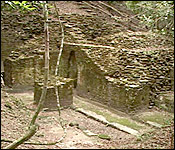 In our last segment we told you how the Melchoristas want back their Belizean customers, but archaeologists from Belize, Guatemala and the US seem to be getting along just fine at the El Pilar Mayan Site. And to prove it, the Guatemalan Minister of Culture and Sports Jose Urruela visited El Pilar earlier this week.
As you may be aware, a part of El Pilar is in the Cayo District in Belizean territory, and the other part is in Peten, Guatemala. Up until a few years ago, the Belizean tour guides have been afraid to take their guests there because they've been the target of Guatemalan bandits.
But, this ancient city could be a thing that unites Belize and Guatemala. That's because the Guatemalan Minister of Culture expressed on his Wednesday visit that El Pilar could become the symbol of peace and co-existence where both country's co-management this Natural monument.
Present for the Guatemalan Minister's visit to the Guatemalan portion of El Pilar was Dr. Anabel Ford, an archaeologist who has been working in Belize and Guatemala and on the Maya site for the past 20 years. She told us that she is excited to hear of the Guatemalan Culture Minister's interest to develop El Pilar into a place of vibrant tourism and culture.

Parliamentary Peace-making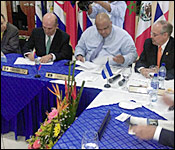 Earlier, we showed you how the council of churches will try its own kind of ecclesiastical diplomacy, well, speaker of the House Mike Peyrefitte was in Nicaragua earlier this week to try his hand at Parliamentary peace-making. Peyrefitte is the Vice President of "FOPREL", the Forum of Presiding Officers of National Parliaments of Central America, Mexico, and the Caribbean Basin, while the speaker of the Guatemalan Congress, Mario Taracena Diaz-Sol is the President. They met yesterday at the Congress Conference Room in Managua, Nicaragua along with Speakers and Deputy Speakers of the parliaments of El Salvador, Nicaragua, Honduras, and Costa Rica.
According to a press release from the National Assembly Peyrefitte briefed the Speakers about Belize's perspective on the recent shooting death of a Guatemalan child in the Chiquibul Reserve.
But, it wasn't just talk, at the end of the one-day meeting a first of its kind agreement was signed between the National Assembly of Belize and the Congress of Guatemala quote, "To invite Guatemala and Belize to promote and facilitate the solution to all disagreements involving them through dialogue and parliamentary diplomacy...
(1) For FOPREL to encourage Guatemala and Belize to support the ongoing processes between these two countries under the auspices of the OAS;
(2) FOPREL will encourage the Congress of Guatemala to promptly consider the ratification of the protocol signed between Belize and Guatemala in May 2015, to amend the Special Agreement signed in 2008.
That document has languished in the Guatemalan parliament. We note that the Guatemalan Congress recently passed a travel advisory warning citizens not to travel to Belize - alleging human rights violations by the BDF.

Commonwealth Calls For Peace
And tonight, we have one more piece of news for you on Belize Guatemala Relations. That's the meeting of the Commonwealth Ministerial Committee on Belize which happened on Monday May 16. That's exactly as newly elected Secretary General of the Commonwealth, Baroness Patricia Scotland, committed to when she visited Belize at the end of last month.
The committee, which chaired by the Minister of Foreign Affairs and Foreign Trade of Barbados, and comprising Barbados, Canada, Guyana, India, Jamaica, Malaysia, Nigeria and Tanzania, as well as Belize, was briefed by Foreign Affairs Minister Wilfred Elrington. He spoke to them on recent issues related to the Adjacency zone, and the discussions taking place between both country
The Committee reiterated and endorsed the firm support of the Commonwealth for the territorial integrity and sovereignty of Belize, as expressed consistently and most recently in the 2015 Commonwealth Heads of Government Meeting Communique. The Committee encouraged all concerned to work towards a peaceful and final resolution of the longstanding disagreements concerning the border between Belize and Guatemala.

Prisoners 'Pot' Picked up by Police
This afternoon police found 12 ounces of weed in front of the prison. The report is that a group of inmates were working outside when someone drove passed and threw out parcels of weed in front of the prison. One of the working prisoners was walking towards the drugs but he was stopped by a prison officer. Since the prisoner did not pick up the drugs, he was not charged. The weed was deposited as found property.

Illegal Loggers Charged
Yesterday we told you about the illegal logging operation that got busted in the Mayflower Bocawina National Park. That's in the Stann Creek District. Two men were arrested and today they were brought before the court in Dangriga to be read charges of illegal entry into a national park and illegal logging of a protected area. Those men are Carlos Palacio and Donald Wewe of Silk Grass Village. In court today both men plead not guilty to the offence and were granted bail of $4,000 dollars plus a surety of the same amount. Carlos Palacio met his bail and was released however Donald Wewe was not able to meet bail and remains in police custody. At this time the Forest Department is still assessing the amount of damage done to the forest, so we cannot give you a figure on the loss. What we can tell you is that among the trees being felled were Mahogany and Sapodilla. As we told you yesterday, on Wednesday Park Rangers of the Mayflower Bocawina Reserve were conducing regular patrols in the area when they heard the distinctive sound of a chain saw. As a result they alerted APAMO, who in turn alerted the authorities. We will be following this case.

Home | Archives | Downloads/Podcasts | Advertise | Contact Us