Career Cop Says His Son Was Executed By A Chinese Grocer; Pol. Say Self Defence
Leslie Logan Jr was killed on September 19th in Orange Walk Town. It happened right in front of the hospital, after he had participated in the armed robbery of a Chinese store and was riding off. The owner of the store - whose name has never been released by police - shot Logan Jr multiple times - killing him in the street. The report that we got from eyewitnesses on the day of the killing said that the owner, or his son, shot Logan off his bike, and then shot him again after he fell unto the street. After that he kicked and cursed him as he lay dying. That was the report we got from an eyewitness.
And while that account does raise some questions about where the use of lethal force was justifiable or proportional, police never did charge the shooter - they say they served him with a notice of intended prosecution, which, as far as we know, is only issued in traffic accidents.
Since then, nothing has happened - and it seems police have pretty much closed the case - leaving it, apparently, as self-defense, a justifiable homicide.
But Leslie Logan Sr. a veteran of the police department for 37 years isn't content to leave it at that. Logan Sr. who now lives in New York due to a kidney condition came back to bury his son - but found out that instead of burying him - he should have been visiting the 30 year old in jail.
Today, Leslie Sr. and his wife Karen held a press conference with their attorney Audrey Matura Shepherd to point to what they feel is injustice, incompetence and a cover up. They base this on statements which Logan Sr. has been able to gather because police don't seem interested. Matura Shepherd read the account of one eyewitness who knew Logan Jr as "Logie":..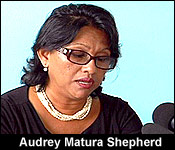 Audrey Matura Shepherd, Attorney for Logan family
"When Logie fell, he drop on his side and lifted his arms up and I could hear him say to the Chinese man who was standing over him "Please don't shoot me, call the police, call the police, don't shoot me." However at this time the Chinese man step over Logie's body and fired 3 more shots and the police in uniform arrived about the same time walking towards the scene and shouted at the Chinese man "Shoot him, after all they done robbed you" and he flung his hands in the air as giving permission for the shooting to continue."
Leslie Logan Sr., Retired Career Police Officer
"A witness told me who were actually at the scene looking at the Chinese man shooting my son standing astride over my son, so there was no fear of the Chinese man, he was standing over my son pumping lead in his body. Cannot they find these witnesses - they are not investigating that shooting. All the police wanted to do was to finish the robbery and close the case and say the killing is a self-defense. It was no self defence. As a matter of fact they showed us a tape that the robbery was complete, my son left the store after handed the accomplice the money in a bag and the accomplice left running out the store, my son followed and was getting on the bicycle when the Chinese man ran out of the store, pick up a gun from the same place that he took the money from, run behind my son out of the store and shoot him off his bicycle. How can that be self-defense? The Chinese man life was never at risk and when my son was down there on the ground, laying down, covering up, begging for his life because there are witnesses who says that my son ask the Chinese man to please don't shoot me, call the police and let them come for me and he kicked my son and he told him that this is for you black (using the adjective) who us robbing people all over the place and then he started to shoot him there and my son covered up. And that's why I know the last shot there because the witness says that when it hit him, the arm went down and that is that shot that went through and that was the last shot and then the gun jammed and he start to fire and he start to kick him. And that is all out there. As a matter of fact there was a bus load of people who were passing by, who slowed down, shout at the Chinese man because the boy is already on the ground and you know what the Chinese man did? Point the gun at the bus and the bus driver had to drive off. He couldn't even stop at the bus stop there by the Chinese shop. He had to drive up more to let off the passengers because they were all afraid. All these people are out there. If I can find them, I am no longer a police officer and I find all these witnesses."
Jules Vasquez
"Are you concern that there is a sort of unofficial rule that....?"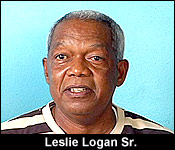 Leslie Logan Sr., Retired Career Police Officer
"..Another robber gone."
Jules Vasquez "You were in the police."
Leslie Logan Sr., Retired Career Police Officer
"I think that that is the wrong idea and the wrong interpretation. All case supposed to be judge by its own merits and if they can show me one instance where that Chinese man life was put in jeopardy, was in danger, I would agree to it. But you cannot chase down somebody and shoot them in the back. Not even the police can. My son did the robbery, he should be in jail serving his time. But he should not be in the cemetery at this time and yet we have Belizeans who actually shoot two men on his farm stealing his products and he is jail right now in Carmelita Village. How can you use one yard stick to measure one thing and you use another yard stick to measure something else?"
"I tried try believe that there is justice in Belize. I try to believe that the police would do the right thing, but they are not. I have no more faith in the police department. They will never ever do the right thing and that is why I can see now why people are complaining so much about the police because of the cover up and the corruption in the department is unbearable. People can't get justice anymore. I just cannot believe the police anymore. They are just a bunch of crooks - liad."
The family says they intend to take out a civil suit against police - and Matura Shepherd says the policeman who allegedly encouraged the killing can be charged for abetment to murder.
They say that the man who pulled the trigger has left the country - and the store, Hung Yun is under new management.
Logan has not been able to get the death certificate officially registered because it does not have the stamp of the Forensic Examiner since Dr Mario Estradabran did not perform the post mortem.

Guatemalan Men Shot In Belize Territory; Shooter Suspected To Be Guate.
Three Guatemalan men were shot at about 8:30 last night along the Mopan River on the Belize side in the Clarissa Falls area BUT the shooter is suspected to be another Guatemalan. One of the identified victims is 17 year old resident of Suchitan, Guatemala, Cesar Umberto Chinchilla. He was shot to the thigh and admitted to San Ignacio Hospital. OC of Benque Police Formation Daniel Arzu provided more details on the incident.
ASP Daniel Arzu, OC Benque Police Formation
"We received information of a shooting at Clarissa Falls. Our police officers were deployed, there they observed certain things across the river that is the Mopan River. What appears to be blood was observed in the area and no one was there. Investigations reveal that 3 male Hispanic persons from neighboring Guatemala/Melchor de Mencos were in the area at a fishing expedition and while there they heard 3-4 gunshots. The person who gave us a report said that he felt a burning sensation in his right thigh and he was transported on to the San Ignacio community hospital where he is currently undergoing medical treatment. The other, apparently managed his way to Melchor de Mencos while the other person is still not found. People from across Melchor de Mencos have a tendency to visit that particular area to do fishing and this area is an area where a village is located nearby, Calla Creek, and its just across the river. So on the other side of the river is the journey on to the border with Guatemala, so seldom the Belizeans would go across the river because they would be already going to the direction of Guatemala. But you know that Belize has an open border and it's accessible for all sorts of illegal acts and activities. What this is about from what I understand is that these 3 Guatemalans came across, apparently they knew exactly who their attacker is they are saying that they believe it's someone who was following them from Guatemala."
Chin Chiila was released from the hospital at 11:30 this morning.

Boy Bitten By Molesting Neighbor
There is very disturbing report coming out of Independence Village in Stann Creek in which an adult man is accused of sexual assault against a 5 year-old boy.
We cannot release the identity of the 25 year-old man because he is a neighbor of the child - and that might lead to the child's identity. The child, however, has told his grandmother and investigators that on Sunday, the man performed oral sex on him and then bit his penis. A doctor has examined the child and classified his injury as harm.
The accused has since been charged with aggravated assault and harm.

Mother Accused of Burning Son
Meanwhile, a mother in Belize City is being accused of burning her young son's hand.
It happened last week Thursday, October 16, when Lambey's 6 year old son was taken to the KHMH for burns. A medical form was issued, and a doctor examined the child, after which, he classified the injuries as grievous harm. The allegation is that Lambey lit her stove and forced the child's hand over the flame until he was burned.
32 year-old Lambey was charged with grievous harm. She was arraigned before Chief Magistrate Ann Marie Smith, where she pleaded not guilty. She met bail of $500 dollars and must return to court on December 5.

Hon. Mahmud Walking Away From PUP?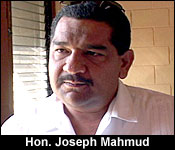 Joseph Mahmud, he's the elected PUP Representative for Cayo North - but 7News has confirmed that he has told the party he is stepping down as standard-bearer and will not contest that seat for the PUP in the next general election. We have confirmed that Mahmud sent a letter last week to the party headquarters announcing his decision.
What's behind it? Well, reports tell us that Mahmud had differences with the other PUP General's in the West, principally Julius Espat, who is the PUP Deputy Leader for the West. Today Deputy Espat wouldn't discuss it only saying, quote, "It's a sensitive issue…I wish him all the best. And I''ll be there to support him in whatever decision he makes…" End quote.
And, according to Party Leader Francis Fonseca the decision has been made. He responded to our request for a comment via text message this evening saying that a letter was sent by Mahmud which the National Executive will discuss. Fonseca says Mahmud quote, "remains as Area Representative and will support the party fully moving forward." End quote. He adds that Mahmud cited "personal reasons" for his decision.
And so, to be clear, Mahmud has formally written to the PUP saying that he will not contest the next general election - and that they should find a new standard bearer. Of course, in politics, it's not that simple.
Conventional wisdom suggests that the party will try mightily will bring him back into the fold - which has worked on a previous occasion when Mahmud was disgruntled with the state of things in the Western political orbit.
And so while the political status quo may remain intact for the time being - it's a key development for the UDP since Cayo North and its famous red hills has always been considered a stronghold for the UDP - which Mahmud wrested away from Salvador Fernandez in the last general election.

Auditor General Tells Hon. Espat She's Busy
And speaking of the PUP Deputy in the West, Auditor General Dorothy Ann Bradley responded to Julius Espat after he asked her to investigate government spending of Petrocaribe funds.
As we told you ten days ago, Espat - who is the chair of the Public Accounts Committee - wrote to Bradley asking her to investigate the 114 million US dollar loan motion which has been put before the House. He says the government is seeking "retroactive validation" from parliament for money that has already been borrowed.
Well, the Auditor General responded four days ago - and it seems she was not moved. She said the loan motion is before the House - and it would be, quote, "premature for me…to raise concerns about the correctness and the procedure for borrowing." End quote. That basically means that until and unless the loan motion is approved in the house, she cannot investigate.
She closes by saying, quote "I am sure that the (public accounts)) committee is aware of this office's resource constraints…however you can rest assured that I will do my duty as prescribed by law in respect of this situation." End quote.
But that's not good enough for Chairman Espat, it seems. Via phone, he told us today, quote, "It just confirms to me that we have a non-functioning office of the auditor general because it's not independent." End quote.
So, what's next in the opposition to the Petrocaribe borrowing? Espat told us the two options we laid out to him - the streets or the courts - are still on the table and both are being pursued.

Ellis Drops Charges
Ellis Meighan Jr. has been featured in our newscast quite a number of times because of being accused by police of different crimes, but tonight he's back in the news because he no longer wants police to press charges against 2 men who were accused of shooting up his vehicle exactly 2 years ago.
As we reported, the incident happened on October 10, 2012, when Meighan and Malik Dixon were in Meighan's vehicle. When they arrived at the Mopan Street intersection, 2 men who were standing on the street corner opened fire on the vehicle. Dixon was injured in the lower back in that shooting, but he was rushed to the KHMH, where doctors managed to successfully treat his wound.
Today, 2 years after being accused for those crimes, Jeon Peebles and and Akeem Smith were acquitted of 2 counts of attempted murder, use of deadly means of harm, and dangerous harm. That acquittal came today because both Dixon and Ellis Meighan went before Senior Magistrate Frazer and told the court that they wanted no further court action. With no complainant to press the charges, Senior Magistrate Frazer discharged both men and allowed them to go free.

FIU Wants To Freeze Titan's Cash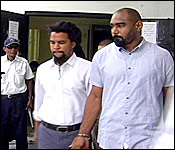 For about 6 weeks now, we've been telling you about the 1 billion Belize dollar securities and penny stock fraud case. In this case, the Federal Court in Brooklyn New York has indicted 6 men and 6 companies tied to Belize for allegedly participating in a scam which hid that money from the US through tax evasion.
Those 6 individuals include Belizean Andrew Godfrey, Bahamians, Kelvin Leach and Rohn Knowles, Canadians Brian De Wit and Cem "Jim" Can, and American Robert Bandfield. Among the accused corporate defendants are IPC Management Services, LLC; IPC Corporate Services Inc.; IPC Corporate Services LLC; Titan International Securities, Inc; Legacy Global Markets S.A; and Unicorn International Securities LLC (Unicorn).
Robert Bandfield is already in the US on bail while he awaits trial, and the US is seeking to extradite 5 other defendants, including Kelvin Leach and Rohn Knowles. Viewers may remember that both Bahamians are out on bail after being charged and arraigned on financial offences when they tried to leave the country through the PGIA. The other 3 defendants are still at large.
The case was being dealt with by the Magistrate's Court, where Knowles and Leach are facing imminent extradition proceedings. That's until today, when the Financial Intelligence Unit took the case up to the Supreme Court in an attempt to freeze all local finances of the defendants, which are being held in banks in Belize.
Chief Justice Kenneth Benjamin's Court room had quite a number of attorneys representing the defendants in Belize for a preliminary hearing, which was held in chambers. This meant that the media was not privy to the details of the case. After a 2 hour closed door hearing, we got a chance to speak with 2 of the attorneys about the case. They were very reserved in the details they released to the press:
Michael Young, SC - Attorney for Unicorn Securities Int'l LLC
"What has happened is that there have been freezing orders which have been granted by the court on the application of the FIU and in respect of the respondents, various attorneys who represent the respondents have made applications for these freezing orders to be discharged. There have been a flurry of applications between the FIU, on the one hand, and the respondents on the other and what we dealt with this morning on the part of the court was what we would call housekeeping. These applications are going to be heard, of course the respondents say that the freezing orders should not have been granted, should be discharged and the court has set October 27th to hear the applications."
Daniel Ortiz
"Sir, where are these monies located?"
Michael Young
"Various banks in Belize."
Daniel Ortiz
"And what kind of sums are we talking about?"
Michael Young
"I prefer not to talk about that."
Geovannie Brackett, reporter
"Is there any liabilities for those banks that are holding the monies?"
Michael Young
"I would not want to comment about that either."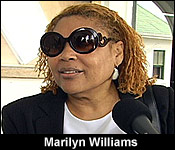 Marilyn Williams, Attorney for Robert Bandfield/Andrew Godfrey
"You know I am always reticent to discuss matters that are before the courts because I don't that that it's appropriate. The matter was actually held in an in-chamber matter which means that it's not something that ought to be discussed."
Geovannie Brackett, reporter
"And there is nothing that you can comment without prejudicing the case?"
Marilyn Williams
"No, there is really nothing. There is a reason why the judge cleared out the court room of anybody else but the counsels, so I would be..."
Geovannie Brackett, reporter
"The banks that these monies are in, in Belize, are they subject to investigation as well, at the very least?"
Marilyn Williams
"That you would have to ask the FIU because I am not sure who they are investigating."
The case continues on October 27, next week Monday, and we'll tell you more about it in that night's newscast.

Cabinet Maker To Jail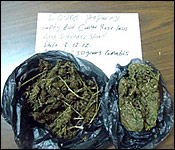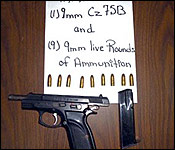 54 year-old Delroy Chambers, a cabinet maker from Police Street is spending the first night of a 5 year sentence after he was convicted in Magistrate's Court of possession of drugs and guns.
Officers from Special Branch searched his house on October 12, 2013 and they ended up finding 1.5 kilos - or 3.3 pounds of weed, a 9 millimeter pistol, and 9 live rounds of ammunition. As a result, police arrested and charged him with drug trafficking, keeping an unlicensed firearm, keeping unlicensed ammunition, and drug trafficking.
Chambers stood trial before Magistrate Dale Cayetano, and after hearing all the evidence, he found Chambers guilty of all 3 offences. For the firearm offences, he sentenced him to 5 years each in jail, to be served concurrently. This means that he will only serve 5 years.
For the drug trafficking conviction, he must pay $10,000 in fines, and if he defaults, he will serve an additional 3 years in jail.

Controversial Dangriga Market Soon Done; Town Mayor Says He Won't Accept
13 months ago, Dangriga Town was up in arms when the biggest scandal at the Social Investment Fund emerged.
The Dangriga Market place fell 9 months behind schedule, allegedly because of corruption and poor public spending. The former contractor alleged that he was "hustled" by senior staffers at SIF. That scandal led to 4 staffers being dismissed, the executive director being forced to resign, and a change in contractor.
The market construction started all over in April, and at the beginning of this week, SIF reported that they had finally completed the construction of the market.
Well, the Mayor of Dangriga Town is not satisfied with the product, complaining that it cost 1.8 million dollars to renovate and extend, but there are no signs of value for money.
He spoke to us via phone this evening in which he explained that the project had to be pushed 3 weeks beyond the agreed completion time. Here's how he puts it:
Gilbert Swazo, Mayor - Dangriga Town Council
"There was some delay and they were expected that it would take at least 2 weeks and I am telling you that isn't good enough for us. I believe that it was incumbent on SIF, the project implementary unit to contact the mayor and to say that they are having some delays and that the project would be delayed for whatever period of time. I believe that was proper procedure and protocols to be done on behalf of SIF. So there is no apology, then when the project was terminated in 2013 and still no apology from SIF at this time, then the further delay exorbitated the problem in our view, so they continue to behave in a manner that is disregarded and disrespecting the people of Dangriga."
Daniel Ortiz
"What is your impression of the finished market right now, is it up to standard?"
Gilbert Swazo, Mayor - Dangriga Town Council
"Today I had the privilege of touring the market with representatives from SIF which also included the consultant engineer Mr. Polanco and I expressed to them that the money that has been spent which is 1.8 million dollars and what I am seeing on the ground in my humble opinion there were some issues that I saw which needed to be addressed and if those issues are not addressed or there isn't a promise or a contract to stipulated that those issues that we pointed out on the ground are not addressed then I will not be prepared to take on or sign for that market on Thursday. So they assured me today that those issues which were pointed out to them will be rectified even after the official handing over and that will be part of the signing or the handing over document on Thursday. But I need to see that before the start of the official ceremony for us to proceed."
Daniel Ortiz
"Sir, how would you answer to those who say that you are simply finding things to criticized and complain about?"
Gilbert Swazo, Mayor - Dangriga Town Council
"I would say to everyone for them to come on the ground to view the market and they make an estimate for themselves - they can see. I am of the view that 1.8 million dollars which has been spent comparing to the frustration, the disrespect, the loss of economy that this town has suffered - let them compare all that to what is on the ground then they be the judge of it."
The official handing over takes place on Thursday, which is when we'll know if the Mayor agrees to accept the Market or not.

Where Melchor And Belize Meet
While there is growing concern for the protection of the Chiquibul National Park and our archaeological sites from Guatemalan cross border bandits, on the social level, there is a site where Guatemalans pose no apparent threat, they simply walk, or in some cases ride over to our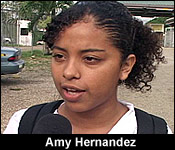 Belizean territory. That site is right at the Western Border, a border we as Belizeans frequently cross to get to Melchor. But it is not only a one way crossing. Hundreds of Guatemalan school children also cross over to Benque Viejo to get to school every day. That's the story Courtney Weatherburne explored today at the border.
Amy Hernandez, Mount Carmel High School
"The bus passes my house at 7 and at school it reaches there like 7:30 - 7:45."
Courtney Weatherburne
"There is no verification, no ID check, nothing" So you simply can walk pass the border with no trouble at all."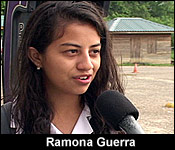 Ramona Guerra, Mount Carmel High School
"No, just with your uniform."
We'll have the full story on that social phenomenon tomorrow - plus an examination of all the implications, so be sure to tune in then.

Emma Was Lost, But Now Found
Last night we told you about Emma Gillett, the mother of 6 who has been missing for two weeks. Well, the family can breathe a sigh of relief because she was located last night at about 9:00 in PG by police and brought to Belize City this afternoon. When we spoke with her cousin Kendra Henkis today, she was at the Queen Street police station with Gillett. Henkis stated that Gillett confessed that she simply wanted to relax and clear her mind.

School Buildings Upgrade for Remote Schools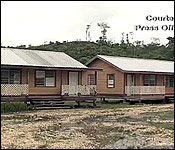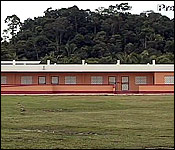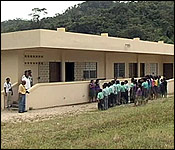 Students in the villages of Corazon and Aguacate in the southwestern reaches of the Toledo District used to have to wake up at 3:00 am to go to school, taking multiple busses and crossing rivers to get there. But that has changed: Aguacate has a primary school and Corazon has a high school. Both of the recently opened schools got an upgrade with new buildings from SIF. The high school in Corazon - which has 242 students got a 595 thousand dollar building through the Social Investment fund. Education Minister Patrick Faber was on hand:..
Hon. Patrick Faber, Minister of Education
"We have seen an increase in the number of students who are going on to secondary school and this is because of course of the efforts of the government through the $300 subsidy and new initiatives here in the Toledo District to open a new high school and give you additional access. Corazon Creek Technical High School is one of those initiatives. You know that we've opened Providence in San Antonio as well and we are looking at opening another school in Pueblo Viejo."
Aguacate Primary school also got a new $555,000 dollar building through SIF. That school has 116 students.





Home | Archives | Downloads/Podcasts | Advertise | Contact Us