Ceremonial Court Opening Welcomes New AG Peyrefitte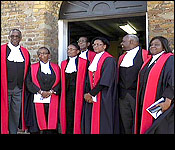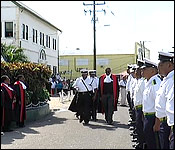 There's one day in every year that downtown Belize city stands still to witness the ceremonial opening of the Supreme Court. That's the second Monday in January, a decades old tradition that attempts to give the judiciary some palpable public presence. Today, the veteran Chief Justice Kenneth Benjamin welcomed two newcomers to the event: New Attorney General Mike Peyrefitte, and new President of the Bar Priscilla Banner. Alex Courtenay reports.
Alex Courtenay reporting
As tradition dictates, on the second Monday of January, the ceremonial re-opening of the Supreme Court is held. Today, members from every sector of the judiciary gathered at the St. John's Anglican Cathedral for a church service. Following the service, Chief Justice Kenneth Benjamin led his fellow Supreme Court judges, governors, and members of the Bar Association, in a procession to the Supreme Court building.
After inspection of the Guard of Honor, the crowd followed the Chief Justice to his court room for his formal address, where he began by reporting on the important judicial statistics from 2016...
Kenneth Benjamin - Chief Justice of the Supreme Court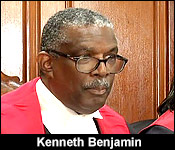 "An aggregate of 781 claims were filed in the civil division during 2016. To this must be added a 366 divorce partitions filed of these 706 claims were taken to disposition and 342 divorce decrees were granted. In this regard the civil division has enjoyed the satisfactory case filing to case disposition ratio. Criminal division: In January 2016 the criminal procedures rules were brought in to force ushering in the concept of case management. The efficacy of these rules is dependent upon a paradigm shift in the culture of how criminal matters are process in the criminal justice system. Much time has been devoted to training of the main participants in the criminal matters and the sensitization of other stakeholders and allied enforcement agencies such as for instance, Customs Belize Defense Force, Coast Guard, Social Security, Fisheries Department and GST. These efforts will continue as long as it takes to entrench the ethos of case management. The new criminal procedures rules are applicable to new matters. However, the judges and magistrates are encourage to apply the principle of the older principles to the older cases in the system."
After assessing the number of civil and criminal cases filed last year and how they were handled, the Chief Justice emphasized the necessity for dealing with the extremely high number of criminals on remand in prison…
Kenneth Benjamin - Chief Justice of the Supreme Court
"As of December 31st 2016, the population of persons awaiting trial in the central prison stands at 475. Of that number, 146 have been in custody for in excess of 2 years. 249 inmates or 52 percent are charged for murder. It remains the serious caused for concern that the remand population is disproportionately high. In an effort to address this situation, I have sought from the attorney generals ministry, budgetary support in the new financial year 2017-2018 for the engagement of 3 additional judges for the criminal division for a fix period with a view to tackling the cases that are outstanding for more than 2 years."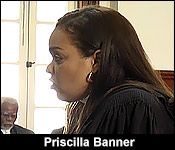 In her first opening of the Court address, President of the Bar Pricilla Banner fortified the Association's commitment to ensuring that the judiciary works in a good manner, and noted the Bar's dissatisfaction with the speed at which judgments were handed down in the last year.
Priscilla Banner - President of the Bar Association
"The Bar will seek to protect the independence and impartiality of the judiciary and will do so vigorously. but it also cannot be lost on us that Bar has an objective in accordance with its legal profession act to promote assist and ensure the proper administration of justice and unceasingly to watch over and protect the civil liberties of people, in the same way that the Bar seeks to protect the judiciary it must with passion ensure the proper administration of justice and the protection of civil liberties. One element of this is that the Bar must seek to promote the proper respect for the courts. The Bar's duty to the promote such respect is made easy when the administration of justice is conducted properly and is beyond reproach. Can we say with conviction that our courts are completely beyond reproach in so far as the delivery of judgments is concerned. I dare say the answer is a humble, no."
Michael Peyrefitte, the recently sworn in Attorney General, made it clear that his office would employ a more open door policy than his predecessors, and committed himself to improving the judicial system during his tenure.
Michael Peyrefitte - Attorney General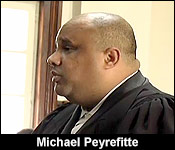 "If there is one message that I want us to get from me is that from this day on the attorney generals door is open. Wide open. Open for good ideas and for people who will take action and not just talk. For too long some of us has criticized the status quo, but refused to be a part of changed. So I don't want any more senior council to tell me we need more and better judges without telling me that they are offering themselves to sit on the bench and serve this nation. I don't want any attorney to say that the attorney generals ministry is not properly staffed and qualified without telling me that he or she is prepared to go and work there and provide us with the help in the law revision unit and legislative drafting and even litigation. There is no room my lord for any more actors and pretenders. My lord if you would allow me one more proposal, I see there is much need to for crucial reform in an area where some would say it's a king to incarceration. That is the practice and procedure for divorce proceedings. if 2 consenting adults my lord can be present for justice of the peace and be instantly married then why can't those same 2 consenting adults be present again before the justice of the peace and be instantly divorce. Why wait 3 years to start a process that will take another 6 months if the 2 adults have made up their minds. Why suffer through extensive bureaucracy that was never attendant upon marriage. Of course then my lord the whole question of division of matrimonial property and custody of children can be dealt with separately. My lord, these proposals require no extra finance or special circumstances. Only initiative and a willingness to contribute. I am here, I am ready to work and I invite all members of the bench and Bar, especially senior members to engage me with suggestions and ideas that would improve our system."
The Chief Justice also noted the strides that had been made in opening a new Family Court in San Ignacio that would act as the gold standard for other courts in Belize, as well as the development of a Drug Treatment Court.

Senator-Designate Wants Meeting Pushed Back To 20th
The commencement order for the 13th. Senator takes effect on Friday, one day after the Senate meets. And while many had expected that Osmany Salas would have been sworn in on that day, according to the Leader of Government Business, Senator Godwin Hulse, one thing doesn't necessarily follow the other. He put that timeline until some time in March.
Today, we met Salas at an event and he told us that the way he sees it, he should be sworn in on January 20. He adds that Thursday's Senate meeting should be postponed until after he takes his seat - since they will debate the NGO Amendment Bill:
Osmany Salas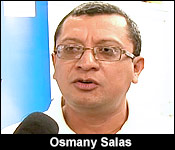 "The way we look at it, there is absolutely no reason why I shouldn't be sworn in as early as the 20th January when the commencement order takes effect. There is no reason to delay it. Our NGO community has sent a letter to the Governor General last week informing him about the process that was followed, informing the Governor General that I was elected, requesting the Governor General as to the relevant section of the constitution that I be I guess formally appointed and sworn in as the senator representing the NGO community. That should be able to happen as of January 20th."
"I need to mention as well that we see no reason why there needs to be a senate meeting before the 20th. We have asked and we have addressed the communication to the president of the senator Hon. Li Mark Chang to postpone the senate meeting until after I am sworn in. In particular if a topic on the NGOs will be on the agenda for the senate session. It just makes absolute common sense for the NGO representative to participate."
"So we have made a request. I have also reached out to other senators from government's side, from PUP side and from the social partner side - asking them to support us in that request."
Daniel Ortiz, 7News
"Sir, have you all seen or have had a look at the NGO act amendment that they are suggesting?"
Osmany Salas
"Yeah, I have seen it. It didn't come to me from official sources, but I have seen a copy and I don't see any major concerns with it. I think it amounts to basic housekeeping ensuring that the NGOs must be registered under the act to do the work of NGOs and to benefit from - if there are any tax break from under the act. So I think that's appropriate. But there is nothing there that would disallows me from being sworn in by January 20th or right after."
As you heard in our interview, Salas said that he has reached out to the other Senators to try to convince Senate President Lee Mark Chang to postpone the January 19the meeting. He told us that the Opposition and the Social Partner Senators have responded in support of that course of action, but appears that the January 19th Senate meeting will go ahead as planned. This evening, the Clerk of the National Assembly sent out the usual Senate notice, which confirms that nothing has changed, and that the Senate will meet on Thursday, as planned.

Another American Grenade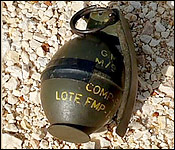 Another American type hand grenade was found in the city over the weekend. The grenade was enclosed in a container and stashed in an empty lot in the Lake Independence area. Police had to call in Commander of the BDF Brigadier David Jones, who is also an explosives specialist, to safely take the grenade away. Today via phone, Jones told the media more about the find and also encouraged the public to call police immediately if they know the location of any grenades.
Brig. Gen David Jones, Commander, BDF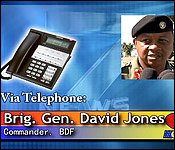 "I was called to go and retrieve the grenade which was in the open lot on the road on the Chetumal Boulevard across the bridge going to the highway in the open lot on the right hand side there was a grenade similar type as to the one we had retrieved, American type, it was in a container and I was asked to retrieve it and take it to the BDF camp and that is what I did."
"They are definitely not from within Belize they are being imported from somewhere across one of the borders but we are not sure from where."
"We are just waiting for the police to say definitely destroy it and we will destroy it and that is the same with the other one we are just waiting to destroy it."
"People will need to call in and inform the police about the whereabouts of these weapons if they know where they are, because they are very dangerous and they can kill or injure people up to 300 yards away."
The other similar grenade was found on Tuesday January 3rd in the Old Fabers Road area. It was a M26-A1 hand grenade, American type as well.
Police intelligence tells them that these can be fairly easily sourced in Guatemala.
As for the area where this grenade was found, sources tell us that it was most likely placed there for police to find by a cooperating witness.

Island Cops Bust Half A Mill In Cocaine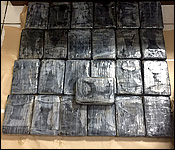 So, while that was the grenade found on Southside Belize City, Island cops made a major bust of 25 parcels of cocaine on San Pedro. That's a total of 26 kilos or 57.5 pounds. The police found it, not up the north coast of San Pedro, famous for its wet drops, but at the south of the island. According to a police press release, police responded to information received of sack on the beach 4 miles south of San Pedro Town. Police say the parcels each weighing between 2.29 and 2.35 pounds - which is a little over a kilo - were found in a sack. They say no one was in the area and it was labeled as found property.
The police have refused to share any other information on it, but when we asked San Pedro's Mayor about the drug bust, he had nothing but praise for the officers who acted on good intelligence.
Danny Guerrero, Mayor - San Pedro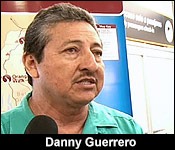 "Well yes, I think it was an excellent job down by the police first on San Pedro. I think they detect it on time. Nobody was caught with it. It was still probably on the shores. It was 25 kilos and I think the communication that the council, myself, have with the police department is excellent and is very healthy. We deal with them a lot. We are always helping the department and when you hear this in the news, it sounds good, but also it has its bad part. Because when you hear 25 kilos of cocaine on the island, but its drifting. It's beyond our control. This thing comes way from the ocean. So it drifts on the entire shorelines and the playadores are always alive for that. This time the police is ahead of them."
"So, it's good and definitely we are trying to put more cameras and we are trying to work with more of the hoteliers and the dive shops to put an eye on things like this and we always encourage tour guides, if they see something like that to report it to the police or report it to the council, so we move on on a positive manner, instead of the drugs ending up in the other hands where it would probably sell on the streets."
"San Pedro I think is doing very good when it comes to crime and all those things. I think the police is doing an excellent job. We are very connected with all the different NGOs and the business community. We have a project that we started with cameras with all the businesses and that will be energized actually because of this and crimes that happens on the street. We are actually encouraging - I will try to make an amendment to the trade licensing act if it's possible, if the government accepts that every single trade license establishment - that will be one of the requirements, to put a camera outside."
The estimated street value of that drug seizure in Belize is between 525 and 675 thousand dollars - since a kilo sells for about 25 to 35 thousand dollars. It sells for many multiples of that value once it gets to the US.

August Pine Ridge Traffic Fatality For Motorbike Driver
A salesman was knocked down and killed this morning in the Orange Walk District. 41-year-old Giovanni Ayuso, who is from Palmar Village was riding his motorbike a mile away from August Pine Ridge when he had a head on collision with a pickup.
23-year-old Abram Freisen was driving the 2004 Chevy Pickup. Ayuso died on the spot from the massive impact.
Police are investigating and have not yet determined who will be charged.

Bicycle Rider Run Over On Hummingbird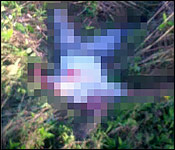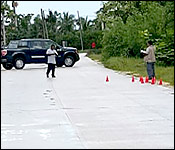 And, there was a similar traffic fatality in Belmopan.
A man was knocked down and killed on Saturday night on the Hummingbird Highway. 52-year-old Salvadoran Oscar Emigidio (E-mi-hid-yo) Santillana (Santi-yana) was riding a beach cruiser between miles 53 and 54, which is within Belmopan City limits, which is when Michael John Rau hit him from behind in a Honda CR-V. Rivas received massive injuries from the impact and was flung to the side of the road where he died on the spot.
Police have served Michael John Rau with a notice of intended prosecution, and his vehicle was impounded.

Small Child Recovers From Accident
And a 5 year old buy was run over in Mahogany Heights. Jenson Grinage Jr survived the accident with injuries to his head. He was taken to the Belmopan hospital, but has been treated released. He was The police have not released details, but he was hit by a Ford Escape, driven by a 49 year old Salvadorian female.

Man Escapes Hail of Bullets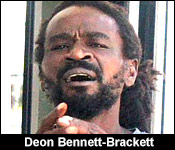 A man was shot at 7 times on his way to see his son, but he survived the attack. On Sunday morning around 7:30, 35 year old Deon Bennett-Brackett was riding his bicycle along University Drive, near the teachers college, when a vehicle pulled up alongside him and a gunman in the backseat opened fire. Despite the spray of gunshots, Bennett was only grazed in his shoulder, his arm and in the back of his neck. He has been treated and released. A friend we spoke to off camera today says he didn't deserve to be targeted like that because she only knows him as an easy going person and a devoted father.
Voice of: Friend
"Yesterday morning I just heard that my friend Mr. Bennett was coming in West Landivar, he usually do the same thing every morning, come and see his child then go and buy tacos then come back in. but we only get to hear that there was a black car waiting for him in the entrance and from there we heard that they shoot him."
Courtney Weatherburne, 7News
"Did he say if he recognized anyone form the car or?"
Voice of: Friend
"No, he said that it happened quickly and he didn't recognized anyone."
Courtney Weatherburne, 7News
"Does he have any concern that maybe he'll be targeted again and he has a son too?"
Voice of: Friend
"If he was concerned I guessed he would be hiding out, but doing the same thing and get on his bike and ride on. He goes wherever he wants to go."
Courtney Weatherburne, 7News
"Is the family concerned about his safety?"
Voice of: Friend
"His family but his friends around here and I guess everyone started to give him advice, you are supposed to this or keep him out but Mr. Bennett is not like that. He won't keep away."
Courtney Weatherburne, 7News
"You guys have no idea why anybody would want to target him? His past or anything was involved in anything else before? Maybe where he is from?"
Voice of: Friend
"He is originally by Vernon Street, but I am not familiar with that area. Only at the side here Mr. Bennett usually is. So I know he is from this area and this is the area he is usually around with everybody and everyone knows him from here. It was very sad to here that this happened to him because I didn't know Mr. Bennett as someone who troubles anyone. He is always a helpful person around in the neighborhood. In the evening he goes back home. I don't really know Mr. Bennett in that way being a troublesome person."
Notably, Bennett-Brackett - who is from a gang affiliated neighborhood on the Southside was targeted in Precinct Four which saw no murders last year.

Petillo Ran From A Gunman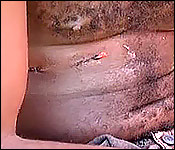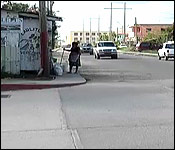 And from a shooting on the Northside to one on the South - the victim was also grazed. 31 year old Francis Petillo went to buy vegetables yesterday afternoon when he was chased by a gunman. He gave us the account off camera.
Voice of: Francis Petillo, Shooting Victim
"I was going by the vegetable area to buy something for my sister and a gunman approached me and chased me with a gun and I had to drop my things and I got shot twice in my stomach."
Reporter
"And this gunman, is it somebody you know? Anyone you are familiar with?"
Voice of: Francis Petillo, Shooting Victim
"No, I don't know him from anywhere."
Reporter
"Were you ever threatened before? You know if anyone had a target on your back so to speak, anything?"
Voice of: Francis Petillo, Shooting Victim
"Nobody ma'am, I have not gotten threatened before."
Reporter
"So you have no idea why you were shot?"
Voice of: Francis Petillo, Shooting Victim
"No idea ma'am. I just recently I come out of jail and I behaved myself from then."
"I didn't do anything, it is just a chain I went to jail for ma'am."
Courtney Weatherburne, 7News
"And you said it is because of a chain, so it was robbery?"
Voice of: Francis Petillo, Shooting Victim
"Yes a robbery of a chain."
As you heard Petillo was released from jail for a robbery offense. He was released in 2010. He spent 5 years for the offense. Police are reviewing surveillance video to look for a suspect.

How Will The New AG Handle Vega Matter?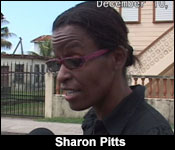 Michael Peyrefitte has been the Attorney General for only about 13 days, but he has inherited a lot of responsibility from his predecessor. Among those responsibilities is ensuring that Andre Vega and Sharon Pitts repay the government after being wrongfully compensated for land that was already privately owned. Peyrefitte briefly discussed his stance on the matter today...
Reporter
"The issue of the Andre Vega/Sharon Pitts and the returning of the funds to the government coffers. You are taking over from former attorney general Vanessa Retreage. Where do we stand on that matter?"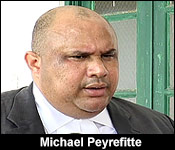 Michael Peyrefitte, Attorney General
"Well there is no intention from me to discontinue the matter. The matter was filed. I won't comment on the merits or demerits of the case itself. I will refrain from ever trying to discuss cases or tried them in public. So the case is there. It's present. I believe a claim has been filed and so then we go from there. That's all I would like to say on the matter for now for that."
Both Vega and Pitts were asked to pay back about $400,000 each - but they did not within the prescribed time and the solicitor General was instructed to file suit.

AG, Que Pasa Con PASA?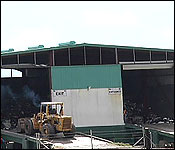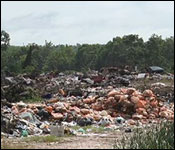 Peyrefitte also gave us some insight in the court proceedings between PASA, the Mexican company that was responsible for moving waste from transfer stations to the regional landfill on Mile 24, and the Belize Solid Waste Management Authority. As has been reported, PASA abruptly ceased operations and abandoned the landfilling, leaving transfer stations piling up with garbage.
Reporter
"The matter involving BSWMA (Belize Solid Waste Management Authority) and PASA, the whole sanitary landfill situation we were told by personnel from BSWMA that it was under review from the legal advisor in the ministry of natural resources as well as the attorney general's ministry. You were not aware where that stands?"
Michael Peyrefitte, Attorney General
"I am aware of the proceedings and the analysis of the contract. But we are not finish yet, so I don't want to preempt them by saying anything about it. But we are working on it and I am fully aware of that."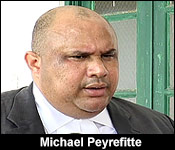 Reporter
"But it's not a case where the government has defaulted in relation to its commitments to PASA? It's the other way around perhaps?"
Michael Peyrefitte, Attorney General
"Government has not defaulted in any way. So if there's been a default, it has to be for the other side. It's not government."
There has still been no word from the Belize Solid Waste Management Authority about who will take up the task of transferring garbage to the landfill.

Ministry of Health Hilux's Long Saga
The Ministry of Health's most recently stolen Hilux has still not been recovered. As we told you on Friday, the Hilux was stolen in San Ignacio. New details tell us that it was stolen early Friday morning from the San Ignacio Community Hospital. The information is that someone went to one of the hospital administrators and simply told him that they had to come to pick up the truck. The administrator then handed over the keys and the person just drove off. An onboard GPS tracker has traced it to Melchor, and the Ministry of health used that same anti-theft system to disable the engine. But latest reports tell us that the thieves were able to take out the anti-theft system.
Reports are that the vehicle jackers crossed over to Melchor, Guatemala through the Santa Rosa road. Now this area has been a challenge for police over the years because Guatemalans use that road to come and go between Belize and Guatemala illegally. We will keep following up on this case.

Tropic Air's New Flight To Chet
Chetumal is Belize's favourite Mexican City and every year, tens of thousands make the little run across the border, for shopping, or just for a little getaway for a Miami feeling with a Melchor discount.
You can catch a bus, drive to there through the Santa Elena Border, or catch a water taxi from San Pedro. And now, you can also fly there.
That's now possible through the newest flight which Tropic Air launched today. They're making another attempt to reach that Mexican travel market which everyone agrees is currently untapped for Belizean tourism.
They invited our team to take the inaugural flight to Chetumal, Daniel Ortiz has the story:
This flight is now available every Monday, Wednesday, and Friday from the Phillip Goldson International Airport.

Harvest Caye Is Not End all For Norwegian
Friday's news was full of stuff from the House meeting, but there are two items of note we didn't get to include. The first has to do with the Harvest Caye Cruise Terminal. The PUP Representative for Toledo West, Oscar Requena, who is also the PUP's Shadow Minister for Tourism, asked the current Minister Manuel Heredia about those Norwegian Cruise Ships which are now bypassing Belize city and making a bee-line for Harvest Caye. There's been a lot of complaint from Belize City Tour Operators who say that losing Norwegian and its well-heeled guests - has translated into a major loss in earnings for them. Heredia responded by saying Norwegian is not bypassing the City:...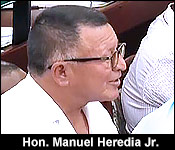 Hon. Manuel Heredia Jr., Minister of Tourism
"What Prime Minister and I agreed, we are keeping to that promise. NCL continues to call to Belize and will continue to call in this 2017 also and I can quote you the numbers. In 2014, NCL had 64 calls to Belize City. In 2015, they had 72 calls. In 2016, they had 96 calls, which is 30% of the total calls. 79 of those calls were to Belize City and 17 to Harvest Caye."
"If for some reason NCL decides to pull off and go completely to the south which you all will be getting a lot more people, there are 2 other cruise lines that are ready interested and will be paying a few calls this year. That is the TUI Cruise Lines, European Cruise Lines and the MSE Cruise Lines which is always willing to take the vacuum if anything. So the numbers for Belize City would not decrease, rather it will increase."

Things We Lost In The "Accompanying Measures"
Another interesting question was the one put to the Minister of Economic Development, Erwin Contreras. It's about the millions of dollars in economic assistance from the European Union that have been lost because the contracts or the executions were mishandled in Belize. The project is called "Accompanying Measures for Sugar" - a project worth a total of 152 million dollars programmed for everything from early childhood training, to crop diversification, to cattle sweeps, so that Belize's sugar industry, and northern Belize in general could be competitive when subsidies are phased out. And it's not just money for institutional strengthening; 76 million was earmarked for upgrading roads, but Belize only tapped into 56 million - which paved 46 miles and rehabilitated 47 miles. That's because Belize could not meet deadlines or quality standards set out by the European Union. Contreras explained why and how many millions and how many miles were lost - basically, to ineptitude or inefficiency:...
Hon. Erwin Contreras, Minister of Economic Development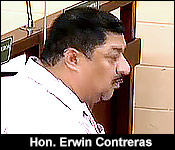 "The EU has processes and procedures are strict deadlines for the use of funds. If the deadlines are missed, they funds literally becomes unavailable. Under the AMS program, funds have been unavailable for the upgrade of the Orange Walk Town to Progresso Village Road, which the contract was given to Bella Vista group. This project was a failure due to the design flaws and issues with the contractor. The Corozal Town bypass for a total length of 9 miles, funds totaling 11 million for this project became unavailable, due to the late submission of design, drawing, compounded by differences in views between the GOB and the EU with regards to the road design. However, GOB is in discussion with an IFI to get funding to execute this project."
Contreras said that despite difficulties the cooperation with the European Union is considered an overall success.

Belize In fifth in Nations Cup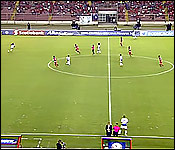 Belize opened the Nation's Cup on Friday night against Panama in the Estadio Rommel Fernandez earning a surprising draw against the host nation. Belize only had three shots on goal to Panama's 14, and enjoyed possession for only a third of the game, but the defensive oriented squad had 21 steals to keep the Panamanians scoreless for a nil - nil draw.
Sunday's second game against the best team in the region, Costa Rica was not so fruitful. The Costa Ricans connected on three of their 17 shots on goal, while Belize di not connect on any of its five shots on goal - for a three nil win for the Ticos.
This puts Belize in fifth place heading into tomorrow's game against Salvador. The game starts at 2:00 pm and it is a must win, or must-draw for Belize since only the top four teams qualify.

Home | Archives | Downloads/Podcasts | Advertise | Contact Us