Block Burner On San Pedro Leaves 88 Homeless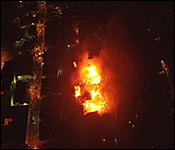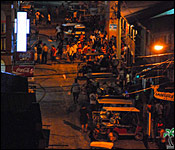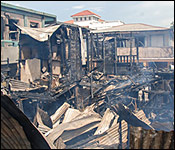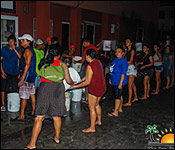 Tonight, 88 people are homeless, and there is major loss of property as San Pedro town tries to recover from a massive fire that devoured part of a downtown block in Belize's tourism capital.
Tonight, we'll have the story from the island plus the answers from the fire chief and the police.
We start with the basic narrative. This morning at12:45, The San Pedro Fire department received a report of a fire on Pescador Drive, which is in the heart of the town. By the time it was done four hours later, 11 buildings had burnt and 6 were partially damaged.
Today, Our news team went to the island to see the aftermath of the blockburner. Daniel Ortiz reports with the help of imagery from the San Pedro Sun:
Initial reports say that as at least 88 people were left homeless in the aftermath of probably the biggest fire on San Pedro Island spread to the a large portion of block between Pescador Drive Buccaneer Street. This terrible blaze destroyed 11 buildings, 8 which were business places, and 3 of them homes. Another 6 buildings were partially damaged.
Seen here, the flames started spreading some time after 12 a.m., It quickly got out of control, and
As These photos, courtesy the San Pedro Sun Newspaper, show, the residents formed bucket brigades to try to get it under control. Try as they might to assist the San Pedro Fire Department, the fire burned for approximately 4 hours straight.
When it finally subsided, this is the mass wreckage it left in its wake, devastating 26 families, 21 of which lost everything.
But, Police say they aren't taking granted that it was indeed an accident. In fact, they've made detentions, and they have reasons to suspect Arson, which they will follow up on.
Those nearly 100 persons are on a very long road to recovery after having their lives turned upside down with this disaster. But, the People of San Pedro have been working to ensure that the victims don't have to struggle alone as they try to recover:
There are many needs after the fire, and many who want ot make donations. But, our friends at the San Pedro Sun say be careful to whom you donate. They recommend, the South Ambergris Caye Neighborhood Watch, The Red Cross, The San Pedro Lions Club, and The San Pedro Rotary Club who will ensure that the fire victims receive donations.

Why Only One Fire Truck And Two Firemen?
And so while that is the fire and the aftermath, what about the firefight? Did the Fire Department fail to contain the fire effectively?
There was only one fire truck working and only two fire men on duty. When they arrived at the scene, they found an unoccupied two storey wooden structure on fire. The bad part was that it was surrounded by other wooden buildings - which was a recipe for the disaster that unfolded. The fire truck quickly expended the 300 gallons of water it had in the tank, and then had to activate mobile pumps to source water from the sea. That's more than 15 minutes down time - which is when the fire quickly spread. We spoke to the Fire chief today about what went wrong, and what was unavoidable:..
Ted Smith, Fire Chief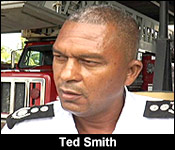 "On arrival they found the structure fully engulfed in flames. The structure belonged to August Tabony, and is located in the middle of the block between Barrier Reef and Pescador Drive. The department went into operation, exhaust its tank of water and then seek supplementary water supply and tried to contain the fire. At the conclusion of firefighting there were 11 structures that suffered major fire damage and six other structures that suffered external fire damage on the wall that was exposed to the fire area. The exact area of origin and cause of the fire is still undetermined as we have an investigator working out there to try to establish the exact area and cause of the fire within that structure. We also learnt that the structure was unoccupied at the time of the fire."
Jules Vasquez
"Is there any indication that it may have been a case of someone setting the fire?"
Ted Smith, Fire Chief
"It's a little too early to say, Mr. Vasquez, whether it is incendiary or accidental or any other nature."
Jules Vasquez
"The spreading from one structure eventually engulfing 11 other structures, is this a failure of the fire department? We know we saw that citizens had to do a bucket brigade."
Ted Smith, Fire Chief
"The location and type of structure is very congested, it's quite a challenge for the department out there. The department worked hard with the civilians who came out and we must thank them all but the location of the fire created quite a challenge for any fire department to contain."
Jules Vasquez
"Was there a continuous supply of water? You said that the tank expended its supply. I know that there's only a finite supply which the fire engine itself is able to carry. Was there a smooth, efficient, effective transition to pump water?"
Ted Smith, Fire Chief
"In the initial stage of any fire, that is impossible, because we don't have the quantity of trucks, this is Belize we're living in. we cannot send 6-7 trucks out there where 3-4 trucks get into operations and 2-3 trucks look in for supplementary water supply. That is not what will happen in Belize in your lifetime or mines. The reality is that we have trucks out there, we have portable pumps, when the truck goes into operation. it only carries 300 gallons of water, it can do one of things, to seek supplementary water immediately and leave the fire let it burn, which you will hear we came empty, or go into operation, exhaust your 300 gallon of water and then seek supplementary supply, which we'll take from the sea along with your portable pump which will take a few minutes to get into operations. Long and short, it's not an easy task, it's a difficult task, and there can never be consistent flow in the initial stages, no way with the state of the fire service today nor tomorrow in Belize."
Jules Vasquez
"So ultimately, the fire spread, because the fire department is just set up for a little island town and its under-resourced?"
Ted Smith, Fire Chief
"It would be more ideal to have more equipment Mr. Vasquez."
Jules Vasquez
"But in the 21st century on the island that generate the most foreign exchange earnings for Belize per square mile, isn't it ashamed that we have to resort to a bucket brigade?"
Ted Smith, Fire Chief
"I am not aware of any bucket brigade, I know we had a portable pump. You and I know that bucket can do very little to a fire."
Jules Vasquez
"That happened last night, we have the pictures."
Ted Smith, Fire Chief
"Yes, but the bucket itself can do very little, how close can you get with that bucket even with the fire kit you can't get close, and it's designed for that."
Jules Vasquez
"So you are saying those people out there were wasting their time?"
Ted Smith, Fire Chief
"You're saying it not I. every little that you can get in a time of disaster is important, every little help that you can get. What I would like to do now is to appeal to the San Pedroanians, they will come out and help the fire department but what I'd ask them to do is to please come and receive some training, join the voluntary element at the fire department."
Jules Vasquez
"With the location of the fire and the situation on the ground being that it was in a residential area with apartments, with businesses, it's a multipurpose area. Is it fortunate that no one was hurt in that fire?"
Ted Smith, Fire Chief
"First of all we want to thank God that no one was hurt."
Jules Vasquez
"The report say that there are over 80 people homeless and apart from being homeless there's the major loss of property and all the finance that represents. These people blame your department Mr. Smith."
Ted Smith, Fire Chief
"You're blaming our department Mr. Jules, I was out there and I didn't hear anyone blaming the fire department, but you are the one blaming the fire department."
Smith says that with the location of the wooden structure where the fire started, even if the Fire Department had a headstart, they would not have been able to contain the fire. Two more fire fighters will be assigned for the island. The island has two fire trucks but only one was working the mechanic was scheduled to do repairs on the second one today. The newest fire truck in the Department's fleet is 16 years old - and there are more than two, which are over 40 years old. A new truck costs about three quarter million dollars.

Another City Slaying, Cops Say Not Gang Related, Streets Say Otherwise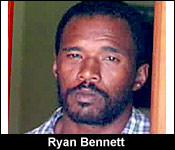 There was another murder on the southside of Belize City close to midnight on Friday. 38 year old Anthony Gillett was shot in the head, allegedly by 30 year old Ryan Bennett who he had been socializing with inside a yard on west Collet Canal. The two were in Gillett's yard hanging out when suddenly things turned, and Gillett was shot to the top of his head. He survived - but died a few hours later at the KHMH. The Southside commander told the media more on Saturday:
ACP Chester Williams- O. C., Eastern South Division

"Upon arrival there, they met one, Anthony Gillett, who at the time was suffering from a gunshot wound to the head. He was subsequently transported to the KHMH where he was admitted and subsequently he died shortly thereafter or upon arrival at the hospital."
"Our investigation into that matter so far has lead us to the detention on one Ryan Bennett, who is being charged as we speak for the crime of murder and from we have been made to understand it is not gang related. The victim and the suspect knew each other and apparently the suspect went to visit with the victim and I don't know what transpired between the two of them and within that process the suspect fired the shots on the victim resulting in his death."
Gillett was originally from Pink's Alley and the father of 6 children. He had been living on Collet Canal. And while police downplay the gang angle, credible reports tell us that a relative of his had to run for his life on Sunday on the northside when a car with gunmen pulled up on him. Also, no one at the house where he lived wanted to speak for fear of gang reprisals.
Ryan Barnett appeared before Senior Magistrate Sharon Fraser today where he was charged for murder, and was remanded until August 16.

Cops With Capes? Police Played Hero And Saved Drowning Child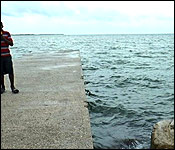 Often times on the news, there's an onslaught of bad news about policemen and women - variously accused of abusing their power, or engaging in criminal activities. And while there are more than a few bad eggs in the department of over two thousand men and women, most cops are genuinely just doing their jobs trying to preserve the peace. And, in most cases, they get no recognition for it. Well, tonight, we can say that's starting to change, because a trio of officers from the north side strike team who saved a child from drowning on Friday were recognized by the commissioner for their valiant conduct. At about 10:35, police learned about an 11 year old child who'd gone under water at the pier on Marine Parade and they sprung into action. Sgt. Anibal Castellanos who supervises the team explained:..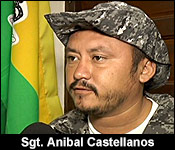 Sgt. Anibal Castellanos, Northside Strike Team
"We were flagged down by some kids and we ran up to the pier and hence they told us that someone is drowning. We couldn't see anyone, the guys just jumped in and they started to feel the ground until finally we found the little kid and PC Lopez took him out of the water immediately into the police truck and we started to perform CPR until we reach to the KHMH where the doctors did a wonderful job in getting back this kid to life."
Allen Whylie, Commissioner of Police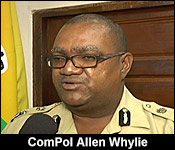 "I think it's your leadership and the team that you lead, led to their instant springing into action without any regards for their safety or without worrying about having the kid of equipment to assist in rescue dive."
Sgt. Anibal Castellanos, Northside Strike Team
"I must give thanks to my colleague PC #55 Jessie Lopez and PC Cawich, who they never think twice to jump into the water and we found the little kid that was drowning and we performed CPR and thank God that he is still alive. If people are having their kids go to swim, kindly sent an adult so that they can have proper supervision. That morning there were no one supervising these kids and that is the reason why this might have been almost fatal to this kid."
Castellanos was accompanied by Christian Cawich and PC Jessie Lopez.
The 11 year old - whose name has not been released by police - is expected to make a 100% recovery. Fisherfolk in the area tell us that the water at the end of the pier is deceptively deep.

COMPOL Congratulates Courageous Cops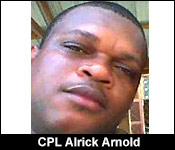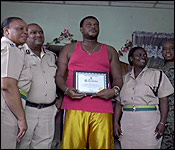 And another set of cops show showed extraordinary bravery last week also received a commendation today. They're the ones who chased down the 15 year old shooter that tried to kill a man in front of the Eastern Division police station. Corporal Alrick Arnold took a bullet to the chest, while Detective Corporal Brian Miller, Coporal Joel Grinage and PC Criston Moore all teamed up to apprehend the youth. Today, they received their commendation at the police station while the top Brass of the Police Department went all the way to Corporal Arnold's home to tell him how much they appreciated his work:...
Allen Whylie, Commissioner of Police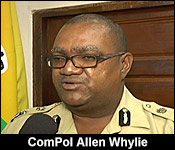 "The purpose as Mr. Yearwood said today is to recognized our brave officers, our fine officers we have - many officers who do brave deeds on a daily basis that goes unheard and untold and I think that we've got to do a better job to start to recognize our officers with the work they do and so today is a step in that direction. Indeed, there is no doubt that Cpl. Arnold was exceptional in the bravery that he displayed. He was going about his legitimate duties that morning when he saw the gunman and without any hesitation nor fear for himself and his life, he immediately sprang into action. Unfortunately he was injured in the incident, but I am glad that he is on the road to recovery and he was recently released from the hospital. Cpl. Arnold is indeed a exceptionally brave person."
Interestingly, Corporal Alrick Arnold was also the first responder in that other most brazen crime, exactly 6 years ago, when back in June 2010 Andre Trapp was executed at the Courthouse.

Did Cops Endanger Public With Urbie
And while those are the good cops - the bad cop of the moment is Detective Constable Urbie Alamilla. He was remanded to prison last week after he was charged with discharging a firearm in public. Turns out, it was the second time in two weekends that he did the same thing, except the first time - even though he was visibly drunk and disorderly - his bother police officers brought no criminal charge. And then when it happened again the following weekend, only then were they quick to charge. Today when we asked the commissioner about the prudence of that decision - he said there is practical metric in a disciplinary charge:..
Urbie Alamilla got bail on Friday.

Santa Cruz 13 Get Free!
Exactly a year ago, we showed you when the Punta Gorda Police Department hauled 13 Mayans from San Cruz into the Magistrate's Court on charges of unlawful detention. That's because they tied up and detained Creole Belizean Rupert Myles because they say that he built his house on the sacred Ux Benka Maya Site.
Well today, after months of attending court adjournments on the criminal charge, the Santa Cruz 13, now Santa Cruz 11 turned up for their adjournment. To their surprise, This morning the Director of Public Prosecutions discontinued the charges against all remaining 11 defendants setting them free. It's a welcomed end for the case, and in a press release today, the Maya Leaders Alliance said that they congratulate the Director of Public Prosecutions for acknowledging, quote, "the 13 accused who, along with their families, suffered in-calculable hardships as a result of their arrest and prosecution." End Quote.
Today, we spoke by phone to Cristina Coc, who resumed her role as spokes Persons for the MLA following her acquittal as one of the Santa Cruz 13. Here's what she told us via telephone this evening about the outcome of the case: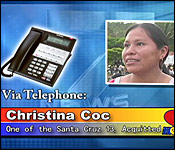 Christina Coc, One of the Santa Cruz 13, acquitted
"It's been a year that the charges were brought against the Mayan leaders, myself included and today over a year later, the DPP discontinued the case on the grounds that it was not in the interest of justice."
Daniel Ortiz
"Did she explained to the court what exactly was her thinking in how justice would be miscarriage?"
Christina Coc, One of the Santa Cruz 13, acquitted
"No she did not, despite the request of both our counsels. She did not feel she said she needed to explain that given that the case is now discontinued, she had no reason to provide that explanation."
"Of course we are relieved. This is wonderful news for us and not just for us, but for all of Belize. The Santa Cruz 13 and in fact the greater Maya community have always held that there was no case to answer to. Because the charges that were brought against us; common assault, aggravated assault, was not a crime that we were ever guilty of. So I am glad that the state has come to this reasonable conclusion and have realized that they have no case against us. So we are very happy that they came to the same conclusion as the Maya people. Of course we came to that conclusion a year ago."
As you heard, Coc said that they tried to clarify with DPP Vidal why she decided to withdraw the charges, and that she reportedly did not want to reveal her reasons. This evening, we spoke to her via telephone and she told us, quote, "I did that, which it was my duty to do… any questions that anyone may have about the matter, I think they should direct them at Mr. Myles." End quote.
As you're aware, Rupert Myles was the complainant in this case, and so, the inference we draw from the outcome is that Myles may have indicated that he wanted no further court action. It's either that or he failed to hold up his obligations as complainant, and it forced the hand of the prosecution to discontinue the case.
The Maya Leaders Alliance adds, Quote, "This was always a case about the constitutional rights of poor people in Belize and whether or not officials would respect the rule of law. Today's decision is a victory for everyone who finds themselves on the right side of the law, but the wrong end of an access to justice problem." End Quote

Soldier Found Dead In PG
In other news from Punta Gorda, there was a murder in that southern town this weekend. On Sunday at 9:30 a dead body was found on the seashore on Front Street. It had been there a while, and an area resident only became aware of it when vultures started circling. Police confirmed the identity to be 27 year old BDF soldier Orlando Rash from San Felipe Village. His body was face down, nude and in an advanced state of decomposition. A postmortem conducted on site certified the cause of death as facial blunt force traumatic injuries with ligature around the neck.

Chopping Victims In Critical Condition, Deranged Man Arraigned
Tonight, two of six persons who were seriously injured in a chopping incident last week are just barely clinging to life. 29 year old Adela Choc was chopped to her face and sustained an amputated thump, while her son 13 year old Danny Choc, who sustained injuries to the back of his head, are both at the KHMH in a critical condition. The 13 year old is reported to be on life support. The other victims were released from the Northern Regional Hospital after receiving treatment. The horror began unfolding on Friday at midday, when a man known for his history of mental breakdowns went on an all-out chopping spree. The incident has left the community of Yo Creek Village quite shaken. But just what motivated one man to commit such an atrocity? Emanuel Pech travelled north today to find out.
The relative peace and tranquility of Yo Creek Village was shattered when a man wielding a machete hacked two families close to the point of death.
Today that man, 35 year old Larry Banner was remanded to prison after being arraigned for charges related to aggravated burglary and maim.
A crowd of villagers gathered in front of court today to witness his arraignment- as if to make sure he is locked up.
His wild spree of attacks began here at his sister in law's home. She and her kids were to only ones present at the time.
Esmon Banner- Husband of Victim/ Brother of Larry
"That same day she was supposed to come see me at Belize. She was already prepared to come when they said that my brother went there about 3-4 times and at the last time, he went with the machete and started to chop them. He said that he came for them, that he was the devil. What my wife said was that he says that he was the devil and he wanted both of them, to kill my wife and my son."
Witness - First Chopping
"I didn't want to go inside because I was afraid. He told me to move and to go from there, so I just ran to my house."
It was a merciless affair. But the violence did not end there. A few hundred yards up the hill in another house, a family was preparing to celebrate their mother's birthday. There were 4 women, 5 children and one man inside the house. As they began to prepare the midday meal. Nothing, however, could prepare them for what happened next.
Moises Pech- Victim of Maim
"I reached for lunch. The food wasn't ready so I was waiting. In the meantime I was playing with the kids. Then the man reached. When I saw him it was because he was already attacking my wife. And that is when I jumped to defend her. And that is when he got me too."
Some managed to scramble through the back door. But Moises and his wife Juanita Pech, and several of the other kids got caught up in all the mess. Miraculously all the children in this house escaped without injury.
Minutes later the man left, and the victims ran for help leaving behind a trail of blood. What happened next was a rush to get all victims to the hospital which coincided with a vicious man hunt.
Ismael Cal - Leader, Search Party
"The village was very tense, the people were afraid and no one wanted to come out. We organized a search party with the main objective to create tranquility in the village so that they could know that there were some people out there that were prepared to assist in securing this person and delivering him to the authorities."
The party searched all night but the man was not located until the following morning when he went back home. The police along with villagers surrounded him but he refused to cooperate.
Ismael Cal - Leader, Search Party
"He was prepared to injure or kill anybody. I myself told him to give up the machete and to hand himself over. He didn't pay any attention to me, he just continued to swing the machete at the crowd."
Amid threats of further injury, 31 year old Larry Banner was shot to the chest with a pellet gun and captured.
Now residents of the village only hope that he remains behind bars. Because of his history of violent behavior, residents are afraid of what he might do if he is released.
Emerita Pech - Daughter of Victims
"Years back that man have been hurting and threatening us. I've been to the station many times and all those times my father was the one who was harassed every time with a machete. The first time, I can't remember the date but I was with my family and my sister when he went with a machete. Thank god he didn't do anything. the second time it was a Christmas, that time we had a family gathering when he arrived and had a machete to my Father's forehead and thank God again he didn't do anything. From then he started to throw stones on my zinc."
Supt. Selwyn Tillet- O. C. Orange Walk Police
"Prior to this incident, the same Mr. Larry Banner, our records reveal that there were 5 reports made against him but, only one of them required a court action where he was found guilty and bond over in peace for one year."
Police have yet to determine any motive although their might not be one, because according to the family and residents Larry Banner had a history of psychotic behavior.
Reymundo Cocom - Uncle of Larry

"Larry grew up as a good child who went to high school and everything normal, having his dream to continue studying, but unfortunately the economic situation his family had did not allow it. After high school he went to the workforce. He went to San Pedro to try to do something for himself, to build his house. I think it was at that point that he started using drugs and from there he started behaving differently."
Still resident and family hope this will not impede the process of justice.
Ismael Cal - Leader, Search Party
"Yes we do agree that this fellow has a mental sickness, but is he crazy? I don't think a crazy person would do what he did. I don't think that a crazy person would run away and hide after committing his crime."
Esmon Banner - Husband of Victim/Brother of Larry
"For me I prefer for him to stay in jail, I don't want to see him outside. I know he's my brother, but right now I can't help him because what he did was a very bad and serious thing."
Sylvia Cocom- Mother of Larry
"When I heard the screams, I went over there. But I never thought he would go to another family. If I could have stopped him I would. I am so sorry. From the bottom of my heart I'm sorry. But I couldn't stop him. It's not my fault. Please don't judge me."
Reporting for 7 news Emanuel Pech
Today police arraigned Banner on only two charges because the current medical situation of one of those victims is unpredictable. 13 year old Danny Choc, was chopped to the head and reports are that the machete may have gone through his skull and injured his brain. He remains at KHMH in a very critical condition.

PUP Challenge Working Its Way Thru Court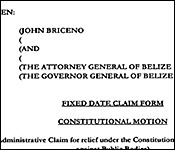 It's been a month since the Barrow Government has ended the controversial 30-day ban on the Sarstoon River. But, Opposition Leader John Briceño remains convinced that the Government wrongly used its executive powers to block Belizeans from entering a part of their territory.
Today, the lawsuit he brought against the Government went back before the Chief Justice for a very brief hearing today as part of it's continuation through the court process. Today, when his attorney exited court, we asked him what's next for the case that appears moot. Here's what he told us: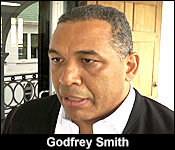 Godfrey Smith, Temp, Attorney for Claimant
"This morning they asked for some more time because his Excellency, the Governor General who is supposed to make the affidavit in response, was not in the jurisdiction. So they've been given until next week Monday to file that affidavit. After that, one week later on the 11th of July will be the first hearing where the time tabling and scheduling exercise will be done. So it's still at the preliminary stages."
Daniel Ortiz
"Does Mr. John Briceno have a valid point or is he wasting the courts time, his resources and his finances?"
Godfrey Smith, Temp, Attorney for Claimant
"No, I would say that even thou the SI has been revoked, I would put it this was Daniel, and no other issue is as impacting on the public consciousness of Belizeans."
The case goes back to court on July 11, and we'll keep following up on it.

Why Did Police Search Ahmads
It made major news last week when police special branch searched six homes and rounded up an entire Muslim family. The Ahmad's are well known in Belize and the fact that the entire family was arrested for no clear reason suggested that they may have been detained because they are Muslims. With the long shadow of the US Intelligence apparatus, and the shadowy involvement of the Special Branch, which is Belize's spy agency - it raised eye brows. Today police gave answers: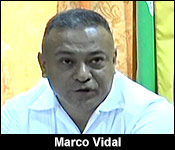 Marco Vidal, Special Branch Commander
"For the past several months special branch has been engaged in an investigation concerning information which we consider to be of a serious nature. I am not in a position to divulge the nature of that information, neither can I provide details of the investigation. But you may be aware that on Monday the 20th of June we conducted searches at the residents' of the Acpad family and other persons. Items were taken from the search and these items are being returned to the owners as we speak. Certain allegations have been made in relation to the operation at the manner of which the searches were done. We can categorically state that the operation satisfied us and we are satisfied that in fact the operation was done within the confines of the law and in a professional manner."
Allen Whylie, Commissioner of Police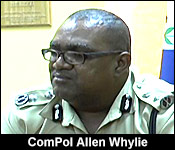 "In a sensitive matter we are certain that the family may be taking legal action and so we don't want to put our cards out there as you would want us to, because it is a sensitive nature. I can tell you that I've received a letter from their attorney, so I can say that much. I am satisfied that the operation was legal, legitimate, items were retrieved as the family indicated, those items we are through with them and the family was contacted today to come and pick up their items."
Reporter
"What prompted the operation?'
Marco Vidal, Special Branch Commander
"As I said earlier, information. We had information and we have been developing this for the past several months."
Reporter
"And the information in the public has the taint of some kind of religious undertone or relation to terrorism?"
Marco Vidal, Special Branch Commander
"I can tell you generally that we have no confirmed reports in Belize of ISIS being involved directly with Belize. But as you may know, persons have been recruited by the ISIS in parts of the Caribbean and we cannot be naive to the fact that it can happen here in Belize."
That press conference was held this afternoon at 4:00 pm in Belmopan. It was held principally to dispute what police believe are distorted press accounts. The Commissioner said he was falsely quoted in two news outlets.
Allen Whylie, Commissioner of Police
"Two articles have been brought to my notice. An article I believe by Channel 5 and an also an article in the Amandala. In the Channel 5 article, I believe they said that they contacted me and I said I knew nothing of the operation. I want to categorically deny that. No one from the media spoke to me, neither Amandala, Channel 5, Channel 7 or anyone. So, I've already asked our legal advisor Mr. Jones to look at those articles and let us prepare letters to the media houses to let them get their story proper."
Their electronic items were retuned today.

Muslim Woman Charged
One charge has been brought against a Muslim. Fifty-five year old Filipino national Eloisa Mujahil, who is of the Muslim faith, pled guilty to a charge of failure to comply with the conditions of her visitors permit when she appeared today before Magistrate Deborah Rogers. She was fined $1,200 and she was given until December 31 to pay. If she defaults on payment she will serve 6 months. Mujahil arrived in Belize on December 9, 2006 and she was given a permit to remain in Belize until October 4, 2009. Her attorney, Douglas Carr, explained that it was only a matter of circumstance that she was charged because she has been living in Belize with her 2 sons at 102 Amara Avenue and it was only when the police came to her home it was discovered that she had not complied with the conditions of her permit. Carr said her husband, who was looking after the immigration matter had passed away in 2014 and the attorney who was hired to do the work did not do so. The immigration officer who represented the Immigration Department told the court that the Immigration Department is not requesting deportation.

Home | Archives | Downloads/Podcasts | Advertise | Contact Us